The Georgia town where FMCA's 85th Family Reunion & Motorhome Showcase will take place has several new attractions that will impress even longtime visitors.
December 2010
By Peggy Jordan, F401999, Associate Editor
It's great to come back to a familiar place. March 14 through 17, 2011, will mark the seventh time Family Motor Coach Association has convened at the Georgia National Fairgrounds & Agricenter in Perry. Many FMCA members already have memories of this location "" some going back to the association's first visit there in 1996.
The Agricenter opened in 1990 and has been expanded since to encompass more than 1,100 acres with attractive landscaping, including fountains, gardens, and lakes.
Perry is conveniently located at the crossroads of Interstate 75, U.S. 341, U.S. 41, and State Route 127. It's a small town known for its Southern hospitality and warm welcome to motorhome owners. So, it's fitting that the theme for this event is "Southern Homecoming." Even if this will be your first visit, the people at Perry's businesses and attractions will help you feel at home.
In addition to all the FMCA activities during this "homecoming," RVers will want to find out what's available to see, do, and eat while in town and throughout the region. Even if you think you've already explored this area, you may be interested to learn that three new attractions have been added since 2007, when FMCA last visited. Prepare to be pleasantly surprised!
Fishing For Fun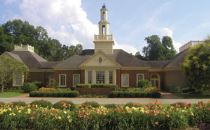 The Georgia National Fairgrounds & Agricenter has spacious grounds, ample parking, and many buildings in which to conduct seminars, hold crafts sessions, and enjoy entertainment. While you're there, you will notice a beautiful new building to the south of the fairgrounds at 1255 Perry Parkway: it's the new Go Fish Education Center, which just opened in October 2010.
At the Go Fish Education Center, you can see live fish exhibits, such as trout and bass, and observe live alligators, too. Test your skills at interactive fishing and boating simulators, and gather tips to help you learn how and where to fish. A replica of the world-record bass, which was caught in Georgia, will be waiting for you, in case you need some inspiration. Exhibits about Georgia's watery habitats and a film about fishing also will be shown.
Entry fees at the center are $5 for adults, $4 for seniors 65 and over, and $3 for children ages 3 to 12. Regular hours are Friday and Saturday from 10:00 a.m. to 5:00 p.m. and Sunday from 1:00 p.m. to 5:00 p.m. Special operating hours will be available during FMCA's visit. The center rests on 120 acres of land that also includes a warm-water fish hatchery and a public fishing lake. Unfortunately, the lake most likely will not be ready for public fishing when FMCA members visit in March. For more information, or to arrange a group tour outside of regular operating hours, contact the center at (478) 988-7187 or visit www.gofisheducationcenter.com.
If you are looking for a nearby fishing spot, drive south on U.S. 41 a few miles from the fairgrounds and you'll see the area's second-newest fishing development on the left. It's called Flat Creek Public Fishing Area, and it opened in June 2009.
Largemouth bass spawn there from February to May, and they hit all kinds of bait, especially plastic worms, crank baits, and jigs. Red-eared sunfish and channel catfish "" as well as ubiquitous bluegills "" are found there as well. The 109-acre lake supports fishing on the banks and offshore via a concrete boat ramp. The parking lot there has ample space for motorhomes, if you want to make a day of it on your way to or from the convention. No overnight camping is permitted, though, and you must have a fishing license. Call (478) 825-6151 or visit www.gofishgeorgia.com/fishing for more information.
Brand-New History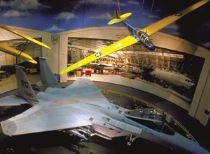 It's full of antique toys, clothing, and furniture; World War II artifacts; and family Bibles. "It" is the new Perry Area Historical Society Museum, which opened in May 2010. The collection is related to Perry's past, of course, but each item has a story. Take, for example, a marching band costume used in the movie Remember The Titans, worn by a Perry band member who performed in the film.
The museum was made possible after a local family donated $20,000, and the city gave the historical society a building. Now, finally, they have room to let visitors become lost in perusing scrapbooks, tools, vintage Christmas décor, photos, books, diaries, newspapers, dishes, magazines, and even antique medical equipment.
The exhibits are arrayed in a beautiful historic home at 901 Northside Drive; regular hours are Tuesday, Wednesday, and Thursday from 10:00 a.m. to noon and 2:00 p.m. to 4:00 p.m.; Saturday from 9:00 a.m. to noon; or by appointment (call 478-319-1413). Call the Perry Area Convention and Visitors Bureau (CVB) if you would like to arrange a small group tour outside operating hours: (478) 988-8000. History buffs also may want to note that the Perry Historical Society offers tours of the town's historic Evergreen Cemetery and other significant sites; call the Perry Area CVB to arrange a tour.
Taste Of The Town
Perry is full of restaurants; many of the chains that dot the United States are there, as well as local eateries that have stood the test of time. The latter include Skipper John's for chicken, as well as an assortment of barbecue joints around town.
Perry's first European residents set up cotton farms, grist mills, and cotton gins, but farming today focuses on peaches, pecans, and peanuts. So, it's not surprising that you can sample these foods when you are there. One of the most popular spots for doing so is Priester's Pecans on South Perry Parkway (478-987-6080), where you'll find a combination gift shop and candy factory in one. One new development is the addition of the Sideboard Southern Buffet, located in the same building as Priester's. This restaurant "" which serves lunch and dinner "" is owned and operated by the same people who make the gourmet fare at the Swanson House restaurant.
Drive a few miles out of Perry to grab more Georgia pecans and sample some delicious homemade peach cobbler at Lane Southern Orchards, located at 50 Lane Road in Fort Valley (478-825-3362; www.lanesouthernorchards.com). It won't be peach time yet in March, but never fear; the cobbler is available year-round, as are the pecans.
And don't forget to work off all that food with a walk around the Agricenter or a round or three of golf. Perry Country Club (478-987-1033) is a public course, as are Houston Lake Country Club (478-218-5252) and Houston Springs (478-988-8200).
Miles Of Sales
Another opportunity for taking a nice walk presents itself in Perry's renovated downtown area, which has the look and feel of a laid-back village. Specialty shops line the walkways, providing reasons to stop, look, and chat with friendly sales folk.
Shopping also will be found in private front yards and large group sites all around on the Friday and Saturday before FMCA's "Homecoming" officially starts. That's because the Peaches to the Beaches Annual Yard Sale will be set up Friday and Saturday, March 11 and 12, 2011, from 8:00 a.m. to 6:00 p.m. If you arrive in Perry early, you can go bargain-hunting for more than 200 miles along U.S. 341, from Barnesville to Perry and all the way to Brunswick, Georgia.
Just Outside Of Town
Farther outside Perry are fantastic stops that reveal Georgia's history and beauty. Here are a few:
Massee Lane Gardens. Only 12 miles west of Perry in Fort Valley is a showplace for camellias, flowering plants whose close cousins are grown to make tea. These plants bloom from early fall to late spring, so you may be able to see some blossoms if you visit in March. Regardless, any time you visit you can walk along brick pathways through nine acres and see a garden greenhouse, a Japanese koi pond, and a rose gazebo. The Edward Marshall Boehm porcelain collection is housed there, too, featuring magnificent works of art. Admission is $5, and the gardens are open year-round Tuesday through Sunday. Call (877) 422-6355 or (478) 967-2358, or visit www.camellias-acs.com for details.

Museum of Aviation at Robins Air Force Base. Located 20 miles northeast of Perry in Warner Robins, this museum seems to have everything a pilot, history buff, or wannabe flyer could wish for. The huge collection is spread across 51 acres and boasts more than 200,000 square feet of exhibit space. See cargo planes, bombers, fighters, helicopters, spy planes, and even a Russian MiG-17. Admission is free. Hours are 9:00 a.m. to 5:00 p.m. daily. Call (478) 926-6870 or visit www.museumofaviation.org.

Macon's Cherry Blossom Festival. It's billed as the "Pinkest Party On Earth," and it takes place 25 miles from Perry right after FMCA's grand "Southern Homecoming" ends. The town of Macon will roll out the welcome mat at its International Cherry Blossom Festival March 18 through March 27, 2011. Imagine 300,000 cherry trees full of blossoms, almost all at the same time. Add to that everything from concerts, a parade, and a seriously hilarious bed race to home tours, fireworks, and a street party "" and more. You have to see it to appreciate it! For a look at past events and to see what's available, visit www.cherryblossom.com. Tickets will go on sale in February 2011.
This is just a taste of what the "Southern Homecoming" in Perry can be like. Check out the Perry CVB Web site as well as the state of Georgia's travel bureau to be sure you don't miss all that's available for you to see before or after your visit.
Further Info
Perry Area Convention & Visitors Bureau
101 General Courtney Hodges Blvd.
Perry, GA 31069
(478) 988-8000
www.perryga.com
Georgia Department of Economic Development
75 Fifth St. N.W.
Suite 1200
Atlanta, GA 30308
(800) 847-4842
www.exploregeorgia.org
Area Campgrounds
Boland's RV Park
800 Perimeter Road
Perry, GA 31069
(478) 987-3371
Crossroads Travel Park
1513 Sam Nunn Blvd.
Perry, GA 31069
(478) 987-3141
Fair Harbor RV Park
515 Marshallville Road
Perry, GA 31069
(877) 988-8844
E-mail: [email protected]
www.fairharborrvpark.com
Southern Trails RV Resort
2690 Arena Road
Unadilla, GA 31091
(478) 627-3254
www.southerntrailsresort.com
Twin Oaks RV Park & Campground
305 Highway 26 E.
Elko, GA 31025
(478) 987-9361
www.twinoaksrvpark.com