Make memories that will last a lifetime "" join us this year for FMCA's Family Reunion and Motorhome Showcase events in Perry, Georgia, and Madison, Wisconsin.
By Jerry Yeatts, F390000
Director of Conventions and Commercial Services
I grew up in a rural town in central Ohio in the 1960s. Among my fondest memories are the times when we gathered at a relative's farm to celebrate the harvest and enjoy our annual family reunion. I can still smell the aroma of fried chicken and taste the angel-food cake with seven-minute icing made with love by Aunt Becky. The patriarch of the family always said grace, and then we all swarmed the buffet for a true feast. Following Sunday dinner, the men retired to the barn and played poker; the women played bingo; and the kids, well, we played badminton, or just ran around the pond, trying to stay out of trouble. We all looked forward to this yearly gathering to renew old friendships and to meet the new additions to our family.
FMCA's family reunions in 2011 hold similar promise. Packed with tons of fun and fellowship, these events are sure to convince you that friendship really is the tie that binds each of us to this association. From the moment you register for one of these great events until the time you retract your levelers and head back home or to another FMCA gathering, you'll be glad you decided to join us!
Perry: Y'all Come . . . And We Do Mean Y'all!
Perry, Georgia, is a special location for FMCA. The Georgia National Fairgrounds & Agricenter has been home to some of the largest FMCA gatherings since the first one that took place there in 1996. Granted, some of the earlier gatherings in Perry have been, let's say, a little soggy. But, families attending our events in the past few years have benefitted from the many improvements to the drainage system at the fairgrounds and to the facility's infrastructure. The 85th Family Reunion and Motorhome Showcase, March 14-17, 2011, will be our seventh event at this great location, which is part of the reason it's been dubbed "A Southern Homecoming." The Georgia National Fairgrounds & Agricenter is a 1,100-acre facility located between exits 134 and 135 on Interstate 75. Improvements since our 2009 visit include additional asphalt outside one of the major exhibit halls; the opening of the Go Fish Education Center; the addition of the Livestock and Equine Arena, which will house FMCA's service center; and new rest room and shower facilities.
The fairgrounds has ample acreage available for overnight family parking, so FMCA will permit associate members and guests owning self-contained non-motorized recreation vehicles to register for the event and stay on the convention grounds. What better way to see what FMCA and the motorhome lifestyle are all about than to actually park on the grounds, attend seminars, visit indoor exhibits, explore hundreds of new motorhomes on display, and enjoy evening entertainment?
Let Us Entertain You
Do you like Broadway tunes? Country music? Comedy? Evening entertainment at the family reunion in Perry is sure to please everyone.
On Sunday evening, March 13, FMCA members will enjoy a special screening of the movie The Blind Side. On Monday, March 14, following the Parade of Lights Motorhome Preview, members and guests will be treated to fireworks right on the lake adjacent to the motorhome displays. Mac Frampton will have members swaying to Broadway tunes on Tuesday, March 15, and Lorrie Morgan will get members tapping their toes with her special brand of country music on Wednesday, March 16. On Thursday, March 17, end the reunion on a humorous note with comedienne Jeanne Robertson's endearing stories about "Left Brain," a.k.a. her husband.
Optional sight-seeing tours to popular attractions in middle Georgia will be available throughout the reunion. Please visit FMCA.com or review your confirmation materials for these special offerings. FMCA members receive unique opportunities during these tours that are not afforded to the public.
One Large Selling Event
Let's face it. The economy for the past couple of years has prompted some folks to delay purchasing a new motorhome. But things appear to be improving, and motorhome display space for the family reunion in Perry is close to selling out. Hundreds of motorhomes will be available to explore and purchase. Looking for a more fuel-efficient vehicle? In the market for a more spacious motorhome for your full-timing needs? Interested in downsizing? Vehicles to meet various needs will be on display. Plus, more than 200 exhibiting companies will display the latest and greatest in supplies to enhance the motorhome lifestyle.
Mad About Madison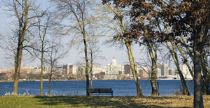 What do you get when you combine cheese curds, festivals, lakes, and a whole lot of friendly people? Madison, Wisconsin, of course! The Alliant Energy Center will host FMCA's 86th Family Reunion and Motorhome Showcase, August 10-13, 2011. If you have ever thought about bringing your children, grandchildren, or even great-grandchildren to an FMCA convention, this is a must-attend event.
Madison, Wisconsin, is truly a destination worth considering for the summer. The Henry Vilas Zoo, the "Best Free Place for Families," is an ideal location for children of all ages to explore. And, yes, I did say "free." The Dane County Farmers' Market on the Square is the largest producer-only farmers' market in the country and is open on Wednesdays and Saturdays during the summer. You'll want to arrive early, visit the state capitol, dine at one of Madison's unique restaurants, and then shop for some goodies from the local farmers.
Stimulate your senses with a trip to the House on the Rock, home to some of the world's most eclectic collections. Take a cruise on Lake Mendota or Lake Monona on the Betty Lou Cruises line. Be a little more adventurous and go spelunking at the Cave of the Mound, a national natural landmark, or ride the roller coasters at Little Amerricka Amusement Park in nearby Marshall. If you have a little time to "spare" at the end of the day, you may wish to bowl a game or two at Badger Bowl. More information about these and many other attractions in the Madison area may be found at www.visitmadison.com.
Park In A Park
While a number of family parking spaces will be available at Alliant Energy Center, the majority of families will be parked nearby (approximately two miles away) at Lake Farm Park, a Dane County-owned park. Picture yourself and your friends parked within yards of a lake. Bring your bikes; bring a boat. There is a boat dock nearby for your use and a bike path that will take you right to the Alliant Energy Center, and even over to the state capitol. Have a family cookout at a picnic shelter, complete with charcoal grills. See a sunrise, and experience the beauty of Wisconsin wildlife. This unique convention parking area is sure to be a family favorite and one talked about fondly for years to come.
Make It A Family Affair
There's a reason the theme for FMCA's event in Madison is "A Family Affair." Within a short distance of Madison is a favorite family fun spot, the Wisconsin Dells, the "Waterpark Capital of the World." A few miles from there lies Baraboo, home to Circus World Museum. Take in a Major League Baseball game or one of the many summer festivals in nearby Milwaukee. Madison is centrally located between Minneapolis/Saint Paul, Minnesota, and Chicago, Illinois.
Virtually Everything Under One Roof
The Exhibition Hall at Alliant Energy Center will be the hub for the majority of FMCA's activities. This 255,000-square-foot facility will house all of the indoor exhibits, the Information Center, and most of the seminars.
Immediately outside this facility will be the motorhome exhibits. Just north of the motorhome exhibit area is Veterans Memorial Coliseum, location of the evening entertainment. You won't have to travel very far on the Alliant Energy Center campus to attend any event.
Seminars: Safer Motorhoming Through Education
Whether you are looking to attend the family reunion in Perry, Madison, or both, be sure to explore the many seminars designed to enhance your motorhome experience. Member favorites include the RV Safety & Education Foundation's Safe Driving Course; Fire and Life Safety; Travel Fit seminars; Geeks on Tour; Gary Bunzer's tech tips seminars; make-and-take crafts; and much more. Some seminars require advance registration and a modest fee. Please continue to check FMCA.com for the latest seminar updates for both Perry and Madison.
Not Convinced Yet?
You will never know how special and interesting an FMCA event can be until you actually experience it. One FMCA international event may not even be enough to receive a thorough appreciation of all that is offered. Each family reunion, or convention, is different. Entertainment, tours, seminars, and exhibits are just the initial ingredients of the event. What truly makes an FMCA event unique is you! Everyone has a story to share. Many have a hug to give. Fellowship, friendship, and camaraderie are what make each reunion special.
Whatever your reason for attending, we look forward to welcoming you to our family reunions in 2011.