Surrounded by Lake Michigan shoreline, this peninsula has a reputation for maritime attractions, lighthouses, and popular local cuisine.
May 2011
By James and Dorothy Richardson
Some parts of the United States come up in conversation among travel buffs more often than others, and Door County, Wisconsin, ranks as one of them. But is this a worthwhile destination for motorhomers? We think so!
The Door Peninsula juts into Lake Michigan like an arm pointing northeast. The waters of Green Bay lie to the west, and Lake Michigan is to the east. The peninsula's slender width and 70-mile length make it possible to traverse almost all of it in a few hours, but its many interesting stops invite RVers to linger for a week or more.
Outdoor activities abound and include hiking, canoeing, kayaking, fishing, diving, swimming, wildlife-watching, and birding. Door County is also a shopping place, with plenty of specialty stores and art galleries, as well as restaurants of every description. Tourism promoters tout the fact that the county has 300 miles of shoreline, five state parks, 11 lighthouses, and several nature preserves.
The state parks are Potawatomi, Whitefish Dunes, Peninsula, Newport, and Rock Island. Potawatomi and Peninsula have campsites suitable for motorhomes. The others have features worth a visit if time allows. Admission stickers are required to enter all Wisconsin state parks except for Rock Island. If you are not a Wisconsin resident and plan to visit more than one park, you may find it more prudent to buy an annual sticker than to pay the daily state park fee.
Getting around the Door Peninsula is easy. The two major highways are state routes 42 and 57. State Route 42 runs the length of the county, starting out on the Lake Michigan side in the south, merging with State Route 57 for a time, and then crossing over about midway up the peninsula to follow the Green Bay side in the northern section of the county. State Route 57 does the opposite "" starts on the western side of the peninsula, splits off from 42, and then follows the Lake Michigan coastline. County roads crisscross the peninsula, making it simple to go from one place to another and from one side of the peninsula to the other.
Museums. In the city of Sturgeon Bay are two museums that provide a good introduction to the area. The Door County Maritime Museum's Sturgeon Bay facility is downtown on the ship canal. It is near the State Route 57/42 drawbridge, which goes up on the hour and can back up traffic during many times of the day. The museum has a good-sized parking lot, however. (If you aren't planning to visit the museum, you may wish to take the State Route 57/42 bypass.)
Sturgeon Bay was once a huge shipbuilding hub, and permanent exhibits at the museum include model boats like those once built here. Other exhibits focus on area lighthouses, lighthouse lore, and stories of great vessels that sank in area waters. Visitors can try their hand at steering a steamship and (for an extra fee) even climb aboard a renovated tugboat for a 30-minute tour of its many rooms and functions.
The museum is open year-round and hours vary by the season. For more information, call (920) 743-5958 or visit www.dcmm.org.
Another museum in Sturgeon Bay "" the Door County Historical Museum "" is housed in a Scandinavian-style building with stained-glass windows. This homey place offers free admission. Large rooms have exhibits focusing on local wildlife and area history. A huge replica of an early-day fire station with three restored fire trucks and firefighting artifacts is a big attraction as well. The museum is open daily May 1 through October 31. A parking lot is available across the street.
Lighthouses. Peninsula State Park is the most visited of all such parks in Door County, most likely because it has a lighthouse that is open to the public. The park is along State Route 42 between Fish Creek and Ephraim. The 1868 Eagle Bluff Lighthouse is open for tours daily in the summer, and the structure is a living museum.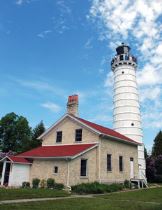 Lighthouses are always popular destinations for visitors. However, most in Door County are not open to the public, and some are accessible only by boat. In addition to Eagle Bluff, the Pottawatomie light on Rock Island is open, and the Cana Island lighthouse tower "" including the keeper's house and the oil house "" also is open in summer.
Cana Island is located near the town of Baileys Harbor. Take County Road Q across the peninsula toward North Bay and Cana Island. Turn off at Cana Island Road. The lighthouse is located at the end of a narrow, rustic road that is not suitable for motorhomes. Even in a towed car, parking for the lighthouse is inconvenient, as no designated parking area exists. Access to the lighthouse itself is via a causeway for foot traffic.
The Cana Island lighthouse is affiliated with the Door County Maritime Museum. Cana Island has one of the most beautiful (and photographed or painted) lighthouses in Door County. Because of the wear and deterioration of the original bricks, the entire tower was encased with steel plates and painted white. There is a modest charge for visiting the lighthouse.
Door County Tourism provides a lighthouse map brochure that can be downloaded online or received via the mail. For details, contact them by phone or online (see Further Info).
Restaurants. We've gone from museums to lighthouses, so you've probably built up an appetite. Have you ever heard of a fish boil? This is a common occurrence at Door County restaurants and is an entertaining way to sample the regional fare. Restaurants that offer fish boils include Pelletier's in Fish Creek, the White Gull Inn in Fish Creek, and the Viking Grill in Ellison Bay. The cooking technique includes boiling whitefish and small red potatoes (and sometimes onions) in a large kettle outside over a wood fire. At some point, the master boiler adds a touch of kerosene to the fire, and the resulting flash is a dramatic thing to see. It also makes the water hot enough to boil over the edge of the kettle, signifying that dinner is done.
Plenty of Door County restaurants offer other kinds of cuisine, from gourmet to homegrown kids' stuff. For the latter, try homemade ice cream at the Door County Ice Cream Factory & Sandwich Shoppe. This treat is made from scratch and served in all kinds of ways "" malts, sodas, smoothies, floats, and more. The shop is located in Sister Bay. Sister Bay also is home to the Waterfront Restaurant. Reservations are recommended at this gourmet establishment, which is open only for dinner Wednesday through Saturday and features an extensive menu that includes hand-rolled pasta.
Check with the tourism office for a copy of the Restaurant Dining Guide or visit www.doorcountydining.com for much more restaurant information and reviews, including phone numbers and directions.
Another way to satisfy your appetite, while also enjoying an educational experience, is with a cheese factory tour at Renard's Rosewood Dairy, located six miles north of Algoma at 248 Highway S. Experience cheese curds and purchase many other cheese varieties produced at this family-owned factory operated by third-generation cheesemakers.
More touring. At the very tip of the Door Peninsula is Gills Rock. Explore more of the county's maritime history by visiting the Door County Maritime Museum's Gills Rock facility, where you can board a fishing tug and check out other displays.
Gills rock is also the drop-off point for several underwater shipwreck diving tours, as it is near "Death's Door," the name given the section of water between the main peninsula and the island because of its hazardous currents and the number of shipwrecks. Also at Gills Rock, a passenger-only ferry called the Island Clipper departs to Washington Island.
To travel to the island by vehicle, continue on Highway 42 two miles east of Gills Rock to the dock at Northport Pier. There, the Washington Ferry (800-223-2094) will be your transport. Washington Island has 100 miles of paved roads and an RV campground. While on Washington Island, you can see Percy Johnson County Park; Mountain Park with its lookout tower; and even take another short ferry ride to the popular Rock Island State Park. From there, it's easy to get to the Pottawatomie Lighthouse.
Back on the mainland, head south toward the town of Baileys Harbor. Near the intersection of County Road Q and State Route 57, Ridges Road takes visitors to Baileys Harbor Range Lights and Ridges Sanctuary. The range lights are preserved in a 1,600-acre state natural area.
Range lights differ from lighthouses in that range lights come in pairs and are used to precisely align a vessel within a narrow channel, such as in a river or the entrance into a bay. The light closer to the vessel is the beacon, or lower range light; the more distant and taller light is called the upper range. These lights at Baileys Harbor were used from 1869 until 1969, when a single directional light replaced them.
Whitefish Dunes State Park is a logical next stop along State Route 57. It is the state's most popular day-use park, with a clean beach and the tallest sand dunes in the state. A nature center also is on the site. Ample parking for motorhomes is available here, and it will be one of your favorite stops on Door Peninsula.
Another way to tour here is by canoe and kayak "" they are the best ways to explore the bays and rivers of Door County. The islands on the bay side, one of which is Horseshoe Island in Nicolet Bay, are popular destinations for kayakers. Various outfitters can provide equipment or even guided tours to some of the county's waterways. Besides kayaking tours, outfitters offer fishing, sailing, and even Segway tours.
With so many opportunities for outdoor recreation in Wisconsin's Door County, and its many attractions, motorhomers will likely be impressed . . . and spread the word.
Further Info
Door County Visitors Bureau
1015 Green Bay Road
Sturgeon Bay, WI 54235
(800) 527-3529
(920) 743-4456
www.doorcounty.com
e-mail: [email protected]
The 2011 Visitors Guide is available through the mail and online, and at the visitors center in Sturgeon Bay, which is open 24 hours per day.
Area Camping
Door County offers numerous RV parks. Check your campground directory or FMCA's RV Marketplace, published in the June and January issues of FMC and online at FMCA.com. A list of rated Door County campgrounds is available at www.door-county-camping.com, and the county visitors bureau gives details about campgrounds online and in its brochures.