A welcoming and updated downtown area mixes well with historical sites in this eastern Tennessee city.
By Julia Hollister
October 2011
A visit to Knoxville, Tennessee, is like opening a magic box. The more things you discover, the more unexpected treasures appear.
Located in the eastern part of the state, the city of 175,000 or so residents is a meld of new and well-established traditions. The University of Tennessee and thriving local businesses attract out-of-towners. Dwellings and commercial buildings from the 1800s rest in the shadows of gleaming skyscrapers and a World's Fair site.
Knoxville is located 40 miles from Great Smoky Mountains National Park, the most-visited national preserve in the United States. It also is 37 miles from the Pigeon Forge/Gatlinburg area, popular for family entertainment. The climate is accommodating, too, with four distinct, albeit gentle, seasons. It makes an especially pleasant stop for motorhomers traveling in the fall or spring.
But before the tour begins, let's look back, way back, to some history.
According to Knoxville archives, before European settlers arrived, American Indians believed the land on which the town resides was sacred. In the late 18th century, Revolutionary War militia leader James White established a fort there, and the little settlement was later named Knoxville in honor of George Washington's secretary of war, Henry Knox.
During the Civil War, Knoxville was a tactical location for Union and Confederate forces. Perhaps Knoxville's next best-known accomplishment is that it was the site of the 1982 World's Fair. The fair's Sunsphere, a tower with a glittering globe on top, still shines brightly.
Downtown Area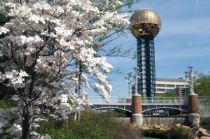 Geographically, visitors may want to think of Knoxville as having an Old Town/downtown area and the University of Tennessee (UT)/World's Fair Park area. Suburbs surround these areas. RV parking is available at the Civic Coliseum garage right downtown. And it gets better. Knoxville Area Transit (KAT) has free trolleys that travel around much of the main downtown area, as well as to the UT campus.
For Old Town/downtown exploration, start at the Knoxville Visitor Center, which is located on Gay Street, a thoroughfare name taken from one in Baltimore, Maryland. The visitors center features an array of paintings, pottery, candles, and more made by local artists and craftspeople.
The next must-see stop is the Museum of East Tennessee History, also located on Gay Street. The East Tennessee Historical Society presents this first-class facility, which houses wonderful displays of the area's past 200 years. Cherokee artifacts, Civil War surprises (did you know that Knoxville and eastern Tennessee supported the Union?), and an exploration of mountain music are included among the exhibits. A replica of a 1900s-era drugstore (with authentic medicine bottles) and a big yellow trolley are just some of the special exhibits. The center is open daily, and a small admission fee is charged.
The museum is also the starting point for the "Cradle of Country Music" one-hour downtown walking tour. The pace is easy, with no hills to climb, and the information is intoxicating. Country music icons Hank Williams, Elvis Presley, Dolly Parton, the Everly Brothers, and Roy Acuff all had some kind of musical ties in Knoxville, but they had to go to Nashville to find fame. (One local music promoter told the Everly Brothers they had no talent.) At a small store downtown on Market Square, a Knoxville record merchant chose to promote Presley's "That's All Right" record by playing it on loudspeakers to some people on the square. He sold hundreds of copies on the spot, including two copies to an RCA talent scout looking for fresh sounds. A few months later, RCA in New York bought Presley's contract from a small Memphis studio.
The WDVX Blue Plate Special is another nod to the city's rich musical heritage. WDVX, a local radio station, presents free lunchtime concerts Monday through Saturday at noon at the Knoxville Visitor Center. Musical entrees can run the gamut from bluegrass, classic country, and traditional mountain music to blues. So, grab a sandwich at the counter, settle down, and enjoy a free concert.
The area of downtown called Market Square has been the hub of the city since the 1850s. It hosts a farmer's market on Wednesday and Saturday during the season, city festivals, free entertainment, and other events.
Women's basketball history is the focus at the downtown Women's Basketball Hall of Fame museum. Opened in 1999, the facility is located on Hill Avenue and Hall of Fame Drive. You can't miss it — it has the world's largest basketball on its roof.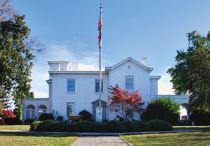 This is the only facility of its kind dedicated to all levels of the sport. Each year new members are inducted. The self-guided tour includes interactive displays and history of the sport, including one of the original rule books from 1901 (yes, women played basketball in bloomers back then) and a wooden trophy from the 1980 Olympics. Whether you are a rabid fan or a passive spectator, the Women's Basketball Hall of Fame is worth a look. The museum is open Tuesday through Saturday, and a small admission fee is charged.
UT/World's Fair Park
From downtown, take the free trolley to World's Fair Park, site of the 1982 World's Fair. The 52-acre site has a center play area (with fountains) for children, and the observation deck of the Sunsphere is open to visitors.
Along the park perimeter are some fun stops. The Candy Factory isn't really a food plant anymore, but it is home to a chocolate shop. The impressive Knoxville Museum of Art complex is full of beautiful handcrafts and other works, and admission is free. It's open Tuesday through Saturday from 10:00 a.m. to 5:00 p.m. and Sunday from 1:00 p.m. to 5:00 p.m.
The Frank H. McClung Museum, located on the UT campus, houses permanent exhibits as diverse as archaeology, American Indians, ancient Egypt, and the Civil War in Knoxville. A stunning diorama of the 1863 Battle of Fort Sanders, a turning point in the Civil War, combines the past and present through photographs. Admission to this museum is free also.
Around Town
A short drive from downtown is the Mabry-Hazen House and Bethel Civil War Cemetery. The stately home, built in 1858, is filled with collections of china, silver, crystal, and antique furnishings. A home for three generations of the same family, the house also served as headquarters for both Confederate and Union troops. The period home is open Wednesday through Saturday or by appointment. Visitors will hear of the family's history, including a tragic gunfight on Gay Street and one of the first breach of promise lawsuits in the nation. Although a guided tour of the main house might not be suitable for very small children, it has a huge yard in which they can roam. Admission is free.
Bethel Civil War Cemetery, where more than 1,600 Confederate soldiers are buried, is located just down the road. The place is large, well-kept, and allows visitors time to reflect on this dark passage in our nation's history.
Confederate Memorial Hall-Bleak House, perched on the banks of the Tennessee River on Kingston Pike south of downtown, offers visible reminders of the Civil War and a museum of period artifacts. During the siege of Knoxville in 1863, the house was headquarters of Confederate Gen. James Longstreet. Bullet holes in the walls of the house are still visible today. Tours are available Wednesday to Friday afternoons from March to December. An admission fee is charged.
If you are yearning to kick back, take a deep breath, and enjoy the outdoors and an awesome wildlife sanctuary, then Ijams (pronounced "eye-ums") Nature Center is your destination. The 275 acres of protected woodlands, ponds, and meadows — and 7 miles of nature trails and a mountain bike course — are open daily from 8:00 a.m. to dusk. The visitors center hosts public programs, live animal shows, and naturalist–led tours. Admission is free, and the park is only 3 to 4 miles from downtown Knoxville. Overnight camping is not available there, however.
If more animal adventure is on your agenda, consider the Knoxville Zoo, one of the best small zoos in the nation. Plenty of parking is available, and you can get up close and personal with its inhabitants, which include elephants, black bears, red pandas, lions, and more. The zoo is open 9:30 a.m. to 6:00 p.m. daily, except Christmas.
Time To Dine?
If you're ready for a burger break, ask almost anyone and they'll direct you to Litton's Market, Restaurant & Bakery at 2803 Essary Road, at the north end of Knoxville. This retro, family-style diner has been a favorite since 1946, serving sandwiches, salads, and blue-plate lunches. The food is top-quality, and the desserts are decadent and served in massive portions. The parking lot is large enough to accommodate RVs.
Another delicious reason to visit Knoxville is the barbecue, and you'll find several outstanding barbecue "joints" scattered throughout town. Some are more casual than others, from drive-through to sit-down, and prices vary. Calhoun's downtown restaurant location along the Tennessee River is bursting at the seams on UT game days.
It's also relaxing to dine while cruising along the Tennessee River. The family-owned Volunteer Princess is a motor yacht that can accommodate up to 149 passengers. Float along the river, taking in the sights and sounds of Knoxville's waterfront, past lush farmland and Southern mansions. The yacht offers lunch and dinner cruises and more. RV and public parking are available nearby.
Sight-seeing excursions are also available from the Tennessee Riverboat Company, which has a paddle wheeler to transport passengers to a more genteel era. Enjoy sight-seeing trips and fall color cruises, plus lunch and dinner cruises with live entertainment on the Tennessee River.
These are only a few highlights of what you'll find in Knoxville. Like the treasure box that keeps on giving, Knoxville's bountiful food choices, history, and new adventures make it well worth a visit.
Further Info
Knoxville Tourism and Sports Corporation
301 S. Gay St.
Knoxville, TN 37902
(800) 727-8045
http://www.knoxville.org/
Knoxville Area Campgrounds
The following is not a complete list. Please check your campground directory or FMCA's RV Marketplace, found in the January and June issues of FMC and online at FMCA.com.
Fox Inn Campground
(FMCA commercial member)
2423 Andersonville Highway
Clinton, TN 37716
(865) 494-9386
http://www.foxinncampground.com/
Quarter Horse Campground
1957 Raccoon Valley Road
Powell, TN 37849
(865) 938-3455
Southlake RV Park
3730 Maryville Pike
Knoxville, TN 37920
(865) 573-1837
http://www.southlakervpark.com/
Volunteer Park Family Campground
(FMCA commercial member)
9514 Diggs Gap Road
Heiskell, TN 37754
(865) 938-6600
http://www.volpark.com/