Filter Drying
The air conditioner on our Newmar motorhome has circular foam air intake filters that have a hole in the middle. These filters must be rinsed clean and dried periodically. I found that the type of hanger that comes from the dry cleaner (the kind with the cardboard tube that's used to hold slacks) works perfectly as a drying rack for these pads. Simply disconnect the tube at one end, slide on the foam pads, reconnect the tube, and hang to dry.
Kenneth Gluckman, F389145
Birmingham, Michigan
---
Classy Glasses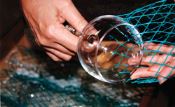 One of the high points of the travel day for my wife and me is quietly enjoying a glass of wine together after we've stopped and gotten everything set up. In addition to the wine, another luxury we permit ourselves is drinking it from fine-quality wine glasses. The problem is that the glasses are subject to breaking when we travel. So we saved several of the bottle wraps used by liquor stores to protect the bottles from breaking when they are handled. We store the glasses in a drawer when traveling, and the bottle wraps work perfectly to protect the glasses.
Ray McCalment, F331422
Depew, Oklahoma
---
Awning Holes Cover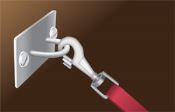 I installed a new power awning on my motorhome to replace the old manual awning. Unfortunately, this left a pair of holes in two different places that would need to be filled and the areas repainted. Instead, I chose a different approach. I had two stainless-steel cover plates fabricated and drilled to match the hole patterns on the motorhome. I had a loop welded to each plate and now use them to attach my dog's leash when I need two hands for other things. The plates can be used for anything else that requires a solid, easy-to-reach anchor point.
Danny Lindstrom, F310275
Salinas, California