An out-of-this-world museum in Cape Canaveral, Florida, where unmanned rockets are launched today, gives visitors plenty to discover.
By Ray and Diana McCalment, F331422
April 2012
The final space shuttle mission ended July 21, 2011, but we still recall seeing — and feeling — a shuttle takeoff. As the last few countdown seconds ticked down, a loud bang was followed by a sharp metal-to-metal clank as the launch tower separated from the ship. The entire assembly shuddered, and the booster engines ignited; then, the booster and solid rocket engines fired. At "1," the massive rocket engines reached their maximum thrust.
At that point, the ground shook so hard it felt like our heads were going to fly off. The noise was nearly unbearable as Launch Control announced, "We have liftoff." Gravity pressed our bodies back into the seats, harder and harder. Eight-and-a-half minutes later, the solid rocket booster engines cut off and fell back into the Atlantic Ocean. All was silent and we were weightless in orbit around the earth.
Of course, we didn't really go into orbit; we were among 26 people seated in a simulator called the Shuttle Launch Experience. And we were a tiny portion of the thousands of visitors that day at the Kennedy Space Center Visitor Complex.
This fascinating facility, approximately an hour's drive east of Orlando, has several exhibits that truly let you experience the history of the United States space program. It can give you the thrill of exploration, whether a real launch takes place on your visit or not.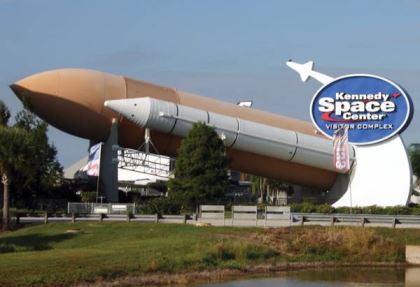 History
In 1958 President Dwight D. Eisenhower established the National Aeronautic and Space Administration, known as NASA. His successor, President John F. Kennedy, proclaimed America's intentions to go to the moon and beyond; thus began the famous "Space Race" with Russia. In 1962 Florida's east coast was picked as the site of the NASA Launch Operations Center, and a sleepy fishing and agricultural area was soon flooded with thousands of construction workers and NASA employees.
The Kennedy Space Center at Cape Canaveral has been the launch station for all of NASA's manned flights, beginning with the Mercury Project, which put Alan Shepard Jr. into suborbit in 1961. It has seen subsequent projects such as Gemini, Apollo, and the shuttle-based Space Transportation System (STS).
Barely visible 12 miles across the Indian River from Titusville, Florida, is the shuttle's Vehicle Assembly Building. This structure housed and protected the shuttle while it was being prepared for the next launch. The Vehicle Assembly Building is 525 feet tall and encompasses 8 acres; it is the third largest building in the world. It had to be immense to accommodate the 184-foot-tall space shuttle.
The STS program used shuttles to deliver up to 25,000 pounds of equipment on each flight to the International Space Station or other orbital satellites. It also was used to shuttle crew members. The first operational flights of the space shuttle were in 1982.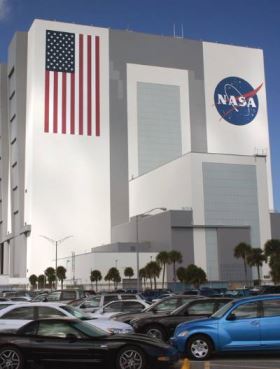 Six functional space shuttles were built, and of those, the Atlantis, Discovery, and Endeavour are still functional. Challenger disintegrated shortly after launch in 1986. Columbia broke up during re-entry in 2003. Enterprise originally was used for testing, but after the loss of Challenger it was upgraded, using available parts, and made serviceable.
STS shuttles consist of 2.5 million parts, making them the most complex piece of equipment invented by man. Since the program's inception in 1981, the space shuttles completed 135 launches and operated longer than any other program. It was the largest, most functional space program in the world. NASA announced the retirement of the program and the assignment of the shuttles to their final destinations in 2011.
Atlantis will be on display at the Kennedy Space Center Visitor Complex after it is ready for public view. At this writing, no date had yet been announced for the opening of that exhibit. Discovery will be placed in the Smithsonian Institution's National Air and Space Museum, and the Endeavor will be installed for public viewing at the California Science Center in Los Angeles. The prototype Enterprise will go to New York City and be shown on the aircraft carrier Intrepid Sea, Air, & Space Museum. People will be able to view these magnificent machines close-up for decades to come.
Rockets And Robots
Even though the space shuttle program has ended, there are still plenty of reasons to visit the Kennedy Space Center. Space vehicles, satellites, military equipment, and more are still launched by rocket. You can find the launch schedule online at www.spacecoastlaunches.com or www.nasa.gov and plan your visit to coincide with a liftoff. Viewing is best from the NASA Causeway, but you must have tickets for the NASA bus to the site. Bus tickets (available at the Visitor Complex and online at the Kennedy Space Center Web site) sell out quickly.
The Gravity Recovery and Interior Laboratory, which lifted off in September 2011, is an exciting example of an unmanned rocket launch. GRAIL's mission was to fly two robotic spacecraft around the moon, during which the craft precisely measured and mapped variations in the moon's gravitational field. This launch may not have been as big or as noisy as the space shuttle, but it was still a real kick to watch. In 2012, upcoming launches of other craft are scheduled in April, June, August, September, and later.
Viewing the rocket launches is an exciting and dramatic experience. It certainly doesn't require any special skill or knowledge. But planning and learning about the project you expect to witness will maximize the quality of your visit. The www.spacecoastlaunches.com site has a map and a list of viewing places. Another helpful list of rocket launch viewing locations is available on the NASA Web site, www.nasa.gov.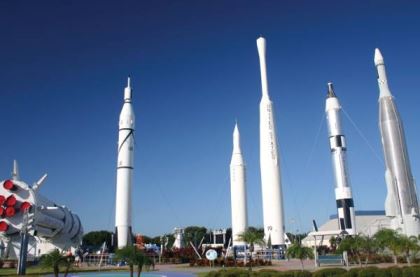 There are too many viewing sites to mention here, so we will include only a few. Titusville city and county parks along the Indian River shoreline are good places to watch a launch. Rest rooms are available at each park, but auto parking is at a premium. No RV parking is available. A few others include:
Space View Park, one block south of the intersection of State Route 406 and U.S. 1; it is also the site of the tribute to Friendship 7 astronauts.
Manzo Park, 3335 S. Washington Ave. (U.S. 1)
Rotary Riverfront Park, 4141 S. Washington Ave. (U.S. 1)
Kennedy Point Park, 4915 S. Washington Ave. (U.S. 1)
Cocoa Beach also offers several locations. However, there are very few options if you want to watch a launch from your RV. Overnight parking on retail store lots varies according to the individual store's policy; obtain permission first. Parking overnight in the Titusville Walmart parking lot is prohibited. As of 2011 JC Penney, at 2500 S. Washington Ave., permitted parking on the north end of its lot (321-269-3811). Sears at 3550 S. Washington Ave. allowed parking for one day (321-268-9255). Call to verify the rules before you go. Some areas along the water are public spaces, but they are sandy and not suitable for motorhomes.
If the timing is off when you visit, and no launch is scheduled, that is no problem. Simply exploring the Kennedy Space Center Visitor Complex, including the U.S. Astronaut Hall of Fame, is reason enough to make the trip. When planning to sightsee, we often ignore comments about the recommended amount of time it takes to really enjoy a facility. But this is one site that if you take less than two days, you will leave disappointed that you didn't allow more time.
Walking through the displays at the Kennedy Space Center was like reliving our lives. So many baby boomers' childhoods can be benchmarked by events in America's space program. From Alan Shepard's suborbital flight to the moon landing, from the amazing recovery of Apollo 13 to the losses of Challenger and Columbia, our lives and the space program have been intimately intertwined. A visit to Cape Canaveral will take you back and propel you forward.
Further Info
Kennedy Space Center Visitor Complex
State Route 405
Kennedy Space Center, FL 32899
(866) 737-5235
www.kennedyspacecenter.com
Tickets for the Visitor Complex are available online at the Web site above, and we recommend purchasing them in advance. The Space Shuttle Launch Experience simulator is included in the admission price, as are the IMAX films, all exhibits and shows, the bus tour, and the U.S. Astronaut Hall of Fame. Special events at the complex include talks by experienced astronauts.
For a complete guide to current and upcoming NASA launches, visit www.nasa.gov/centers/kennedy or call (321) 867-5000.
Area Campgrounds
The following is only a sampling, so please check your favorite campground directory or the RV Marketplace, published in the January and June issues of FMC magazine and online at FMCA.com, for additional area listings.
Christmas RV Park
25525 E. Colonial Drive
Christmas, FL 32709
(407) 568-5207
www.christmasrvpark.com
Crystal Lake RV Park
4240 Stuckway Road
Mims, FL 32754
(321) 268-8555
www.crystallakervpark.com
Titusville/Kennedy Space Center KOA
4513 W. Main St.
Mims, FL 32754
(800) 562-3365 (reservations)
(321) 269-7361 (information)
www.koa.com/campground/Titusville