Gear up for great sights and attractions in the Hoosier State capital as you attend Family Motor Coach Association's 87th Family Reunion and Motorhome Showcase this August.
By Peggy Jordan, F401999
Associate Editor
May 2012
Sports, especially auto racing, typically come to mind when people think of Indianapolis, the capital city of Indiana. Residents like to brag that it is the racing capital of the world, as it hosts the Indy 500, the Brickyard 400, and the Red Bull Indianapolis GP motorcycle races, and is a past venue of the U.S. Grand Prix Formula One race. But the city also boasts a multitude of museums, restaurants, cultural areas, and myriad other attractions, plus additional sites not far from town.
Indianapolis promises to be a great backdrop for FMCA's 87th Family Reunion and Motorhome Showcase, which will take place August 27-30 at the Indiana State Fairgrounds. With so much to see and do both on and off the convention grounds, it's no accident that this gathering has been dubbed "Formula For Fun."
Seminars about your motorhome and your enjoyment thereof will be offered in abundance during the Family Reunion, as will displays of motorhomes and RV-related wares that you can explore at your leisure. And let's not forget musical entertainment, tours of area attractions, and other special events. This also will be a great opportunity to meet new friends and see longtime buddies.
Here's a small assortment of Indianapolis attractions that you may want to check out before or after the Family Reunion. It's best to take a towed vehicle (or walk) to many locales that are within the city.
Downtown Salutes
You'd think that Indianapolis' nickname, "Circle City," would refer to its famous auto racetrack, but the name was given long before the speedway was built. In 1821 a surveyor platted a circle in the middle of town, intending to build the governor's mansion on that spot. Plans changed, and several years later the Soldiers and Sailors Monument, 285 feet tall, was placed there instead. The 1902 icon honors veterans of American wars that had occurred up to that date. It also has come to symbolize the state of Indiana, as well as the city of Indianapolis. At Monument Circle you can admire this historical statue and, for a small fee, take an elevator to an observation deck on the monument for a fabulous view of the city.
The monument anchors an entire complex of statues and other landmarks that honor military accomplishments. Two war museums in this area are full of one-of-a-kind items; both are open Wednesday through Sunday (admission is free to both). The first is the Colonel Eli Lilly Civil War Museum, a 9,000-square-foot display of photos and memorabilia reflecting Hoosiers' involvement in the conflict. The museum is located below the base of the Soldiers and Sailors Monument.
World War I was the original focus of the Indiana War Memorial Museum, the second local repository of wartime artifacts. Today the beautiful classical Greek-style building houses a collection of relics from several conflicts, including firearms and a helicopter, and info about veterans from the Battle of Tippecanoe to the present. The building's first purpose is still reflected in the magnificent Shrine Room, which focuses solely on heroes of the "Great War."
Veterans Memorial Plaza, just north of the Soldiers and Sailors Monument, consists of a stunning obelisk fountain of its own. City festivals and events frequently take place in the green space surrounding the fountain and the Soldiers and Sailors Monument.
White River State Park
Approximately one short mile west of downtown is White River State Park, one of the few state parks in the United States within a major city. The park encompasses 250 acres and includes a dizzying array of attractions; one of the newest is a visitors center that opened in 2003. Tying all of the points of interest together is the beautiful White River, part of which is channeled into a 1.5-mile canal passage that flows slowly past many of the sites.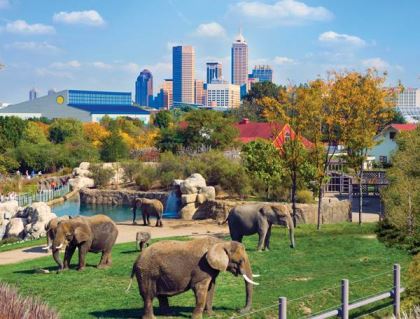 The Indianapolis Zoo opened at the state park in 1988. At the zoo you can explore several biomes, including a desert, or reach into a marine touch tank. You can observe dolphins, beautiful exotic birds, African plains animals, and much more. Don't miss the beautiful orchids on display in the greenhouse at the 3.3-acre White River Gardens, a part of the zoo.
As you move from the zoo to other attractions in the park, you'll be impressed with fresh, new beauty. Heading east back toward town across a pedestrian bridge, you'll next encounter the NCAA Hall of Champions, where you can explore a revered collection of sports teams along with other outstanding collegiate athletes in a salute to all 23 NCAA sports. Next, you may want to see what's showing at the IMAX Theater — but save time to check out the Indiana State Museum. The latter is a marvelous three-story collection of the cultural and natural history of the state, including some unexpected quirks. It turns out that fossil digs carried out by the museum in the Hoosier state have yielded ice-age versions of the common pig and fossils of at least four mastodon skeletons.
The highly regarded Eiteljorg Museum of American Indians and Western Art, one of only two such museums east of the Mississippi, is also part of White River State Park. Don't miss this rewarding and award-winning repository, which is chock-full of Western art and American Indian artifacts.
A moving and inspiring Congressional Medal of Honor Memorial is your next stop, just a bit north of the Indian museum. Completed in 1999, the monument's curved glass walls hold the names of more than 3,000 heroes who have won this prestigious award for military valor. Every evening at dusk, a recorded story about one of the honorees is played.
Baseball fans may be interested in catching an Indianapolis Indians game at Victory Field, located at the southeastern corner of White River State Park. The Pittsburgh Pirates' Triple-A affiliate plays its home games at the 14,500-seat stadium, this year through September 1.
Finally, just outside the state park proper, but within a block or so along the canal, is the Indiana Historical Society headquarters, where a museum offers "The Indiana Experience." Become entranced by a piano and other memorabilia in the Cole Porter room, which honors this famous Hoosier songwriter of tunes such as "Night and Day" and "I Get a Kick out of You." Other exhibits in the museum reveal photos and other state stories.
Fun Near (And At) The Fairgrounds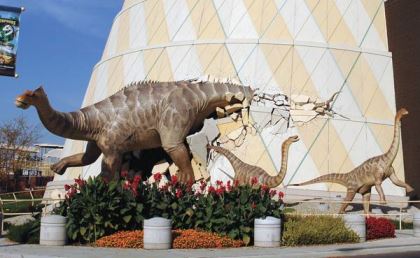 Three museums are within a 2- or 3-mile radius of your home for the 87th Family Reunion at the Indiana State Fairgrounds. The first is one people talk about for miles around — and it's only 2 miles from your motorhome. The Children's Museum of Indianapolis is the world's largest such facility, visited by more than 1 million people each year. Inside are five floors of fun. Toddlers and school-age kids use their boundless energy by exploring the Dinosphere, Info Zone, Barbie, Story Avenue, Playscape, and Scienceworks exhibits, among many others. A working 1917 carousel is on the top floor, and a train ride is available on the lower level. Near the train is Fireworks of Glass, a huge and colorful sculpture by famed glass artist Dale Chihuly.
Approximately 3 miles west of the fairgrounds is the Indianapolis Museum of Art. Imagine an art museum set on 152 acres of land, with a majority of that preserved as a 100-acre art and nature park, full of woods, meadows, a lake, and — you guessed it — outdoor artwork. The gorgeous estate you also will see on museum property is Oldfields, a National Historic Landmark. It includes the mansion of J.K. Lilly Jr., an Indianapolis businessman and philanthropist, that is commonly called Lilly House. It is open for free tours and is wheelchair-accessible. Nearly 90 percent of its 1930s-period items belonged to the Lilly family and were used in the home.
And all that is just for starters, because you've still not seen the art museum. Inside you'll discover ancient art; African art; and American art through 1945. Sculptures, paintings, decorative works, and more vie for attention.
Right on the fairgrounds themselves is a sweet and historical place: Hook's Drug Store Museum and Soda Fountain. Yes, you can get a phosphate or soda here, made exactly as they were years ago. Each tasty treat is put together by hand. While you're there, check out the antique pharmacy furnishings and equipment on display.
One more food-related attraction is within walking distance of the fairgrounds (approximately a mile): the 38th and Meridian Streets Farmers' Market. The market is held on Thursdays only from 4:00 p.m. to 6:30 p.m. — and the last day of FMCA's Family Reunion is a Thursday. You can stock up on delicious local baked goods and fresh foods for your next adventure.
Speaking of food, some of Indianapolis' most popular restaurants are near the fairgrounds: King Ribs Bar-B-Q, voted best ribs in town, is on North Keystone Avenue, as is Murphy's Steakhouse. Mama Carolla's on East 54th Street is considered one of the city's best Italian eateries. Tourists who like music with their food will want to try The Jazz Kitchen on North College Avenue, which serves up American fare and drinks while bringing in national and internationally known musicians for evening shows.
A Short Drive Away …
Two more important spots to consider seeing while you're in Indy are not actually in "town" per se, but worth the journey:
Conner Prairie Interactive History Park, in Fishers, Indiana, takes visitors back a century or so with a historical homestead, a prairie town, a balloon voyage, and Civil War displays. A great petting zoo with cute farm animals makes everyone stop and say, "Aw!" After you take it all in, stop at the mercantile for old-fashioned handmade gifts, games, and foods. It is a fun trip for the whole family, and it's only a 22-minute drive north of the fairgrounds.
Indianapolis' most famous destination boasts the Indianapolis Motor Speedway Hall of Fame Museum, a 15- to 20-minute drive west of the fairgrounds. The museum highlights the famous 2 1/2-mile "Brickyard" that opened in 1909 and has been the scene of more speed and thrills than perhaps anywhere else in the United States. Inside the museum you can inspect a huge collection of historical cars and photos and watch movies of highlights from famous Indianapolis 500 races.
The "Circle City" is packed with great sights for motorhome owners who plan to join their friends in Indianapolis this August. The attractions described above are just a small sampling of what awaits. Plan to attend FMCA's 87th Family Reunion and Motorhome Showcase. And then, ladies and gentlemen, you'll be ready to "Start your engines!"
Further Info
Indianapolis:
Indianapolis Convention & Visitors Association
200 S. Capitol Ave.
Suite 300
Indianapolis, IN 46225-1063
(800) 323-4639
www.visitindy.com
Indiana State Travel:
Indiana Office of Tourism Development
One N. Capitol Ave.
Suite 600
Indianapolis, IN 46204-2288
(800) 677-9800
(317) 232-8860
www.visitindiana.com
Area Campgrounds
Below is a sampling of campgrounds available in this area. Check the RV Marketplace listings online at FMCA.com and in the June and January issues of FMC for additional area listings.
Indianapolis KOA
5896 W. 200 N.
Greenfield, IN 46140
(800) 562-0531 (reservations)
(317) 894-1397 (information)
www.koa.com/campgrounds/indianapolis/
Indy Lakes
4001 W. Southport Road
Indianapolis, IN 46217
(317) 888-6006
www.indylakes.com
Lake Haven Retreat
1951 W. Edgewood Ave.
Indianapolis, IN 46217
(317) 783-5267
www.lakehavenretreat.com
Raceview Family Campground
3380 N. County Road 1000 E.
Brownsburg, IN 46112
(317) 852-5737
www.raceviewcampground.com
S&H Campground
2573 W. 100 N.
P.O. Box 561
Greenfield, IN 46140
(317) 326-3208
www.sandhcampground.com
Timberline Valley RV Resort
3230 E. County Road 75 N.
Anderson, IN 46017
(765) 378-5909
www.timberlinecampground