For many reasons, motorhome owners may find it best to focus on the scenery, and less on protecting their own vehicles from the elements.
By Susan Worden
July 2012
Exploring Alaska by motorhome is without doubt an adventure beyond words. This is especially true for those who prefer to travel at their own pace, blazing their own trail, seeking opportunity to explore Mother Nature's most prized wilderness wonders.
Many experienced motorhome owners will travel the long road to the Last Frontier State only in their own coaches. After all, making the journey and experiencing new territory in one's personal home on wheels makes for some unique personal stories and great bragging rights.
However, there is more to consider than just where to go and what to see. With today's unpredictable fuel prices, it can be rather costly to drive there. At press time, Alaska fuel prices were approximately $4.25 per gallon for gasoline and $4.50 per gallon for diesel.
Another reason to forego driving your own RV to Alaska is time. It can take several days or weeks to get there, depending on what part of Canada or the United States you are coming from. Perhaps you have a busy job or family situation.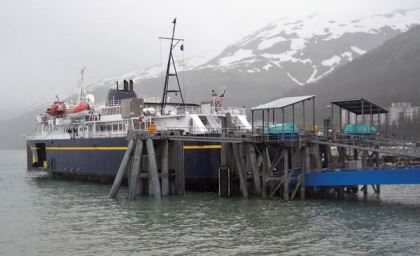 Add to that the wear and tear that such a journey can put on a motorhome, as some roads seem to be constantly under construction, or rough, or both.
With those reasons in mind, the notion of flying to Anchorage and renting a motorhome for your adventure may not seem like a bad idea. And using a different kind of motorhome may even help you decide on a future purchase.
If using your own motorhome is still the only way you want to see Alaska, you may have non-RVing friends who'd like to join you in exploring The Last Frontier, friends for whom this may be the first of many exciting motorhome adventures.
Could this be your year for a new challenge?
Let's Make A Deal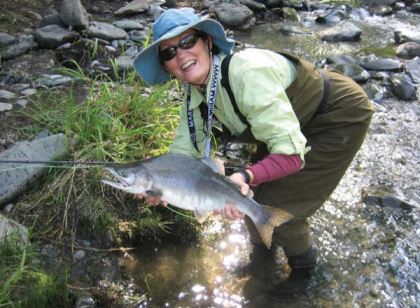 The good news is, as a rule, motorhome rentals in Alaska cost approximately half of what is charged in the Lower 48, mostly because of competition among the many rental companies. To make the rental process quick and less stressful, here are a few tips:
Deal with the rental company yourself. Do not rent through a third party. Rental companies have great Web sites and are happy to talk to people by e-mail and phone. This also gives you an opportunity to ask questions.
Book as early as possible.
Allow plenty of time to look over and pick up your motorhome. It takes longer to process paperwork, review package options, and take a walk-through of your rental than you may think.
If possible, don't schedule time-sensitive activities or long-distance travel the day you get that "new-to-you" RV. By the time you pick up the motorhome, stock it with your necessities, and get oriented, there probably won't be much of the day left. You'll be ready for a break! It's not worth the stress.


Keeping your Alaskan experience simple and relaxed is the key; it complements what this inviting, peaceful frontier is all about.
Take A Ferry
Once you rent a motorhome, you will be on a time limit. With Alaska full of exciting places to see, it can seem like an overwhelming endeavor to create a travel plan. Consider the following route, which easily can be done in two weeks. A good time of year to take your trip is in July.
The travel plan below is structured, yet not so tight that you can still be creative, doing your own thing along the way.
You can drive the 300 or so miles from Anchorage to Valdez, but a relaxing way to start your journey is by ferry. From Anchorage, drive to Whittier for departure to Valdez. Depending on the Alaska Marine Highway schedule, this route can be modified, eliminating an overlap. Reservations are a must when traveling in a motorhome by ferry, and the fee is not inexpensive — in 2012 it is approximately $350 for an RV that is 24 feet long. For information and ferry schedules, visit the Alaska Marine Highway Web site at www.dot.state.ak.us/amhs/index.
After parking your motorhome on the ferry, head to the upper deck and find a comfy seat for the ride across beautiful Prince William Sound. Naturalist guides from the U.S. Forest Service are extremely knowledgeable and make the trip interactive and fun. As you watch for wildlife, you can take in breathtaking views of fjords, glaciers, waterfalls, and bays while cruising through calm waters.
Glaciers, Fishing, And A Gravel Road
Four miles from the harbor in Valdez, along the Richardson Highway, is Bear Creek Cabins & RV Park (907-835-2723; www.bearcreekcabinsrvpark.com). Ready to make your stay comfortable are owners LaVerne and Tim Eickman, who tend to 90 RV sites, 68 with full hookups. After the 6-hour ferry ride, you'll be ready to stop for the night.
After leaving Bear Creek campground, watch for Horse Tail Falls on your left. As you continue over Thompson Pass, you'll encounter your first glacier up close. Wow, what a sight! Next you'll arrive at Worthington Glacier. Take the small walking path to catch a spectacular view of how this giant ice pile moves down the mountain, carving its way through the land.
Continue for several hours north on the Richardson Highway to Paxson, and then head west on the Denali Highway. The first 21 miles of the highway west of Paxson are paved, as are the three miles just east of Cantwell. The remaining 110 miles or so of highway are gravel and range from good to rough and rocky, sporting potholes or dust, depending on the recent weather. But the views are stunning and worth every bump and rattle. If you are renting a motorhome, check the rental company's policy about driving on the Denali.
Tangle Lakes Campground (907-822-3217. www.blm.gov) is a Bureau of Land Management campground at Milepost 21.5 of the Denali Highway. Although no hookups are available here, it's great for anglers. Experience standing in the creek, rod in hand, and see how the grayling put up a fun fight for catch and release. What a hoot.
The Denali Highway leads to Cantwell, and then you turn north a few miles on the Parks Highway to the entrance to Denali National Park. Along the way, your eyes will be held captive by the majestic views of the Alaska Mountain Range. Imagine seeing grassland, water, trees, hills, mountains, snow, and clouds against a brilliant blue sky, all in one glance. To top it off, you'll frequently experience this harmony of nature without the interruption of many other travelers.
Other than the Denali Highway, most highways on this route are paved with seal coat. Check your copy of The Milepost for details (see the sidebar that follows). During the summer, there are always areas of construction or repaving with loose, dusty gravel. This might be another one of those times you're thankful the wear and tear isn't on your own motorhome.
Denali And Beyond
After you reach Cantwell, you will need to drive north a few miles on the Parks Highway to the entrance to Denali National Park and Preserve. Before you arrive, have your reservations secured; they often sell out. Denali National Park has six primitive, no-hookup campgrounds, three of which can accommodate motorhomes. This may be yet another reason to rent a motorhome smaller than the one you're used to, as it may be easier to find a campsite at the park. Some sites can accommodate up to a 40-foot coach, but not all. For more camping information, contact the park at (800) 622-7275 (U.S. only) or (907) 683-9532; or visit www.reservedenali.com.
If you plan to be at Denali for a short time, take the bus ride into the park to get an understanding of the land for future hiking and a look at the wildlife. While on the bus, it's not unusual to see caribou, moose, foxes, wolves, eagles, ptarmigan, and hawks.
After exploring Denali, head south on the Parks Highway toward the small town of Talkeetna, some say the inspiration for the TV show "Northern Exposure." Have breakfast or lunch at the ever-popular Roadhouse, renowned for its breakfasts and its bakery. Taste reindeer sausage — it's a little spicy, and very good. For a taste of culture, walk about this charming town and check out the galleries and local artisan shops.
If you want more fishing, continue south and stop at Willow Creek, which offers an exhilarating opportunity to fish a fast-moving creek and walk along the shoreline through beautiful, lush flora. Make sure you have bear repellent, though!
From Willow Creek, drive toward Houston and stay at Riverside Camper Park (907-892-9020; www.karo-ent.com/riversd.htm). It has 60 full-hookup sites, showers, and a laundry facility on site, among other amenities.
More Waterfront Views
Leaving Houston, backtrack through Anchorage and continue along Turnagain Arm of Cook Inlet, making your way to Hope and Resurrection Creek. Hope is a small, rustic village with old-time character, right up to the dirt road and the lack of sidewalks. The store owners keep hours based on whims; signs read, "Open 10:00 a.m.; close, whenever."
Next, follow the mighty Kenai River south to Soldotna. A comfortable place for overnight camping with full hookups and a laundry facility is King Salmon Motel & RV Park (907-262-5857).
From Soldotna, travel south along the picturesque shoreline of the Kenai Peninsula, tucked into the shore of Kachemak Bay, where you'll find the small, bustling harbor town of Homer. Alaska Heritage RV Park (800-380-7787, 907-226-4500; www.alaskaheritagervpark.com) is a smart choice while you explore Homer. Located on the famous Homer Spit next to a spot called the "Fishing Hole," it affords great views of the inlet and mountains.
Homer is host to great restaurants with local flair and flavor, serving halibut sandwiches, clam chowder, fish tacos, and fabulous king crab caught on the famous crab boat, Time Bandit. Stroll around the marina and stop by the Salty Dog, a well-known landmark for food and spirits.
From Homer, make your way to Seward, one of Alaska's oldest towns. The Seward City Waterfront Park campground (907-224-4055; www.cityofseward.us) has a view of the bay with water and electrical hookups. Seward is surrounded by some of the most unforgettable scenic beauty in Alaska. Definitely sensory overload!
From the campground, a short walk to the south will take you to the fine Alaska SeaLife Center, the state's only aquarium and ocean wildlife rescue facility. And if you're interested in seeing the glaciers up close, some of them calving (ice breaking away), along with whale watching, bird-watching, and wildlife-viewing, book a boat tour on one of the many Kenai Fjords tour boats.
Since it's almost the end of your journey, head north toward Anchorage and spend your last night in Cooper Landing. The Sunrise Inn's rustic café and bar is surrounded by beautiful mountains and is an easy walk from the facility's campground (907-595-1222; www.alaskasunriseinn.com).
Blazing through Alaska by motorhome for two weeks can leave travelers feeling as though they've become one with the earth, which makes leaving hard to do. The good news is, not much will change while you're away. And you will have learned that "Time does stand still in the Last Frontier."

Alaska RV Rental Companies
Many competing rental companies can mean low rates compared to those found elsewhere. This list may not be complete, so please contact the Anchorage Information Center (907-257-2363, www.anchorage.net) for additional listings.
For general Alaska tourism info, call (800) 208-0200, or visit www.alaskatravel.com.
A&M RV Center
2225 E. Fifth Ave.
Anchorage, AK 99501-2924
(800) 478-4678
(907) 279-5508
www.gorv.com
ABC Motorhome & Car Rentals
3875 Old International Airport Road
Anchorage, AK 99502
(800) 421-7456 (U.S. only)
(907) 279-2000
www.abcmotorhome.com
Alaska Affordable Motor Home Rental
10607 Flagship Circle
Anchorage, AK 99515
(907) 349-4878
(907) 306-2923
www.alaska-rv-rental.com
Alaska's Best RV Rentals
6656 Homer Drive
Anchorage, AK 99518
(907) 223-9123
www.alaskabestrvrentals.com
Alaska Motorhome Rentals
c/o Alaska Travel Adventures
18384 Redmond Way
Redmond, WA 98052
(800) 323-5757
www.bestofalaskatravel.com
Clippership Motorhome Rentals
5401 Old Seward Highway
Anchorage, AK 99518
(800) 421-3456 (U.S. only)
(907) 562-7051
www.clippershiprv.com
Cruise America – Anchorage
2230 Cinnabar Loop
Anchorage, AK 99507
(888) 567-8351
(907) 349-0499
www.cruiseamerica.com
Great Alaskan Holidays Inc.
9800 Old Seward Highway
Anchorage, AK 99515
(888) 225-2752 (U.S. only)
(907) 248-7777
www.greatalaskanholidays.com
Alaska Travel Guide
Since 1949, The Milepost ($29.95 U.S., $34.95 Canadian; Morris Communications) has been the bible of North Country travel, providing comprehensive information for planning and enjoying Alaska and Western Canada. It includes logs of attractions, activities, and services along 88 scenic highways and roads in Alaska, Yukon Territory, and other parts of Western Canada. The Milepost logs all major highways and most secondary roads, from the 1,488-mile Alaska Highway to the 1.6-mile Anchor River Road. The 64th Edition features nearly 700 color photos; 56 city, vicinity, and park maps; and 42 detailed highway strip maps.
A popular feature of The Milepost since it began is the fold-out Plan-A-Trip Map bound into the book. There is detailed coverage of cities and major attractions such as Denali and Glacier Bay national parks; and a general information section on everything from Alaska's three types of bears (where to see them and how to avoid them) to when to go and what to wear. New in this edition is a Calendar of Events & Holidays for Alaska and Northwestern Canada to help plan your trip to coincide with whatever celebration catches your fancy.
The 2012 edition of The Milepost is available in bookstores and retail outlets; online at www.themilepost.com and at retailers such as amazon.com; and by phone at (800) 726-4707. A free digital edition of The Milepost is available to those who purchase the print edition.
Travel With FMCA's Tour Connection
FMCA members who are interested in guided excursions to sites in Alaska and Canada may want to view the upcoming tours scheduled as part of the FMCA Tour Connection Powered by Fantasy RV Tours. The Tour Connection offers FMCA-member-only RV caravans, rallies, and cruises at discounted rates, and also provides FMCA members discounts on other Fantasy RV Tour events.
FMCA tours include the 48-day "Heart of Alaska Caravan" from British Columbia, Canada, to Alaska's Kenai Peninsula, beginning in July 2013; the 59-day "Premium Alaska" caravan, including the Yukon, Canadian Rockies, and the heart of Alaska, beginning in June 2014; the 48-day "Deluxe Canadian Maritimes" tour beginning in June 2014; the eight-day "Calgary Stampede Rally" in July 2014; and the 15-day "Canadian Rocky Mountains Caravan" in July 2014. In addition to land excursions, a seven-day "Inaugural Alaska Cruise" and a seven-day "Alaska Cruise" aboard Princess cruise ships are scheduled for September 2012 and September 2014, respectively.
For more information about these FMCA Tour Connection excursions and many others, visit www.fantasyrvtours.com/fmca or call (855) 385-3622.