This 34-foot diesel pusher features many clever design details, plus livability features often found in much larger motorhomes.
By Bob Zagami
November 2012
Benvenuto al mio Palazzo, "Or, welcome to my palace," as they would say in Italy. However, this motorhome isn't in Italy, and wasn't made in Italy, but it does a fine job of serving as a palazzo — palace — on wheels.
A new RV manufacturing trend seems to be motorhomes that fit in the 33-foot to 34-foot length range with a sticker price below $200,000. Thor Motor Coach brings the Palazzo right into this market niche. It appears that the company's designers have done their homework, with another excellent addition to their diesel lineup.
The 2013 Palazzo is offered in four floor plans. I recently road tested and reviewed the 33.1, which is equipped with two slideouts.
Interior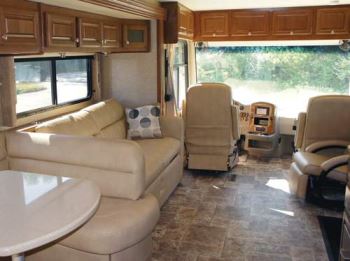 Let's start our tour inside the rear bedroom suite, then work our way forward and end up outside.
Motorhomes in this category often have a bedroom that has been adjusted downward in size to make sure that the living quarters, kitchen, and bathroom retain the spaciousness one would expect in a much larger diesel pusher. That is what makes this length of coach so appealing to consumers who are downsizing from a larger motorhome or who are stepping up to their first diesel pusher but have no desire to hop into the 36-foot to 45-foot "big ones."
This is a very comfortable and functional bedroom for a 34-foot motorhome. The only carpeting in the coach is found in this area. (Seamless vinyl flooring appears throughout the rest of the vehicle.) A sliding door closes off this room from the rest of the coach.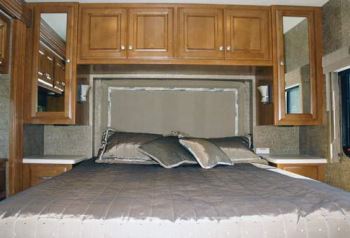 A curbside slideout in the bedroom encases a dresser and cabinets above the window, as well as a full-height wardrobe. Thor Motor Coach engineers filled this space with a range of storage options, something the company is noted for in its motorhomes. The queen-size bed, accessible from all sides, is flanked by nightstands, reading lights, shirt closets, and overhead cabinets across the rear of the motorhome. A carpeted storage area is located under the bed. The 26-inch LCD TV positioned in the corner at the end of the bed can be viewed from anywhere in the bedroom.
We start to see the Italian influence with a curved corner that leads out of the bedroom into the split bathroom. On the street side, an elevated china-bowl toilet and sink are accompanied by abundant cabinetry, shelving, and elongated counters to give it a homelike feel. Across the aisle is an oversized shower with a large glass door, skylight, and handheld nozzle. The two-handle water configuration drove my wife crazy, and she will always question why manufacturers don't put a single-handle, temperature-controlled valve in all their showers. Yes, it will cost more money, but it is an option that I suspect most RVers want.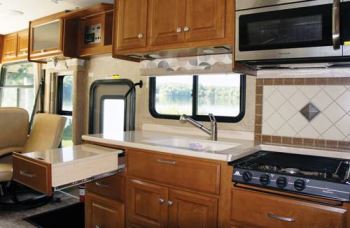 Continuing forward, we come to the kitchen area. An adjustable-shelf pantry and an 18-cubic-foot Whirlpool residential refrigerator-freezer stand just beyond the shower on the curb side. Many manufacturers are moving to residential refrigerators, which don't require venting and provide more design options for the product development and engineering teams.
Thor Motor Coach has done a few things differently with the aforementioned refrigerator, and the setup received high marks from this family. The Palazzo comes with a 2,000-watt inverter and an auto-start option for the generator. We deliberately ran the inverter one night to see whether the batteries would hold their charge with the refrigerator on. They did indeed, and the refrigerator and freezer were just as cold in the morning as they were when we went to bed. Now, this might seem insignificant to many, but if you find yourself in a campground or resort that restricts the hours you can run a generator, then you are really going to appreciate the thought that went into this configuration.
Another feature scoring high points on this appliance is the safety lock that goes between the refrigerator and freezer. While most traditional RV refrigerators have standard door-locking mechanisms, most residential units do not. Be sure to engage this little item, because if you don't lock the refrigerator/freezer doors and then drive around a corner too quickly, you could have a mess to clean up off the kitchen floor should the door swing open. Trust me; I have seen it happen in other units.
Along the curbside wall, just in front of the refrigerator, is a three-burner high-output cooktop with an easy-to-clean tile backsplash, as well as a 30-inch Whirlpool convection-microwave oven. Solid-surface countertops cover a good selection of drawers and cabinets and hold a double-bowl sink with a residential single-lever spray faucet. A contemporary stainless-steel finish graces all appliances.
Our test coach was outfitted with Vintage Maple cabinetry, featuring full-extension metal drawer glides and nickel-finish hardware. A pull-out countertop extension is built into a drawer on this floor plan. Behind the sink, a large window is framed just under the overhead cabinets. These cabinets add considerable storage room in a small space along this wall.
The living room area definitely is configured for entertaining! The street-side slideout contains a 76-inch U-shaped dinette that will seat six people, as well as a Leatherette-covered sofa bed with a 60-inch-by-75-inch air mattress. The two captains chairs rotate rearward to become part of the living room; they are complemented by a Euro-recliner with an integrated ottoman just inside the midcoach entry door, to the right. In our view, midcoach entry doors are extremely functional in smaller coaches. In the Palazzo, the systems monitoring panel is conveniently located in a cabinet just above the entry door.
A midcoach 32-inch LCD television is viewable from all seating locations, even when the slideout is retracted. This is achieved using Thor Motor Coach's Always-in-View TV mount, a sliding mechanism that brings the TV toward the center of the motorhome. The DVD player includes a home theater sound bar located just under this television. Another 32-inch LCD TV is located in an exterior compartment at a very convenient height for outside viewing.
In the well-designed cockpit, all controls are within easy reach of the driver. I like my coffee while driving, so I appreciated the abundance of cup holders in this area — four of them! I also like to work during trips, so the PC workstation in front of the copilot seat was appreciated, as was the "charging station" with 12-volt-DC and 120-volt-AC outlets. I was glad to see Thor Motor Coach make good use of this otherwise wasted space where a typical front entry door would have been located on a diesel pusher. The entire Palazzo diesel pusher line is available with an optional family-friendly electric drop-down bunk bed in this area that tucks away against the ceiling when not in use.
The one-piece windshield afforded excellent views of the road. It included a motorized drop-down shade; defroster fans; and dome lights that are powerful enough to read notes, a travel guide, or a road atlas en route to your next stop that night. The standard six-way power seat assured that I remained comfortable while driving.
The dome lights are controlled by a dash switch located next to the generator start switch. The dash also contains an AM/FM/CD radio with a weather band that is operated by large buttons. An integrated backup camera system based here includes two side-view cameras, all in color and with backup audio.
Also in the cockpit is a lever that makes it possible to deflate the air bags so as to lower the coach for easier access. As built, the Palazzo is only 11 feet 10 inches high — with air conditioners — and is low to the ground, with a single-step entry. The motorhome's compact design affords it passage through standard 12-foot-tall garage doors.
Like the living room furniture, the pilot and copilot chairs are also covered in Leatherette material. Even more storage cabinets hang overhead.
Exterior
It seems as though we could spend all day talking about the features inside the Palazzo, but it's time to head outside to see what this motorhome is built on and what it has to offer under the floor. But on our way out, we should mention Thor Motor Coach's exclusive Motorhome Mud Room compartment, located just inside the entry door, on the left. This handy compartment can be used to store wet or dirty shoes or to house some of your tools and gadgets that you want to use outside but don't want to run all around the coach looking for.
The palace, oops, the Palazzo, is built on the time-proven Freightliner XCS chassis with a 55-degree wheel cut that affords incredible maneuverability in tight spaces. The 300-horsepower Cummins ISB turbocharged, aftercooled, 6.7-liter electronic diesel engine is coupled with the stellar Allison 2100 MH six-speed automatic transmission.
With this new length category for diesel pushers, and this combination for power and drivetrain, the Palazzo drives more like a large SUV on steroids, with great pickup and passing manners. It stops quickly, thanks to full air brakes with auto slack adjusters, and also has an antilock braking system (ABS). The 208-inch wheelbase and 22.5-inch tires provide a very comfortable ride, even on rough road surfaces. The excellent road manners were also with us on steep declines and upgrades where we could pass a slower vehicle when it was safe to do so. During our four-day journey, the Palazzo's fuel economy was 9.9 miles per gallon.
The Palazzo has a gross vehicle weight rating (GVWR) of 26,000 pounds and a gross combination weight rating (GCWR) of 30,000 pounds. With full diesel, propane, and water tanks, our coach weighed a very respectable 22,280 pounds, affording close to 4,000 pounds of additional carrying capacity. While the tow hitch rating is 10,000 pounds, you are not going to want to maximize your options here and overload the coach.
Dual fuel fills are one of my favorite items on any motorhome. On the Palazzo, the feature made it possible to fill the 90-gallon tank from either side. The fresh water tank holds 95 gallons, and the gray water and black water tanks each have a capacity of 43 gallons. In recent discussions with several consumers, I've heard their desire for larger gray tank capacity, even if that means decreasing the capacity of the black water tank. Some manufacturers already have started to move in that direction; it will be interesting to see whether others follow suit.
Most exterior storage compartments on the Palazzo are now a bright-white fiberglass and protected with radius side-hinged, flush-mounted doors. A large, tall, pass-through compartment with double doors also includes a convenient sliding tray positioned halfway up the height of the compartment; this turns it into a shelf to make it easier to store and gain access to items. An innovative cable pull opens the second door, and with this configuration, a center post is not needed.
The single 18-foot electric patio awning provides plenty of protection from the sun or light rain, and it also protects the exterior television compartment when open.
The exterior is striking, with full-body paint and gel-coat siding. And, unlike many coaches at this level, the Palazzo comes standard with dual-pane windows.
Another nice feature is the battery compartment, located in a rear driver's-side compartment, which includes the two coach batteries, the four auxiliary batteries, and the quick-disconnect battery switch. Equally impressive is the water and waste management bay, which Thor Motor Coach calls Campers Corner. In addition to housing the dump valves and fills, this area includes an outside shower, along with the water filtration and water heater bypass system.
The 50-amp motorhome offers a detachable power cord, which I find much easier to store and use than those equipped with a hardwired cord at one end that we have to fight to get back into its assigned compartment.
As tested, the Palazzo 33.1 had a manufacturer's suggested retail price of $193,929 and included the following options: Super bright exterior 32-inch LED TV and invisible bra.
I'm going to go out on a limb and say this will be a breakout product for Thor Motor Coach in 2013. It will certainly have competition, as other manufacturers rush to put one of their offerings in this new category. If you are looking for an entry-level diesel pusher that has many of the options of higher-priced coaches and in a very drivable length, then you are going to want to test drive this motorhome. We had to wait almost three months for our test coach, because everything that came down the production line was committed to a dealer or had a customer waiting for it when it arrived at its destination.
So, arrivederci (good-bye), and safe travels in your rolling palace.

SPECIFICATIONS
MANUFACTURER
Thor Motor Coach, P.O. Box 1486, Elkhart, IN 46515; (800) 860-5658, (574) 266-1111; www.thormotorcoach.com
MODEL
Palazzo
FLOOR PLAN
33.1
SLIDEOUTS
(2)
CHASSIS
Freightliner XCS
ENGINE
Cummins ISB 6.7-liter electronic diesel; 300 horsepower @ 2,600 rpm; 660 pound-feet torque @ 1,600 rpm
TRANSMISSION
Allison 2100 MH six-speed automatic with lockup
AXLE RATIO
5.13 to 1
TIRES
Goodyear G670 RV 255/70R 22.5, 16-ply
WHEELS
steel, 22.5 inches by 8.25 inches with 10-bolt lugs, 11.25-inch bolt center
WHEELBASE
208 inches
BRAKES
full air with auto slack adjusters and ABS
SUSPENSION
Neway air
SHOCK ABSORBERS
tuned Sachs shocks
STEERING
TRW THP 60, integral hydraulic power gear
ALTERNATOR
Delco Remy, 160-amp
BATTERIES
chassis — (2) 950-cca, maintenance-free;
house — (4) heavy-duty 6-volt, maintenance-free
INVERTER
2,000 watts
ELECTRICAL SERVICE
50 amps
AUXILIARY GENERATOR
Onan RV QD 6000 diesel
EXTERIOR LENGTH
34 feet 5 inches (without ladder)
EXTERIOR WIDTH
101 inches (without mirrors)
EXTERIOR HEIGHT
11 feet 10 inches (including A/C units)
INTERIOR HEIGHT
6 feet 10 inches
GROSS COMBINATION WEIGHT RATING (GCWR)
30,000 pounds
GROSS VEHICLE WEIGHT RATING (GVWR)
26,000 pounds
GROSS AXLE WEIGHT RATING (GAWR)
front — 10,500 pounds;
rear — 17,500 pounds
AS-TESTED WEIGHT
(weighed with full fuel, propane, and water)
front axle — 7,240 pounds;
rear axle — 15,040 pounds;
total — 22,280 pounds
OCCUPANT & CARGO CARRYING CAPACITY (OCCC)
approximately 4,600 pounds
FRAME CONSTRUCTION
engineered and fully welded tubular steel floor system, aluminum roof, and sidewall cage; Vacu-Bond laminated roof, walls, and floor with high-density block-foam insulation
INSULATION
R-10 roof; R-7 walls and roof
FRESH WATER CAPACITY
95 gallons
HOLDING TANK CAPACITIES
gray water — 43 gallons;
black water — 43 gallons
FUEL CAPACITY
90 gallons
FUEL REQUIREMENTS
diesel
PROPANE CAPACITY
104 pounds
WATER HEATER
6-gallon gas/electric
WATER SYSTEM
demand
HEATING SYSTEM
35,000 Btu
AIR-CONDITIONING SYSTEM
(2)13,500-Btu roof units
REFRIGERATOR
Whirlpool 18.5-cubic-foot residential refrigerator-freezer
TOILET
china
WARRANTY
coach — 12 months/15,000 miles, 24 months/24,000 miles on structure;
chassis — 3 years/50,000 miles
BASE SUGGESTED RETAIL PRICE
$189,500
PRICE AS TESTED
$193,929