Explore the area where modern motorhomes and traditional Amish pies go hand in hand.
By Mark Quasius, F333630
August 2012
Northern Indiana supports a large enclave of Amish and Mennonite families. In fact, more than 20,000 Amish live in the area. Amish beliefs forbid them from using modern-day conveniences in various forms; Mennonites are generally more modern and use cars and electricity. All are known for their excellent work ethics and quality craftsmanship, and many are employed in the local RV manufacturing plants, where they make good use of these skills when constructing RVs. They are hardworking and detail-oriented, which has made them a real asset to the many RV manufacturers in the area.
Two-lane roads in northern Indiana are shared by motorized vehicles and horse-drawn buggies, requiring those of us with the former to yield when encountering the latter. Some major thoroughfares have been built extra-wide, with dedicated buggy lanes to minimize any clashes between the different forms of conveyances. Many parking lots have dedicated spaces with hitching rails for real "horsepower." You may want to watch your step when walking through these lots.
Once you explore Indiana Amish country, you will agree that both old and new get along just fine.
Elkhart
Although the majority of northern Indiana RV manufacturers are located in surrounding communities, Elkhart is considered the hub of the RV industry. The RV/Manufactured Housing Hall of Fame and Museum is located in town, right off exit 86 on the Indiana Toll Road (Interstate 80/90) and will take you on a road back in time with a large display of early RVs.
Elkhart is a riverside community. Its RiverWalk links waterside parks with many interesting businesses and places to grab a quick snack or lunch.
One popular stop by motorhome owners is the Bradd and Hall showroom. Bradd and Hall handles Flexsteel and Villa furniture as well as Lambright Wall Hugger recliners, MCD shades, and a wide variety of other RV interior accessories. The products can be purchased outright or installed in your RV. Complete interior renovations are also available.
Middlebury
Due east of Elkhart is Middlebury, one of the most popular stops among RV enthusiasts. The massive Jayco/Entegra Coach manufacturing complex is located there, as are other RV-related production companies. Middlebury is also the location of Das Dutchmen Essenhaus, arguably the most popular tourist stop in the area. The Essenhaus is an inn and conference center, but RV visitors will likely be attracted to its renowned restaurant and bakery. Meals can be chosen from the menu, or your group can share a dinner served in the traditional family style. The food is prepared using Amish recipes that have been passed down from generation to generation, and it's hard not to leave without loading up on Amish pies. Many other items are also available, such as home-baked breads, cookies, preserves, and homemade noodles.
Every Thursday night (4:30 p.m. to 8:00 p.m.) from May through September, the Essenhaus hosts a classic car "cruise-in." Hundreds of autos typically are assembled at this family-friendly event, depending on the night. Plus, whenever you visit, you'll want to explore the gift shops, including a popular Christmas shop.
Elsewhere in Middlebury, at Dutch Country Market, you can browse the shelves filled with jams, apple butter, local honey, and various preserves and watch the Lehman family make homemade noodles. Stop by Guggisberg Deutsch Kase Haus to watch cheeses being made and choose from a wide selection arranged in the cooler displays and deli counter. This store is owned by the family of the man who invented Baby Swiss cheese back in Ohio's Amish country. If you enjoy great cheese, you are going to want to make this a mandatory stop.
Shipshewana
Shipshewana, a few miles east of Middlebury, is the home of the Midwest's largest flea market. It operates every Tuesday and Wednesday from May though October, and on Mondays of major holiday weekends (this year's remaining open Monday is September 3). A large parking area surrounds hundreds of vendor booths selling almost anything you can imagine. It's located right off of the main street in town and close to nearby merchants, such as Yoder's Meat Shoppe, which sells locally produced meats, cheeses, and other offerings. We always load up our motorhome's basement freezers with naturally raised meats when in the area. A wide selection of cheeses and homemade sausage is available, too, and samples are freely displayed for you to try before you buy.
Shipshewana is also home to Riegsecker Marketplace, a huge complex that includes the Blue Gate Restaurant and the Blue Gate Theater, among other attractions. As with the Essenhaus, the restaurant offers family-style dining, if you wish. The shows (musicals) and individual concerts presented at Blue Gate Theater have mainly Christian themes. Check online at bluegaterestaurant.com or call (888) 447-4725 or (260) 768-4725 for details. Riegsecker Marketplace includes plenty of shops, such as a furniture store, a toy store, a bakery, and more.
Shopping at Yoder's Shipshewana Hardware store in town also is popular, as is exploring the Davis Mercantile building, a huge historic structure with a variety of stores inside. On the top floor of the mercantile is the Shipshewana Carousel Company, where you can take a ride on a fully restored 1906 carousel.
The Menno-Hof information center features interpretive exhibits that tell the story of Amish and Mennonite history, from their beginnings in a Swiss courtyard in 1525 up through today. It's conveniently located right across the street from the Shipshewana Flea Market.
Goshen
Travel southwest to Goshen, an emerging center for cultural and visual arts. Its historic downtown is filled with interesting shops and cafes . . . and boasts a Depression-era guardhouse. The top has a turret through which a machine-gun could be fired, and heavy bulletproof glass that protected the guard inside from any return rounds. Its existence was likely a great deterrent, because famous Chicago crooks never did attack the city's banks.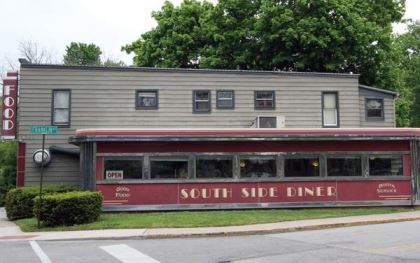 The South Side Soda Shop and Diner has enjoyed increasing popularity since being featured on the Food Network's "Diners, Drive-Ins, and Dives." It's a throwback to the past with a 1950s-era soda fountain and a great grill. Be sure to save room for dessert, because the options are irresistible.
The Old Bag Factory was built in 1896 to manufacture soap and toilet paper. In 1910 the factory was converted to produce everything from burlap bags to the fine paper used in Hershey's Kisses wrappers. It now is a center for a growing number of local artisans and specialty-shop owners.
Nappanee
South (actually, southwest) of Goshen is Nappanee, best known as the hometown of RV builder Newmar Corporation. Plant tours are given at the Newmar facility twice a day, enabling visitors to get up close and walk the production line. The 19th-century downtown section of Nappanee is lined with friendly eateries, boutiques, and stores selling handcrafted furniture. Plus, Nappanee offers a convenient map called Countryside Shoppes that lists stores located in the area's Amish homes. Visit www.nappaneechamber.com for a copy, or call (574) 773-7812.
Nappanee's biggest tourist attraction is a collection of buildings called Amish Acres Historic Farm & Heritage Resort, located on the western edge of town. Amish Acres has the Round Barn Theatre, a historic farmstead, and a restaurant that serves a popular "Threshers Dinner." An annual arts and crafts festival at Amish Acres celebrates its 50th anniversary this year, August 2 through 5.
When You Go…
The above is a sampling of all to see and do in this area. Other cities influenced by Amish culture and charm include Bristol and Wakarusa. Learn more by making your first stop at the Elkhart County Visitors Bureau, accessible via exit 92 from the Indiana Toll Road. (The bureau building is located at 219 Caravan Drive, behind the Cracker Barrel restaurant.) Stock up on brochures and ask questions of friendly staff. To get prepared before you leave, visit their Web site, www.amishcountry.org, or call (800) 250-4827.
Be sure to respect the beliefs of the Amish and refrain from taking photographs of them, and be courteous when encountering horse-drawn buggies during your drives. Remember that most businesses in this area are closed on Sundays. And, above all, save room for pie.
Visiting The RV/MH Hall of Fame Museum
The Recreation Vehicle/Manufactured Housing Hall of Fame and Museum in Elkhart has a great collection of classic RVs. Go on a trip through time as you see a 1915 Model T camper, a 1928 Pierce Arrow house car, and a host of other RVs and motorhomes up through a 1979 Starcraft conversion van.
In 2007 the RV/MH Heritage Foundation moved from its cramped quarters in downtown Elkhart to a new 56,000-square-foot facility easily accessed from either the Indiana Toll Road (take exit 96 off of Interstate 80/90) or from within Elkhart via County Road 17. Naturally, it offers parking for the biggest motorhomes as well as passenger cars.
Admission to the museum is $8 for adults, $6 for seniors or groups of 14 or more, and $3 for youths ages 6 to 16. The museum is open Monday through Saturday from 9:00 a.m. to 5:00 p.m.; closed Sundays.
RV/MH Hall of Fame
21565 Executive Parkway
Elkhart, IN 46514
(800) 378-8694
www.rvmhhalloffame.org
Manufacturer Tours
A number of RV manufacturers in Northern Indiana offer plant tours to the public. Be sure to contact them prior to your visit for details about when they are available, and to make an appointment if necessary.
Dynamax Corporation
Division of Forest River Inc., C7781
2745 Northland Drive
Elkhart, IN 46514-7619
(888) 295-7859
(574) 262-3474
www.dynamaxcorp.com
Entegra Coach, C9334 *
903 S. Main St.
Middlebury, IN 46540
(800) 945-4787
(574) 825-5861
www.entegracoach.com
Fleetwood RV Inc., C985 *
1031 U.S. 224 E.
Decatur, IN 46733
(800) 322-8216
www.fleetwoodrv.com
Forest River Inc., C7781 *
55470 County Road 1
Elkhart, IN 46515-3030
(574) 389-4600
www.forestriverinc.com
Haulmark Motorcoach
1503 McNaughton Ave.
Elkhart, IN 46514
(entrance at 1220 Anderson St.)
(574) 606-4622
www.haulmarkmotorcoach.com
Jayco Inc., C9334 *
903 S. Main St.
Middlebury, IN 46540
(800) 785-2926
(574) 825-5861
www.jayco.com
Monaco RV LLC, C2111 *
606 Nelson's Parkway
Wakarusa, IN 46537
(800) 650-7337
www.monacorv.com
Newmar Corporation, C4363 *
355 N. Delaware St.
Nappanee, IN 46550-0030
(800) 731-8300
(574) 773-7791
www.newmarcorp.com
NeXus RV, C12206 *
3400 Reedy Drive
Elkhart, IN 46514
(855) 786-3987
www.nexusrv.com
Renegade/Kibbi LLC, C7619 *
52216 State Road 15
Bristol, IN 46507
(888) 522-1126
(574) 848-1126
www.renegaderv.com
Thor Motor Coach, C847 *
701 County Road 15
Elkhart, IN 46516
(800) 860-5658
(574) 584-3655
www.thormotorcoach.com
* FMCA commercial member
Area Campgrounds
The following is not a complete list, as the area offers many more. Consult your favorite campground directory or the Family Motor Coach RV Marketplace, published in the January and June issues of FMC and online at www.familymotorcoachrvmarketplace.com.
Elkhart Campground, C7379 *
25608 County Road 4 E.
Elkhart, IN 46514
(574) 264-2914
www.elkhartcampground.com
Eby's Pines Campground
14583 State Road 120
Bristol, IN 46507
(574) 848-4583
www.ebyspines.com
Elkhart County 4H Fairgrounds, C10680
17746-D County Road 34
Goshen, IN 46528
(574) 533-3247
www.4hfair.org
Elkhart Co./Middlebury Exit KOA
52867 State Route 13
Middlebury, IN 46540
(800) 562-5892 (reservations)
(574) 825-5932 (information)
www.koa.com/campgrounds/elkhart-co/
Shipshewana Campground – North
5970 N. State Road 5
Shipshewana, IN 46565
(260) 768-7770
www.shipshewanacampground.com
Shipshewana Campground – South
1105 S. Van Buren St.
Shipshewana, IN 46565
(260) 768-4669
www.shipshewanacampground.com
Shipshewana Auction & Flea Market RV Park
250 E. Farver St.
Shipshewana, IN 46565
(260) 768-4129
www.tradingplaceamerica.com
* FMCA commercial member