FMCA's 87th Family Reunion and Motorhome Showcase in Indianapolis, Indiana, offered attendees the perfect mix of things to see and do, while allowing ample opportunities for fun and fellowship with friends.
By Doug Uhlenbrock, Associate Editor
Photos By Guy Kasselmann, Art Director
November 2012
Indianapolis, Indiana, has a reputation for hosting major events. These have included the annual Indianapolis 500 and Brickyard 400 auto races, Super Bowl XLVI in February 2012, and NCAA Division I Basketball Tournament Final Four games on several occasions. But city residents had never seen anything like the parade of motorhomes that streamed into the Indiana State Fairgrounds for FMCA's 87th Family Reunion and Motorhome Showcase, which took place August 27 through 30, 2012.
While FMCA has hosted three other international events in the Hoosier State (all at the University of Notre Dame in South Bend), this was the association's first gathering in the Circle City. Selecting the Indiana State Fairgrounds as the Family Reunion site turned out to be a terrific decision, as the venue easily accommodated all the activities and exhibits presented during the four-day gathering.
Of course, what would a Family Reunion be without some rain? Attendees got more than their fair share on Monday, August 27, the official first day of activities. The skies opened up in the early-morning hours and, aside from a few brief breaks, it poured into the early afternoon. While the precipitation was a nuisance, it didn't stop folks from attending the morning seminars and visiting the Information Center to turn in their locator cards and pick up their commemorative pins. Once the skies cleared that afternoon, it was smooth sailing, as the rest of the week featured sunny skies and moderate temperatures.
In all, 2,211 motorhomes were parked at the fairgrounds during the event. This figure included 1,849 family member coaches, 85 exhibitor live-in coaches, and 277 display and demo coaches.
Pace Laps
While the green flag on the Family Reunion didn't officially drop until Monday, many attendees were parked and setting up their campsites as early as Saturday afternoon. Those who arrived early had plenty of time to meet their neighbors, rendezvous with friends, and acquaint themselves with the grounds. That evening, newly elected International Area vice president Al Vormittag welcomed attendees to a night of Card Bingo. Many folks walked away that night with great prizes, big smiles, and newfound friends.
On Sunday, 60 golfers of all ages and abilities teed off at the Sycamore Course of Eagle Golf Club for FMCA's "Formula For Fun" Golf Outing, sponsored by ACC Warranty Group. The course offered players a blend of hilly terrain, tree-lined fairways, and water hazards with a traditional links-style flavor.
That same afternoon, FMCA executive director Jerry Yeatts welcomed those who were participating in their first Family Reunion and gave them an overview of the events and activities awaiting them during the "Orientation For First-Time Attendees" seminar. Immediately following the seminar, first-timers and other Reunion attendees gathered in the 4-H Exhibit Hall for the Chapter Fair. During this event, representatives from more than 50 active FMCA chapters greeted folks and offered information about their groups' activities.
Later that evening, attendees made a fast break to the DuPont Food Pavilion for Movie Night featuring Hoosiers, a film loosely based on the true story of a small-town Indiana high school basketball team that defied all odds to win the state tournament. Complimentary popcorn and other treats made for an enjoyable movie-watching experience.
Green Flag! Go! Go! Go!
Although the aforementioned rain on Monday put a bit of a damper on the official opening of the 87th Family Reunion and Motorhome Showcase, the majority of motorhome-owning attendees, who are accustomed to dealing with inclement weather, took it all in stride, donning rain gear and setting off to attend one or more of the seminars scheduled for the day. Fortunately, the rain stopped in plenty of time for the coach exhibitors to put the final touches on their displays for the Motorhome Preview that ran from 5:00 p.m. to 8:30 p.m.
A twist at the "Formula For Fun" Family Reunion was the addition of indoor coach exhibits to complement the usual outdoor coach displays. During the preview, thousands of people filed into both coach display areas to inspect the latest models from manufacturers, some even making purchases right on the spot. Nearly all types of motorhomes on the market were represented in Indianapolis, encompassing a wide range of Type As, Bs, and Cs, many outfitted with the latest technological advancements to make these vehicles true homes on wheels.
Beginning on Tuesday and continuing Wednesday and Thursday morning, thousands of attendees resumed an FMCA tradition by rising early and getting a fresh start to their day at Coffee Hour in the West Pavilion, compliments of Roadmaster Inc., an FMCA Five Star Sponsor. Adding to the festive atmosphere was music supplied by the Frustrated Maestros, whose old-time favorites and patriotic songs had the crowds on their feet singing along.
Near the entertainment stage, the "Coach Of The Day" area provided an early-morning exhibit opportunity that continued into the late afternoon. On Tuesday, Wednesday, and Thursday, two different models from various manufacturers were on display in this area each day and remained open for touring until all coach exhibits closed.
After getting their morning treats, folks scattered in various directions, some heading back to their motorhomes to enjoy the beautiful mornings and relax outside with friends, while others set off to seminars or to visit the exhibit areas.
Attendees seeking a little competitive action during their stay found it at the Jayco/Entegra Game Zone, also in the West Pavilion. On Tuesday, contestants vied for great prizes during the Bean Bag Toss tournament, while on Thursday many of FMCA's top beanbag pitchers demonstrated their throwing accuracy during Bean Bag Baseball. A good time was had by all. Later on Tuesday afternoon, attendees who still had some giddy-up in their legs after a full day of seminars and visiting exhibits waltzed over to Exposition Hall for Square/Round/Line Dancing with Jack Ingle.
On Wednesday afternoon, crowds converged on the West Pavilion for the traditional Ice Cream Social, with musical entertainment provided by the Frustrated Maestros.
Evening entertainment took place in Pepsi Coliseum and featured terrific performances on Tuesday, Wednesday, and Thursday nights. On Tuesday, up-and-coming country star Kayt Jones wowed the crowd with her terrific vocals, followed by Earl Thomas Conley, who performed a collection of his number-one country hits. On Wednesday, Ron and Kay Rivoli had the audience singing along during their ever-popular "Rivoli Revue." Rounding out the evening entertainment schedule were The Duttons, who delivered a high-energy variety show on Thursday.
Exhibits
As noted, Family Reunion attendees had a chance to see the new motorhomes on display beginning Monday evening. On Tuesday at 9:00 a.m., the gates for the coach displays, the indoor supplier exhibits, and the demo areas opened, giving thousands of eager attendees the opportunity to examine the products and services made available by the 236 companies exhibiting in Indianapolis. All of the different display areas were arranged in-line, so that one could check out the demo displays outside along the main street; walk inside Champions Pavilion to see the supplier exhibits; mosey through an enclosed corridor into the Marsh Blue Ribbon Pavilion for the indoor coach displays; and then proceed out the building's front doors to the outdoor coach area.
Foot traffic was brisk through the supplier exhibits, with folks inspecting — and many purchasing — components and accessories to help make their motorhoming lifestyle more enjoyable. Attendees also spent time with representatives learning more about tour or resort opportunities, insurance possibilities, and other services specifically for RV travelers. For those who had FMCA matters to take care of, the FMCA Connections Area provided a convenient place to shop for FMCA merchandise, update member records, find out more information about member benefits, speak with area national vice presidents, and consult with FMCA Connections commercial member partners.
Seminars
Learning is always a major part of any FMCA Family Reunion, and the seminars presented in Indianapolis provided attendees with many opportunities to add to their RV knowledge base. A total of 163 seminars were conducted throughout the event, covering 150 technical and lifestyle topics. FMCA had an A-list of respected RV industry experts in Indianapolis. These included Gary Bunzer and Walter Cannon providing technical advice on motorhome systems and weight safety; Jim and Chris Guld helping folks to understand and better utilize their computer and handheld devices; Janet Sadlack teaching folks how to cook delicious meals in microwave-convection ovens; and Mac McCoy offering instruction on fire and life safety in the motorhome.
In addition, representatives from various RV suppliers talked about towing, supplemental braking, batteries, chassis and engine maintenance, satellite TV, and many more technical-related topics. Attendees also could learn more about RV tours, insurance, full-timing, interior and exterior cleaning solutions, a variety of health and wellness topics, GPS, and many other subjects to make the traveling lifestyle more enjoyable.
Two special demonstration seminars drew large audiences to the West Pavilion. The first was "Do You Know Your Coach If It Had To Be Towed?" In this session, John Hawkins, vice president/general manager of the Large Wrecker division of Miller Industries, provided an overview of the information you need to have ready when making the call to have your motorhome towed. The seminar also featured a towing demonstration using a massive tow truck and a Type A motorhome.
The second demonstration seminar, "Exiting The Motorhome In A Fire Emergency," was conducted by fire-fighting veteran Mac McCoy using the same Type A motorhome from the towing demonstration. In this session, attendees learned how to prepare an evacuation plan, determine the type of escape window used in their motorhome, and how to open and maintain it. Participants also received instruction on the proper way to exit through the escape window and had the opportunity to practice doing so in the demo motorhome.
The "Formula For Fun" event also included a number of product-specific seminars in which Family Reunion exhibitors could educate attendees about what they offer. During these seminars, attendees learned about a variety of RV tours throughout the world, products to help keep the motorhome clean and shiny, extended warranty and medical evacuation programs, and more.
Fun For The Youngsters, Too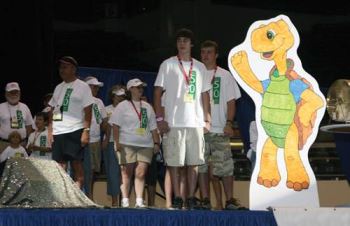 While the adults were busy attending seminars and browsing through the myriad exhibits, younger attendees who participated in the Youth Program in Indianapolis had numerous opportunities to have their own kind of fun. Youth Committee chairman Tom Januski indicated that the kids had plenty to keep themselves occupied during the event. Besides the activities and games available at the youth centers, many of the youngsters participated in off-site activities such as seeing animals at the Indianapolis Zoo, bowling at the Expo Bowling Center, exploring the Children's Museum of Indianapolis, and checking out go-carts and miniature golf at the Post Road Recreational Center.
FMCA national president Charlie Schrenkel introduced the youth Tuesday evening during the opening night of entertainment, and several youngsters helped color a cutout of FMCA's 50th anniversary mascot, Sheldon the turtle, who was unveiled during Wednesday evening entertainment.
Giving Back
While FMCA brings enormous economic benefits to the cities and communities that serve as Family Reunion hosts, the association also makes a point of giving something back to the areas that welcome us to help make them a better place for residents.
A mainstay of this charitable approach has been the Lions Foundation Eye Program. In Indianapolis, attendees donated 97 pairs of used but still usable eyeglasses.
The Professional RV Vendors Chapter (PRVVC) set up a food collection booth in the supplier indoor exhibit area where folks could drop off nonperishable food items for the Northwood Christian Church Food Pantry. Members of the church, some of whom are also FMCA members, staffed the booth and talked to folks about the pantry, who it serves, and how many people it serves on a monthly basis. The drive netted 163 pounds of food items and $425 in cash donations.
The On-Road Quilters — a group of FMCA members who enjoy quilting — made and donated 77 quilts and other handmade items to the Quilters Guild of Indianapolis. The guild will in turn distribute these items to local charities supported by the group. Mary Strinka, a member of the guild, attended the On-Road Quilters meeting in Indianapolis to accept the donation and say a few words about the organization and its mission. She also wrote a story about the On-Road Quilters that appeared in the guild's October newsletter, which can be found at www.quiltguildindy.net.
Thanks, Volunteers!
An event as large as a Family Reunion and Motorhome Showcase cannot be presented without the help of scores of volunteers who are willing to give up their time so others can enjoy theirs. FMCA salutes the 970 volunteers who worked in various capacities at the "Formula For Fun" Family Reunion, including Coffee Hour, Computer Help Desk, FMCA Store, Frustrated Maestros, fun and games program, greeters, handicapped and activity golf carts, Ice Cream Social, information, ladies' social, parking team, quilt display, security, seminars, trams, welcome crew, and youth program. Thanks for helping to make the Indianapolis Family Reunion a huge success.
Celebrate In Gillette!
Make plans now to attend FMCA's 50th anniversary celebration, set for June 19 through 22, 2013, at the CAM-PLEX Multi-Event Facilities in Gillette, Wyoming. This special Family Reunion and Motorhome Showcase will include many events to commemorate the association's first 50 years as the world's largest motorhome owners group. Registration information, details about the Family Reunion, and stories about the areas surrounding the host site will be featured in upcoming issues of Family Motor Coaching and on FMCA.com. We hope to see you all there!