Deep in the scrub of central Florida is the homestead where the author of The Yearling penned her popular tale.
By Steve Munnell, F381671
January 2012
Anyone who has ever shed a tear while reading Marjorie Kinnan Rawlings' timeless classic novel The Yearling will agree that a visit to the place where she wrote it, Cross Creek, Florida, should be a pilgrimage. The reward for making the trip to Marjorie Kinnan Rawlings Historic State Park is a journey back in time to an area of the state that remains much the same as when Rawlings lived there.
Rawlings bought the 72-acre orange grove and moved there from New York in 1928. In 2007 the house and farmyard were designated as a National Historic Landmark, and rightly so.
Here in the rugged wilderness, the author sat at a typewriter on the front veranda of her farmhouse and wrote her 1939 Pulitzer Prize-winning novel. It tells the touching story of a lonely boy named Jody who cares for and bonds with an orphaned fawn he names Flag. Many of Rawlings' novels, her short stories, and even a cookbook, Cross Creek Cookery, were written during the 25 years she lived and worked on this farm.
Cross Creek is in the heart of the state between Ocala and Gainesville, with the entrance to Marjorie Kinnan Rawlings Historic State Park on County Road 325, approximately 15 to 20 miles southeast of Gainesville. Along the way you may pass horse and cattle farms, but at the park, the dense wilderness is everywhere and virtually unchanged from when the author lived here.
Cross Creek connects sprawling Orange Lake to the south and Lochloosa Lake to the north. It is a truly primitive area. White-tailed deer and wild turkey are plentiful, as are bobcats, wild hogs, black bears, sandhill cranes, bald eagles, and hundreds of other species of birds. Cardinals, in particular, were Rawlings' favorites.
Chickens and ducks freely roam the grounds surrounding the Florida cracker-style farmhouse. The old board-and-batten house is constructed mostly of rugged heart of pine. It has a raised floor, high ceilings, and many windows and doors for cross ventilation. Major restoration of the house was completed in 1996, and preservation work is ongoing.
The first stop on the guided tour is the place where Rawlings wrote The Yearling and her bestselling novel, Cross Creek. She sat on a deer-hide chair at a handmade table with its palm base; many classics were tapped out on a Remington noiseless portable typewriter. Rawlings often slept right there on the porch, on a daybed a few paces from her typewriter.
The sophisticated author wanted to experience everything that Cross Creek had to offer. She hunted, fished, gigged for frogs in the creek, and once went on a rugged 10-day trip in a small boat down the nearby St. John's River. She chain-smoked Lucky Strikes and enjoyed Kentucky bourbon and moonshine.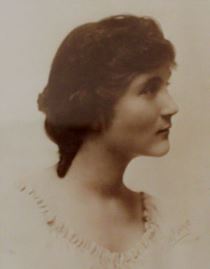 In this wilderness, she found something that truly inspired her. In her novel Cross Creek, she wrote, "We need above all, I think, a certain remoteness from urban confusion, and while this can be found in other places, Cross Creek offers it with such beauty and grace that once entangled with it, no other place seems possible to us." Her deep love for the area and its inhabitants lent a charm and vitality to all of her works.
With the money she earned from her early stories, Rawlings made her home the first in Cross Creek with indoor plumbing. As she put it, "Nothing is more tangible for one's money than plumbing." To celebrate, she invited her neighbors and filled the tub with ice and soda; put a tray of glasses on the sink; and a red rose in the commode. It was a "gala social event."
The author was a gifted hostess. Among her many overnight guests were poet Robert Frost, authors Margaret Mitchell and Thornton Wilder, artist N.C. Wyeth, and actor Gregory Peck. Peck visited Rawlings during the nearby filming of the 1946 Oscar-winning movie The Yearling.
She cooked on a wood-burning stove, making Florida backwoods dishes and gourmet meals for her guests. In her popular 1942 cookbook Cross Creek Cookery, she wrote, "For my part, my literary ability may safely be questioned as harshly as one wills, but indifference to my table puts me in a rage."
Rawlings was known to serve fried catfish on Wedgwood china, and it is said that she always sat at the table facing the view of the outhouse so her guests wouldn't have to. She converted the closet in her living room into a liquor cabinet, storing firewood below and "firewater" above. Her south porch was also a favorite spot. Rawlings would sit on the wood box, shell peas from her garden, clean her shotgun, gossip with the other locals, and manage the work of her farm.
After the farmhouse tour, we explored the East Grove Trail, which leads to the orange grove that Rawlings owned. The grove is long gone, but the trail is remarkable in that it looks much the same as it did more than 80 years ago. Looking east from her typewriter on the veranda, Rawlings no doubt spent long hours staring down that beautiful trail as she wrote about the Florida wilderness and the rugged people who lived there. Perhaps that is what she was doing as she concluded The Yearling with the moving final passage, "Somewhere beyond the sink-hole, past the magnolia, under the live oaks, a boy and a yearling ran side by side, and were gone forever."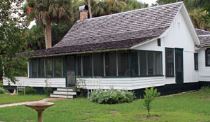 A visit to this historic site cannot be considered complete without lunch or dinner at the Yearling Restaurant, located just northwest of the park on the banks of Cross Creek. The place is as rustic as can be, but the food is authentic and would most assuredly have met with Rawlings' approval. The menu features some of the recipes from Cross Creek Cookery, including dishes starring venison, quail, cooter (turtle), frog legs, and alligator. But you also can enjoy grilled chicken, stuffed flounder, fried clams, and prime rib if you are less daring. Just about everything is served with hush puppies. For dessert, the sour orange pie is a great choice. Keep in mind the restaurant is open only Thursday and Friday evenings and beginning at noon on Saturday and Sunday. (Call 352-466-3999 or visit www.yearlingrestaurant.net for more information.)
Rawlings suffered a stroke and died in 1953 at the age of 57. She is buried next to her second husband, Norton Baskin, in the remote Antioch Cemetery approximately 7 miles east of Cross Creek and north of Island Grove. It is a fitting final resting place because, like her homestead, it is also in the middle of the Florida scrubs. The drive requires taking a dirt road, so you will probably want to leave your motorhome at the campground and take a towed car instead. From the state park, travel east on County Road 325 for 4 miles, crossing U.S. 301 and continuing east on the same road, which is now S.E. 219th Ave. Go north on S.E. 225 Drive, a dirt road, for 1.8 miles where it forks. The cemetery is a quarter of a mile down the right fork.
We walked through the second gate and headed toward the utility building. There we turned left and walked four rows to Rawlings' gravesite. The inscription on her gravestone, composed by her husband, reads: "Through her writings she endeared herself to the people of the world."
The gravesite is visited by many writers who observe a moving tradition. They leave sharpened pencils and are free to take one of those left behind by others. On the head of the gravestone sit three small statues of white-tailed deer: a buck, a doe, and her fawn "" a touching final tribute to one of America's great authors.
Further Info
Marjorie Kinnan Rawlings Historic State Park
18700 S. County Road 325
Cross Creek, FL 32640
(352) 466-3672
www.floridastateparks.org/marjoriekinnanrawlings
Grounds are open daily year-round from 9:00 a.m. to 5:00 p.m. Admission is $3 per vehicle. Access inside the farmhouse is by guided tour only; tours are $3 per person ($2 for children under 12) and offered Thursdays through Sundays, October through July.
Area Campgrounds
Several RV parks can be found in the area; check your campground directory or the RV Marketplace, published online at FMCA.com and in the January and June issues of FMC. We stayed at Grand Lake, located on the south end of Orange Lake and west of Citra.
Grand Lake RV & Golf Resort
18545 N.W. 45th Ave.
Orange Lake, FL 32681
(866) 617-8464
(352) 591-3474
www.morganrvresorts.com
Another nearby campground is:
Royal Palms RV Park
19410 N. U.S. 301
Citra, FL 32113
(352) 595-3779