Providing power for the modern motorhome.
By Mark Quasius, F333630
December 2011
Many of today's newer motorhomes have a large appetite for electricity to feed the modern conveniences folks expect in their RVs. Some devices, such as the water pump and lighting, are powered by 12-volt-DC battery power, while 120-volt-AC current can be used to power other equipment, including refrigerators, microwave ovens, washers and dryers, and entertainment systems. When parked at a full-hookup campsite, most folks plug into the pedestal, which supplies power for the motorhome's 120-volt-AC electrical devices as well as the battery charger to maintain the 12-volt-DC batteries. When parked at a site without hookups, most owners have an onboard generator to power those same devices. However, there are times — dry camping or driving down the road — when it's just not practical to fire up the generator to warm up a cup of coffee or operate the television. For those needs, an inverter is the best choice.
What Is An Inverter?
An inverter is an electrical component that can provide 120-volt-AC power to a number of electrical devices or circuits and is available in a variety of sizes to accommodate various needs. An inverter does not actually make electricity; it takes 12-volt-DC electricity supplied by the battery as input and changes it to 120-volt-AC electrical output. It's actually just the opposite of a converter. A converter takes 120-volt-AC power from an outside electrical source or an onboard generator and converts it to 12-volt-DC power to charge the motorhome's batteries and power the lights and other 12-volt-DC devices in the motorhome.
An inverter changes the power electronically, so it's a quiet, environmentally clean method of powering your AC devices. Small inverters can be placed to handle local loads, such as a television and DVD player or a satellite receiver.
Larger inverters are generally fed into a breaker panel to power multiple circuits. The larger units are referred to as inverter/chargers, because they operate in either mode. When AC power is present at the inverter's input, it simply passes that power through to the output circuits. At the same time, it operates as a battery charger, feeding 12-volt-DC power back to the batteries to keep them charged, which negates the need to have a separate converter or battery charger. When AC input power isn't present, the inverter draws 12-volt-DC electricity from the batteries, inverts it to 120-volt-AC electricity, and sends it to the inverter's output circuits. As noted above, this is all performed electronically, with no moving parts other than a few cooling fans. Most large inverter/chargers also include an equalization utility that allows the inverter to equalize wet-cell batteries to remove sulfation from the battery plates and restore them to near-full capacity.
Sine Waves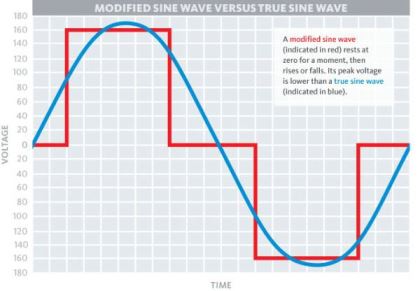 All electrical components are designed to run on a sine wave. Sine waves are present from most RV generators or shore power, because normal utility power originates in some type of generator, which is where the sine wave is created. Inverters do not have rotating magnetic fields, as a generator does, so the power inversion is accomplished electronically. The first inverters used electronics to create a modified sine wave. This worked well for basic loads, such as toasters, lights, and heating elements. But today's RVs are outfitted with increasingly more sophisticated electronics, and many of these items don't fare well with power using a modified sine wave. With recent advances in technology, it's now possible to get true sine wave inverters at an affordable price point.
Electrical equipment is designed to operate on RMS voltage. RMS stands for "root mean square" and is a true measurement of power. A true sine wave rises and falls on a curve, as shown in the accompanying graph. It briefly peaks at 170 volts then falls back down to zero in response to the rotating magnets within the generator. An inverter produces power by switching it on and off. This results in a square wave, as evidenced in that same graph. The peak shoots right up to 145 volts, hangs there a moment, then immediately drops to zero and rests for a bit before repeating the cycle. Normal voltmeters are not designed to measure this type of waveform, so special voltmeters designed to measure modified sine wave power are required to measure the voltage on a modified sine wave inverter.
Battery Considerations
There is no such thing as a free lunch when it comes to energy. You cannot create energy; you can only transform it. In the case of an inverter, it transforms 12-volt-DC electricity to 120-volt-AC electricity. As your power requirement increases, so does the need for a larger battery bank. If you have a 2,000-watt or larger inverter/charger and need to draw 10 amps of 120-volt-power from it for one hour, you'll require 1,200 watts of power for that hour. This relates to 100 amp-hours at 12 volts from your batteries. Inverters are not 100 percent efficient, so you may need to use a factor of 0.9 when calculating power to account for an efficiency loss, depending on the inverter model. Battery banks should never be drawn below 50 percent or the lifespan of the batteries will be drastically shortened. Therefore, you'll need a 200-amp-hour battery bank to power that load for one hour. After the hour is up, your batteries will be depleted and you'll need to recharge them.
Generally, motorhomes equipped with inverters come with at least four batteries. The typical bank of four 6-volt golf-cart-style batteries will give you 440 amp-hours at 12 volts. In order to prevent your batteries from draining below 50 percent, you will want to keep the usable draw from that battery bank to 220 amp-hours, but your best battery life is obtained by not drawing the batteries down any more than necessary. Adding more batteries will increase your potential runtime and also help to give you higher battery voltage readings when in use.
Since battery power is limited, inverters typically are used to power smaller loads or medium-size loads for short durations. A 3,000-watt inverter that needs to pull only 3,000 watts for a few minutes will put less strain on the batteries than a 2,000-watt inverter running at half-capacity for an hour. Powering an entertainment system is a typical example of low power consumption over a fairly lengthy time. Running a microwave oven is an example of a high power draw for a short duration. Both of these are well-suited to inverter use. Running a heavy load for a long duration, such as an air conditioner or water heater, is not a good application and will exhaust your battery supply quickly. This type of equipment should be powered using electricity obtained from shore power or your motorhome's generator.
The latest trend in motorhomes is the inclusion of residential refrigerators. One common misconception is that they are power hogs, but this is not true. Their amperage draw isn't all that large, and their efficiency is so good that the actual runtime is minimal, so the overall load on the batteries isn't excessive and is easily offset by the benefits of a refrigerator with lots of room that holds consistent temperature.
Installation Concerns
Inverters can be retrofitted to existing motorhomes. Various factors must be taken into consideration when determining the exact installation for your particular coach. If you have an existing modified sine wave inverter and want to upgrade to a true sine wave inverter, the task is relatively uncomplicated. You simply remove the old inverter, remount the new inverter, reattach the battery cables and AC wiring, and install the new remote-control panel. When beginning from scratch, it can be a bit more complex.
Inverters are electrical devices that do give off heat. They contain fans to keep the electronics cool, but that's going to work only if the inverter has a source of cool air. Locating the inverter in a small, enclosed compartment won't allow the heat to escape. The space you select for the inverter will require a vent for fresh air to enter the compartment and possibly an exhaust vent as well. Ideally, an inverter can be located in a large pass-through basement storage area. Keeping the inverter cool will help to ensure that it operates trouble-free.
Since the inverter receives its input from the battery bank, you would think the two should be located together. Unfortunately, hydrogen that is outgassed by wet-cell batteries is both flammable and corrosive. So, you should never mount the inverter in the same compartment as the battery bank. Also, inverters, like all electrical components, do not hold up well in damp environments, so be sure that the inverter is located in a dry, well-ventilated compartment. While the inverter and battery bank should not be in the same compartment, they shouldn't be a long distance apart. Keeping the two relatively close together will minimize the amount of cable needed and the DC voltage drop that's associated with long cable runs.
Battery bank size also needs to be considered and matched to the load and runtime that you expect from the inverter. Once you determine the wattage size of the inverter you want and how many batteries will be required, you need to make sure you have enough physical space to locate them. As mentioned earlier, wet-cell batteries outgas hydrogen, so they must be located in a vented area away from the inverter. AGM batteries outgas hydrogen at much lower levels, so more tolerance exists in locating them, but they do cost more than conventional wet-cell batteries.
A large inverter can draw a sizable amount of current from the battery bank, so the next consideration is the size of the cable between the inverter and batteries. A 3,000-watt inverter can draw a minimum of 250 amps of 12-volt-DC battery power, even more during a startup surge. You'll need a sizable battery cable to handle that much current without suffering a voltage drop. Cable length also comes into play here. Longer cables have more resistance, and you may have to select larger cable if the distance between the inverter and battery bank is significant. The best practice is to locate the inverter as close to the batteries as possible, but not in direct proximity, and to keep the cable length to a minimum. To protect the batteries from an inverter short circuit, an in-line fuse, most likely in the 300-amp range, should be inserted into the line close to the positive terminal of the battery. Your inverter's installation manual will provide details pertaining to cable length, wire gauge, and overcurrent protection.
An inverter's AC output also needs to be considered when doing an installation. Smaller inverters generally are equipped with an electrical receptacle into which you plug your television or other device. Larger inverters may have a pair of circuit breakers with hard-wired output circuits to connect to specific circuits in the motorhome. The majority of the large inverter/chargers generally are hard-wired to a subpanel. You'll need to supply an AC input feed from one or two breakers in the main panel to provide pass-through power when the generator is running or shore power is present, as well as power to operate the battery charger portion of the inverter/charger. The inverter's output is then routed to a subpanel where additional breakers feed the various circuits in the motorhome. Some of these subpanels are built into a section of the main breaker panel so that two separate panels are not required, which saves quite a bit of space. If retrofitting a large inverter to a motorhome that does not already have one, you'll need to provide a subpanel to connect to your branch circuits or replace the existing breaker panel with a new unit that contains an integral subpanel portion. The AC wire gauge will depend on how large the inverter is. If the inverter utilizes 30-amp circuits, you'll need to connect it with #10 wire. The power going into the inverter, as well as the branch circuit outputs, will need overcurrent protection.
Small Inverters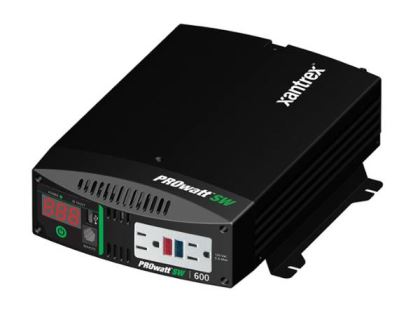 In some cases you may not want to install a large inverter. You may need only 120-volt-AC electricity to power a television and DVD player or satellite receiver. In that case, a small inverter can be placed close to the television and can be switched on when needed. Most small inverters have a receptacle for AC output and a 12-volt-DC power cord. By inserting the inverter between your TV's cord and a wall outlet, you can use it to power the TV when no AC power is available. You just push the power button to operate the inverter when incoming AC power is not present. The advantage to smaller inverters is that they don't require the high-voltage electrical wiring that larger inverter/chargers need. You do have to power them with 12-volt-DC wiring from the batteries, but the wire gauge will be smaller. In many cases, a 450-watt inverter can get by with a #8 or #6 wire, depending upon the length of the wiring run. These units are fairly inexpensive, but they generally are not as efficient as the larger inverters, and they supply modified sine wave current rather than true sine wave current. Small inverters provide no battery charging capability, so you'll need to keep your existing converter. But they are a cost-effective way to power a small electrical device.
Remote Display Panels And Expansion Capabilities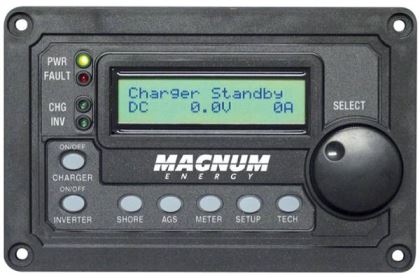 Most inverters have a remote display panel that controls the various functions and setup parameters of the device. This panel can be as simple as a few touch-screen buttons and LEDs or it may be a menu-driven LCD display that lets you select a wide variety of options. These panels are connected to the inverter by a communications data cable, most likely a Cat 5 cable similar to those used in computer networks. In some cases, this data buss can be connected to additional devices, such as an automatic generator start (AGS) module or a battery usage monitor. The display panel can then be used to monitor and set the functions related to auxiliary devices without requiring additional dedicated display panels for each.
AGS modules can be used to monitor your battery voltage and automatically start the generator should the battery voltage drop below a set level. The AGS also can be programmed to start the generator should shore power fail while the air conditioner thermostat is calling for cooling. This is an invaluable feature for RV owners who leave their pets in the motorhome while they are gone, as it ensures that the motorhome doesn't overheat should a power failure occur at the campground pedestal. Battery monitor modules can provide detailed battery condition and usage information. All of this is communicated across the data buss to the inverter's remote display panel.
Energy management systems are used to shed noncritical AC circuits whenever the load becomes too great for the system to keep the campground pedestal circuit breaker from tripping. A recent innovation in this area is the Power Control System developed by Precision Circuits Inc. This device is capable of communicating with a Magnum inverter to reduce battery charging current and switch the inverter on to augment the incoming pedestal power so that loads do not have to be shed. This makes it possible to keep the air conditioner running while the microwave oven is used for a short period of time. Should the loads continue to exceed the available electrical output (50 amps, 30 amps, or 20 amps, depending on the shore power) or if the battery voltage drops as a result of excessive inverter runtime, the Power Control System will shed loads as required to protect the batteries and prevent the pedestal breaker from tripping. This is all made possible by connecting the Power Control System module to the Cat 5 data buss line from the Magnum inverter and optional AGS module.
Benefits
Motorhomes have much to gain from an inverter. These devices provide instant power to operate the various electrical devices in the coach. No longer do you have to start the generator to make a cup of coffee, watch a TV show, or run a hair dryer. Whether you are boondocking or driving down the road, the power is constantly available. These devices are user-friendly, produce no emissions, and are quiet. Inverters can communicate with additional systems, such as AGS modules or energy management systems, and help automate your motorhome's energy supply system with minimal operator intervention. All in all, they are a perfect fit for today's motorhome.
Further Info
For more information about inverters and optional accessories, contact the following manufacturers:
Magnum Energy
(425) 353-8833
www.magnumenergy.com
Precision Circuits Inc.
(630) 515-9100
www.precisioncircuitsinc.com
Xantrex Technology USA Inc.
(800) 670-0707
www.xantrex.com