Visit these attractions in the Grand Canyon State as it celebrates its centennial in 2012.
By Jim Brightly, F358406
September 2012
For centuries, Arizona belonged to Mexico. It became part of the United States when it was included in the Gadsden Purchase of 1853, and for the next nine years, it was considered New Mexico Territory. President William H. Taft assigned New Mexico and Arizona into full-fledged statehood on January 6, 1912, and February 14, 1912, respectively. So, both states have been celebrating centennials throughout 2012.
As an Arizona resident, I'd like to share my suggestions of the state's top must-see attractions. They're listed as best as possible in the order in which they can be visited when entering from New Mexico in the north on Interstate 40 and exiting Arizona back to New Mexico in the south on Interstate 10.
Canyon de Chelly (de shay), in northeastern Arizona, is a national monument that is wholly within the Navajo Nation Indian reservation. The canyon is considered sacred by the Indians, and it is still occupied by Navajo residents. So, visitors are escorted into the canyon by authorized guides.
You can get an unescorted overview of the two canyons in the monument (Canyon de Chelly and Canyon de Muerto) from a rim road above. Two paved drives lead to overlooks — three on North Rim Drive and seven on South Rim Drive. A self-guided public (free) trail takes hikers to the White House Ruin Overlook, and ranger-led activities are offered at the monument in summer.
But if you want to truly experience Canyon de Chelly, you must get the sights, smells, and scenery within the canyon itself. You'll see how the Navajo have lived here for years; view cliff dwellings; and try to decipher the petroglyphs carved in the canyon's walls centuries ago. Tours into the canyon via horseback, hiking, or vehicle are provided by private guides and companies. If you tow a four-wheel-drive vehicle with high clearance, you may be able to use it for your tour. Check the Canyon De Chelly Web site for more information: www.nps.gov/cach.
Next, we'll jump a few hundred miles northwest via U.S. 191, U.S. 160, and State Route 98 to visit some more canyons — the slot canyons near Page. You're still within the Navajo Nation, so you'll need to commission the services of a guide again, only this time you'll be walking the floor of the canyons.
The name "slot" does little to engender visions of these canyons. "Slot" makes me think of square-cut slices, not the frozen waves of grain these canyons bring to mind. The walls look as though a child's finger-painting has been frozen, all in oranges, tans, yellows, reds, and light browns.
Once you've walked along the canyon floors, filled your eyes with their flowing colors, and taken your fill of photos, you'll want to catch your breath at the Powell Museum in Page and see all the displays that commemorate John Powell, the first European to record his travels down the length of the Colorado River by raft. You may even want to spend a few days exploring Lake Powell in a floating RV (better known as a houseboat) before bouncing on down the Colorado River to our next destination.
Even though you can't actually follow the Colorado River without a raft, we can float south a ways in the motorhome on State Route 89 through Flagstaff and on to Williams on I-40 before turning north again on U.S. 180 to "The Big Ditch."
The Grand Canyon is one of those iconic attractions that should be on every American's bucket list. If you have time to see only one site in Arizona, make it this one. In my opinion, the Grand Canyon should be right up there with Yellowstone, Yosemite, Niagara Falls, the Hudson River Valley (the birth canal of America), and Plymouth Rock — places every one of us should visit before we "kick the bucket."
Because of the Grand Canyon's altitude and its depth (about a mile), snow can hamper viewing efforts in winter, not to mention the fact that roads may be treacherous. Late spring through early fall are the best times to visit in a motorhome.
Many of the best sights are accessible along the park's South Rim, but not all. Depending on your adventure comfort level, you may want to take an excursion to the bottom of this huge place. You'll also want to munch lunch while enjoying canyon views at the Arizona Room, Bright Angel Restaurant, or the El Tovar before bouncing on down the river once again.
Before we leave the Colorado River for central Arizona, I suggest you make a stop at Hoover Dam, on the border between Arizona and Nevada. This giant dam was named for Herbert Hoover, the 31st president of the United States. My grandfather was an ironworker on the project, and he called it the Boulder Dam his whole life, as did all the workers at the project in Boulder Canyon.
When dedicated in 1935, Hoover Dam was proclaimed "the Eighth Wonder of the World." It was the first structure to contain more masonry than the Great Pyramid of Giza, and at its completion it was the tallest dam in the world (now it's only the 18th). It holds back Lake Mead, and its location and electricity made the existence of Las Vegas possible. As of this writing, motorhomes are permitted to be driven across the dam but are subject to a security inspection beforehand. The Hoover Dam Bypass Bridge is now open to everyone, affording fabulous views of the dam.
The next three spots on our Arizona list are all in central Arizona, within a few miles of each other. They can be visited in your towable, and the easiest way to get there is also the most scenic. Head back east on I-40 to Flagstaff and swing south on Interstate 17 toward Phoenix. If you feel comfortable on curvy two-lane country roads, take exit 337 off I-17 and follow State Route 89A down through Oak Creek Canyon (another beautiful Arizona canyon) into Sedona, one of the most beautiful towns in the United States.
You'll want to spend several days here, so grab a campsite at one of the lovely campgrounds near the entrance of town and plan on using your towable or a rental Jeep to visit the gorgeous red-rock vistas. Shopping is another area amusement, as Sedona has an eclectic collection of shops, galleries, and malls.
From Sedona it's a short trek to Jerome (about 15 miles away) and Montezuma Castle (also about 15 miles away). Jerome is a registered official ghost town that's been repopulated by a large and varied selection of artists. Some artists work in oils, some in glass, some in wood, and some in food. Don't forget to enjoy the service and tastes at the award-winning Asylum Restaurant in the Grand Hotel overlooking Jerome. And remember that it's best to arrive here in a towed vehicle, not your motorhome. Not only is the access road iffy, but the town has narrow, winding streets and very tight parking.
Jerome was named for Eugene Jerome, a 19th-century financier and cousin of Winston Churchill's mother, Jennie Jerome. The Jerome State Historic Park museum is located in a home once owned by the Douglas family, which operated a local mine. Photos, artifacts, and 3-D maps make history come alive here. The museum also shows a 28-minute video that introduces visitors to this fascinating mountainside town. Many of the buildings have front doors at street level and back doors three stories above the ground floor. Jerome, my favorite Arizona attraction, has to be experienced to be believed.
Montezuma Castle was never the home of Montezuma, but it is one of the best-preserved cliff dwellings in North America. This 20-room high-rise "apartment building," nestled in a protected niche in a towering limestone cliff, tells a story of human survival in an unforgiving desert that lasted for more than a millennium. Even though the structure was closed to public foot traffic in 1951, the monument's displays and dioramas give you a strong sense of having looked back through the sands of time to observe life in the Arizona desert long before Europeans arrived.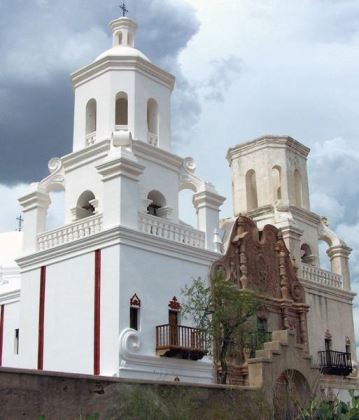 When you've completed your tours of Sedona, Jerome, and Montezuma Castle, you'll want to slip your coach onto I-17 south, headed through Phoenix for Tucson. Nine miles south of Tucson just off Interstate 19, you'll find the San Xavier Mission, known as the "White Dove of the Desert." Founded by Jesuit Father Eusebio Kino as Mission San Xavier del Bac in 1692, the current church's construction was begun in 1783 and completed in 1797. It is the oldest European structure in Arizona.
The church is open daily from 7:00 a.m. to 5:00 p.m., and informative guided tours are offered between 10:00 a.m. and 1:00 p.m. Monday through Saturday.
After an earthquake damaged the church in the late 19th century, extensive repairs to the mortuary and sanctuary began in 1905. More damage was incurred in 1939 when a lightning strike hit the west tower. Preservation work began in 1978 and continues today to guarantee that this landmark will be here for generations.
Tombstone, "the town too tough to die," in Arizona's southeast corner, is another ghost town whose historic district has been designated a National Historic Landmark. Many of the Wild West's most famous characters called Tombstone home at one time or another, and it has been the setting for television and film stories for years. Tombstone is still the site of the O.K. Corral (where shootout re-enactments take place); Big Nose Kate's Saloon and Restaurant; Old Butterfield stagecoach rides; numerous historical museums (including the Tombstone Epitaph Newspaper Museum); the Bird Cage Theatre; and an authentic Boothill graveyard. The city's leading law enforcement officer is still called the marshal. Tombstone's main street (Allen) is closed to vehicular traffic, but you'll enjoy walking around town, grabbing a cold beverage at Big Nose Kate's, or watching the many re-enactments and stage shows.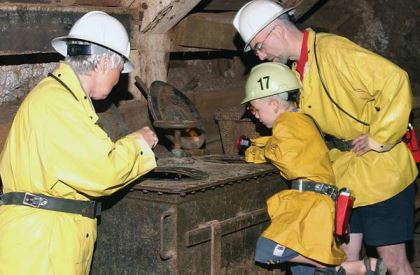 Not quite 30 miles away is Bisbee, in the extreme southeastern corner of Arizona. Like Jerome, this is another former mining town that has survived and flourished into the 21st century. After you've wandered through the many mining museums, you'll want to rest your feet with a train tour deep into the Queen Mine. Don hardhats, grab a lantern, and put on your slickers in the search for any remaining veins of copper, gold, and silver.
After you've refreshed your weary legs with the Queen Mine Train Tour, refresh your tummy with a repast at one of Bisbee's great restaurants. Since the town is nearly 5,000 feet above sea level, you'll want to visit in late spring to early fall. Even Arizona's vaunted summer is a fine time to enjoy Bisbee.
Celebrate Arizona's centennial with a visit to any of these places, and don't stop with this brief compilation. The Grand Canyon State has many more sites worthy of your bucket list.
Further Info
For an Arizona Official State Visitors Guide and Map, visit www.arizonaguide.com and use the online request form, or call (866) 275-5816.