A world of music comes together in the Arizona desert.
By Juddi Morris
December 2012
Even if you usually avoid museums, you'll enjoy the Musical Instrument Museum (MIM) in Phoenix, Arizona. And music lovers will want to stay there for hours.
The MIM is people-friendly, posh, and stylish. From the moment you enter the handsome building, you're captivated. Imagine thousands of musical instruments and related artifacts from around the world, from primitive to most sophisticated, displayed in one place. And they are up close and personal. You even have the opportunity to reach out and pluck a string, tap a percussion instrument, or just caress a drumstick made of smooth bamboo.
After visiting MIM, Tony Bennett, the consummate musician, said, "This is my favorite museum in the world. Everyone should see it."
The museum, which opened in 2010, sits lightly on 20 acres of open desert landscape in a suburb north of Phoenix. The huge building has two floors and 190,000 square feet of space.
Your visiting experience is auditory and visual. Visitors don headsets, and as they are near the exhibits, they hear a particular instrument's sounds. On accompanying video screens, folks watch as the instruments are played by people festooned in their beguiling or sometimes (to us) bizarre native dress.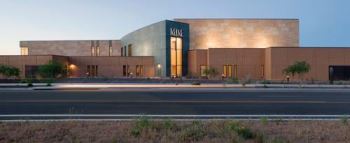 The huge collection on the second floor is highlighted in galleries that focus on five global regions: Africa and Middle East, Asia and Oceania, Europe, Latin America, and United States/Canada.
This past May, the United States/Canada gallery added big-band-era and jazz-related instruments that are on temporary loan from the Smithsonian National Museum of American History. Benny Goodman's clarinet, a cornet played by Louis Armstrong, and guitars played by Charlie Christian and Pat Metheny, among many other items, will be at the MIM through 2014.
On permanent display in the Artist Gallery are other musical instruments linked to world-famous musicians. You'll see the Steinway piano on which John Lennon composed "Imagine"; Carlos Santana's custom Yamaha guitar inlaid with Buddhist symbols; and Eric Clapton's "Brownie" Fender Stratocaster guitar. Items from Paul Simon, Dick Dale, and George Benson can be seen, too.
The first Steinway piano ever built, hammered together in 1836 by Heinrich Engelhard Steinweg in the kitchen of his home in Seesen, Germany, rests in a place of honor. Curiously, this early piano does not have the usual 88 keys (it has 85) and sports two foot pedals, not three. Another instrument that verges on the weirdly interesting is an octobass (a very large bass violin) created in 1849 by French violin maker Jean-Baptiste Vuillaume.
Back on the first floor, in addition to the museum store and art gallery, is the Mechanical Music Gallery, which includes a huge, 27-foot-wide organ and other instruments. After you've seen so many music-making items, you enter the Experience Gallery, where the itch to reach out and touch the instruments is finally satisfied. Feel free to bang on a gong, pluck a Burmese harp, or sit down at a piano and play a tune.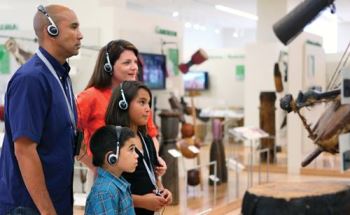 During one of my visits there, two 8-year-old boys plopped down at the piano and played a duet of "Chopsticks." Next up was a visitor from the Midwest, a lounge entertainer on vacation. He struck up a medley of tunes that ranged from "Mack the Knife" to "Tenderly." Then a woman sat down to play "Motherless Child." She sang it, too, in a velvety rich contralto. And so it goes all day, as visitors provide impromptu concerts.
Professional musicians also appear regularly at the museum in its beautiful, two-story concert hall. Check the performance schedule online before your visit, and perhaps you can time it to coincide with a show.
The MIM was the dream of Robert Ulrich, a former CEO of Target Corporation and one of the world's most successful businessmen. In typical Ulrich fashion, he powered the world-class museum into being in just four years, the time usually taken to open one of the Target stores. Ulrich prides himself on getting things done with speed, style, and taste.
And speaking of style, you'd never believe the stairway to the second floor galleries. Picture a sweeping staircase with large windows above it. In the daytime it's grand looking, but after dark, when the museum lights stream out across the desert night, the windows in the staircase look like piano keys.
By collecting and preserving musical works of art and offering guests a splendid experience, the Musical Instrument Museum is a stunning gift. After your visit, you'll feel more connected to people around the globe. Music is something we all share. It brings us closer together. As Yo-Yo Ma, the great cellist, said, "Music is the language of spirit. And it seems to be how we communicate on another level. Music is one of the ways we can achieve a kind of shorthand to understand one another."
If You Go
Musical Instrument Museum
4725 E. Mayo Blvd.
Phoenix, AZ 85050
(480) 478-6000
www.themim.org
The museum is open daily with varying hours. Admission is $15 for adults, $13 for seniors, and $10 for children ages 6-17. Children under 6 are admitted free.