"Don't trade it . . . upgrade it" is the guiding principle for this Pacific Northwest business.
By Lazelle Jones
September 2012
Spokane, Washington, makes a great travel destination. Boasting an average of 260 days of sunshine each year, this cosmopolitan city in the eastern part of the state has many sites to explore in town, plus numerous lakes, campgrounds, and scenic vistas nearby. Spokane is also a desirable location for owners of motorhomes and other RVs who might like to give their vehicles a new look, or at least some tender loving care, at Truline RV.
For 11 years the Spokane-based company has been retrofitting, rehabbing, and modifying RVs, installing aftermarket equipment and components, and performing service and maintenance. Truline RV's craftspeople focus on a wide variety of custom work, including cabinetry, flooring, windows, and electronics. They'll take on virtually any modification except to add a new slideout where one doesn't exist. They also handle most types of RV service and maintenance. In addition, a huge chunk of their workload involves completing collision repairs for insurance companies.
Brothers Chad and Chuck Yackel established Truline RV in 2001, drawing upon their own experience repairing and servicing RVs. At that time Chad had worked for an RV dealer for eight years. Chuck, a finish carpenter, had been doing custom wood work for 17 years.
For the past eight years the business has been headquartered in a 10,000-square-foot building on two secure acres in eastern Spokane. The state-of-the-art facility can house a dozen large Type A motorhomes at one time. It is separate from the 1,400-square-foot office and showroom where Chad and his sister Char help clients make decisions about exactly what they want done, and where the design and engineering phases take place.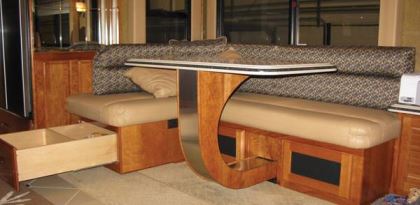 Depending on the projects, clients are guided through the selection process of wood (local wood suppliers can accommodate almost all requests), as well as solid-surface materials, carpet, window dressings, electronics, furniture, and a variety of aftermarket systems (suspension, awnings, electronics, etc.). Truline RV represents aftermarket products from HWH, Roadmaster, Lifeline Batteries, Winegard, and Magnum Energy, among others.
When I visited the company, I was struck by the amount of work that was in progress. It prompted me to ask Chad about the current business climate of this very specialized niche market in the RV industry. He explained that during these challenging economic times, they have experienced a significant trend upward in custom coach work, rehabbing, and motorhome updating. Chad added that between 2009 and 2010, Truline RV's gross sales increased 25 percent and again by 10 percent between 2010 and 2011. As he continues to keep four full-time technical specialists employed, Chad sees this trend continuing into the foreseeable future.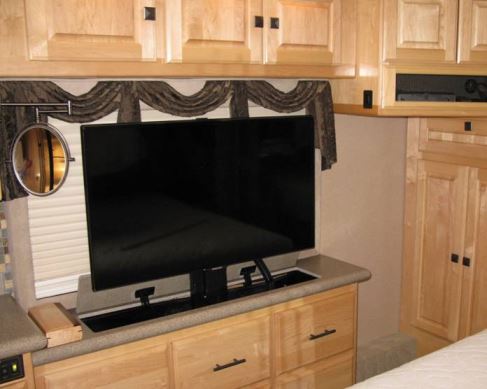 The word-of-mouth network that exists among motorhome owners, insurance companies, manufacturers, and dealers is the primary way Truline RV attracts new customers. The company's Web site has been instrumental in its growth as well. Chad noted that Truline RV also has been asked to complete coach manufacturer recall work. He explained that the expertise associated with building a motorhome is not necessarily the same skill set that's required to repair individual RVs on a large-scale basis. The scale of one company's specific recall prevented the dealers from completing the rework themselves.
Truline RV's customer base is nationwide. Clients bring their coaches to Spokane from as far away as Florida, Texas, the Carolinas, Alabama, Nevada, and California. In some cases, Chad never sees the clients he works with, including some who have become repeat customers. They talk on the telephone and communicate by e-mail to determine the scope and details of the work to be completed, along with the costs and schedule. Following agreement on these items, the owner then has the coach delivered to Truline's Spokane facilities. One such client, a race car driver who is based in California, continues to do this during his off-season, when he does not need the coach.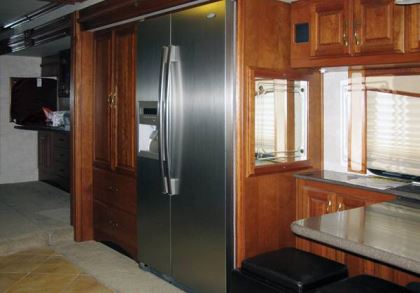 However, a side benefit for those coach owners who personally bring their units to Truline RV is that the greater Spokane area is one heck of a vacation land. Even if the work on a coach will take several days, customers are not likely to be bored while waiting. Idaho's bucolic panhandle is minutes away, and the border of British Columbia not much farther. Those visiting northeast Washington will never want for things to do: an endless amount of good food, shopping, scenery, outdoor activities, wineries, microbreweries, fishing, etc. And if a motorhome needs to remain at Truline overnight, it will be hooked up to 50-amp shore power.
I asked Chad to describe some of the typical modifications clients have had completed. One of the most popular is to replace the conventional RV refrigerator with a full-size residential-style refrigerator-freezer. He showed me a completed upgrade where the new refrigerator-freezer was a 25-cubic-foot stainless-steel unit with a bottom roll-out freezer drawer. Often in conjunction with this upgrade, clients have Truline RV increase the size and number of batteries in the house battery bank and add or increase the size of the inverter. The company also can upsize an existing auxiliary generator to a larger one, build sound boxes for noise insulation, and incorporate a generator auto-start function. One client, after adding mega amounts of electronic equipment, had the house battery bank increased from four batteries to eight large batteries, requiring a custom compartment.
Adding satellite televisions is routine. Truline RV updates video switchers, antennas, and satellite dishes. They will make a new system as simple or as sophisticated as the client would like.
One new Type C motorhome I saw undergoing modification was being outfitted for someone who enjoys gadgets, to the tune of $50,000 worth of electronics, virtual control panels, and the cabinet modifications necessary to house all of the new systems and components.
Another modification the company has done on several occasions is to install an additional roof air conditioner for increased cooling capacity, or upsize the original manufacturer-installed roof air conditioners (Btus and heat strips) for increased interior cooling and heating capacity. Adding or upgrading exterior area entertainment centers is popular, as is adding televisions or replacing existing ones with HD flat-screen TVs inside the RV, along with the woodwork needed to match existing cabinetry. Some clients may even opt to switch out a dinette with an office/desk area.
As additional interior space is freed up by the removal of the heavier, more bulky TVs, installation of a new flat-screen is often accompanied by enlarging the existing cabinets or creating new ones. Chad noted that it is a real blessing to have a partner and brother who is also a gifted woodworker and finish craftsman. On the interior of a motorhome, where everything is intricately put together and must fit like a finely tuned puzzle, having this depth of craftsmanship in-house is a real plus.
Adding or replacing patio and window awnings (both power and manual) are other typical modifications completed by Truline RV techs.
One enhancement I was shown involved removing a fixed dining table and replacing it with one designed to be used only when required. The motorized table retracts with the touch of a button. It could seat four just as the original dinette did. We walked through a large diesel pusher where the client wanted all of the shelves inside the pantry, the overhead cabinets, etc. changed from stationary ones to pull-outs. Installed on roller bearing guides, these reworked shelves now offer ease of access to items stored inside. They operate smoothly and look as though they were part of the original design.
In the rear stateroom of one 45-foot motorhome, the client wanted the existing queen-size bed replaced with a king-size bed. His wish was Truline RV's command. Looking at the finished upgrade, I could not tell that the cabinetry, nightstands, window accoutrements, and solid-surface countertops had been totally reworked to accommodate the new, larger size bed.
Chad also showed me how Truline turns original bedrooms and bathrooms into newly configured areas of residential luxury. Replacing original countertops with a choice of solid surface or tile countertop is a popular renovation. Flooring can be dressed with anything found in a residential venue: carpet, wood, tile, granite, etc.
It's obvious that special requests do not upset these guys. Chad, Chuck, Char, and their technicians are open to discussing the feasibility of implementing any request a client may have. They remain focused on melding quality upgrades with craftsmanship, helping RVers to continue enjoying their home on wheels.
Truline RV, 12009 E. Empire Ave., Building A, Spokane, WA 99206; (509) 892-7333; www.trulinerv.com.