Dramatic views and exciting terrain await bicyclists who travel the Hiawatha Rail-Trail, a downhill, family-friendly mountain bike route on former train tracks in northern Idaho.
By Denise Seith
October 2012
High in the Bitterroot Mountains on the border of Idaho and Montana is one of Idaho's most historic and scenic 15-mile stretches of road. It is practically in the middle of nowhere, but easy to reach, and surrounded by thick forests, rushing creeks, and mountain vistas. The road passes through 10 train tunnels and crosses 11 high-trestle bridges. But you can't experience it by driving — at least not in your motorhome or towed vehicle. You'll need a bicycle to explore the Route of the Hiawatha.
Named for the Olympian Hiawatha luxury passenger train that once sped through here, the Route of the Hiawatha Rail-Trail is a downhill, family-friendly mountain bike ride filled with endless scenery and the chance to spot deer, elk, moose, and smaller wildlife as you pedal. It's literally a beaten path — a hard-packed dirt and gravel surface. Except for a small portion, no motorized traffic is permitted on this trail.
Beginning in 1909 and for the next 70 years, the Hiawatha was a section of the railway bed known as the Milwaukee Road, which carried passengers and freight. For the last 14 years, it has been used for a different purpose. Mountain bikes instead of trains cross the trestles these days; but, if you listen closely, you might still hear a ghost of a train whistle carried by the wind.
You can tailor your experience depending on your ambition and the amount of time you have to explore this area. A 30-mile round-trip ride might be your best pick; or, you can cut that in half by hopping on a shuttle back to the start. By taking advantage of the well-placed Moss Creek Trailhead, riders also can opt for an out-and-back 15-mile segment in the middle of the route, turning around at a sign marking the location of the former town of Falcon. This 15-mile portion encompasses the majority of the trail's finest features — six tunnels and seven high trestles. Because of the gentle 2 percent grade, even pedaling back uphill is doable for almost everyone. And with more than 40 interpretive signs along the way, you've got plenty of good excuses to take a breather while learning the area's railroading and mining history.
Let's Go!
Begin your ride at the official start and top elevation (4,147 feet) of the Route of the Hiawatha — the East Portal — and you'll immediately enter the 1.7-mile-long St. Paul Pass/Taft Tunnel, burrowed under the Idaho/Montana state line. Good thing a bike light is required on the trail, because you definitely will need it to navigate the deep darkness (an extra headlamp is also a good idea). Although no tunnel along the route is artificially illuminated, most of the others are short enough to see the proverbial light at the end.
The Taft Tunnel was completed in 1908 thanks to the tenacity of 750 hard rock miners who toiled around the clock for 2 1/2 years. It was not easy work, and the average immigrant laborer earned just a dollar a day. Mountainous terrain, deep winter snows, and several large veins of water presented construction challenges, and made for wet and miserable working conditions.
Believe it or not, most of the tunnels on the Hiawatha were dug by hand, using sledgehammers and hand drills. In some cases, such as with the Taft Tunnel, steam-powered drills and steam donkey engines were hauled to the worksites to speed the digging process.
Construction of the entire Milwaukee Road, not just its tunnels, was expensive, and by far the most costly railroad ever built at the time. The harsh terrain of the Bitterroot Mountains was mostly to blame for a price tag that would run into the tens of millions of dollars. Chugging through northern Idaho required mile after mile of switchbacks, tunnels, and trestles.
You'll find that the same features that created a mild grade for train travel are also great for bicycling. As you pedal over the trestles, stop and look over the railing. It's a couple hundred feet to the ground! The tallest bridge, built over Kelly Creek, is 230 feet high (and 850 feet long). These trestles are steel now, but the first ones were made of wood or back-filled earth.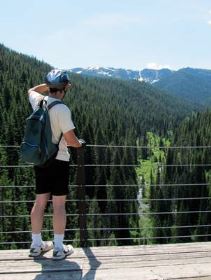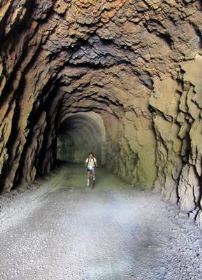 Between 1906 and 1912, a large workforce was hired to complete the original railway as quickly as possible. Men and their families lived in nearby tent towns or in hastily built houses. Signs along the Hiawatha point out where they used to be — settlements named Roland, Falcon, Pearson, and Taft. The latter is now buried beneath Interstate 90. General stores, a hospital, and a hotel served the population, as did a larger number of saloons, dance halls, and houses of ill repute. Winters were brutal here, crime was high, but the sturdy souls stuck it out until the work ran out. Except for a few rusty relics, the rails, signals, switches, and labor camps are long gone.
Despite their cost, railroads were a necessity in the early 20th century. If you had to travel from coast to coast, they were your only option. To meet demand, transcontinental railroads raced and rushed over, around, and through anything in the way in order to make money. The railroads literally moved mountains. The Milwaukee Road was no exception. This particular route over St. Paul Pass was especially coveted, because the St. Joe River offered exclusive access to huge quantities of old-growth timber. It also made a great deal of sense, and cents, to electrify portions of the railroad. Doing so reduced the high cost of oil-fired, steam-powered locomotives. And those owning interests in copper and electrical power probably didn't make out too badly, either.
Completed in phases, the first section of rail line was electrified between 1912 and 1917. When the second phase was finished in 1920, the Milwaukee Road boasted the longest stretch of electrified mainline railway in the world. People came from all over to see this modern marvel.
After World War II, a new passenger train called the Olympian Hiawatha shared this mountain route. From 1947 to 1961 it ran from Chicago to Seattle, a luxurious and futuristic orange train that transported passengers in comfort and style. Onboard amenities included first-class Pullman sleeping cars, chef-prepared meals served in an exquisite dining car, comfortable reclining seats, and "Skytop" and "Super Dome" lounges. These glass-domed observation cars were like rolling solariums, offering unparalleled scenic views.
The Route of the Hiawatha is listed on the National Register of Historic Places, in part because of its association with the Big Burn of 1910. At the time of the great fire that burned more than 3 million acres in Idaho and western Montana, the Milwaukee Road had been operating here for only a short time. Trains were running, but construction was still under way on many of the high timber bridges. Luckily, the tunnels along the Hiawatha were finished. They turned out to be real lifesavers.
As the inferno raged over two days in August, about 25 miles of railroad between the town of Avery, Idaho, and the Taft Tunnel were consumed. Considering that about 1,000 railway workers and their families lived in this area, it's amazing that only one death occurred along the Milwaukee Road (86 people perished in total). The grave of an unknown railroad laborer known as a "gandy-dancer" is marked on the route. Witnesses say the man panicked and jumped from the rescue train. Everyone else survived the flames because they stayed on the train and made it into tunnel 27. Everything up to the tunnel portals was destroyed. As you pedal through this tunnel today, take a moment to consider what it would have been like to wait out a brutal blaze here. Other fires in the country have been more deadly, but none moved as swiftly, driven by hurricane-force winds, as did the Big Burn of 1910.
Particulars
If you're not traveling with your own mountain bike, you can rent one at the Lookout Pass Ski and Recreation Area, located adjacent to Interstate 90 at the Idaho/Montana state line, 12 miles east of historic Wallace, Idaho. Mountain bike rentals, including mandatory helmets and lights, bike racks, sandwiches, snacks, rest rooms, and an optional return shuttle service are available.
The 2012 Day Use Pass for the route is $10 for riders over 13 and $6 for those between 6 and 13. Children under 6 are free. The pass must be visible and attached to your handlebars. Children under 14 years of age must be accompanied by an adult. No dogs are permitted on the trail.
Adult bike rentals are $30 to $36; kids' bikes, $20; and trailers for pulling little tykes behind Mom's or Dad's bike are $22 (prices subject to change). Shuttle tickets are an additional $9 for adults and $6 for children, and include your bike. Rest rooms are located along the trail, but not food or water. Be sure to bring more water than you think you'll need, especially if riding on a hot summer day.
Lookout Pass Ski and Recreation Area operates the Route of the Hiawatha under a special use permit from the U.S. Forest Service. Fees go toward maintaining the trail. Monitors ride the route every day to ensure riders' safety and compliance with fees and regulations. This year, the Hiawatha Trail is open daily May 26 through October 7, 2012, from 8:30 a.m. to 5:00 p.m. Pacific Daylight Time.
This mountain bike adventure is a treat for the entire family. Choose the distance you want to pedal, watch for wildlife, and enjoy a scenic journey through cool tunnels and over high trestles. And the best part is, no matter where you enter the Route of the Hiawatha, it's all downhill from there!
Further Info
Lookout Pass Ski and Recreation Area
Lookout Associates LLC
P.O. Box 108
Wallace, ID 83873
(208) 744-1301
www.ridethehiawatha.com
Other helpful Web sites:
www.everytrail.com/guide/route-of-the-hiawatha
www.wallace-id.com/skilookout/taft.html
Area Camping
The following parks offer hookups and other amenities. Primitive, no-hookup sites of varying sizes may also be available in area National Forest lands. Check your campground directory or the RV Marketplace, found in the June and January issues of FMC and online at FMCA.com, for more listings.
Campground St. Regis
44 Frontage Road W.
St. Regis, MT 59866
(888) 247-8734
(406) 649-2470
www.campgroundstregis.com
Nugget RV Park
1037 Old Highway 10 E.
St. Regis, MT 59866
(888) 800-0125
(406) 649-2122
www.nuggetrvpark.com
Wallace RV Park
(formerly Down by the Depot RV Park)
108 Nine Mile Road
Wallace, ID 83873
(208) 753-7121
www.wallacervpark.com