The urge to reach for the stars is kept alive in this Texas city.
By Anna Lee Braunstein, F351629
January 2013
"We choose to go to the moon." President John F. Kennedy's words, spoken in 1962 in Houston, Texas, still echo through the decades. He continued, "Well, space is there, and we're going to climb it, and the moon and the planets are there, and new hopes for knowledge and peace are there." Many of the giant leaps in achieving these goals were made in Houston at the Manned Spacecraft Center, which became the command post for the United States' first space programs. Renamed the Johnson Space Center in 1973, it is where visitors can explore the endeavors of both past and future.
The public is welcomed at the official visitors center for Johnson Space Center (JSC), Space Center Houston. The lectern where Kennedy gave his stellar address is one of many historic and exciting things to see in this vast complex. Space Center Houston is so filled with thrilling and inspiring exhibits that visitors of all ages can spend hours or days on their own explorations.
Our visit started with the 90-minute NASA Tram Tour. Riders travel back in time to where history was made, and ahead to the future to working laboratories, where the next generation of space technologies is being developed and tested at JSC.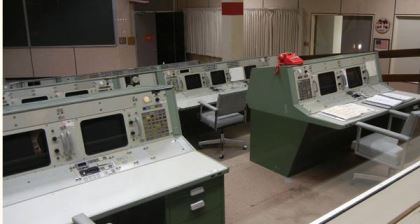 From Neil Armstrong's "That's one small step for [a] man; one giant leap for mankind" to James Lovell's "Houston, we've had a problem," space exploration and the city of Houston have been interconnected. The astronauts' words echoed in our minds as we sat in the observers' section of the Christopher C. Kraft Jr. Mission Control Center from which all Gemini, Apollo, Skylab, and Space Shuttle flights up to 1998 were controlled. Looking into the actual Mission Control Room is to recall the feelings of thrill and terror that we experienced as the astronauts met with success or tragedy. Yet we smiled remembering that all of this occurred in an age when telephones were dialed and computers were so large they could fill a house.
While the Mission Control Room is historical, work in the Astronaut Training Center is for today and the future. Here, using mockups of recent American and Russian spacecraft, scientists and, occasionally, astronauts test robotic instruments, weightlessness tanks, and more otherworldly equipment. From a catwalk we glimpsed at where space exploration is headed.
Farther along on the tram ride, at the Saturn V Complex, we felt small as we peered up at the massive engines of this rocket. Walking under these huge machines is to sense the vast amount of energy it takes to reach for the stars.
Multiple opportunities exist here for visitors to experience the feel of training for or being in space. A Mission Briefing Officer at the Living in Space area details how astronauts perform the daily routines of eating and showering. Blast Off is a simulated launch that gives a hint of how it feels to head for space. Every Friday in the Blast Off Theater real astronauts tell of their adventures during the "Meet the Astronaut" presentation. The Flight Simulator lets you attempt to land a shuttle or dock a spacecraft. Budding space scientists can build and launch a rocket or sit in one while talking to Mission Control. The five-story Martian Matrix slide gives an exhilarating experience related to gravity. NASA's Destination: Station has exhibits and hands-on activities regarding the world's largest space station. Kids Space Place has more opportunities to practice astronautical skills.
Back on Earth, the Space Center Theater features a variety of films on its giant screen. You can touch a moon rock at the Starship Gallery Artifact Museum, plus see actual space vehicles whose launches many of us watched on television. A section of the SkyLab is open showing the cramped quarters astronauts lived and worked in. The walls of the Astronaut Gallery are lined with photographs of all our American astronauts, and its floor exhibits contain space suits and other mementos.
Astronauts and visitors all have to eat. "Lunch with an Astronaut" is a special opportunity to listen to the personal stories of these space travelers, enjoy a "cosmic" lunch, and receive a souvenir lithograph. Offered on Fridays, this event requires reservations. Another astronaut encounter takes place during the exclusive Level 9 Tour, a five-hour intense experience that also includes lunch in the astronauts' own cafeteria. This tour is limited to 12 people on Monday through Friday.
Food options at Space Center Houston include the Zero-G Diner, Blast Off Bistro, Moon Wok, and other space-theme eateries. At the Space Trader gift shop, you'll find a selection of commemorative items.
Whether you remember the space program from President Kennedy's challenge or dream of the further expansion of space exploration, you will find touring the Space Center Houston time well spent. Two important tips for your visit: Go to the Space Center Houston Web site, www.spacecenter.org, and book the tram tour ahead of time, as it fills quickly — and you get an online discount on your tickets. Also, take a few minutes upon arrival to study the Show Schedule & Map and plan your time accordingly. An audio tour with astronauts guiding your visit is available in adult and child versions. For more information, visit www.spacecenter.org or call (281) 244-2100.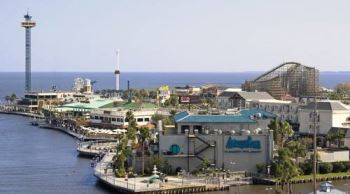 Exploring the rest of Houston. Beyond being the site of so much space exploration, Houston has long been a destination for people traveling by water. The Port of Houston offers a free narrated boat tour on the M/V Sam Houston with in-depth views of one of the busiest ports in America. The 90-minute cruise of the Port of Houston Turning Basin glides past petroleum, recycling, and cargo-loading facilities, providing a close view of import and export operations. Reservations are required 24 hours in advance and can be made at (713) 670-2416 or online at www.portofhouston.com. You must have a photo ID to enter the port.
Houston is noted for its excellent Museum District. Within a 1.5-mile radius are 19 cultural sites, 12 of which offer free admission, or at least free hours. The free museums include the Houston Center for Photography, the Houston Center for Contemporary Craft, the Holocaust Museum Houston, and the Rice University Art Gallery. Beyond the district are dozens more facilities, ranging from the National Museum of Funeral History to the Fire Museum.
The Museum of Fine Arts, Houston, comprises several locations. The main campus has two gallery buildings with huge collections. One of the two houses under the auspices of the museum is Bayou Bend, "Houston's home for America's treasures." The former home of philanthropist Ima Hogg, Bayou Bend is full of decorative arts and is surrounded by 14 acres of formal gardens and natural woodlands. Each spring the gardens are ablaze with reds, oranges, pinks, and violets during the azalea bloom.
Houston also has some quirky spots. Two homeowners have turned their residences into objects of odd art. The Beer Can House and the Flower Man House cause those who drive by them to smile. If you're in the mood to find a deal and compare oddball items, shop awhile at the Texas Junk company.
In keeping with its eclectic interests, Houston has a tasty variety of dining and entertainment options. Fine restaurants vie with Tex-Mex eateries and New York-style delicatessens. Numerous opportunities to enjoy award-winning theater, opera, symphony, and ballet performances are on the bill.
Finally, remember, when you're in Houston, you're only an hour from Galveston and all the bay area delights. At the Kemah Boardwalk, you can take a spin on a 96-foot tall, 3,236-foot-long wooden roller coaster. Operators claim you'll "be sweating bullets," hence its name, the Boardwalk Bullet. It has a 3.5x G-force that gives riders that "astronaut feeling." Other amusements include a double-decker carousel, a mini train ride, and several more. For less strenuous activities, consider shopping, dining, and strolling the boardwalk to admire the thousands of boats docked in Galveston Bay.
Traveling, either to space or out to sea, seems to be a main theme in Houston. Be sure you take the opportunity to explore both.
Further Info
Greater Houston Convention & Visitors Bureau
4 Houston Center
1331 Lamar St., Suite 700
(800) 4-HOUSTON (446-8786)
(713) 437-5200
www.visithoustontexas.com
Area Campgrounds
Houston has numerous outstanding medical facilities, and campgrounds often provide transportation to these facilities for guests. Fellow RVers you meet may be in town for medical reasons, and not for pleasure; so, please keep that in mind.
The following list is not complete, so please check your campground directory or the RV Marketplace, published at FMCA.com and in the January and June issues of FMC.
Advanced RV Resort
2850 S. Sam Houston Parkway E.
Houston, TX 77047
(888) 515-6950
(713) 433-6950
www.advancedrvpark.com
All Star RV Resort
10650 S.W. Plaza Court
Houston, TX 77074
(800) 385-9074
www.allstar-rv.com
Lake View RV Resort, C12574*
11991 Main St.
Houston, TX 77035
(713) 723-0973
www.lakeviewrvresort.com
South Main RV Park
10100 S. Main
Houston, TX 77025-5211
(800) 626-7275
(713) 667-0120
www.smrvpark.com
Traders Village Houston RV Park
7979 North Eldridge Road
Houston, TX 77041
(281) 890-5500
www.tradersvillage.com/Houston/rv-park
*FMCA Commercial Member