Condensation Catcher
We began using a small, portable dehumidifier, the Eva-Dry 3000, to better manage the condensation inside our motorhome during the winter months in Oregon, Washington, and British Columbia. Using this dehumidifier in conjunction with an open roof vent and a partly open window for cross ventilation works well. The amount of condensation in our motorhome has been greatly reduced.
Gary & Kathy Doolan, F386839
Surrey, British Columbia
---
Sheet Solution
We have a washer-dryer combo in our 2009 Fleetwood Excursion. While staying at the Lazydays RV Campground in Tucson, Arizona, the washer stopped working. The Lazydays service technician found the problem — a Shout Color Catcher sheet that had clogged the drainage hose.
Since I find the Color Catcher sheets very helpful when doing the wash, I was disappointed that I wouldn't be able to use them any longer. That was, until I came up with this simple idea.
I went to a local department store and bought a small mesh bag with a zipper that is typically used for washing delicates. I place a Color Catcher sheet in the mesh bag, zip it up, and put it in the washer. Now I can use my color guard sheets and not worry about them stopping up the drainage hose.
Nancy Puig, F199623
Tampa, Florida
---
Cabinet Retainers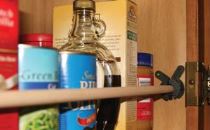 After a day of driving, have you ever opened a cabinet door and had the contents of the cabinet end up on the floor around you, or, worse yet, had a can of beans land on your toes? Ouch! I have a quick and easy fix for this problem. I bought circular, plastic rod mounts that will hold a 1/2-inch pipe at Lowe's. They are open on one side so the pipe can be snapped in, and there is a tab on each end for a mounting screw. Just put a hanger on each side of the cabinet interior and, before departing, snap in a dowel rod or a piece of plastic pipe cut to the correct length. This solves the problem of mashed toes and messes on the floor when the cabinet doors are opened for the first time. The cost of this fix is approximately $1 per assembly, and it takes just 10 minutes to cut the bars and mount the hangers.
Jerry & Jan Nickeson, F358306
Webb City, Missouri
{loadpositionEndBlurbTips}