By Robbin Gould, Editor
March 2013
Ed Martel, L440, known to many FMCA friends and acquaintances as the "Chrome Kid," was a familiar sight at the association's conventions and rallies for many years. He was the proud owner of a 1948 Marmon-Herrington bus conversion that was outfitted with a sparkling array of chrome, stainless-steel, and aluminum parts and accessories.
Hand-polished aluminum lent a shine to the coach's window and screen frames, the television antenna, even the roof. Fellow FMCAers were particularly fascinated by its engine compartment, which was completely lined with stainless steel. Virtually every surface — including the engine, pistons, cylinders, and head bolts — was coated in chrome or stainless steel. Outside, the bumpers, storage doors, bolts, and vents boasted a stainless-steel treatment as well.
In an article about Ed and his coach published in the July 1998 issue of Family Motor Coaching, Paul Jenks, L596, noted, "Now, plenty of coaches have been nicknamed by their owners, but Ed is one owner who has been nicknamed because of his coach!"
Aside from the chrome and stainless steel, Ed's bus was recognizable by its green and cream-colored Imron paint job.
On the inside, Ed built bunk beds, tables, cabinets, and more. He lined all of the drawers with stainless steel and even switched out the coach's fiberglass holding tank with a stainless-steel model.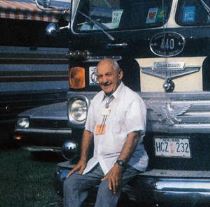 Ed and his wife, Dot, became entranced with RVing in 1928 when they purchased a Cadillac limousine that had been used for bootlegging and modified it for travel. Next was a Dodge florist's van that Ed converted in 1936. Perhaps his "Chrome Kid" reputation began with this vehicle, for he added chrome and stainless-steel pieces, including the oven, sink, backboard, and holding tank.
The Marmon-Herrington followed. It started life as a transit bus operated by a bus line in Stony Point, New York, where the Martels owned and operated the Ba-Mar trailer park and marina, near the Hudson River. Ed saw the bus drive by every day along its commuter route. When it was retired from service in 1958, he purchased it and began to apply his magic.
Ed even kept a twin coach in running shape, just in case something were to happen to the bus in which they traveled.
The Martels logged more than 460,000 miles in the Marmon-Herrington. After Dot's death in 1981, Ed continued motorhoming, often with FMCA friends. He attended virtually every FMCA convention until the 1990s. Folks recall that he would arrive at a convention site with the Marmon-Herrington, settle in, and begin receiving visitors. Up went the engine cover and along came the crowds of men, who were fascinated by the assortment of gleaming lug nuts, pistons, cylinders, and more that shone inside the engine compartment.
Ed passed away in April 1997. Without question, the "Chrome Kid" left a shining legacy in FMCA history.