One son's thoughts on how his father's experiences – and that of an entire generation – helped shape a love for motorhome travel and adventure.
By Greg Detterbeck, F496S
February 2013
They have been called many things, such as "The Greatest Generation," coined by journalist Tom Brokaw; "The Silent Generation," as noted in a November 5, 1951, Time magazine cover story; and "The Lucky Few," as proclaimed by Elwood D. Carlson, Ph.D, demography and population expert. The core of The Greatest Generation consists of those born from 1914 to 1924, with 1925 to 1927 forming a bridge to The Silent Generation.
My father was born January 14, 1926. Anyone born within that span has also been known as a "traditionalist." Traditionalists grew up during the lean times and learned to "use it up, wear it out, make it do, or do without." This generation considered work a privilege. They had to, living through the Great Depression, the Roaring 20s, and World War II. This generation developed a culture that believed you earn your own way in life through hard work. Traditionalists were civic-minded and loyal to their country and employer, and many worked for the same employer their entire life.
I believe The Greatest Generation moniker fits this generation, because, at a time in their lives when their days and nights should have been filled with the wonderment of adventure, love, and the stability of work, freedom, and recreation, they found themselves fighting in the most primitive conditions possible from the beaches of Normandy and Salerno, through France, Belgium, Italy, Austria, and the coral islands of the Pacific. They arose to answer the call to save the world from two of the most vicious and ruthless military machines of war ever assembled. They fought against fascists and faced great odds. They succeeded not only in the theaters overseas, but those men, women, and children back home in the United States, who sacrificed and learned how to save it, use it up, make it do, and many times do without, were the keystone to add the descriptive term "greatest." Their resourcefulness is possibly why this generation of people became imaginative … creative … inventive … and a group of people who were rebuilders of America and the American dream of freedoms.
Maybe "The Silent Generation" fits, in part, because those who came home from the war, and those who served their honorable duty back home, such as the Rosie the Riveters, didn't talk about it. They may have had a hundred stories to tell, but they remained silent, because in a deep sense, they didn't think what they had done was anything special. Besides everyone else was doing it also.
I don't think my father would believe he should fall under the generation-term "The Lucky Few." Although war stories were few and far between in our house, he did talk about a German 280-mm railroad-toted cannon dubbed Anzio Annie that would pulverize their supply depot on the Anzio beachhead. He did talk about one of the coldest winters in Italy, while "dug in" on the side of Monte Cassino, the 1,703-foot-high peak that rose above the town of Cassino and was an important stronghold of the Gustav Line. They (the 36th Infantry Division) were expecting a promised hot turkey dinner one Christmas Day, only to find cold chili con carne on the sides of the pack mules that trekked up the mountain paths.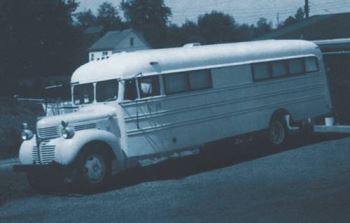 But "The Greatest Generation"? Now, I believe that name fit. These freedom saviors persevered through war, were trained by it, and came home to joyous but short-lived celebrations. They immediately began the task of rebuilding their lives, starting families (the Baby Boomers), and creating interesting lives as well as the America we have today.
It was around 1962. Why it happened, I don't have a clue. How it happened … well, I'm a witness to that. Down the hill in front of our modest house came a front-engine yellow school bus being towed by our neighbor's pickup truck. Behind the wheel, steadily pumping the brakes of that bus to slow it down, was my father, beaming with a smile as though he had just found the fountain of youth. "What the .. ?" ran through my mind, since I was just a young teenager.
And so it began: the creativity, the resourcefulness, the use-it-up-don't-waste-it mind of a builder, a carpenter, a plumber, an inventor, a problem solver . . . my father, with the idea to build a camper from a yellow school bus.
There were no blueprints. In fact, there were no luxury motor coach companies to copy plans from. But there were, across the country, many individuals from this Greatest Generation who were doing the same thing. Conversions, they originally called them (not "recreational vehicles"). So, from those retired school buses, the first order of business was to gut them. That meant the many seats had to be taken out. Windows had to be covered. Doors had to be changed. The outside color had to be transformed. The words "School Bus" had to be removed. Then the building (conversion) would begin.
Take that long hinge from a piano — it allowed a table to fold up and over. Since the railroad sleeper cars were being eliminated, those mattresses were a custom fit. Dad purchased and used six of them. My Lionel Train transformer became the converter to supply 12-volt-DC to the lights and other 12-volt appliances. When the light flashed red, there were too many lights on. That Frigidaire natural-gas refrigerator was converted to propane. Those heavy galvanized steel tanks had holes torched into them and became the drinking water supply and the black water tank. (I'm sure the tanks weighed as much empty as the plastic tanks of today weigh half-full.)
My grandmother, being the seamstress she was, made the curtains, as well as the covers for the "pull-out" bench-couch and the U-shaped seating around the table (invented and handcrafted by Dad, which slept an additional two). Dad also used table legs that lowered the dinner table to sleep two more. In total, the converted bus accommodated 10.
Vents were cut into the roof, and the first try with catalytic heaters — well, it didn't work as hoped. Your top half was hot; your feet froze. It took trial and error.
But one day, that rickety, old, yellow ex-school bus (now repainted) that I had seen rumbling down the hill with Dad pumping the brakes rolled out of our driveway as our converted bus — our motor coach — with a sign over the windshield titled "Shake, Rattle, and Rest." It did, it did, and, yes, we were able to rest well in it.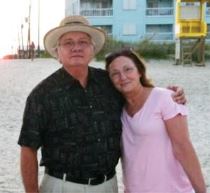 Not long after that, my dad heard of an organization of those "converted buses," and he joined. Family Motor Coach Association, it was called. Seems a bunch of these inventors, creators, adventurers, Greatest Generation types wanted to form a club, and so they did. A while later, two white-metal cast plaques (black background with silver lettering) arrived with the number F496 emblazoned on them. We (Dad and Mom) were in a camping club, an association of converted buses.
A stub-nosed yellow church bus started climbing the hill with the church's Christmas carolers inside singing when it happened. BANG! A piston rod came out through the side of the engine block. That's when I saw a grin come to my dad's face, as he suddenly had an idea. This wasn't Christmas chili con carne again; this was that hot turkey dinner — my dad finally got it. And from one disaster came a man's dream number two.
F496, the "Roamin Home," was born. Built sleeker, with better ideas, and a better paint job. More customized ideas and inventive outfitting went into bus number two.
We "camped" in the late 1960s until I went into the military service. My camping days ended back then, although my father built yet another conversion, bus number three.
The year was 2012. I was looking at a motorhome and thinking about camping once again. I had not been camping since 1968.
"Well, do you want it?" The salesman looked over the desk at me.
I realized then that I would not look back on my decision, right or wrong. I really had no idea how this thought entered my mind, but it had. Camping . . . a motorhome . . . .
"Okay!"
And just like that I became the owner of a 2010 Jayco Melbourne.
I named the coach "Don't Look Back," borrowed from the lyrics of that song by the rock group Boston:
Don't look back
A new day is breakin'
It's been too long since I felt this way
I don't mind where I get taken
The road is callin'
Today is the day.
FMCA — Family Motor Coach Association. I remembered my father and mother were in this camping club and that they enjoyed what their association with this group had brought to their motorhome lives. And so in 2012 I joined FMCA and met some of the members at the Hershey, Pennsylvania, RV show in September. I must say, I bragged about my father and mother being "within the first 1,000 original membership." However, I did not know the number. That was until Margaret Keen called from FMCA's Member Services Department and asked, "Would you like your father's FMCA number?" Now, I understood the pilgrims of this association had thought ahead and this is what the title-word "Family" meant. Well, if not in their original plans, it now fit. And so motor coach number 1, "Don't Look Back," now bears F496S, and I am a new member of the Family Motor Coach Association. (The "S" at the end signifies "Son.")
I'm proud to be able to carry my father and mother's coach number. I guess in a sense that is looking back, isn't it?