Plan your travel itinerary now so you don't miss attractions and sights near Perry, Georgia, site of FMCA's 89th Family Reunion & Motorhome Showcase in March 2014.
By Peggy Jordan, Associate Editor
December 2014
No one needs a literal passport to get into Perry, Georgia, of course. But considering all the things to see and do in this charming Southern town — as well as others within an easy drive — it definitely is worth some serious exploration.
Family Motor Coach Association's 89th Family Reunion & Motorhome Showcase will take place March 17 through 20, 2014, at the Georgia National Fairgrounds & Agricenter in Perry. The spacious Agricenter already has hosted seven FMCA confabs to date, beginning in 1996. The down-home welcome motorhomers receive there makes it a great place to revisit.
Perry is situated along Interstate 75, approximately 100 miles south of Atlanta. It's a convenient location, especially for snowbirds migrating north from winter havens in the Southeast. Once you have arrived at the Agricenter and settled into your parking space for the Family Reunion, you'll find many ways to spend your time: attending seminars; touring hundreds of new motorhomes; and inspecting new RV equipment, travel toys, and more. Fun and exciting events and entertainment also will catch your attention. And who can forget the most fulfilling part of an FMCA gathering: meeting and making new friends. That's what socializing as a "family" is all about.
Tarry In Perry
If you plan to arrive at the Agricenter a few days before the Family Reunion, you may want to engage in some bargain-hunting. U.S. Route 341 hosts the largest yard sale in the state March 14 and 15. The "Peaches to the Beaches" annual sale involves literally hundreds of participants all along Route 341 — also called Sam Nunn Boulevard and Main Street as it passes through Perry.
The first thing you may notice along Route 341 to Perry this March is the color pink. Sheila Jones, executive director of the Perry Area Convention & Visitors Bureau, noted that mid-March can bring plenty of pink peach tree blossoms. "Sometimes they bloom early; sometimes, late. It depends on the weather," she said. But whether the flowers arrive then or not, the Perry, Georgia, Welcome Center will be ready for you. A new addition, the Georgia Artisan Center, opened there in September 2013. The Artisan Center houses crafts and arts created by artisans from throughout the state. Sculptures, woodwork, paintings, jewelry, books, music, toys, and local edibles are artfully arranged for browsing and gift-shopping.
Do you plan to bring your dog with you to the FMCA Family Reunion? The Welcome Center has an off-leash dog park you can use to let your four-legged friend play and socialize. Free WiFi and a free dump station also are available at the Welcome Center, which is located right across the parkway from the Agricenter.
At the Agricenter, you may notice the new tourist assistance portal (TAP) kiosks. These are virtual visitor information centers that provide directions, restaurant listings, and even coupons you can send to your smartphone. The Agricenter grounds also feature the Go Fish Education Center, which has an indoor/outdoor hatchery that focuses on farming largemouth bass and other fish. Huge freshwater aquariums will make you want to stop and stare, and examples of habitats such as swamps and mountain streams are home to alligators and turtles. You even can try your hand at catching fish in the stocked pond.
As usual, the downtown shopping district in Perry has intriguing stores that visitors will want to check out. When it's time to eat, consider popular local restaurants such as the Oil Lamp (478-988-2643) for old-fashioned, home-style fare; The Perfect Pear (478-224-7327), a bistro; Rusty's Downtown Grill & Bar (478-224-7878) for Italian-American casual; the New Perry Hotel restaurant (478-224-1000)and The Swanson (478-987-1938) for classic Southern food; and Yoder's Sandwich Shoppe (478-987-2428) for fresh lunches.
A new course for disc golf has been added to Perry's Rozar Park, on the east side of town. Disc golf is free, but you need to use your own set of discs. For details and directions to the park, ask at the Perry Welcome Center. There you also can inquire about conventional golf opportunities, including at the Perry Country Club.
The town's history can be explored on foot via a historical walking tour, and the Perry Area Historical Museum, which opened a few years ago, is a great place to learn about how the town started and grew. The museum includes a large array of items — tools, toys, pictures, maps, and more — that tell the story.
More Sights Next Door …
Once you've seen Perry, you can get your "passport" marked at plenty of other nearby attractions.
A variety of the camellia plant, used to make tea for centuries, also produces some of the most fascinatingly beautiful flowers. Since 1968 the American Camellia Society has made its home at Massee Lane Gardens, located a few miles south of Fort Valley. The pretty flowers start blooming in the fall, continuing through winter. The flowering usually peaks in February and by March, plenty are still in color. Visitors to the gardens can see these varieties, plus tour the Japanese Garden and the Rose Garden. A small admission fee is charged. While you're there, look for the gorgeous artwork on display at the Boehm Porcelain collection. Info: www.camellias-acs.com; (877) 422-6355, (478) 967-2358.
Fort Valley is also home to the Lane Southern Orchards complex, where the Peachtree Cafe and Bakery serves up lunch, plus peach cobbler and peach ice cream year-round. In addition, a market offers fresh seasonal produce; typically, pecans, citrus fruit, strawberries, preserves, and other items are available in March. Info: www.lanesouthernorchards.com, (800) 277-3224, (478) 825-3362.
Up the road just a bit north of Perry, amazing flying machines are exhibited at the U.S. Air Force Museum and Georgia Aviation Hall of Fame at Robins Air Force Base. The museum has a huge main building and two specialized hangars, all brimming with planes. It boasts the fastest manned spyplane ever built, an SR-71 Blackbird. An F-15 Eagle, built to shoot air-to-air missiles, plus World War II aircraft such as a P-40 Warhawk and a C-47 Skytrain (Gooney Bird) are among other items in the collection. Admission is free. Info: www.museumofaviation.org; (478) 926-6870.
You're Macon It!
The Allman Brothers band was based in Macon, Georgia, during the early 1970s when brothers Greg and Duane and their cohorts helped invent Southern rock. Even folks with a passing interest in the group will enjoy delving into that decade at the Big House, a museum in the home where several of the Allman Brothers band members lived. Exhibits include show posters and instruments, and the room where "Ramblin' Man" was written is part of the tour. Info: www.thebighousemuseum.com or (478) 741-5551. The museum is open Thursday through Sunday.
Macon, which is a 30-minute drive north of Perry via I-75, will probably outdo Perry in the pink department in March, because it is home to the annual International Cherry Blossom Festival. This year FMCA members will be pleased to know the Cherry Blossom Festival starts March 21 (right after FMCA's Family Reunion) and continues through March 30, with pre-festival activities the preceding week. The entire town gets downright fluffy with more than 300,000 Yoshino cherry trees all trying to outdo each other.
To celebrate, the festival offers all kinds of free musical entertainment, including organ concerts, concert bands, and nightly rock bands. A free alligator show, a used-book sale, food fairs and free-food events, a parade, a pet fashion show, bed races, and fireworks are also on the schedule. A free trolley shuttles people around the event areas. For more information, visit www.cherryblossom.com or call (478) 330-7050. For more info about the many other things to see and do in Macon, visit www.maconga.org or call (800) 768-3401.
Unique Stories
Approximately 1 hour south of Perry is Plains, Georgia, birthplace of Jimmy Carter, 39th U.S. president, and his wife, Rosalynn. James Earl Carter's upbringing on a family farm can be explored, and stories about his childhood are told at Plains High School, which serves as the Jimmy Carter National Historic Site visitors center. Jimmy and Rosalynn's education, family, religion, and activities since the Carters were in the White House (1976-1981) are also covered. Also open is the 1976 presidential campaign headquarters, which is located in a former train depot, complete with a peanut on the sign. Info: www.nps.gov/jica; (229) 824-4104.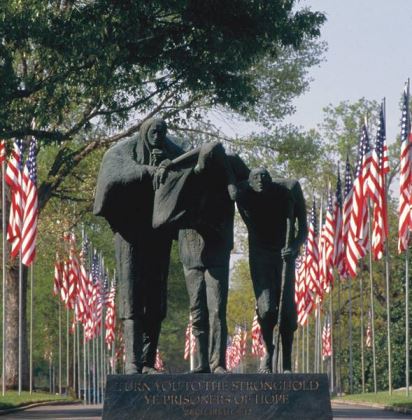 A charity supported by the Carters is Habitat For Humanity International, which has its operational headquarters in nearby Americus. Visitors can explore the Global Village and Discovery Center, open weekdays and limited hours on some Saturdays. The village contains life-size examples of Habitat houses from countries around the world. Info: www.habitat.org; (800) 422-4828, (229) 924-6935.
Another important part of Georgia history is highlighted at Andersonville National Historic Site, a 45-minute drive southwest of Perry. One of the saddest aspects of the Civil War was the inadequate housing of prisoners, both in the North and South. At Andersonville, it is estimated that between 12,000 and 14,000 men died, mostly from disease. A cemetery and prison site with restored sections of the stockade enables visitors to imagine what captivity there may have been like. The National Prisoner of War Museum, which also serves as the park's visitors center, contains Civil War exhibits and explores American captivity during other wars as well. Admission is free. Info: www.nps.gov/ande; (229) 924-0343.
These are just some ideas of places you may wish to see while in the Perry area for FMCA's upcoming Family Reunion & Motorhome Showcase. Take advantage of the information you can find online or by phone from the local and state tourism bureaus (listed below), and use all of it as your "Passport to Perry" to explore Georgia!
Further Info
Perry Area Convention & Visitors Bureau
101 General Courtney Hodges Blvd.
Perry, GA 31069
(478) 988-8000
www.perryga.com
Georgia Tourism
(800) 847-4842
www.exploregeorgia.org
Perry Area Campgrounds
The following may not be a complete list, so please check your campground directory or the RV Marketplace, found online and in the January and June issues of FMC, for additional listings.
Bolands-Perry Overnight Park
800 Perimeter Road
Perry, GA 31069
(478) 987-3371
Crossroads TravelPark
1513 Sam Nunn Blvd.
Perry, GA 31069
(478) 987-3141
Fair Harbor RV Park & Campground
515 Marshallville Road
Perry, GA 31069
(877) 988-8844
(478) 988-8844
www.fairharborrvpark.com
Twin Oaks RV Park, C6864 *
305 State Route 26 E.
Elko, GA 31025
(478) 987-9361
www.twinoaksrvpark.com
*FMCA Commercial Member