Smaller gatherings of motorhome owners have always been the best place for FMCA members to find heart-to-heart fellowship and a great way to exchange information.
By Peggy Jordan
Associate Editor
April 2013
When New England "bus nut" Robert Richter organized a gathering for owners of similar vehicles in Hinckley, Maine, to watch a solar eclipse and talk about forming an official organization for house car owners, his idea was not new — except, perhaps, in scope. Small, geographically based groups of owners of bus conversions and similar vehicles already had met to share information, enjoy good times, and make memories. The very first issue of Family Motor Coaching described the formation of "regional groups."
The Originals
At first, FMCA had no official way to set up or sanction chapters. "Regional groups" sprang up as quickly as new members joined them, but they had no national affiliation, save for FMCA membership among the group. Within the first year or so this situation was remedied, and some simple ground rules were laid out so that groups could apply to become official FMCA chapters.
By the end of 1965, FMCA's first four chapters officially had been formed. Of those, the first three honestly can all claim to be number one, for they were chartered on the same day: Michigan (later called Michigan Knights of the Highway), Midwest Coachmen (encompassing Ohio, Indiana, and Kentucky), and Northeastern (Quebec, Connecticut, Maine, Massachusetts, New Hampshire, New York, Rhode Island, and Vermont). All three were registered on April 10, 1965. On June 24 of that year, the California chapter was officially recognized.
In 1966, along came the Pioneers (Minnesota), 20th Century Wagontrainers (Delaware, Maryland, New Jersey, Pennsylvania, Washington, D.C., and Virginia), and the Badger (Wisconsin) chapters. Rounding out FMCA's "top 10" were three chapters chartered in 1967: Rocky Mountain (Colorado, Montana, New Mexico, Wyoming; western portions of Nebraska, South Dakota, and North Dakota), Lone Star (Texas) , and Northwestern (Idaho, Oregon, and Washington).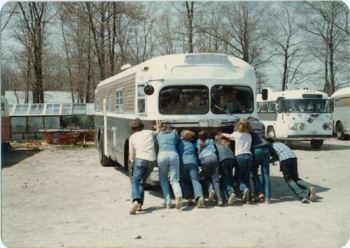 Some of those early organizers had belonged to groups long before FMCA came into being. In an article in the second issue of Family Motor Coaching in 1964, Bob Richter noted, "We were delighted to learn from Don Biessel, F286, of the existence of a large group of family motor coach owners who have been meeting regularly for the last eight years." Mr. Biessel wrote an article for the following issue of the magazine about that group's meet in 1964, along with his desire to start an FMCA chapter. The Pioneers chapter of Minnesota was the result.
Another regional enclave credited with existing pre-FMCA was "Organized May 10, 1963, in Corunna, Michigan, as a get-together for 'house car' owners," wrote Genny Jennings, L26, who, with her husband Howard, was a charter member of the Michigan Knights of the Highway.
By Any Other Name …
The founding members of FMCA struggled to come up with just the right title for the association. Likewise, the first FMCA chapters sometimes changed their names several times before they settled on one they liked. The original name for the Michigan Knights of the Highway chapter was the Courtesy Coach Club. A few years later, it was simply the Michigan chapter. But changes were afoot. "Knights of the Highway" was the name of the chapter's newsletter in 1966, so it's not too difficult to figure out where that final name came from.
The very first issue of Family Motor Coaching called one group the "Ohio-Indiana-Kentucky chapter of FMCA." At some point later, a newspaper reporter ascribed the name "Tri-State Chapter of the Family Motor Coach Association" to the same folks when a photo of them was published. Eventually, everyone settled on Midwest Coachmen as a name for the chapter. And as for the Northeastern chapter, before it was formed, Family Motor Coaching announced, "New England chapter to organize in spring."
In June 1965, a couple months after the first three chapters were born, along came the California chapter. Bob Richter, the first editor of Family Motor Coaching magazine, remarked, "Every indication is that this will be a large and active group, as we have on file the names of more than a hundred coach-owning families in California already, and this list is growing daily."
Support for the creation and growth of FMCA chapters came straight from the national office. In 1965, Charles Owens, L44, board member and future FMCA president, wrote, "The national board of directors are elated with the progress made in the formation of regional chapters. It goes without saying that the future of FMCA rests with the establishment of new chapters and the growth of these already formed."
By 1974, 10 years after the first issue of Family Motor Coaching mentioned chapters, FMCA already had 37 subgroups. Today there are more than 450.
Rally Traditions Begin
The first chapter rallies included so many elements we take for granted now. For example, commercial motorhome manufacturers and RV suppliers attended regional rallies. The Midwest Coachmen welcomed Blue Bird and Clark Cortez officials to their fall 1965 rally, as did members of the proposed Minnesota chapter (the Pioneers).
Even before then, experts in the RV industry helped FMCA members better understand their vehicles. While the Midwest Coachmen chapter was still called the "Ohio-Kentucky-Indiana" group, a report in 1964 mentioned that a meet of theirs was attended by Ray Frank of Frank Motorhomes (makers of the Dodge Motor Home), as well as representatives from Overland Cruiser Corp., the Flxible Company, and Custom Coach Corporation. It seems that learning about one's own coach and checking out those owned by others has been an FMCA tradition from the beginning.
Talking with other RVers to gain tips about how to maintain a house on wheels was always a major part of these gatherings. Rally reports from the California chapter back in 1965 mentioned that numerous organized chats focusing on motorhomes and the RV lifestyle took place — perhaps the first-ever FMCA seminars. "At various times during the weekend, discussion sessions were held on CB radios, coach conversions, and coach insurance. A great deal of interest was shown in these discussions," wrote Junia Duck, the first secretary of the California chapter.
Aside from the formally organized "seminars," times were set aside for members to tour each others' motor coaches. If a "yes" card was displayed in the front window, that meant a coach was open for members to peruse and discuss.
Just like today, chapters held rallies in all kinds of places: state parks, private land owned by chapter members, 4-H camps, city parks, and more. Some were timed to match area events, such as antiques festivals. Fall, spring, and summer were the most popular times to get together, but the Badger chapter can boast of a snow rally in Wisconsin in February 1969, one in which motorhomes were driven on the white stuff and some members brought along snowmobiles.
And, of course, fabulous food was shared at these early events. FMCA's first chapters enjoyed potlucks, pig roasts, pancake breakfasts, and picnics.
To conclude a fun rally day, entertainment was a must. Sometimes this meant singing together around the campfire without accompaniment, or perhaps with the assistance of a guitarist or accordion player — depending on which instruments members played. Some chapter members presented slide shows and showed homemade movies that focused on the most recent FMCA convention, or on their travels to faraway places. The California chapter's famous member/comedian Herb Shriner, F400, generously provided some laughs to his fellow travelers during a rally. Another chapter rally report noted that their evening was spent watching color TV by the campfire. For 1967, that was a novelty — a foretaste of what motorhomers commonly enjoy today.
Don't Forget The Kids!
It's impossible to visit the early days of FMCA chapters without mentioning the children. Youngsters sometimes outnumbered adults at chapter rallies. A Northeastern chapter report in 1967 remarked that 85 adults and 119 children attended a rally in June of that year. Needless to say, this meant that games galore were planned for the kids at many rallies. For a 1965 Minnesota bus group meet, piles of children showed up amid 97 coaches on the site. "An extensive program was planned," one report noted. "Before the Family Talent Show, the youngsters scrambled for money through a pile of sawdust." Later, "In spite of the rain, treats were passed to all the children, coach by coach." A live band played for the teenagers that evening until 10:00 p.m. "At that time the adults took over for an evening of dancing."
Rally reports in Family Motor Coaching mention plans for games, the use of playgrounds and swimming pools, and marshmallow roasts. And as can be expected, high jinks did occur. At a Northeastern chapter rally in Massachusetts, Paul Collins, F797, wrote, "While I had my back to the kids, they hooked up the tow rope to my coach. I turned around to see it heading toward the highway with about 60 kids providing the pull power."

Hints Of The Future
It would be several years before any FMCA chapters were organized by criteria other than members' home addresses. However, even in the 1960s, it was clear that folks shared common interests, such as CB radios. Owners of similar vehicles, i.e. converted buses and specific motorhome brands, gravitated to each other as well.
What's more, the commercial interests of manufacturers already were being served by the creation of owners' groups. A Cortez Owners Club was organized sometime in the early 1960s and mentioned in FMC in 1965. That same year, a Dodge motorhome owners club was formed, too.
Eventually, FMCA boasted numerous chapters dedicated to owners of particular coach brands. These joined a growing number of chapters focusing on a common activity or hobby — everything from golf to singles to musical interests.
As the years go by, many of the first FMCA chapters seem more and more like the pioneers of our association. They and subsequent members have discovered that chapters truly are the place where some of FMCA members' best friendships start and grow.
Find Your Fun In 2013!
Fun is multiplied when it's shared. That's why belonging to an FMCA chapter can greatly enhance your enjoyment of the motorhome lifestyle. You can explore new places and make friends you never would have met otherwise.
To find a chapter, try one or more of the following options:
Peruse the online listing of chapters at FMCA.com (click on Chapters/Areas and then select Chapter Search). Use the interactive search criteria to learn about chapters in your area or those focused on your interests.
Search FMCA's Chapter Directory, published in the January and August issues of Family Motor Coaching, or request a copy from the Chapter Services Department at (513) 474-3622 or (800) 543-3622.
Check out a chapter rally near you, or find one that's on the way during your upcoming travels. The "Association Calendar" lists rallies that are open to all motorhomers. The calendar appears online at FMCA.com (click on Chapters/Areas and then select Chapter Rallies). It's also in each issue of Family Motor Coaching. Once you see a rally you are interested in, contact the chapter in advance to be sure space is still available.
Maybe you'd like to start your own chapter. If so, contact the Chapter Services Department and staff will be happy to assist you.
Join an FMCA chapter and find your fun!
Celebrating 50 Years Of Fun! 50 Days – 50 Atlases
In celebration of FMCA's 50th anniversary, and leading up to the big birthday bash June 19-22, 2013, at the 88th Family Reunion & Motorhome Showcase in Gillette, Wyoming, FMCA will be giving away 50 copies of the new FMCA North American Road Atlas and Travel Guide. Starting on Monday, April 1, a name will be drawn each day from among those registered to attend the Family Reunion in Gillette until 50 atlases have been awarded. The earlier you register for the Gillette event, the better your chances of winning an atlas, since your name will be included among the eligible entries in each drawing (one atlas per family). The 7th edition of FMCA's atlas contains all of the features that have made it a popular RV travel companion – the plastic spiral binding; FMCA commercial member campgrounds and other discount campgrounds; special designation for big-rig-friendly campgrounds; and the locations of Walmart, Walmart Supercenter, and Sam's Clubs stores, as well as Pilot Flying J travel plazas and Cracker Barrel Old Country Store restaurants.
This RV-friendly atlas normally sells for $16 plus shipping. So, be sure to register for the Gillette convention! In addition to making you eligible to win a free atlas, registering early saves you $30 off the gate registration fee. Register online at FMCA.com; by fax, (513) 474-2332 or (800) 543-4717; by phone (513) 474-3622 or (800) 543-3622.