Put on your party hat and enjoy a recap of the 50th anniversary festivities at FMCA's 88th Family Reunion and Motorhome Showcase this past June.
By Robbin Gould, Editor
September 2013
As schoolchildren in history class, we forget many more facts and figures than we remember. And although the general public is unaware of the significance of July 20, 1963, FMCA members look to that date as a milestone: the day on which Family Motor Coach Association was born.
FMCA has been observing "Mile Marker 50," its golden anniversary, throughout 2013. The commemoration went full throttle during the 88th Family Reunion and Motorhome Showcase — dubbed "Celebrate In Gillette!" — held June 19-22 at CAM-PLEX Multi-Event Facilities in Gillette, Wyoming. The official attendance figure for the Gillette gathering was 2,639 coaches, a number that included 2,288 family coaches and 351 commercial coaches.
This was the first time FMCA members met for an international event in this northeast Wyoming city, although FMCA's Rocky Mountain Area gathered at CAM-PLEX in 2012.
The CAM-PLEX facilities provided a great home away from home for attendees who set up temporary residence on the 1,100-plus-acre property, said to be the largest multi-event center west of the Mississippi River. Of particular interest to motorhomers, CAM-PLEX maintains more than 1,700 campsites with hookups, which were utilized by many Family Reunion attendees.
From Then … To Now
As FMCA "historians" know, the association owes its formation to a small group of motorhome enthusiasts who were driven to create an owners group. In the early 1960s, without benefit of today's e-mail, Internet, or social media, these owners planned a gathering of "house car" owners via letters, phone calls, and face-to-face conversations. Arrangements were finalized in July 1963, and 26 families drove their rolling homes to Hinckley, Maine, and parked on the grounds of the Hinckley School for a get-acquainted weekend.
The new friends shared meals, stories, and laughs; exchanged information about the care, feeding, and construction of their motorhomes; and viewed a solar eclipse. On July 20, they voted to form an owners group. On July 21, they chose "Family Motor Coach Association" as the group's official name.
Fast-forward 50 years to Gillette, where thousands of motorhome families gathered for similar reasons. (No solar eclipse, though.) They attended informational seminars; toured RV exhibits; took in entertainment, bingo, a dance, and a ladies' tea; and enjoyed coach-side fellowship. They also toured nostalgia displays, participated in anniversary contests, and witnessed recognition of several individuals who helped to nurture the association from infancy into a fine organization that continues to enhance the motorhome lifestyle for tens of thousands of motorhome enthusiasts.
Bus Brigade
One of the most visible means of honoring FMCA's heritage was a display of FMCA members' vintage Flxible motorhomes, the iconic bus that graces FMCA's membership logo. Six of these venerable vehicles were parked outside the Wyoming Center, one of the main activity venues. Thanks to Mike Middaugh, F3456, who organized this effort. And thanks, of course, to the owners for making the trek. According to reports, all six of the half-century-old buses were driven to Gillette and returned to their home camps with no issues.
Curious visitors toured their interiors, inspected their engine compartments, and chatted with their owners. The buses: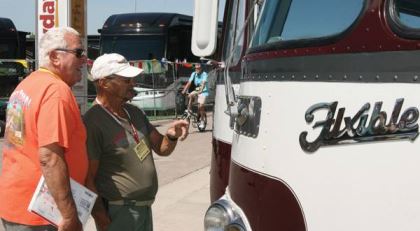 1958 Flxible Starliner. Owned by John and Paulette Lingafelter, F374251, Concord Township, Ohio. This bus originally was part of the Peter Pan Bus Lines in Springfield, Massachusetts. The Lingafelters purchased the coach in North Dakota in late 2009. They updated the interior, which already had been converted to a motorhome; rebuilt damaged walls and floor; and painted the exterior. "It will likely always be a work in progress. But we are enjoying the journey," John said.
1957 Flxible Visicoach, VL100. Owned by Dick and Mary Hodge, F432528, Brighton, Colorado. "Buster" was placed into Trailways service in New Jersey in 1957 and is estimated to have had 2.5 million miles of experience. The bus now has a 6V92 turbo engine with automatic transmission, 900 pounds of new steel welded into the frame, and mostly new interior components. The Hodges are its third owners and have logged 85,000 miles in the bus for local camping and an occasional rally.
1954 Flxible Visicoach. Owned by John and Ruth Maryo, F412782, Batavia, Ohio. The bus originally provided airport transportation as part of the Barrett Garages fleet in San Francisco, California. It was converted to a motorhome around 1969. The Maryos bought the Flx in Boston, Massachusetts, in 2009 and outfitted it with new tires and wheels, had engine work done, and updated interior fabrics. Ruth named the bus "Joline" after the Dolly Parton song. "I would rather have a 1954 bus than a new motorhome," John said.
1961 Flxible Hi-Level. Owned by Francis and Betty Nohel, F12176D, Verity, Michigan. FMCA members since 1975, the Nohels owned two buses previously and purchased their current coach in Toledo, Ohio, in July 1996, naming it "Michigan Express." They had spied photos of the coach for sale while attending a Great Lakes Area Rally. "My husband and I always loved the style of the Flxible Hi-Level . . . and the rest is history," Betty said. It has a 6V92 turbo engine and received a major overhaul in 2010.
1964 Flxliner. Owned by Junior and Bertha Showman, L1007, Jacksonville, Florida. In 1965 the Showman family attended their first FMCA rally, hosted by the Midwest Coachmen, in a 1946 Dodge school bus. "At that time, we caught Flxitis," Junior said. By December, they owned a 1945 Flxible Clipper, which they drove to Glenwood, Minnesota, in July 1966 for FMCA's third convention. The Showmans kept that coach for 10 years and redid the interior five times to accommodate their four children. Junior and Bertha bought the current Flxliner in 1976.
1962 Flxible Starliner. Owned by George and Fran Showman, F1007S, Marietta, Georgia. George is the oldest son of Junior and Bertha Showman and was an FMCA TAT (Teen-Age Traveler) officer in the 1960s. George and Fran bought this bus in 1996. In an earlier life, it saw service on a Dearborn, Michigan, bus line. In 2008 the bus was outfitted with a 3208 Caterpillar diesel engine and an Allison automatic transmission. The coach is nicknamed "Margaritaville" and, according to George, "It is our 'Little Beach House' that we take anywhere."
Celebrating 50 Years
The Nostalgia Room provided a museum-quality glimpse into association history. FMCA chapters, family members, and commercial members contributed photos, scrapbooks, the youth program banner from an early convention — even FMCA jackets emblazoned with convention hash marks and other patches from Jim Holifield, L387, and Steve Mann, F29252, and those worn by the late Ken and Dotty Scott, L63. A life-size cutout of John Madden, who used a series of "Maddencruiser" buses converted by Custom Coach Corporation, C14, greeted visitors.
A second nostalgia area adjacent to the indoor exhibits in the Wyoming Center featured aerial photos of past conventions; photos of the 20-plus national presidents who have guided the association; a framed list of FMCA life members; and numerous photos depicting association events and people. In an adjacent "theater," a documentary titled The Peaceful Invasion, filmed at the 1973 DuQuoin, Illinois, convention, and other videos provided additional glimpses of FMCA's heritage.
Prior to entertainment on the final evening, FMCA honored several charter members who were on hand for the "Celebrate In Gillette!" convention. All joined FMCA before January 17, 1964: Genny Jennings, L26, first national secretary; Kirwan Elmers, L145, cofounder of Custom Coach Corporation and a 2013 inductee in the RV/MH Hall of Fame, and his wife, Regina; and Don and Molly Marsh, F171, members of two FMCA chapters.
The Jelly Bean Guessing Contest, hosted by FMCA's 50th Anniversary Committee, kept people busy estimating how many colored candies filled a jar displayed in the FMCA Connections Area. Carol Drees, F302326, won the $1,050 prize by correctly guessing 3,417. According to Andy Balogh, F316832, Anniversary Committee chair, the most-guessed number was 2013 (year); the second most popular guess was 1,050 (the prize amount).
What's a birthday party without cake? Anniversary cake was served on Friday, provided by Blue Ox, C2903, just prior to the Black Tie & Blue Jeans Dance. The dance itself drew quite a few revelers who kicked up their heels into the evening hours to the music provided by Johnny Goodrum, F276410. Adults also danced with children and grandkids, and some of the men dressed in suits and ties for the occasion.
The Geocaching Treasure Hunt, coordinated by Steve and Judy Czarsty, L79148, and sponsored by the 50th Anniversary Committee, was a fun experience for novices and experienced geocachers alike. Using their GPS devices, participants searched for hidden caches on CAM-PLEX grounds and throughout the Gillette community. John Ham, F183659, who already has recorded more than 10,000 geocache finds, was the first to finish. About 25 geocachers successfully found all eight caches, which varied in the degree of difficulty and were verified by members of the Eastern Area GeoC0achers chapter. "It was a fun experience, and we thank the Anniversary Committee for sponsoring the event," Steve said.
Coffee Hour is a tradition at every Family Reunion — the a.m. gathering spot for coffee, doughnuts, and conversation. In Gillette, members of the Frustrated Maestros chapters, recognizable in their traditional red-and-white attire, made the mornings musically merry with live performances. These included old standards and stirring patriotic tributes — even a salute to the armed forces.
On the final morning, Coffee Hour took an anniversary twist. It became the Pancake Breakfast, hosted by the Anniversary Committee, with pancakes supplied by De Wafelbakkers LLC, C11631.
Andy Balogh noted that a number of the youngsters registered for the Gillette Youth Program proved invaluable in helping with the Pancake Breakfast, for which preparations began the night before. After the Black Tie & Blue Jeans Dance concluded, the youngsters, along with Executive Board members, began preparing the 17,000 pancakes for the following morning. "They also helped set up the tables and the serving lines, and they helped out the next morning with serving," he noted. "They all had fun, and that was the main thing."
And speaking of the younger set, 97 children registered and participated in Youth Program activities: 33 TATS (Teen-Age Travelers), ages 13-18; 34 Pre-Teens, ages 10-12; 25 Tweens, ages 6 to 9; and five TOTS, ages 2 to 5. According to Tom and Carol Januski, F266041, Youth Committee chairs, the kids enjoyed a bowling day, a skating day, and a day at the water park. They also were active in assisting throughout the convention, whatever they were needed to do for the 50th anniversary. In addition to helping at the Pancake Breakfast, several TATS arrived early to distribute copies of the "Mile Marker 50 News" during Coffee Hour.
"It is truly amazing what the children contribute to the convention each time and are eager to do so," Carol said.
Two lucky couples left Gillette with future RV trips on their itinerary. They were the winners of two 50th anniversary drawings held by the FMCA Tour Connection, powered by Fantasy RV Tours, C5644, an FMCA Super Star sponsor, presented in conjunction with FMCA's Anniversary Committee. Nel Filliger of Fantasy RV Tours awarded the first prize on Thursday evening, June 20, to Eugene and Gloria Ruffalo, F376749: a seven-day RV vacation to the Best of Seattle Rally. The grand prize, a 15-day RV vacation for two to the Canadian Rockies, was won by Harold and Thelma Caldwell, F276391, on the final evening.
During the annual membership meeting, outgoing national president Charlie Schrenkel, L140050, announced another 50th anniversary action: the Anniversary Committee's allocation of funds to purchase two commemorative benches for the national office in Cincinnati. One will be dedicated to Bob Richter, L1, widely considered FMCA's founder; the other, to Ken Scott, L63, the association's first executive director.
Other Activities
More than 100 seminars encompassing technical, educational, and product-specific subjects, as well as hands-on crafts sessions, were presented by experts. Nearly 30 new topics were covered. One of the latter, "A Nostalgic Look Back At The Early Coaches Of FMCA," included photos and stories courtesy of Mike Middaugh, Kirwan Elmers, Jim and Ginny Holifield, and others.
Evening entertainment included a concert packed with hits of the 1960s performed by The Buckinghams on Thursday, June 20. On Saturday, June 22, country music star and multiple Grammy winner Marty Stuart treated a rapt audience to a set list featuring his many chart-toppers.
Other perennially popular events included the ice cream social; the ladies' tea; bean bag baseball and bean bag toss tournaments; square, round, and line dancing; chapter meetings and socials; and area sight-seeing tours. The Chapter Parade was canceled because of weather, but at least one chapter was undeterred; its members marched through the aisles of indoor exhibits dressed to the "nuns" in black-and-white habits.
Speaking of exhibits, supplier/component displays experienced a brisk business indoors, while motorhome manufacturers, dealers, and chassis makers likewise reported high interest in the outdoor exhibit area. On Wednesday evening, June 19, the Motorhome Preview treated attendees to an extra viewing of the display coaches.
A Show Of Gratitude
FMCA members continued the tradition of giving back to the areas the association visits for its Family Reunions. Members made monetary donations to Habitat for Humanity and recycled 68 pairs of eyeglasses for the Lions' Foundation Eye Program. Meanwhile, the Professional R.V. Vendors Chapter collected nonperishable food items for donation to the Council of Community Services in Gillette. The council also received 34 quilts stitched by FMCA's own craft contingent, the On-Road Quilters. Following the Family Reunion, 10 member families from the FMCA Chapter: Habitat For Humanity® participated in a two-week home build in Custer, South Dakota, working in cooperation with the Rapid City, South Dakota, Habitat for Humanity affiliate.
Volunteer Kudos
As one saying goes, "Volunteers are paid in six figures … S-M-I-L-E-S" (Gayla LeMaire). Smiles — and volunteers — were plentiful during FMCA's 88th Family Reunion. From parking and security to seminars and information, and many other posts in between, FMCA members donated a shift, a day, or even multiple days to enable other attendees to optimize their Family Reunion experience. A tip of the cap to the staggering number of FMCA volunteers — approximately 1,000 — who worked in Gillette.
Special thanks are also due to the members of the 50th Anniversary Committee: Andy Balogh, chair; Pam Alspaugh, F538D; Bobby Donald, F107800; Dick Gibbs, F278983; Jim and Ginny Holifield; Mike Middaugh; Peter Ribble, F299658; Otho Tew, F152425; and Gaye Young, F284657. This group began brainstorming two years ago, tasked with making FMCA's 50th birthday celebration a memorable experience.
Beyond Mile Marker 50
Next year, FMCA's schedule will include two Family Reunion and Motorhome Showcase events. The Georgia National Fairgrounds & Agricenter in Perry will be the venue March 17-20, 2014. Summer fun takes place August 13-16, 2014, at the Deschutes County Fair & Expo Center in Redmond, Oregon.
And the celebration continues. Not just the heritage of a beloved motorhome owners association, but the lure of the lifestyle, the call of the journey, the memories yet to be made, the new friendships to be forged. Charlie Adcock, F311374, newly elected national president, commented, "The future has never looked brighter or more exciting for FMCA, and I am proud to represent our members as we look forward to the next fifty years."
Thanks, Sponsors!
A sincere thank-you to the following commercial sponsors for their generous support of FMCA's 88th Family Reunion and Motorhome Showcase:
Super Star Sponsors
FMCA Tour Connections, powered By Fantasy RV Tours, C5644
Progressive Insurance, C6607
Five Star Sponsors
Alliance Coach, C11904
GEICO RV, C11529
GMAC, C10328
Roadmaster Inc., C2952
WiFi Ranger, C12521
Three Star Sponsors
American Coach/Fleetwood RV Inc., C985
Blue Ox, C2903
Monaco RV LLC/Holiday Rambler, C2111
Two Star Sponsors
Entegra Coach/Jayco Inc., C9334 & C12446
Hale Expo Services, C974
Lazydays, C1702
Miller Insurance Agency, C3045
RVtrader.com, C9098
One Star Sponsors
Kiley Mold Co., C7252
Twin Peaks RV Insurance, C7669
Lost and Found
Were you separated from any of your belongings during the "Celebrate In Gillette!" Family Reunion? The following remained unclaimed at the close of the gathering. If you think that any of them may belong to you, contact the Events Services staff at the FMCA national office — (800) 543-3622, conventionregistration@fmca.com.
Denim hat
Brown folding-chair cover
Green folding-chair cover
Tan Arizona cap
Miller Lite cap
Navy blue cap
Red drink holder
Pair of ladies' black gloves
Pair of Plainsman leather gloves
Bissell Event Notes
Football
Navy-blue umbrella
Navy-blue seat cushion
Camera
Camera bag
Set of knitting needles
Hearing aid
Flashlight
Shade Pro purchase
Newly purchased belt
Single key
8 pairs of sunglasses
13 pairs of eyeglasses
1 pair of eyeglasses in brown case
Small pill bottle
Saddle charm
Bee pin
Earring
Triple-hoop earring
Gillette newspaper with laminated photos of Western items