Kirwan Elmers, L145, has etched a mark in RV history as an FMCA charter member and for his role at Custom Coach Corporation.
By Robbin Gould
Editor
July 2013
On August 5, 2013, the RV/MH Hall of Fame in Elkhart, Indiana, will induct a group of individuals who have made outstanding contributions to the RV industry. Kirwan Elmers, L145, one of FMCA's earliest family and commercial members, is in the Class of 2013 slated to be honored on that day.
Those acquainted with Kirwan know that his election into the Hall of Fame is well deserved. A pioneer in the converted-coach field, Kirwan and his late father, Miles, established Custom Coach Corporation — the first company to specialize in custom-built motorhome conversions of bus shells — in 1955. Father and son introduced numerous innovations to the conversion vehicle market, many of them common in motorhomes today.
The Beginning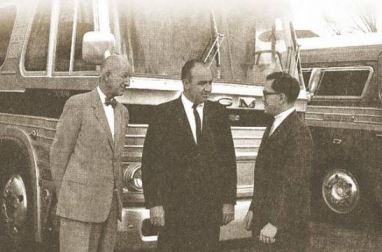 Kirwan received a firsthand education in sales and marketing from his father, Miles. An entrepreneur, Miles canvassed the United States to promote a variety of products. In the 1930s, he also began to design and build travel trailers as a hobby. Each summer when school was out, Kirwan, his sister, and mother traveled with Miles in one of those units.
In the early 1950s Miles began to promote "all," a low-sudsing laundry detergent he had developed for automatic washing machines. Business boomed, which ramped up his traveling even more. Father and son began to look for a better mode of family transportation.
In 1952 they visited the Flxible Company, a bus manufacturer in Loudonville, Ohio. At that time, the company's Land Cruiser division built custom commercial interiors in Clipper shells. Despite the company's focus on building commercial vehicles, Flxible officials were persuaded to build a bus with a residential-style interior for the Elmers family. The result: a 1952 "Visicoach," the first commercially converted motorhome, according to Kirwan. It was powered by a Buick straight-8 engine coupled with a five-speed manual transmission.
The family's first trip in their new home on wheels was to Fairbanks, Alaska, via the Alcan Highway, which was only partially paved. When they returned to their Columbus, Ohio, home, Kirwan replaced the coach's engine with a Cadillac V-8 and installed an automatic transmission. He also added power steering. These improvements made navigating the Flx much easier.
That first coach was sold unexpectedly. In the spring of 1955, the Land Cruiser was being serviced at a Cadillac dealership in Long Beach, California. The owner came in to inspect it after hearing his employees talk about an unusual vehicle that was parked at the shop. Within several hours, a deal was struck, and Miles and Kirwan returned to Columbus by plane.
Gradually, Miles became more interested in buses than detergent. In 1953 he sold the "all" brand to Monsanto Corporation, which enabled him to purchase Flxible's Land Cruiser division, along with the company's parts inventory. In 1955, armed with the name and some subcontracted interior jobs from Flxible, Miles and Kirwan established Custom Coach Corporation in Columbus.
Innovation
Early Custom Coach conversions were built on used Flxible Airporters, which Miles and Kirwan acquired from airport service companies as they upgraded their fleets. The Elmerses converted ACF Brill, Fitzjohn, General Motors, and Marmon-Herrington buses as well.
From 1960 to 1965, Custom Coach also built its own bus shells, retaining the Land Cruiser name. The 35-foot-long model was outfitted with a 277-horsepower Ford 534-cid industrial V-8 engine, an Allison six-speed automatic transmission with a hydraulic retarder — the industry's first permanently installed automatic transmission in an intercity bus shell — plus air brakes and suspension. It could be ordered with a raised 80-inch roof and a center door, if desired. A generator powered the 110-volt air-conditioning system.
Miles and Kirwan invented, designed, and installed numerous features on the Land Cruiser chassis. These included a two-way refrigerator; powered venetian blinds on the rear window; a powered step well cover; retractable entry steps; and roof vents. Early models even boasted all-electric interiors and could be operated by either a 5-kw gasoline generator or shore power.
Other original features included heated holding tanks, a stainless-steel lavatory, a convertible dinette, docking lights, drop-down berths, safes, roof decks, and sedan-type entry doors. The earliest Land Cruisers featured porthole-style windows in the center of each sidewall.
Custom Coach brought even more innovations to the conversion vehicle market. In 1965 the company installed the first rearview television cameras. In 1967 it debuted cruise control to the coach industry, and in 1976 it incorporated the first contemporary Ultrasuede motorhome interior. The company was first to move the dinette to the galley area, was one of the first to incorporate residential-style bathrooms, and developed a forward lounge. In the early 1970s, the company built the first 40-foot conversion. Custom Coach vehicles boasted central air-conditioning beginning in 1982. In 1986 the company introduced the Q/C One, whose "quick change" rear lounge converted from a lounge with sofas to a sleeping area with one or two beds.
In 1959 American stage actress Katharine Cornell leased a Land Cruiser for a cross-country tour of her Broadway show "Dear Liar." This marked the first commercial lease of a private executive coach.
A Who's Who Of Clients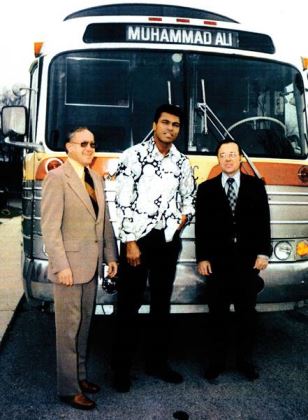 The music industry took notice of the company's vehicles, prompting many entertainers to become customers, among them country stars Loretta Lynn, Johnny Cash, Lee Greenwood, Dolly Parton, Barbara Mandrell, and Conway Twitty, as well as Bob Dylan, Ray Charles, and Chubby Checker. Commercial customers included McDonald's founder Ray Kroc, who purchased 21 Custom Coach conversions; Dave Thomas of Wendy's restaurant fame, who acquired a dozen over the years; and August Busch III, CEO of Anheuser-Busch. John Madden was known to put 100,000 miles a year on his half-dozen Custom Coach "Maddencruisers." Political candidates used Custom Coach vehicles for campaigning, and President Bill Clinton's entourage traveled to Washington in the company's buses for his 1993 inauguration, with Kirwan driving one of them. The royal families of Saudi Arabia and Kuwait collectively ordered 24 Custom Coaches; the first was shipped to Saudi Arabia by a C-5A military transport plane, a trip made possible by the White House. Three other coaches also were flown to the royal families from the United States via huge cargo plane.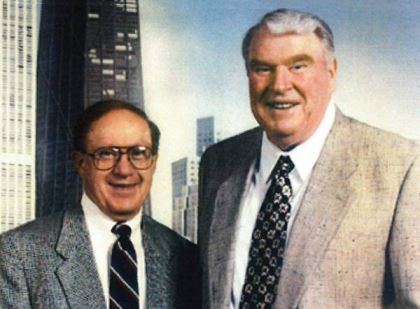 Custom Coach created specialty vehicles for the C-SPAN network; developed CBS TV's original mobile video broadcasting units; transported NASA's high-tech equipment; and built several 45-foot security coaches for the Bureau of Alcohol, Tobacco, Firearms, and Explosives. Custom Coach vehicles also anchored Goodyear blimps and served as ground-to-air communication facilities for the floating airships.
In addition to these notable commercial customers, Custom Coach also served many families who had conversions designed for recreational use.
Part Of The Family
In July 1963 several "house car" owners, who were smitten by their vehicles and the new way of travel they offered, planned a get-together for fellow enthusiasts on the grounds of the Hinckley School, in Hinckley, Maine. During a business trip Kirwan drove to Hinckley in a new 1963 35-foot Marmon-Herrington demo, the only commercially produced vehicle there. He and the owners of 25 other coaches spent an enjoyable weekend socializing, viewing a solar eclipse, "talking shop" about their motorhomes, and discussing the merits of forming an owners organization. On July 20, 1963, Family Motor Coach Association came to life.
"It was a wonderful experience," Kirwan said. "It was important for so many folks to learn about available facilities. They were traveling with their families and wanted to do so safely. They wanted to know about electricity and propane and things that powered their vehicles. And people shared a lot of information to see what worked on their coaches, what modifications had been done."
As families signed up with FMCA, they received successive membership numbers starting with 1. "I had my heart set on a particular number," Kirwan recalled, "and I was waiting for it to come up. Then before I knew it, someone else ended up taking it!" He eventually joined in October 1963 and received a still-impressive low number of 145.
Custom Coach Corporation became FMCA commercial member C14 in 1965. The company was a fixture at the majority of the association's conventions, which began in 1964. At the time of this writing, Kirwan planned to be in Gillette, Wyoming, June 19-22, with his wife, Regina, for FMCA's 88th Family Reunion and Motorhome Showcase, the association's 50th anniversary celebration.
Early conventions were "very relaxed and casual," Kirwan said. "There was no dealer network. It was like inviting your friends into your home for drinks or a cookout. You saw these people at every show, and they became friends. You looked forward to seeing them at the shows."
Kirwan recalled that when he and his father built their first coaches, there were no companies producing components and accessories. By the time FMCA was formed, early issues of Family Motor Coaching contained ads from various companies that had sprung into existence to provide these items. That made it easier for folks to outfit their motorhomes.
"Our company was helped a lot by the start of FMCA and its wonderful magazine as it helped 'spread the gospel' of private motorhomes that families could buy and truly enjoy," he noted. "Remember, in those days a motorhome was a brand-new idea and the FMCA publication was truly a bible for those interested in finding out more about their new way of life for families to enjoy."
Kirwan was a longtime member of FMCA's Commercial Council, which included serving as Commercial Council president from 1990 to 1999.
Today
Custom Coach is currently part of Columbus-based Farber Specialty Vehicles, which produces special-use vehicles for law enforcement, the medical field, and other industries. Kirwan continues to be on hand for clients old and new, always ready to assist.
"Kirwan has the ability to treat everyone with a sincere interest in what they are about," commented Mike Middaugh, F3456, a lifelong bus enthusiast himself who worked at Custom Coach for 15 years. "Over the years, Custom Coach was blessed with having hundreds of repeat customers, and they were always welcomed when they returned to Columbus or met up with Kirwan at FMCA conventions."
The walls of Kirwan's office are decorated with photos of singers, actors, royalty, politicians, and other clients. Long before digital photography, Kirwan frequently took pictures of customers and guests, had them enlarged, and presented them to the people as a memento of their encounter, Mike explained. "He was always intent upon having the proper setting, which frequently posed the coach in front of the building with the Custom Coach logo in view, along with the American flag. Simply put — he made everyone feel special."
In August it will be Kirwan's turn to feel special, as he joins the Hall of Fame fraternity. True to form, he deflects praise.
"To be selected that way, based on being a support of the industry for so long — I think that's just great. When I think of the benefits the motorhome industry has offered to the public, what [it has ] provided for families, it's just been wonderful. FMCA has been the glue that put it all together."
RiKaJuJo: A World Traveler
In April 1964, a 1960 GMC 4104 bus conversion was loaded onto a freighter in Los Angeles, California, bound for the port of Mombasa in Kenya, Africa. In June of that year, Richard and Flora Graves and their four children met up with the coach and began a six-week adventure through the continent, accompanied by a driver/mechanic and a cook.
The bus was converted for the family by Custom Coach Corporation and dubbed "RiKaJuJo," a combination of the first two letters of each Graves child's name (Richard, Kay, Judy, and Joanne). The family's motorhome graced the cover of Family Motor Coaching magazine's second issue in 1964. It was photographed while being lifted onto the ship for its overseas journey.
Inside, the dinette seated eight with an extension and converted to a 40-inch-by-83-inch bed with a bunk overhead. Opposite, a settee converted into two more bunks. In the rear, another pair of settees converted into two additional beds. The driver and cook slept in the "penthouse" on top of the coach. Its midcoach entry door and porthole-type window were characteristic features of many early Custom Coach motorhomes.
RiKaJuJo's driver, Jim Alspaugh, was a master mechanic and worked as assistant service manager at Custom Coach. He was "on loan" for the Graves family's trips by previous agreement.
This trip was the first of 38 countries on several continents the Graves family enjoyed while traveling in RiKaJuJo. Its final foreign destination: Japan.
The coach was sold in 1976, leaving behind many treasured memories of faraway places.