A motorhome fire can be devastating. Learning about the different types of fires, along with extinguishers and detectors, can help travelers minimize the threat, plus save property and lives.
By Mark Quasius, F333630
December 2013
A fire is probably the worst thing that can happen to a motorhome. Once a fire begins, it doesn't take much time for an RV to be totally consumed in flames. Motorhomes are constructed using highly flammable materials. Add in the fact that they typically carry propane plus either gasoline or diesel fuel; have electrical systems with a maze of wiring; and are subjected to twisting and bouncing as they roll down the highway, and it's quite easy to understand why these vehicles are susceptible to a catastrophic blaze.
Most motorhome fires begin in one of two areas. Typical RV refrigerators utilize evaporative cooling, including a propane burner or electric element to provide that heat. If the propane burner on the back of the refrigerator overheats or if the refrigerator's cooling element leaks and allows hydrogen gas to escape, a fire easily can start. Rear-engine diesel pushers add potential for an engine bay fire. Diesel engines are fitted with turbochargers that become extremely hot during operation, especially when climbing grades. If a hydraulic line or fuel line leaks, fuel or hydraulic oil can be sprayed over the engine compartment. Once the fuel or oil reaches the hot turbocharger, it can ignite and quickly burn out of control.
RVs are equipped with a fire extinguisher, per National Fire Protection Association code. However, the extinguisher usually meets only the minimum requirements set by law. The standard for the extinguisher has no bearing on its ability to extinguish a fire in your motorhome, and the extinguisher generally is undersized and not up to the task. Several classes of fires exist, and not all extinguishers are rated for every classification. To understand which extinguisher works with what types of fire, it's imperative to know about fire itself.
A fire is a rapid chemical reaction. In order to begin or sustain that reaction, three elements must be present: fuel, oxygen, and heat — sometimes called the fire triangle. If one of these elements is removed, fire cannot be sustained. In order to extinguish a fire, it is necessary to eliminate at least one of these elements.
The Fire Triangle
The fire triangle is used to help illustrate the basic elements present in every fire.
Fuel: Every motorhome is made with wood and composite materials that use glue and insulating foam. A motorhome also has plenty of wiring, which has burnable insulation, as well as propane and gasoline or diesel fuel. The interior furniture, bedding, drapery, and carpeting all have potential to help a fire spread rapidly.
Oxygen: Oxygen is necessary to have fire. It's a motorhome, not a spaceship or submarine, so plenty of oxygen-rich air is around to support a fire.
Heat: Combustible materials need only be raised to their flash-point temperature for ignition to occur. Say an electrical short creates intense heat in a wire. Generally, motorhome wiring is run through or around highly combustible materials, such as wood paneling, carpeting, etc. A hot wire easily can cause any one of those fuels to ignite. Gases or flammable liquids that reach open flames or hot engine surfaces also can flash and ignite other fuels in the area.
Fire Classifications
Class A fire: This type of fire involves solid combustible fuels (other than metals). Examples are wood, paper, cloth, and plastics. Class A fires leave ash, so think of the word "ash" to help remember the definition of a class A fire. To extinguish a class A fire, you can either separate it from its oxygen or cool it down below its flash point. This is the easiest fire to put out, and plain water actually works well by cooling it down. Ideally, an element is added to the water (soap works well) to break the surface tension and separate the fuel from oxygen, allowing the water to further cool down the fuel.
Class B fire: This type of fire is fueled by flammable or combustible liquids or gases. Examples of this are gasoline, oil, grease, diesel fuel, and alcohol. Liquids boil, so think of the word "boil" to remember what class B fires are. These fires can't be extinguished with water. The liquid fuel floats on the surface of the water and spreads to other areas, which only makes the situation worse.
Class C fire: This is an electrical fire caused by an energized circuit. If the circuit is live, consider it a class C fire. Note that the wire itself doesn't burn, but the insulation and any surrounding environment will ignite. Once the circuit is de-energized, it can be treated as a class A fire. The class C designation describes only energized circuits, where water-type extinguishers could create an electrical shock hazard. Electrical wires conduct current, so associate the word "current" with a class C fire.
Class D fire: This type of fire involves burning metal. Not too many metals burn, but certain metals such as magnesium, potassium, and sodium can. It's unlikely that you'll find these kinds of fires in a motorhome, so we won't get into them. If you do run across this kind of fire, they are next to impossible to extinguish. They burn with tremendous heat, so associate "darn hot" with a class D fire.
Class K Fires: This type of fire involves combustible cooking media, such as vegetable or animal oils and fats. Class K fires have a high flash point, and it may not be possible to extinguish them using an extinguisher designed for a class B fire. Since these types of fires usually occur in commercial cooking operations (restaurants, commissaries, catering facilities), associate "kitchen" with a class K fire. Smaller class K extinguishers are available for residential use.
Fire Extinguisher Types
Fire extinguishers come in many types and sizes, just like fires, and each is designed for a specific application. Following is a brief description of the various types of extinguishers and fire-fighting agents used in them.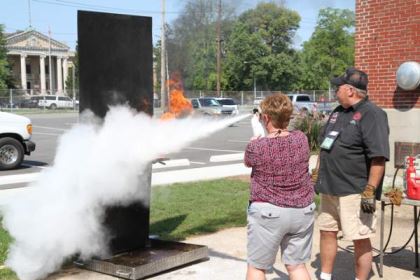 Air pressurized water (APW) extinguishers: APWs are large tanks that are filled approximately two-thirds with water and pressurized with compressed air. When the APW's trigger is pulled, the water is expelled through the hose and nozzle like a giant squirt gun. APWs are used to extinguish class A fires by cooling the heat portion of the fire triangle. They are not to be used on class B fires, where the water will spread the burning liquid and create an even larger fire situation. They also cannot be used on electrical circuits unless the power has been removed, since the water will conduct electricity and create an electrical shock hazard.
Carbon dioxide (CO2) extinguishers: CO2 extinguishers are filled with CO2 gas that is compressed to a very high pressure. The gas is released through a hard plastic horn rather than a hose with a nozzle. The CO2 exits at high pressure and frost — actually, dry ice — may form on the horn as well as on surrounding materials. CO2 extinguishers are rated for use on class B and C fires. They operate by displacing oxygen from the fire, effectively suffocating it. A side benefit is that the CO2 is cold because of its high exit velocity, so it also helps cool the fire. This type of extinguisher generally is not effective on class A fires, because it may scatter burning particles and may not displace enough oxygen to effectively smother the fire and prevent it from reigniting.
Dry chemical extinguishers: The most popular fire extinguishers available for consumer use today are the dry chemical variety. The dry chemical used, which resembles baking soda, is a fine powder that is pressurized with nitrogen. The biggest reason for their popularity is that they can be used on class A, B, and C fires. They function by coating the fuel with a fine layer of chemical to separate the fuel from the oxygen in the air. They also do not conduct electricity, so they are safe to use on electrical fires.
However, dry chemical extinguishers do have their drawbacks. The first is that these units generally are undersized. Most motorhomes come equipped with a 5-pound extinguisher that doesn't have much volume. This type of extinguisher should be replaced with a larger, 10-pound unit. Also, dry chemical leaves a mess. The powder safely puts out electrical fires, but the chemical is toxic and corrosive to electrical circuits once heated. If it's used on an electrical fire, many of the vehicle's components may need to be replaced. They are of minimal benefit on class A fires, and most RVs are filled with the combustible materials that make up that classification. These extinguishers also tend to "stagnate" over time. Even though they are filled with nitrogen, the chemical can settle and pack up over time. A good recommendation is to turn the extinguisher upside down and whack the base with a rubber mallet every six months to keep the powder loose. They also need to be checked for pressure leaks and serviced, although many of these units are inexpensive throwaways that are not serviceable. In that case, it's important to throw away the old extinguisher and replace it rather than keep one that may not work when needed.
Clean agent gas extinguishers: The original Halon extinguishers used an inert gas to displace any oxygen in the area, thereby smothering the fire. Halon has been banned in many areas because of atmospheric ozone depletion and has been replaced by other gases, such as FM-200 (HFC-227ea) and FE-36. These are all referred to as "clean agent gas" extinguishers. Unlike the original Halon, when they get hot they do not produce toxic gases that could suffocate occupants. They are popular in enclosed areas, such as computer rooms and engine compartments of boats, and are primarily used for class B and C fires.
Aqueous film forming foam (AFFF) systems: AFFF is used extensively by the military and fire-fighting services. AFFF is an agent that is mixed with water. When the material is sprayed through a nozzle, it leaves a foam blanket that prevents a fire from reigniting, unlike plain water. It operates by removing heat from the fuel as well as by cooling it down and is effective on class A and B fires.
Designer foam extinguishers: ABD designer foam extinguishers are rated to fight class A, B, and D fires. The cylinder is filled with foam that exits at high pressure, just like AFFF systems. The foam clings to vertical surfaces, produces no toxic gases, and is very safe to use. However, it has six times the penetrating power of AFFF and helps extinguish the fire by cooling and encapsulating the fuel source while changing its molecular composition to prevent it from reigniting. In addition, designer foam extinguishers will emulsify hydrocarbons such as gasoline and oil so that they cannot reignite. ABD designer foam extinguishers also are effective on class C fires as long as any high-voltage current has been cut.
Practical Extinguisher Applications
Fire extinguishers can be either handheld portable tanks or mounted units that automatically deploy. Handheld units are available in many styles, and, as noted earlier, motorhomes often come with a small dry chemical extinguisher that may not be sufficient for most fire-fighting tasks. You'll need a larger one to combat any significant RV fire. But dry chemical has its downsides, as mentioned earlier: the chemical packs together over time and also is corrosive when used on electrical equipment, and the extinguisher requires regular service. Pressurized water is great on class A fires but not on class B or C fires, so that limits its use as well. The clean agent gas systems work effectively on class A, B and C fires. They leave no mess and don't conduct electricity. But they work best in a confined environment where the gas cannot escape. If used in an open or fan-ventilated area, the gas will blow away and the fire can flare up again.
Foam extinguishers are the best choice for a motorhome owner. AFFF extinguishers mix a soap-like foam solution with water that coats the fire's fuel and starves it of oxygen while at the same time cooling it down below the ignition temperature. Technically, it can conduct electricity, but if you have a fire involving high-voltage electrical wiring, the conductors generally short out and trip the circuit breaker, which de-energizes the circuit and removes the fire from the class C category. Foam extinguishers don't pack up and require constant service, and are available at distributors of RV-related fire-fighting products.
Automatic extinguishers have their place as well. Absorption-type RV refrigerators contain an ammonia-based mixture that can release explosive hydrogen gas should the cooling unit rupture and leak. This gas can be ignited by any source of heat. Small, compact automatic extinguishers using a clean agent gas can be installed behind the refrigerator to control that kind of fire.
Engine compartments are a different matter. A larger automatic extinguisher is a good choice for that area, but clean agent gas is not. Clean agent gas works by replacing the oxygen in the air in order to break the fire triangle and stop the fire. But engine compartments are not enclosed areas, and the gas cannot fill that area effectively. Couple in the fact that radiator fans are constantly moving air through the engine compartment, and it's easy to see why a clean agent gas extinguisher isn't effective in that area. Using an automatic foam-type extinguisher is a better choice. The foam coats the area and reduces the temperature to help control the fire.
One consideration with any fire is the potential for it to reignite. A fire that has been extinguished can restart if the fire triangle is restored. If your diesel pusher develops a fuel or hydraulic oil leak that ignites a fire while you are driving, the automatic extinguisher will deploy. However, you may not have any indication of what's happening 40 feet or so behind you. Once the extinguisher has emptied, the fuel or oil will still be pumping, and the fire can reignite. Having a remote alarm inside the motorhome's cockpit that senses pressure loss in the extinguisher provides an early warning of the fire. This makes it possible for you to pull off the road and shut down the engine. In this case, the automatic extinguisher performs a holding action. You then may have time to analyze the fire and attack it with a handheld extinguisher if necessary.
How To Protect
The first decision to make when encountering a fire is whether to fight it or flee. If you realize you can't effectively deal with the fire, your best bet is to grab what's important and exit the coach immediately. RV fires quickly become unmanageable, so you won't have much time to get out. Some well-prepared RV owners keep a pouch with valuable items near the door to grab on the way out. You will not have time to search for things once a fire gets going.
The biggest problem with fires is that many are discovered too late to do anything other than evacuate. An effective warning system can make the difference between saving the motorhome and having to do a speedy exit while it burns. The most basic warning system is a smoke detector, which will alert you to the presence of smoke.
Types Of Detectors
Smoke detectors: Smoke rises, so smoke detectors need to be mounted on the ceiling or on a sidewall immediately next to the ceiling. Because motorhomes are long and have sliding interior doors with overhead thresholds, smoke won't instantly travel from one end of the coach to the other. Therefore, it's important to have multiple smoke detectors. Place one in the rear bedroom and another in the front of the motorhome. Don't place one right in the cooking area or you'll be getting plenty of false alerts. When this happens, many people remove the battery, rendering the detector useless.
Smoke detectors utilize either ionization or photoelectric sensing technologies. An ionization-type smoke detector places a small amount of radioactive material between two electrically charged plates, which ionizes the air between the plates and allows a small electrical current to flow between them. When smoke gets between these plates, it interrupts the flow of electricity and triggers the alarm. Ionization detectors are more responsive to flaming fires.
Photoelectric smoke detectors shoot a small beam of light at an angle to the sensor. Whenever smoke enters the chamber, it refracts the beam of light so that it lands on the sensor, triggering the alarm. Photoelectric detectors are more sensitive to smoldering fires. Which detector works best will depend on the situation. If your electrical wiring shorts and its insulation begins to smolder, a photoelectric detector will give you an earlier warning before the wiring can ignite nearby materials into flame. You'll have a better chance of shutting down the electrical circuit to prevent a full-blown fire with this kind of detector.
However, if you experience a flash fire, a smoke detector using ionization technology will give you a quicker alert than a photoelectric-sensor-based detector will. Fortunately, manufacturers such as Kidde and First Alert make a dual smoke detector that incorporates both of these sensing technologies in one common unit, so you can have the best of both worlds.
Other detectors: LP-gas detectors alert occupants regarding the presence of liquefied propane gas (LP) vapors. If your motorhome develops a leak in one of its propane lines or a propane-fueled appliance fails, the gas can build up to dangerous levels inside the motorhome. Propane is very flammable and is heavier than air, so it settles to the bottom where it can creep along the floor waiting for a pilot light or spark to ignite it. Once that happens, the gas can explode and begin a major fire. LP detectors are generally mounted in an interior wall very low, next to the floor. LP detectors are susceptible to aerosols, such as hair spray, or various cleaning agents. These can ruin the detector, so be sure to test it regularly.
Carbon monoxide (CO) is a by-product of combustion. It can come from a fire, a furnace with a cracked heat exchanger, the exhaust from your motorhome, or even the exhaust from an auxiliary generator. In a motorhome, the CO alarm should be placed near the sleeping areas, since people are most susceptible to CO's effects while they sleep. Follow the installation instructions included with the alarm to determine where it should be mounted. Some alarms feature a digital LCD display that shows how much CO gas has accumulated. As little as 250 parts per million during an eight-hour period can be fatal, so a good alarm will add up the cumulative amounts to protect you from a slow CO buildup. Less expensive models may only alert if a large amount of CO is present at one time.
Proper Preparation
Without doubt, the most important item in dealing with a fire is a calm mind. You need to be aware of how fires begin and how to best attack them. Outfit your RV with adequate fire extinguishers to cover potential needs. Relying on the small dry chemical unit that came with the motorhome isn't going to do you much good. Even upgrading to a larger unit won't help if it's located at the front door and the fire begins mid-coach while you are sleeping in the bedroom. You need multiple extinguishers in various locations. The same holds true for warning devices. Smoke, LP, and CO detectors need to be properly located in order to be effective.
You also need to rehearse what you will do under any given situation. Discuss and practice how to deal with a particular fire and whether to fight it or exit the RV to safety. Practice your escape route so that you don't have to figure it out at the last minute. Make sure you know how to operate the emergency exit window and open it from time to time to test it.
Experts recommend that you attempt to fight a fire only if all occupants have been alerted and someone has called the fire department; the fire is small and contained; you are safe from the toxic smoke produced by the fire; and you have identified a means of escape and the fire is not between you and the escape route. Use your instincts.
Knowledge is power. Mac McCoy, also known as Mac the Fire Guy, is a seasoned fire-fighting professional who is a regular exhibitor and seminar presenter at FMCA events and other RV gatherings. If you have the opportunity, attend one of his seminars. His experience and ability to communicate with motorhome owners will provide immeasurable knowledge to help you remain safe during your travels.
Sources And References
Cold Fire Super Systems
(845) 641-7285
www.coldfiresupersystems.com
Mac The Fire Guy
Fire & Life Safety
(503) 559-7623
www.macthefireguy.com
Fire Fight Products LLC
(321) 299-5707
www.firefightproducts.com