A new floor plan filled with plenty of amenities normally found in larger motorhomes.
By Gary Bunzer
December 2013
Typically, I'll jump at the chance to spend some quality time road testing new motorhomes; it's fun to run a coach through its paces and investigate every nook and cranny of a particular floor plan, especially when I've not had a chance to drive that model in the past. So, after FMCA's Family Reunion in Gillette, Wyoming, this past June, I took advantage of a beautiful day to get to know Fleetwood's 2014 Discovery 36J.
Easy proximity to two-lane country roads, an interstate, tight parking lots, as well as unpaved single-lane access roads enabled me to try out this beautiful 37-foot-4-inch motorhome in myriad situations. I was quite pleased with the way the coach handled. For potential first-time buyers, inexperienced at driving a motorhome, fear not; it handled not unlike a large van. I was able to negotiate tight parking lot turns using just one finger on the steering wheel. I don't recommend this practice, but I had to see how easy it was to maneuver this Type A motorhome. I think that even experienced coach owners would be surprised at how well the Discovery conducted itself on all conceivable road surfaces.
The 228-inch-wheelbase Freightliner XCM chassis, mated to Fleetwood's Power Bridge Chassis system, was powered by a 380-horsepower version of the Cummins ISL9 engine. It proved its mettle through quick acceleration and hard braking trials, as well as normal motorhome driving maneuvers. That's the "getting there" part. The "living there" part was equally as impressive.
The four-slideout 36J has a lot of motorhome tucked inside its comfy confines. The layout was thoughtfully designed, and even with all four slides fully retracted, the path from the driving compartment all the way to the rear bedroom remains unimpeded, with clear access to the lavatory, galley, etc. The last thing many of us want is to be forced to extend the slideouts just to get to the bathroom or grab a soda out of the fridge, so, to me this is a welcome layout.
Starting up front, the pilot's perch is exemplary, with all the controls and monitors in clear view and within easy access. The dash area is utilitarian, yet bountiful. Both the driver and copilot seats feature adjustable reading lamps mounted on the sidewall just above. Inside a side cabinet door above the driver's head, Fleetwood designers provided a handy, erasable white board for notes, reminders, and messages. A nice touch! Independently switched, full-windshield shade and blackout blinds secure the front of the coach for the night.
Directly behind the driver's seat, nestled in the forward portion of the front streetside slideout, is one of two sofas; this one is 58 inches wide, with built-in dual recliners. Directly across the high-gloss porcelain floor is a beautiful, 70-inch sofa that unfolds into a double bed with an inflatable air mattress. The secondary sleeping berths are surprisingly comfortable — without even inflating the mattress!
Above the windshield, across the front of the coach, are three cabinets housing (from driver side to passenger side) a cubby for the satellite receiver and other television connections; a center storage space with a dividing shelf; and a master control center. It was very convenient to have all the major controls in one location. However, the monitor panel in the far right, which displays the liquid levels inside the waste holding tanks, the fresh water container, and the propane container, as well as the battery voltage — and the one that RVers typically will refer to more often than most of the others — is located in the upper reaches in the corner of the cabinet. That makes it a little difficult to see from a casual angle. Perhaps swapping the monitor panel location with one of the lesser-manipulated control panels would better serve most RVers.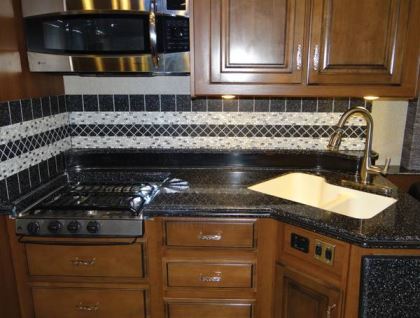 The galley is stunning, with its extra-tall, decorative tile backsplash. Solid-surface countertops (including a fold-down extension); an angle-mounted double sink; a three-burner propane cooktop; and the optional full-size residential refrigerator keep company in the same slideout as the aforementioned recliner sofa. A microwave-convection oven is mounted directly above the cooktop.
Just to the left of the fridge, Fleetwood designers added a couple of narrow cubbyholes with adjustable shelves for additional storage. It's apparent they tried to take advantage of as much usable space as possible.
Fleetwood designers also decided to forego the typical RV convertible dinette, and its inherent bulkiness, in this test coach, opting instead for a compact dining table with independent seating for two. The table was tastefully positioned next to the sofa sleeper in the forward curbside slideout. (A dinette is available as an option.)
Built-in cabinets abound above and below the table. The design includes a clever space for a computer station, complete with a slideout laptop shelf and plenty of room for a full-size printer and other requisite office equipment. The sub woofer for the home theater entertainment center sound system also is housed in the cabinet below the dining table. By the way, contrary to many other Type A motorhomes, the premier Sony 5.1 Home Theater System with built-in AM/FM/DVD and surround-sound speakers is a standard feature on the Discovery.
The interior cabinetry, with its Cinnabar finish (also available in a slightly darker shade called Spice) and hardwood doors satisfied another of my critic-minded quirks: fit-and-finish carpentry. Bothersome to many are ill-fitting cabinet doors, latches, hinges, and other flawed trimmings, especially when considering a purchase of this magnitude. At this level, though it is always expected, some manufacturers seem to put a little less emphasis on such quality workmanship. Not so with the Discovery. Fit and finish were beyond the norm.
The 40-inch LED main television sits amidships on an opposing partition wall beyond the dining table and just to the rear of the slideout. Curiously, positioned as it is, the screen is easily viewed from the pilot's compartment as well as both sofas.
A glance rearward from the front of the coach showcases the gleaming 24-inch-by-24-inch porcelain tile flooring used throughout. Many RVers believe a tile floor is much easier to keep pristine and clean looking than carpeting or wood laminate flooring. But as they always say, your mileage may vary!
In the passageway leading toward the rear bedroom, the lavatory area spans both sides of the aisle, with the shower positioned on the driver's side and the porcelain toilet sharing the same space as the lavatory sink and cabinets across the aisle. The upgrade to a porcelain toilet, with its water-saver feature, is standard equipment, again contrary to other similar models. Also, the fit and finish continued to charm this reviewer.
The ceiling-mounted LED lamps with dimmer controls are a nice feature, adding some sublimity to the overall décor. I tend to have an aversion to the typical RV-type rocker switches found in some motorhomes. Prone to failure over time, the less-expensive on-off switches for lighting and other low-voltage applications leave me yearning for something more substantial. The switches used in the Discovery alleviated my concern in that department. These switches simply "felt" and looked better.
Finally arriving at the warmly decorated bedroom was a treat! It immediately felt comfortable. The king-size bed, outfitted with a Dream Easy Memory Foam mattress, is positioned in the rear driver's-side slideout, while an opposing slideout on the passenger side houses the 32-inch LED HDTV television, as well as a cabinet of drawers and a wealth of space for one's favorite audiovisual equipment, such as DVD/Blu-ray players. The king-size bed is mounted on a tilt-up platform that yields additional storage space underneath.
Controls for the rear slideouts and bedroom lighting are located on the rear partition wall of the lavatory sink/water closet. More storage cabinets adorn the overhead area above the bed.
The alternate means of egress, the escape window, is mounted above the drawers, which are topped with the same solid-surface countertop as in the galley.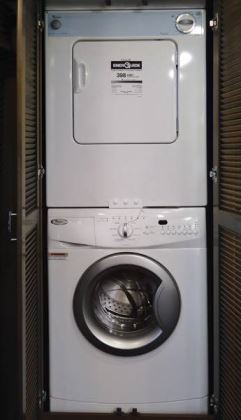 Across the rear of the motorhome, a stacked washer and dryer coexist next to a cedar-lined closet outfitted with wire shelving and mirrored sliding panels.
The bedroom area exuded an inviting warmth through the finely decorated appointments and choice of fabrics. Obviously, personal décor touches would make any owner feel even more at home in the square footage allocated for this main sleeping area. Overall, the opposing slideouts coupled with the 84-inch ceiling and mirrored wardrobe doors result in a much larger-feeling bedroom space.
Outside, an 8-kw Onan Quiet Diesel generator (standard equipment) slides manually into and out of the very front of the coach. Fleetwood's exclusive Power Bridge chassis system provides a surplus of exterior compartment storage space, including a pass-through, full-width storage bay, so the full-timer or casual RVer should have little problem stowing all their travel and living necessities.
One appealing feature is a compartment with a pegboard that is perfect for hanging tools, hoses, extension cords, or whatever. This area also features a 120-volt-AC, GFCI-protected outlet as well as a 12-volt-DC receptacle. Again, Fleetwood made a typically unused space into something more useful and handy.
Two substantial battery banks, one for the chassis-related electrical equipment and one for the 12-volt requirements inside and outside the Discovery, are housed in separate storage bays located at the left rear corner of the coach. Easy access for battery hydration purposes is another of those aspects this reviewer tends to find favor with, and neither battery compartment disappointed in that regard.
I did note that the wet plumbing bay was equipped with only a 1 1/2-inch outlet on the gray water tank. Tests have proven that better draining, easier flushing, and a lesser chance of blockage occur when both outlets are a full 3 inches in diameter. This is not a deal-breaker by any stretch, but a slight disappointment, especially when superior waste management products are readily available. I would like to see electric gate valves (also available in the aftermarket), at the very least, on a coach of this prominence.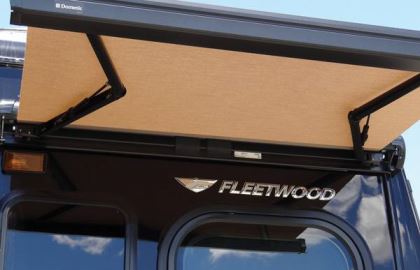 Other accoutrements housed in their own exterior bays include a 38-gallon propane container, access to the Cummins engine and diesel exhaust fluid (DEF) reservoir, a 50-amp shore power cord reel, a built-in central vacuum, 12-volt-DC electrical controls, an air pressure quick-connect tap, the inverter/charger, as well as the previously discussed pegboard tool hanger, battery banks, and wet bay.
Additional storage is housed behind multiple side-opening doors outfitted with chrome latches. Again, the fit and finish of the compartment doors, including their integral seals and associated hardware, was noteworthy. The doors opened and closed with ease.
The Discovery 36J featured the beautifully appointed and optional exterior entertainment center ensconced underneath the patio awning. Other exterior features include a one-piece, arched and molded fiberglass roof, fiberglass front and rear caps, solid fiberglass sidewalls, a front protective mask, a rear rock guard, deluxe graphics, air horns, a backup camera (as well as side cameras mounted in the mirrors), electric patio and entry door awnings, automatic levelers, aluminum wheels, dual-glazed windows, and a 7,500-pound hitch receiver.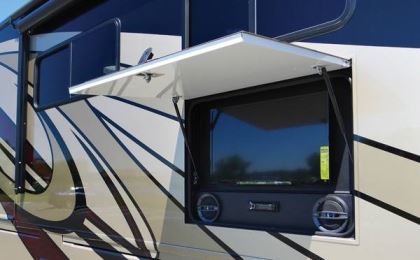 The Discovery is cooled by a ceiling-ducted air-conditioning system, while comfort heat is provided by two independent forced-air propane furnaces. A 10-gallon gas/electric water heater creates the necessary hot water for showers, dish and clothes washing, etc. An energy management system (EMS) keeps track of all the electricity flowing through the RV and automatically makes decisions when current limits are about to be exceeded.
Though optional, my test coach came equipped with a rear ladder, a solar panel array, and a satellite radio. An exterior pull-out grill and kitchenette is another option worth considering.
Plumbing stats include 100 gallons of fresh water, a 50-gallon-capacity black water tank, and a 75-gallon-capacity gray water tank — certainly enough capacity to keep you untethered for more than a couple days of travel.
It was quite pleasing to see how many features blended agreeably in this 37-foot floor plan, many of them more likely found in 42-foot and even 45-foot motorhomes. Future owners will be hard-pressed to think of anything that was left out of this unit.
The manufacturer's suggested retail price of the Discovery 36J is $270,342. The as-equipped price of my test coach was $273,674, with these options: rear roof ladder, outside entertainment center, residential refrigerator, solar battery charging system, satellite radio, Madison Midnight paint scheme.
In addition to the Madison Midnight exterior paint, the Discovery 36J is offered in Autumn Pecan or Vintage Stone. The graphics simply promote forward motion. And I believe that's something you'll be wont to do in this motorhome: get it rolling down the highway. Remember, RVing is more than a hobby; it's a lifestyle!
SPECS
MANUFACTURER
Fleetwood RV Inc., Box 1007, Decatur, IN 46733; (800) 322-8216; www.fleetwoodrv.com
MODEL
Discovery
FLOOR PLAN
36J
CHASSIS
Power Bridge Chassis featuring Freightliner XCM Series
ENGINE
Cummins 9-liter ISL; 380 horsepower; 1,150 pound-feet torque @ 1,400 rpm
TRANSMISSION
Allison 3000 MH 6-speed with electronic shifter
AXLE RATIO
4.78 to 1
TIRES
Goodyear G670 RV 275/70R 22.5 16-ply
WHEELBASE
228 inches
BRAKES
front — Bendix 17-inch air disc with ABS;
rear — 16.5-by-7-inch drum-style S-cam with ABS
SUSPENSION
Neway air front and rear
STEERING
TRW adjustable tilt-telescoping steering column with VIP SmartWheel
ALTERNATOR
Delco Remy, 160 amps
BATTERIES
chassis — (2) 12-volt;
house — (4) 6-volt deep-cycle, (2) additional with residential refrigerator option
INVERTER
2,000-watt pure sine wave with remote, standard; 2,800-watt pure sine wave with residential refrigerator option
ELECTRICAL SERVICE
50 amps
AUXILIARY GENERATOR
8-kw Onan Quiet Diesel
EXTERIOR LENGTH
37 feet 4 inches
EXTERIOR WIDTH
102 inches
EXTERIOR HEIGHT
12 feet 10 inches
INTERIOR HEIGHT
7 feet
GROSS COMBINATION WEIGHT RATING (GCWR)
43,400 pounds
GROSS VEHICLE WEIGHT RATING (GVWR)
33,400 pounds
GROSS AXLE WEIGHT RATING (GAWR)
front — 12,400 pounds;
rear — 21,000 pounds
AS-TESTED WEIGHT
(company-provided; weighed with 3/8 fuel, no water)
front axle — 8,230 pounds;
rear axle — 18,625 pounds;
total — 26,855 pounds
OCCUPANT AND CARGO CARRYING CAPACITY (OCCC)
5,977 pounds
FRAME CONSTRUCTION
aluminum interlocking floor, wall, ceiling framing; Vacu-Bond; molded fiberglass radius roof
INSULATION
high-density bead foam
FRESH WATER CAPACITY
100 gallons
HOLDING TANK CAPACITIES
gray water — 75 gallons;
black water — 50 gallons
FUEL CAPACITY
100 gallons
FUEL REQUIREMENTS
diesel
PROPANE TANK
37.8 gallons
WATER HEATER
10 gallons
WATER SYSTEM
demand
HEATING SYSTEM
(1) 20,000 Btu, (1) 25,000 Btu
AIR-CONDITIONING SYSTEM
(2) 13,500-Btu ducted air conditioners
REFRIGERATOR
22-cubic-foot residential with (2) additional batteries and 2,800-watt inverter, optional; Dometic 12.2-cubic-foot 4-door refrigerator-freezer with ice maker and water dispenser, standard
TOILET
porcelain
WARRANTY
coach — 1 year/15,000 miles limited;
structural — 3 years/45,000 miles;
chassis — 3 years/50,000 miles with towing and roadside assistance
BASE SUGGESTED RETAIL PRICE
$270,342
PRICE AS TESTED
$273,674