Travel to the Atlanta area to see sights and sites related to one of America's most beloved films.
By Lazelle Jones
February 2014
It is hard to believe that 2014 marks 75 years since the film Gone With The Wind premiered in Atlanta, Georgia. It was launched on a December day in 1939 at Loew's Grand Theatre on Peachtree Street with such fanfare that an estimated 1 million visitors flocked to the city.
The film cost approximately $3.85 million, a budget higher than the heavens. It was the second most expensive movie ever made up to that time. After opening in Atlanta, the movie — which starred Vivian Leigh and Clark Gable — premiered in New York City, where 11,000 tickets a day were sold. During the first four years of distribution, 60 million tickets across America were sold.  Adjusted for inflation, Gone With The Wind remains one of the highest grossing movies ever.
Based on Margaret Mitchell's 1936 Pulitzer Prize-winning novel, the film won eight regular Oscars and two honorary Oscars. But, like Pultizer Prize winner Harper Lee, who wrote To Kill A Mockingbird, Margaret Mitchell, an Atlanta resident, never wrote another book.
For many reasons, Scarlett O'Hara, Rhett Butler, the plantation called Tara, Ashley (Scarlett's married heartthrob), and all the other characters created in the mind of Margaret Mitchell continue to resonate to this day. For the lover of Civil War history, the movie aficionado, the romantic in all of us, and because 2014 is part of the Civil War's Sesquicentennial, Atlanta has pulled out all the stops and put together a Gone With The Wind (GWTW) Trail. Follow it this year to help celebrate the 75th anniversary of this epic movie.
To enrich this GWTW experience, real as well as imagined locations and events are identified on the Gone With The Wind Trail map. Civil War-related stops mix nonfiction truth with novel stories. By wrapping your mind around actual events; getting in touch with the reality of those times; and refreshing your understanding of the history of the waning days of the Civil War, the four years Margaret Mitchell gave her heart and soul to writing this novel come clearly into focus.
At the end of the movie, Rhett Butler is finally able to severe ties emotionally with Scarlett O'Hara and utter the famous line, "Frankly, my dear, I don't give a damn."  However, the richness of the antebellum South, the trauma of Americans fighting Americans, the pillage of Atlanta, and the rapid transition of cultural institutions are simply too compelling to let Rhett's sentiments linger very long. After you've visited some or all of these stops, you will care deeply instead.
Begin your quest by visiting www.gwtwtrail.com and viewing the GWTW Trail map or by calling (404) 814-4032 to request a paper copy.
As you poke around Atlanta's landscape and explore its integrally important suburban neighbors, you will discover many excellent places to dine or to enjoy a favorite beverage. And you are sure to find an RV park that fits your needs. A whole host of fun things augment a Gone With The Wind Trail tour.
Stops Along The Trail
The official trail begins in Marietta, goes through Atlanta, and ends in Jonesboro.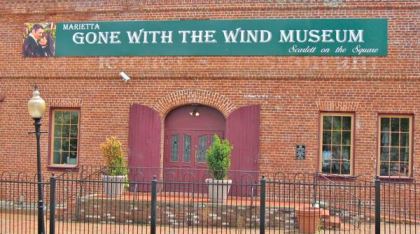 Marietta
The Gone With The Wind Museum, at Scarlett on the Square in downtown Marietta, is housed in the historic Old Thomas Warehouse. It has a vast collection of original Gone With The Wind memorabilia on display, including the original bengaline honeymoon gown worn by Vivien Leigh in her role as Scarlett. Motorhome parking can be found in the parking lot of the First Methodist Church across from the museum on the Marietta Parkway (South 120 Loop). The museum is open Monday through Saturday. For hours and more info, visit www.gwtwmarietta.com.
Atlanta
The Margaret Mitchell House on Atlanta's Crescent Avenue is where Gone With The Wind was written. Visitors take guided tours of the apartment where the novel was penned and see items related to the author's life, as well as souvenirs from the film, including original props. The house is open seven days a week. For more info, see www.margaretmitchellhouse.com. Parking for motorhomes can be found along Crescent Avenue.
Explore the Special Collections Department of the Atlanta-Fulton Public Library System's Central Library in downtown Atlanta, where a 1,500-piece collection of photographs and personal items related to Margaret Mitchell reside. They include her Pulitzer Prize, the typewriter she used to write her novel, the books she relied upon for research, and her library card. Motorhome parking is not available, but the library is accessible via the local bus line, called MARTA.
Margaret Mitchell died in 1949 after being struck by an automobile. She is buried among the botanical and sculpture gardens and the wildlife habitat at Oakland Cemetery on the southeast side of Atlanta. Guided walking tours and twilight tours are available. Motorhome parking can be found just outside of Oakland Cemetery's gate. For more information about this historic cemetery, visit www.oaklandcemetery.com.
For real-life drama, see one of the largest and most comprehensive collections of Civil War artifacts in America, plus an authentic antebellum farm, at the Atlanta History Center (www.atlantahistorycenter.com). Motorhome parking is available in the Atlanta History Center's free parking lot.
The Atlanta Cyclorama & Civil War Museum (www.atlantacyclorama.com) presents a three-dimensional panorama with music and narration. A painting of the Battle of Atlanta as well as a collection of Civil War artifacts, maps, and photographs are on display. Motorhome parking is available in the free lot just outside of the museum.
Jonesboro
The Road to Tara Museum is 15 miles south of Atlanta in Jonesboro. You'll see more original movie props, wardrobe items, original manuscripts, and a photo gallery. Why is it all here? Jonesboro was frequently visited by Ms. Mitchell, and she used it as the setting for the fictional plantation Tara. Check www.visitscarlett.com for more information. Motorhome parking is available in a public parking lot across the street from the museum.
Built in 1839 in Jonesboro, Stately Oaks Plantation lets visitors explore the grandeur and architecture associated with that romantically perceived era called the pre-war South. This includes tours of the historic home and grounds, offered Monday through Saturday. Motorhome parking is available in a paved parking lot on site. See www.historicaljonesboro.org for more information.
Stone Mountain Park: A Must-See
You can't talk about the Civil War and visiting Atlanta without mentioning Stone Mountain Park.
The centerpiece of the park is a granite monolith that rises 825 feet above the valley floor.  Over the decades the granite from Stone Mountain has been used to build all kinds of important buildings and monuments around America. The face of the granite bears carved images of legendary leaders of the Confederacy: General Robert E. Lee, General Thomas "Stonewall" Jackson, and President Jefferson Davis. The carving alone measures three acres in size.
But the park is so much more than a stone mountain. It's home to a collection of fun, different areas. Active recreation for kids and adults such as golf, mini golf, a play barn, a family ropes course in the trees, and more is available. History is explored at the Discovering Stone Mountain Museum at Memorial Hall, which has all kinds of artifacts and stories to tell. Other attractions include a train ride, an antebellum plantation and farmyard, a covered bridge, a carillon, and a grist mill.
And that is just the start. Take the enclosed cable tram to the top of the mountain, or if you're up to it, follow the 1-mile Walk-up Trail. From the top, 1,686 feet above sea level, you can see the Atlanta skyline and miles and miles into the distance.
The campground at Stone Mountain is a destination unto itself.  Sites are near a lake where boating and fishing can be enjoyed. It is a perfect place to spend several days and use as your base camp when you come to explore the GWTW Trail and the Atlanta metro area.
The park's own town of Crossroads offers crafts, shopping, and dining, while just outside the park in the town of Stone Mountain are interesting shops, bistros, and a friendly down-home atmosphere.
At the film's conclusion, Scarlett's final words were, "After all, tomorrow is another day." But don't delay your homage to this great movie very long. See these sites either before or after FMCA's 89th Family Reunion and Motorhome Showcase in Perry. You will be glad you did.
Further Info
Atlanta Convention & Visitors Bureau
233 Peachtree St. N.E., Suite 1400
Atlanta, GA 30303
(800) ATLANTA (285-2682)
(404) 521-6600
www.atlanta.net
Area Campgrounds
Following is a sampling of RV parks in the area. Please check your campground directory or the RV Marketplace, published in the January and June issues of FMC and online at FMCA.com, for more listings.
Atlanta Marietta RV Resort Park
1031 Wylie Road S.E.
Marietta, GA 30067
(877) 727-5786
(770) 427-6853
www.amrvresort.com
Atlanta South RV Resort
281 Mt. Olive Road
McDonough, GA 30253
(800) 778-0668
(770) 957-2610
www.atlantasouthrvresort.com
Stone Mountain Park Campground
1000 Robert E. Lee Blvd.
Stone Mountain, GA 30083
(770) 498-5690
www.stonemountainpark.com