This Michigan-based division of Spartan Motors Inc. specializes in the design, engineering, and production of specialty chassis and vehicles for myriad applications, including motorhomes.
By Mark Quasius, F333630
March 2014
Motorhome owners are quite familiar with the Spartan chassis, which has been used as the foundation of a large selection of motorhomes for a number of years. But Spartan also is well known for its emergency response vehicles, defense vehicles, delivery vans, and trucks.
The Spartan Chassis company dates back to 1975 when Diamond Reo Inc., producer of trucks and other vehicles, went bankrupt. A group of four young engineers decided to strike out on their own and continue doing what they knew best, which was building trucks. Their goal to produce well-engineered custom trucks led to success, and Spartan Chassis grew.
Spartan entered the RV chassis business in 1986 and produced its first diesel-pusher RV chassis the following year. In 1996 a cooperative venture with Granning resulted in the introduction of independent front suspension (IFS) to the RV market. Continued engineering advances led to the production of a mid-engine diesel-pusher chassis in 2002, and the pioneering of an electronic ride height control system in 2003. Spartan also introduced the 650-horsepower K3 chassis in 2005, a no-camber design that eliminated bowed frames during the coach-building process. A joint engineering effort with TRW resulted in the introduction of Comfort Drive steering in 2006.
Today Spartan Chassis is a division of Spartan Motors Inc. In addition to Spartan Chassis' offerings, the parent company designs, engineers, and manufactures specialty chassis, specialty vehicles, truck bodies, and aftermarket parts for the emergency response, government services, defense, delivery, fleet, and service markets. Spartan Motors collectively employs approximately 1,800 workers at facilities in Michigan, Pennsylvania, South Dakota, Indiana, and Florida.
A trip around the Spartan Chassis plant in Charlotte, Michigan, reveals a flurry of activity. The defense segment is producing mine-resistant ambush-protected (MRAP) vehicles, such as the Cougar, to protect U.S. troops from the dangers of land mines, improvised explosive devices (IEDs), and rocket-propelled grenades (RPGs). Spartan recently received the Gold Medal Award from the Department of Defense for the fourth year in a row with a perfect score of 100. This distinction is in recognition of its quality control and on-time delivery. In fact, Spartan was one of only 38 companies out of nearly 6,000 suppliers to receive this award.
The company's Emergency Response Vehicle segment is filled with fire apparatus custom-designed to each customer's specifications. The familiar UPS and FedEx delivery vans are also being produced by Spartan in record numbers, although some of them are handled by the company's Utilimaster facility in Bristol, Indiana.
Current RV Chassis
Spartan offers chassis with front, rear, or mid-engine designs, but the bulk of its RV chassis segment centers around three basic models. The most popular is the Mountain Master GT; this model is equipped with a Cummins ISL engine ranging between 380 and 450 horsepower and is coupled with an Allison 3000 MH transmission. Chassis can be custom-ordered by an RV builder and fitted with solid front axles or IFS and with disc or drum brakes.
Spartan also produces rear-radiator models, as well as chassis with hydraulic-fan-driven side radiators. The 500-horsepower K2 chassis steps up to the larger Cummins ISX12 engine and incorporates a side radiator equipped with a mechanical fan drive. IFS and front disc brakes are typical on the K2.
The 600-horsepower K3 chassis is the king of the field. A Cummins ISX15 engine is coupled with an Allison 4000 MH transmission. IFS, disc brakes on all three axles, automatic traction control, Hadley air leveling, and a side radiator with mechanical fan drive are all optional features on this chassis.
Every RV chassis is put on a chassis dynamometer and tested to verify powertrain operation and to test all of the electrical accessories and gauge functions. A laser wheel alignment is performed at the factory, but each motorhome builder must also check the wheel alignment once a coach is completed to allow for changes that may have occurred from the additional weight.
Engineering
Spartan officials note that the company prefers to engineer its chassis and components so that every item is robustly built to extend its durability and life cycle. Heated moisture ejectors are placed on select chassis on all three air tanks to automatically purge any moisture from the tanks when driving. Bilstein shock absorbers are used, and the large air springs are placed outboard to offer the best combination of ride, handling, and roll resistance. Fuel-level sending units are located in the side of the fuel tank to allow service or replacement without requiring the tank to be dropped.
A service panel places the chassis batteries, air dryer, fuel filters, and rear power distribution center in an easy-to-access side compartment near the rear of the chassis. Coolant reservoir tanks and air filters are located off to the side to allow unencumbered access to the engine area for belt changes or other service tasks. These examples are typical of the extra effort Spartan expends on details.
Chassis Construction
A Spartan RV chassis begins in the pin-up area, where steel rails are attached together via cross members to form a ladder frame. Next, the frame section receives fuel lines and basic wiring looms that run the length of the chassis. During this process another team puts together the front axle assembly and frame subsection. This subassembly is then mounted to the main frame section. Axles are added to the rear frame portion, which is then installed on the raised-rail center section. We now have a rolling chassis.
Next, the engine and transmission are bolted together and mounted into the rear frame. The fuel tank and all of the various accessory components are installed. The pneumatic and hydraulic lines are plumbed, and the wiring harness is completed. At that point, the chassis is drivable and will be taken to an alignment rack where a laser wheel alignment is performed to establish an initial setting. The coach manufacturer is responsible for the final wheel alignment once the motorhome portion is added.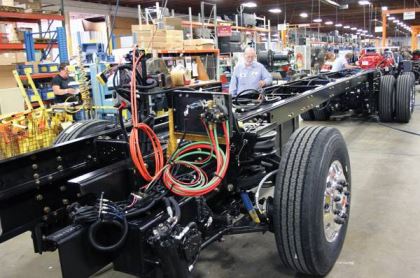 After extensive quality checks are completed, the chassis is then run on a chassis dynamometer. Every chassis that Spartan builds is dynotested to verify powertrain operation. The electrical system is tested for proper function. The next step is the ABS test dynamometer, where the antilock braking system is tested for correct sensor connections. After these tests, a final review pronounces the chassis ready for delivery.
Continued Advancements
According to company officials, the demand for motorhomes built on a Spartan Chassis increased 21.5 percent year over year from 2012 to 2013. Spartan's unit volume in 2013 outperformed the Type A diesel market by more than 6 percentage points. Today Spartan custom manufactures chassis to the individual specifications of Entegra Coach, Newmar Corporation, and Tiffin Motorhomes.
In December 2013 Spartan unveiled a couple of new chassis features at the National RV Trade Show in Louisville, Kentucky. They included the 24,000-pound Reyco Granning RD2400 drive axle. This axle is designed to take advantage of recent changes in Federal Highway Administration laws that allow a single rear axle to be rated at 24,000 pounds weight capacity.
Customer Support
Spartan prides itself on excellent customer support, which is one of the reasons current Spartan owners are said to overwhelmingly prefer the Spartan experience for their next chassis. Spartan's free Roadside Companion plan is good for three years or 50,000 miles and utilizes Coach-Net to handle any roadside assistance concerns. Spartan h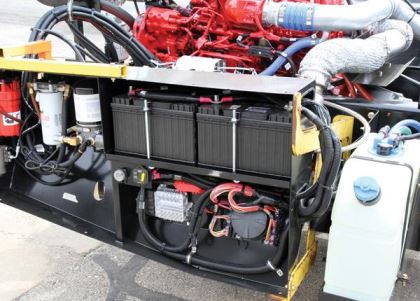 as 439 authorized service centers to handle any service or warranty repair work that might occur, and a list of more than 1,000 other service centers, such as RV dealers, can also provide service or parts.
The factory service center in Charlotte is always available as well. A dedicated toll-free customer service line provides instant tech support. I've personally used this number and was pleased to find a real person with extensive knowledge on the other end, rather than a voice mail queue that leads to a basic phone operator. A recent survey found that 75 out of 81 customers said they were extremely satisfied with their service, which is based upon a "do the right thing" (for the customer) approach.
Spartan also offers a number of owner training courses at the Charlotte campus. Coined the Spartan Academy, these courses are limited to a small number of owners to allow for personal attention. The course takes the owners through the assembly line to see how the chassis are built and then goes to a classroom where a bare chassis and a number of functioning hands-on displays demonstrate the various chassis systems.
Literature and wiring diagrams are available. Each customer brings his or her own motorhome into the service center, where a service tech will go over the RV, explaining the systems, answering questions, and inspecting and correcting any potential service issues. One highlight of the session is a dinner where the owners and the Spartan team can interact socially.
Spartan also participates in RV shows and rallies, such as FMCA Family Reunions. In addition to product support, normal service items such as filters are available at a discounted price at many of these events.
Many owners of motorhomes built on a Spartan chassis choose to join the Spartan Chassis International Club (SCIC), which is an FMCA chapter. This organization of owners holds post-convention rallies and homecoming events at the Charlotte campus, and offers special savings and free freight on parts orders. SCIC holds seminars and get-togethers with great food and also the ability to interact with Spartan associates from all levels of the company.
Although Spartan is not the biggest chassis producer in the market, company literature emphasizes a commitment to delivering an "exceptional RV experience" via products that reflect continual innovation, with a focus on improving maneuverability, ride quality, and handling. All of this rides in tandem with the company's efforts to maintain quality, durability, reliability, and safety in its chassis products.
Spartan Chassis, 1541 Reynolds Road, Charlotte, MI 48813; (517) 543-6400; www.spartanchassis.com.