Tips for finding a bike that fits you and your travel plans.
By Bert Henderson, F385218
April 2014
Imagine riding comfortably on a bicycle, enjoying the quiet freedom this mode of transportation provides. It's a fun, healthful, and nonpolluting way to travel.
According to health professionals, the low-impact aerobic exercise you get while riding a bicycle is very advantageous. It's so low-impact that after knee surgery, many patients are asked by orthopedists to use a stationary bicycle for rehabilitation.
"The stationary bicycle provides the exercise to work on range of motion and builds the quadriceps muscles, the inner thigh, in the legs," said Dr. Tom Bendowski, an orthopedic surgeon at Gulf to Lake Orthopedics in Crystal River, Florida. He added, "There are some arthritis and patella — kneecap — injuries that preclude that kind of exercise, because of the strain on the joints. If people wish to continue cycling with those kinds of afflictions, I recommend they stick to level terrain to reduce joint stress."
If you have a condition that may possibly be worsened by riding a bike, consult with your doctor before you purchase one. Once you're cleared and decide to purchase a new bicycle or upgrade the one you have, become an educated shopper so that you don't end up with an unserviceable, useless, and uncomfortable riding machine.
Deal With Pros
You may pay more for your bike at a bicycle shop than at a big-box retailer, but the quality of the product and the level of service you receive will outweigh any small additional cost you might incur. To be sure you are at a professional bike shop:
Ask whether your salesperson rides. This will tell you whether he or she has firsthand knowledge about cycling.
Similarly, if you're buying accessories such as a tire, tube, helmet, gloves, cycling shoes, cycling shorts and shirts, lights, or warning devices, ask whether anyone in the store has used them. If not, the shop may not be a good place to purchase a bicycle or any other equipment.
A shop specializing in bicycles typically provides riding guarantees, so that if you don't like the bike you can bring it back within 30 days. Mike Layo, general shop manager at Suncoast Bicycles in Inverness, Florida, said, "Our shop gives you a free 30-day checkup; free adjustments for one year; a free first flat repair; and a 10 percent discount on accessories the day of purchase. Our ride guarantee lasts for 30 days; you can bring the bike back for an even trade-in or refund."
When you purchase your bicycle, also check with the shop staff and ask whether you can upgrade the components on your bike if you desire in the future.
Find A Comfy Fit
Most importantly, the bike shop staff should be able to fit you to a quality bicycle that is comfortable to ride. With a properly fitted bicycle, your knees won't hurt; your hips won't be injured from excessive rocking; your back and neck won't hurt; and your cycling confidence will increase because you are comfortable and the bike will be easy to handle. Comfort during and after your ride makes the experience much more enjoyable.
"The proper fit allows you to enjoy your riding so cycling becomes part of your lifestyle," Mike said. "Most of our customers who come into our shop have their bike seats too low and they've hyperextended their knees. They've ridden for one month on a bicycle that does not fit them and in that month they've fatigued their body; they've bent themselves up; the knees hurt with inflammation; and they come into the shop complaining that they don't want to ride anymore. That doesn't make cycling part of their lifestyle to allow them to enjoy regular exercise. Fun cycling is all about fit, fit, fit, and fit! Our job is to keep the customer comfortable and safe; instruct them regarding proper riding techniques; and make the customer feel secure on their bike."
What Kind Of Bike Is Best?
Bicycle brands available today include Trek, Specialized, Giant, Raleigh, Cannondale, Cervelo, and Litespeed. Considering that you'll be taking the bike with you as your travel, an added bonus to purchasing a name-brand bicycle is that your bicycle can be serviced and correct replacement parts can be found anywhere in North America, and even beyond.
A knowledgeable salesperson should be concerned about what kind of cycling you plan to do; how often you want to ride; how many miles you will travel; and how fast you think you will ride. The answers to those kinds of questions dictate the kind of bicycle you purchase.
The wide range of bikes available will fit a variety of cycling uses. Mountain bikes, road bikes, cross-trainers, touring bikes, recumbent bikes, fitness bikes, and beach cruisers populate the bicycle sphere.
For example, are you just going to use your bike to ride the rail-trail routes? These former railroad beds have been converted to free cycling trails that are called linear parks. They have no automobile traffic, except where the trail may cross a highway, and in many cases they pass through beautiful scenery. They are located all over America. To do this kind of riding, you might want to consider a cross-trainer or a touring bike.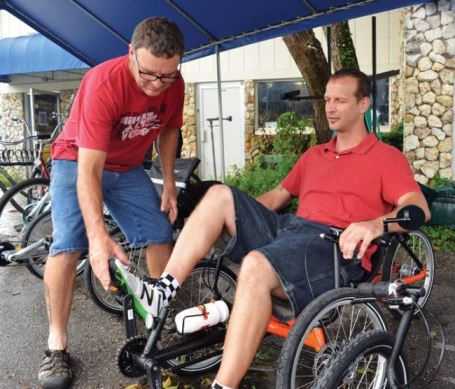 If you prefer to travel long distances on pavement or engage in major bicycling events, consider a lightweight road bike. Road bikes provide a different riding profile, one that lowers the body for reduced wind resistance and increased pedaling efficiency to achieve higher speeds. The tires are narrower to reduce friction to the road. The bike frame weight is reduced by the use of materials such as carbon fiber, lightweight aluminum, or some combination of both. The shifters, pedals, gears, and brakes usually are custom-installed for more efficient mechanical operation, resulting in improved shifting, better braking, and higher speeds.
If you have a desire to ride on dirt trails in the woods, ride the streets in your neighborhood, and even occasionally ride on rail-trails, a mountain bike might be your choice. A mountain bike has a heavier frame with large, balloon-style tires; lower gear sets; and a lower, more upright riding position.
Bicycle manufacturers are now introducing fitness bicycles. A fitness bike has pedals that have been moved forward on the bicycle frame so the ride is more comfortable and pedaling is easier. Getting on and off the bike is simpler, because of a different frame design. A fitness bike is a cross between a comfort bike and a road bike. With these designs you have the best of both worlds — the ease of a comfort bike and higher speeds similar to a road bike.
Transporting your bicycle via your RV or towed vehicle shouldn't be a chore, either. Bicycle racks are available to fit any style vehicle and any type of bicycle, and they take only a few minutes to attach. Make sure you get a bicycle rack that can carry more bikes than you will need to take along. Having the additional room helps to avoid damage to the bicycles on the rack or damage to your vehicle. When you purchase your bike rack, talk with the bike shop staff about the kind of bicycle you have and purchase a good-quality rack specifically for your bicycle.
Stay Safe
As far as bicycle safety equipment is concerned, helmets are very important. Don't think that you won't go fast enough to require a helmet. Talk with bike shop personnel who have broken two, three, or four helmets, as well as perhaps a collarbone, in slow-speed falls. They can speak firsthand of the need for a quality helmet and one that fits properly. Spend some money on a helmet and hope that it never has to do its job.
The best gloves to buy are gel gloves that fit properly. The gloves should be comfortable and not cut the webbing in your fingers or pinch the nerves in your hand.
If you purchase cycling shorts, ask someone in the store whether they've worn the type of shorts you're buying. Also ask what their longest ride was in those shorts. Some cycling shorts are better than others. Consider buying baggy shorts with gel inserts that are comfortable.
Research shows that the best warning device for your bicycle is a bell. A bell will get even a squirrel's attention. Studies have shown that a bell is the most gentle and effective warning method.
Purchase lights for your bike even if you never plan to be out in the night. At dawn and dusk, drivers may not see you as well as you think. Lights can run from $15 to almost $300, depending on what you would like. Also, purchase a small utility bag for spare tubes, tire and hand tools, and an inflator. You don't want to be 15 miles out and not have the necessary tools and equipment to change a tire or inflate a tube. That's a long walk back, and you won't want to ride again!
Remember, purchasing a bicycle for fun and exercise is a great investment only if you are patient, talk with the right people, and purchase the correct bike the first time.