Trees get top billing in Nebraska City, Nebraska, at both the mansion home of Arbor Day's founder and at a nearby orchard.
By Dorothy Rieke
April 2014
Obviously, they were meant for each other. Julius Sterling Morton was from Michigan, and Caroline Joy French was from Maine, but they were perfectly matched with common goals and interests. And they were in love.
The two married on October 30, 1854, in Detroit, and soon traveled to the largely uninhabited Nebraska Territory. After wintering in a cabin there, in spring they moved south to Nebraska City, where Morton was employed as a journalist at the Nebraska City News, the territory's first newspaper.
Most men would have been content with such a job. However, J. Sterling Morton used his position to accomplish much in several different fields. Early on, he realized that the Nebraska landscape and economy would benefit from trees. He set a good example as the couple's home, once established, was surrounded by shade trees. In addition, he and his wife planted an apple orchard of 300 trees, as well as other varieties. At that time in Nebraska, most of the existing trees on the prairie grew only along creeks or riverbanks.
Morton called his place Morton "Ranche." The couple built a four-room, L-shaped home with a porch in 1855.
Carrie was creative in a way that brought serenity and beauty to their surroundings. She planted some of the first trees, flowers, and a garden.
Her husband promoted agricultural advancement when most settlers were out on the prairie pushing plows in the sod and hoeing between rows of corn. Morton advocated tree planting while serving as a newspaper editor.
Many more Nebraskans became aware of his convictions when he became president of the Nebraska State Board of Agriculture and an active member of the State Horticultural Society. In this capacity, he introduced a resolution calling for a statewide tree-planting day that later became known nationally as Arbor Day. The very first Arbor Day in Nebraska was held April 10, 1872. So many agreed and were impressed with this idea that the Nebraska Legislature made Arbor Day a legal holiday, to be celebrated on Morton's birthday, April 22. Morton reflected, "Arbor Day is not like other holidays. Each of these reposes on the past, while Arbor Day proposes for the future." How true that was!
Eventually, Morton served as the state's agriculture secretary, and then as the U.S. Secretary of Agriculture under President Grover Cleveland from 1893 to 1897.
Today Arbor Day is still an April holiday dedicated to planting trees. Morton once observed, "Each generation takes the earth as trustees. We ought to bequeath to posterity as many forests and orchards as we have exhausted and consumed."
Morton's special charisma helped him build an awareness among others of the need for trees. He once declared, "If I had the power, I would compel every man in the state who had a home of his own to plant out and cultivate fruit trees." He also reflected, "The cultivation of trees is the cultivation of the good, the beautiful, and the ennobling in man, and for one, I wish to see it become universal."
Visiting The Morton Mansion
The Mortons' house took on many faces through the years. It was renovated and expanded with four major additions. Initially, work was done because more space was needed. The family grew to include four sons. Renovations included the addition of a full second story, a wraparound porch, and fireplaces, among others.
The Morton mansion is located in Arbor Lodge State Historical Park in Nebraska City, Nebraska. The intriguing contents of this 52-room neo-Colonial mansion bring to light the intimate story of two people destined to influence life in the early West.
Surrounding the home is a 72-acre arboretum. If you visit in spring, don't miss the lilac walk, featuring more than 200 varieties of lilac bushes. A tree trail, an Italian terraced garden, and a carriage house are also located on the grounds.
Arbor Day Farm Tree Adventure
The mansion and state park are not officially affiliated with the Arbor Day Farm across the street, but they are surely related. This fun, family-friendly spot is also a must-see. Located on a 260-acre working orchard, vineyard, farm, and forest, it's a model of environmental stewardship that inspires visitors to plant, nurture, and celebrate trees.
Visitors enter through the Woodland Pavilion, where a holographic ghostlike image of J. Sterling Morton welcomes them. This image discusses his life, his love for trees, and, most importantly, the role trees play in the environment. The presentation is an intriguing history lesson in itself.
Exhibits, video screens, and learning stations offer fun and enjoyment. A step-by-step process for identifying trees is learned through "Who wants to be a 'tree-illionaire'?"
Another attraction is a film called Trees In The Movies, featuring clips from trees appearing in major motion pictures. This film depicts trees at their funniest, most useful, most beautiful, and scariest.
Arbor Day Farm Tree Adventure instills a respect and awareness of nature through exploratory trails, winding streams with bridges, flora and fauna, and an elaborate tree house to climb and explore.
The 50-foot-high Canopy Tree House offers a stunning view of plants, birds, and lush forest growth. From this location, a trail leads to the Exploratory Tree House and several old-time bridges.
Scenic trails, designed for explorers of all ages and handicapped-accessible, feature interactive exhibits introducing the sights, sounds, and fragrances of a forest as well as the natural wonders of the locale. Embedded in walkways are various animal tracks to identify. Nearby are stations for smelling pawpaw, deer musk, and pine as well as tree identification exercises.
South Table Creek Trail, a 2/3-mile wood-chipped trail, leads over two rustic spans made of timber: Sandbar Bridge and Rocky Ford Bridge. This trail offers sensory experiences, scenic vistas, and the Exploratory Tree House mentioned above, which puts Nebraska's wildlife and nature, including many native Nebraska tree species, on display. The trail also depicts "state-of-the art" uses of trees in soil conservation and agri-forestry.
Tree House Trail, a circular inner trail, features the Explorer Club Cabin, a 20-foot-tall "spider web," and the tree house. This trail involves exploring the woodland atmosphere and solving entertaining nature mysteries.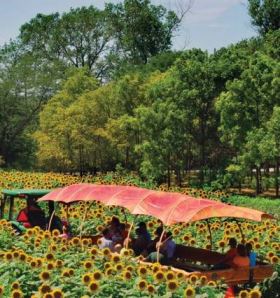 The hour-long Discovery Ride takes passengers across 260 acres, including woods, farmland, orchards, and vineyards. The trail links Arbor Lodge State Historical Park, Arbor Day Farm Tree Adventure, the Apple House, the historic Morton barns, and the Lied Lodge and Conference Center. This learning experience is about water conservation as well as tree preservation. A guide relates nature lore and history.
Inside the huge Lied Greenhouse, trees such as oak, pine, hazelnut, and Colorado spruce are grown for planting throughout the United States. Before leaving, visitors receive a free seedling and a tree identification guide.
Special activities are planned at the farm on Arbor Day in April and during September's Apple Jack Festival. Adults, as well as children, relish the beauty of this place and the atmosphere that truly celebrates nature in a big way.
Themed tours are available for groups of adults and children (see the Web site for prices, or call ahead).
The Arbor Day Farm, unlike other attractions, is not only high adventure, but it provides an educational experience through investigation and exploration.  Above all, it relates the knowledge and experiences of J. Sterling Morton.
As Morton wrote, "There is no aristocracy in trees. They are not haughty; they will thrive near the humblest cabin, on our fertile prairies, just as well, and become just as refreshing to the eye and as fruitful as they will in the shadow of a king's palace."
Further Info
Arbor Lodge State Historical Park and Arboretum
P.O. Box 15
Nebraska City, NE 68410-0015
(402) 873-7222
www.visitnebraska.com/component/myplanner/detail/43/2000117
In 2014 the mansion is open April 24 through mid-September, daily from 11:00 a.m. to 5:00 p.m. Call ahead for event updates. A park permit is required for entry. Mansion admission is $5 for adults, $2 for children ages 3 to 12, and free for children 2 and under. The mansion is handicapped-accessible.
Arbor Day Farm
2611 Arbor Ave.
Nebraska City, NE 68410
(402) 873-8717
www.arbordayfarm.org
The farm is open daily year-round. Admission to the Tree Adventure is $7 for adults and $5 for children ages 3 to 12. Also on the grounds is a produce market, café, gift shop, and the Lied Lodge and Conference Center.
Area Campground
Additional campgrounds are located in the surrounding area, so please check your campground directory or the RV Marketplace, online at FMCA.com and in the June and January issues of FMC.
Victorian Acres Campground
6591 State Route 2
Nebraska City, NE 68410
(402) 873-6866
E-mail: info@victorianacresrvpark.com
www.victorianacresrvpark.com
More Nebraska City Attractions
The following sites and museums also may be of interest to those visiting Nebraska City. For more information about these attractions and others, go to www.nebraskacity.com, or call Nebraska City Tourism & Commerce at (800) 514-9113 or (402) 873-6654.
Lewis and Clark Missouri River Basin Visitors Center
Nebraska City Museum of Firefighting
Old Freighters Museum
River Country Nature Center
Wildwood Historic Center