Great places to visit and photograph are accessible from the small but famous town of Forks, Washington.
By Karen Lee Ensley
April 2014
Any journey to the Olympic Peninsula will overflow with fabulous treasures. Here in the northwestern part of Washington, you'll find photogenic beaches filled with history, rainforests overflowing with unusual plants, and rugged mountains adorned with glaciers and dotted with wildflowers. Be sure to bring your camera to capture your extraordinary memories.
For easy access to gorgeous scenery, use the Forks region as a home base. That way you can save fuel and travel with your towed vehicle on these three awesome day trips.
First Beach, La Push
When you arrive at First Beach in the village of La Push, less than a half-hour drive from Forks, have your camera ready. The combination of sand and ocean, rugged sea stacks, and massive driftwood piles creates a picturesque scene filled with the potential for many exciting artistic photographs, just steps away from the parking lot! The mile-long, crescent-shaped beach is part of the Olympic Peninsula's 57 miles of wild coastline.
La Push is a great area if you like to kayak, surf, or fish. Arrive the last weekend in September to watch or participate in the annual La Push Last Chance Salmon Derby. If you enjoy wildlife-viewing, look out over the waves and you just might see seals or whales. Whales can be spotted right from the beach when they come close to the shore during their annual migrations in spring and fall. Planning a summer visit? Watch for gray whales feeding on bottom sediments at the mouth of the Quillayute River.
As you observe seabirds landing on nearby James Island, consider that this rocky sea stack wasn't always an island. It used to be connected to the mainland. In 1931 the U.S. Army Corps of Engineers completed a dike to James Island and a jetty on the opposite side of the river, creating a dependable harbor at La Push and separating James Island from the mainland.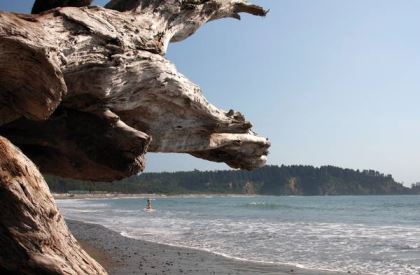 During World War II, La Push and James Island were important sites in the Navy's coastal lookout system.  A lifeboat station and a beach patrol station were located in La Push, along with a lookout tower. Since James Island blocks some of the view of the horizon, a second lookout was built on the island.
Today only members of the Quileute Indian tribe are permitted on the island. It was used as a burial place for chiefs and is also known as A-Ka-Lat, or "Top of the Rock" by the Quileute. In fact, as you stroll along First Beach, you should know that the beach and La Push are part of the Quileute reservation. If you hear an unusual language being spoken, it could be Quileute, one of only a few languages in the world without a nasal sound of an "m" or "n."
As you explore the La Push area, use your creativity to get amazing photographs of the ocean-worn driftwood pieces that are many times larger than a person, or the rocky island sea stacks known as the "Needles" or the "Devil's Bone Yard." Be sure you follow the tribe's etiquette and rules regarding photography in this area by checking the Quileute Web site for details: www.quileutenation.org.
Hoh Rain Forest
Step into the temperate primeval region known as Hoh Rain Forest and you will at once be captivated by the intriguing landscape. Trees that are hundreds of years old tower 250 feet above the forest floor, dwarfing everyone below. Mosses and lichens grow profusely, decorating this old-growth forest with an eerie jungle-like appearance.
Distinctly different from a tropical rain forest, the Hoh Rain Forest is one of the few temperate rain forests in the world. It is also one of the largest. A temperate rain forest has different trees, plants, and animals than a tropical rain forest; this is primarily due to the differences in temperatures and the amount of rainfall. While a tropical rain forest remains warm, a temperate rain forest may have a warm summer, but it usually is cool and wet the rest of the year. A tropical rain forest has many varieties of leafy trees and plants, including palms and bamboo. But in the Hoh Rain Forest, trees such as the Sitka spruce and western hemlock have been growing and thriving for more than 500 years.
Be sure to survey this magical-looking forest in all directions and notice the abundance of lush green plant life. Enchanting parts of this environment include epiphytes, plants that grow upon plants.  More than 130 species of mosses, lichens, liverworts, and ferns adorn the Hoh Rain Forest. Look around you; some grow near the forest floor, while others drape delicately across high tree limbs.
Temperate rain forests are known for their "nurse" logs. When a tree dies, perhaps from a powerful winter storm, its fallen trunk becomes a place where spruce and hemlock seeds land and germinate. These seeds have a survival rate of just one seedling in 10,000, so the decaying log is an important nourishing spot. As the seedling grows, its roots wrap around the log. As the years go by and the old log decays, the new tree may wind up with strangely shaped roots. As you wander through the forest, look for nurse logs and trees in various stages of development.
A rain forest wouldn't be a rain forest without plenty of rain, so be prepared. This area receives 12 to 14 feet of rainfall every year. Plan to come if the weather is sunny or not, because the forest is spectacular whether you see it with gently filtered sunshine or when raindrops rest on the moss and shimmer like tiny jewels.
A magnificent part of Olympic National Park, the Hoh Rain Forest is truly a must-see. The Hoh Rain Forest Visitor Center is a fascinating stop less than an hour's drive from Forks. Three easy loop trails begin near the visitors center. A 1/10-mile paved trail is accessible for wheelchairs and strollers; it will give you a wonderful sampling of the rain forest. Take the 1.2-mile Spruce Nature Trail or the 0.8-mile Hall of Mosses Trail to feel as though you've stepped into an exotic land. Longer day hikes are available, too, and wilderness camping is permitted if you wish to spend a lot of time exploring this fascinating place.
Olympic National Park has an entrance fee of $15 per vehicle for a single visit (good for up to seven consecutive days at any Olympic National Park entrance). Or, pay $30 per vehicle for an annual pass good at any Olympic National Park entrance station for one year from the month of purchase.
Hurricane Ridge
The next day trip from Forks is to a mountaintop. Slightly more than an hour from Forks is Port Angeles, where another portion of Olympic National Park awaits via a winding road to Hurricane Ridge. You'll be delighted with the fabulous mountain scenery.
An International Biosphere Reserve and a World Heritage Site, Olympic National Park is 95 percent wilderness. From the top of Hurricane Ridge, you'll have an incredible view of this nearly 1 million-acre preserve. Named for the wicked winter storms that blow through the area, Hurricane Ridge offers grand vistas of mountain peaks, glaciers, steep valleys, and alpine meadows delicately touched with wildflowers.
Choose from short, paved trail loops accessible from the parking lot at Hurricane Ridge Visitor Center to backcountry wanderings to savor this exquisite wilderness. Arrive when the wildflowers are in bloom and you'll have flowers at your feet and mountain peaks in the distance. You'll feel as though you entered a photo from an American landscape calendar. It's the perfect setting for some incredible images of your own.
Olympic National Park is home to the largest unmanaged herd of Roosevelt elk in the world, and it was nearly named Elk National Park in their honor. In addition to these majestic creatures, you may see the Olympic marmot; although it is related to other marmots, it's an endemic species, found only in the Olympic Mountains. Similarly, the Olympic snow mole and Olympic torrent salamander are some of the other Olympic Peninsula species found nowhere else in the world.
Stay long enough to enjoy the setting sun and you'll be rewarded as the colors of the sky highlight the mountains in special hues. Gaze across the vast range of rugged peaks and you just might be lucky enough to see the moon rise above the mountains for a great photograph and the perfect ending to your Olympic Peninsula journey.
Further Info
Forks, Washington, is located in a region with abundant recreational activities and diverse scenery. It has the only stoplight along a 163-mile stretch of U.S. 101, the main route around the Olympic Peninsula. The town was made famous in the Twilight book series, and it has embraced the notoriety with book memorabilia and restaurants that offer Twilight-themed menus.
According to author Stephenie Meyer, she was looking for an out-of-the-way place surrounded by forest to serve as the setting for her books. After consulting maps, she said, "And there, right where I wanted it to be, was a tiny town called 'Forks.' It couldn't have been more perfect if I had named it myself."
RV campgrounds in the Forks area include the following. Please check the RV Marketplace, published at FMCA.com and in the January and June issues of FMC, for more listings.
Bear Creek Café, Motel & RV Park
Milepost 206
Beaver, WA 98305
(360) 327-3225
www.hungrybearcafemotel.com
Forks 101 RV Park
901 S. Forks Ave. (U.S. 101)
Forks, WA 98331
(360) 374-5073
www.forks-101-rv-park.com
Hard Rain Café RV Park
5763 Upper Hoh Road
Forks, WA 98331
(360) 374-9288
www.hardraincafe.com
Quileute Oceanside Resort
330 Ocean Drive
La Push, WA 98350
(800) 487-1267
(360) 374-5267
www.quileuteoceanside.com
Riverview RV Park & Storage
33 Mora Road
Forks, WA 98331
(360) 374-3398
www.olympicanglers.com
Three Rivers Resort
7765 La Push Road
Forks, WA 98331
(360) 374-5300
www.threeriversresortandguideservice.com