A quiet ride, smooth handling, abundant storage, and myriad amenities are among the hallmarks of this popular model.
By Mark Quasius, F333630
December 2014
The Allegro Bus is one of Tiffin Motorhomes' crowning achievements. Designed for use in a full-time environment, it's been well accepted by both full-time and part-time motorhome travelers. The 2015 Allegro Bus is available in three floor plans; the most popular is the 45LP, which was unveiled in 2014. For the 2015 model year, the 45LP breaks new ground with additional features and upgrades.
Having owned a 2007 Allegro Bus for eight years, I was particularly interested to see how this model has evolved. I anticipated the usual changes, but the Allegro Bus exceeded my expectations.

The 45LP is a bath-and-a-half floor plan featuring a rear walk-in wardrobe. Often the bath-and-a-half layout detracts from midcoach space, and a walk-in wardrobe takes away even more. But Tiffin designers did an excellent job of making everything fit. I found this to be one of the most livable floor plans I've ever encountered.
Storage is always a consideration, but Tiffin officials claim to incorporate the most storage of any motorhome manufacturer. I found cabinets, drawers, and pockets everywhere I looked, and they were of substantial size and quite useable.
 Construction
The Allegro Bus is built with vacuum-laminated sidewalls and a gel-coat fiberglass exterior. Thermal insulation and a tubular aluminum skeleton make up the wall's interior, while a thermal-wrap moisture barrier separates the interior wall panel from the aluminum skeleton.
The porcelain tile floor is bonded to oriented strand board and incorporates an epoxy-based grout designed to handle flexing. The floor is placed over a steel subframe that is welded to the chassis frame rails.
The roof consists of one-piece formed fiberglass bonded to plywood. The air-conditioner drain lines are plumbed through the 5 1/2-inch foam insulation to duct the condensation to the rear cap, which prevents water from dripping down the sidewalls. The air-conditioners utilize ceiling ducts that run the full length of the motorhome.
Chassis
 The Allegro Bus is built on Tiffin's patented PowerGlide chassis. Design features include a 326-inch wheelbase, a tag axle, a side radiator, ZF independent front suspension, and a 60-degree wheel cut. An 8.9-liter Cummins ISL9 diesel engine, rated at 450 horsepower and 1,250 pound-feet torque, is coupled with an Allison 3000 MH Series 6-speed automatic transmission. A 150-gallon fuel tank and a 15-gallon DEF tank are standard.
Filling large fuel tanks can be tricky, because the filler hoses generally are level with the top of the tank; air becomes trapped, which shuts off the refueling nozzle and results in backsplash. To combat this, the Allegro Bus incorporates a driver's-side raised fuel fill, which allows the fuel to flow down into the tank instead of horizontally across the top.
The 45LP is outfitted with HWH hydraulic leveling jacks. It also can be equipped with a Valid automatic air-leveling system, which allows the air-ride suspension to level the coach without using the jacks — beneficial when parked on soft ground or asphalt. A single control panel operates whichever leveling system you choose. It also engages the Active Ride system, which further levels the motorhome while driving and provides additional stability.
Exterior
The Allegro Bus is available in eight color schemes; my test coach sported White Mahogany full-body paint. Tiffin uses BASF polyurethane paint with a hardened clear coat. Diamond Shield paint protection film is applied to the front cap.
The large, one-piece windshield is bonded, automotive-style, to the molded front fiberglass cap for additional strength, rather than placed in rubber grommets; this also gives a cleaner look. The two chrome mirrors are equipped with side cameras that are auto-sequenced to the rear camera color monitor in the dash. They provided an excellent field of view, a sharp picture, and good depth perception because of their high placement.
All basement storage bays are equipped with side-hinged compartment doors; they and the entry door are secured with keyless locks that can be controlled by a keypad or remote key fobs. The entry door, redesigned for 2015, is easier to open than in previous models. It is recessed into the sidewall, which is more aerodynamic and lessens wind noise.
The windows are flush, although not frameless, and were custom-designed by Tiffin to minimize wind noise. Rather than left black, the frames are painted to blend with the exterior paint scheme.
A 42-inch LED TV is placed into a high-mount curbside enclosure for viewing from the patio area when tailgating or otherwise relaxing outside.
My test coach included two Carefree Paramount power awnings built into the curbside roof fascia. They can be extended at multiple angles to fully cover the patio area. The awnings and fascia visually conceal the air conditioners and other rooftop equipment.
One Tiffin innovation is currently available on the 45LP and 37AP Allegro Bus floor plans: Tiffin's new SmartSlides. These one-piece molded fiberglass slideouts have no seams or joints and, as such, are airtight and watertight. They also are less bulky than earlier slideouts. Their rounded corners result in a smoother appearance and quieter, more aerodynamic airflow. The slideouts are barely noticeable when retracted.
Interior
The Allegro Bus is equally impressive inside. My test unit featured the Watercolor interior fabric décor package and was accented with Glazed Honey Natural Cherry woodwork. The look was bright and cheery, yet classy.
In the cockpit, the instrument panel is easy to view while driving, unobstructed by the burl-wood Smart Wheel. The various rocker switches are laid out in a practical manner. The parking brake control has been relocated to the dash from the side console, where pets cannot step on it accidentally.
The Kenwood DNX570TR entertainment system includes a touch-screen radio and media player with the usual bells and whistles. The 45LP also contained an excellent GPS unit with Garmin software that is tailored for large vehicles. The coach also included the optional Mobileye collision avoidance system, which monitors the road and warns of approaching hazards.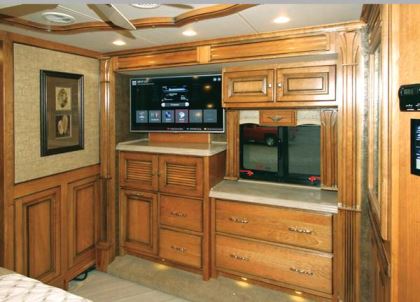 Porcelain tile flooring runs throughout the 45LP. Two optional electric heat grids under the tile provide warmth on chilly days. A 42-inch LED TV rests in the front overhead cabinetry. However, the real entertainment center is in the passenger-side slideout, where a 50-inch LED TV and surround-sound system are placed atop a cabinet. The cabinet is appointed with doors and shelving, but an optional electric fireplace can be installed here. A Villa sofa bed is located next to the TV; a recliner with a flip-up table also is available.
Immediately aft of the curbside sofa is the dinette. The test unit included a computer workstation in this area, one of various options available. The buffet cabinet is deep enough to hold printers, laptops, or related equipment.
The dinette overlooks the patio rather than the sewer connections, a change suggested by Tiffin owners in surveys. A 22-cubic-foot residential refrigerator with a bottom freezer drawer completes the slideout.
The street-side front slideout contains a long L-shaped Villa sofa bed, equipped with a large fold-out air mattress. It is directly opposite the 50-inch TV in the curbside slideout, enabling occupants to watch TV without having to crane their necks or look up into overhead cabinetry. Two footrests extend from the sofa at the touch of a lever. The sofa itself pulls out for additional seating, but as in all L-shaped sofas, the side arm prevents a third person from using that position when it is retracted.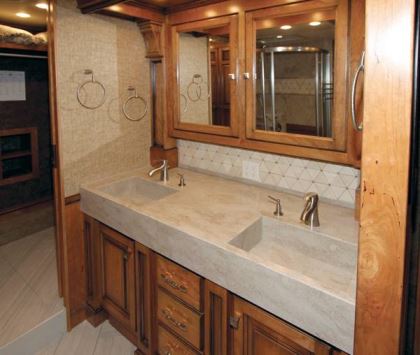 The galley is immediately aft of the L-shaped sofa. Its solid-surface countertops mirror counters elsewhere in the Allegro Bus. Two sink basins are formed into the galley countertop and fitted with removable covers. A gooseneck faucet enables easy filling of pitchers or other tall containers. The recessed induction cooktop is covered with solid-surface panels as well; they can be folded to the rear or removed totally. Part of the decorative tile backsplash rests on a small ledge with several drawers beneath it. The under-sink cabinet holds a slide-out tray with a wastebasket and storage slots for the sink covers.
A Fisher-Paykel drawer-type dishwasher is located beneath the cooktop and faced with a wood panel that matches the coach cabinetry. A large pull-out workstation locks in place in either the retracted or extended positions. Finally, a microwave-convection oven is installed in the overhead cabinetry.
Immediately aft of the main living area is the street-side guest bath. This half bath is equipped with a sink and vanity, a mirrored medicine cabinet, additional cabinets, and an electric-flush porcelain toilet. Ventilation needs are met by a window and a Fan-Tastic Vent fan mounted in the ceiling behind a wooden louvered bezel.
A dustpan access port in the hallway connects to the Intervac central vacuum located in a basement compartment.
Next in line, toward the rear of the coach, is the bedroom. The bed sits crosswise, with the head resting in the curbside slideout and flanked by nightstands. My test unit included an optional king bed topped with a Comfort Air mattress, with individually adjustable controls on each side. The bed is mounted on gas struts for access to the storage area below. The bedroom includes a ceiling fan and a battery of overhead cabinets. Windows on either side of the bed provide flow-through ventilation when desired. Opposite, in the curbside slideout, a large cabinet complex includes a 42-inch LED TV, an entertainment center cabinet, a large laundry hamper, and a chest of drawers. Overhead cabinetry and a window finish out this area.
Hardwood sliding doors close off the bedroom from the front living area and the rear bath.
The rear full bath is spacious. The street-side vanity holds two molded solid-surface sinks, and a mirrored medicine cabinet spans its entire width. Again, storage drawers and cabinets are plentiful. On the opposite wall, a circular enclosure surrounds an attractive solid-surface shower stall decorated with an inlaid ceramic tile band. A macerator-style electric toilet is located next to the shower. The shower has a skylight accompanied by a sliding ceiling panel that can be deployed to keep sun or heat out or in. The bathroom's Fan-Tastic Vent ceiling fan boasts a louvered cherry bezel.
Normally, a rear bath will have a step up to provide adequate height clearance over the engine — which can cause problems for tall persons in the shower stall. However, the 45LP retains the same floor height in the bath area as throughout the rest of the coach, providing ample headroom for even the tallest bathers.
The rear walk-in wardrobe is part of this floor plan's success. Here is where a short step up creates clearance above the engine. The back wall contains a full-width clothes pole and shelf for maximum storage possibilities. A wall safe with a combination lock secures valuables or important papers. Beneath the safe is a shoe storage area. Cabinets, drawers, slide-out trays, and shelving provide even more room to stow items. On the opposite wall, a cabinet with full-height louvered doors conceals an optional stackable Splendide washer-dryer. The closet walls are cedar-lined.
Utilities
Electrical needs are met by 50-amp shore power service with a power cord reel, as well as an Onan 10-kw Quiet Diesel generator, which is mounted on a front slide-out mechanism. Both the shore power and generator feed through an automatic transfer switch with built-in surge protection. An automatic generator-start system can be set to switch on the generator should the battery voltage drop below a preset level, or if the air-conditioner thermostats call for cooling. A Magnum 2,800-watt true sine wave inverter powers many of the coach circuits, including the convection-microwave oven and the residential refrigerator. A bank of six deep-cycle batteries provides 12-volt-DC power for the inverter and for any 12-volt accessories, such as lights and fans. An optional 125-watt solar panel delivers additional battery-charging capacity when 120-volt-AC power is unavailable.
A Precision Circuits energy management system monitors power consumption and will shed loads should the demand exceed available AC power, such as when the motorhome is connected to 30-amp shore power. It also works with the Magnum inverter to augment incoming shore power and minimize load shedding.
Interior heating and cooling needs are handled by an Aqua-Hot 450D hydronic heating system. In addition to two interior heating zones, the Aqua-Hot system has a third zone that supplies basement heat, utilizing a dedicated thermostat for that zone. The Aqua-Hot also offers an engine preheat feature. Three 15,000-Btu rooftop air conditioners with heat pumps are fed through a ducted ceiling that extends the length of the coach.
Domestic water heating also is handled by the Aqua-Hot system. A driver's-side utility bay holds connections for fresh-water hookups and holding tank dump valves. A SeeLevel electronic tank monitoring system provides digital readouts in this bay as well as in the motorhome interior. A power hose reel holds 50 feet of fresh water hose, while an outside shower attachment helps with cleanup tasks or when giving the dog a bath.
Basement storage is expansive. An optional Dometic refrigerator/freezer was mounted on a slideout tray in the 45LP's curbside slideout. The large pass-through basement compartment can be outfitted with optional sliding cargo trays that extend out either side of the coach. A number of smaller compartments also provide storage.
Final Impressions
The Allegro Bus 45LP was an eye-opener. After testing everything from small Type Cs to expansive luxury motorhomes, I assumed it would be similar to most other tag-axle coaches I've driven. However, it exceeded my expectations.
Handling was crisp and steering was responsive — a huge improvement over one of the first PowerGlide chassis I drove a few years back. The ZF front end and Michelin 315 tires easily handled any bumps in the road, with less pounding and steering-wheel kickback than many coaches I've piloted. My initial impression was that the tires weren't fully aired up, and I was surprised to find them at the full 120 psi. Despite the soft ride, there was no wallowing, porpoising, or wandering. The coach went where it was pointed without any effort.
The Allegro Bus was also much quieter than in past years — partially because of the improved ride, but also from the aerodynamic improvements that Tiffin designers have made, such as flush windows, recessed awnings, and the automotive-style windshield.
With the coach full of 150 gallons of fuel, 45 gallons of water, and myself aboard, the 45LP crossed the scales at 39,360 pounds, which gave it a theoretical carrying capacity of 11,940 pounds. However, tag-axle coaches place more weight on the front axle compared to non-tag-axle motorhomes, and it's common to see front axle weights close to, or exceeding, the front axle rating. The actual front axle weight of this coach was 14,340 pounds, which leaves plenty of cushion for its 16,000-pound-rated front axle, so cargo loading issues will not be a problem on this coach.
The excellent driving experience, coupled with an outstanding floor plan and tons of storage space, make the 2015 Allegro Bus 45LP an attractive coach to consider.
Specifications
MANUFACTURER
MODEL
Allegro Bus
FLOOR PLAN
45LP
CHASSIS
PowerGlide raised-rail, side radiator
ENGINE
Cummins ISL9, 450 horsepower at 2,100 rpm; 1,250 pound-feet torque at 1,400 rpm
TRANSMISSION
Allison 3000 MH Series, 6-speed automatic
AXLE RATIO
4.63 to 1
TIRES
front — Michelin XZA3 315/80R 22.5 LRG; rear — Michelin XZA3 295/80R 22.5 LRG
WHEELBASE
326 inches
BRAKES
front — antilock disc; rear — drum
SUSPENSION
ZF independent front suspension; 60-degree steering angle cut
SHOCK ABSORBERS
front — Sachs, custom-tuned;
rear — Bilstein, custom-tuned
STEERING
VIP Smart Wheel
ALTERNATOR
170 amps
BATTERIES
chassis — (2) 950 cca, maintenance-free;
house — (6) deep-cycle
INVERTER
Magnum 2,800-watt true sine wave
ELECTRICAL SERVICE
50 amps
AUXILIARY GENERATOR
Onan 10-kw Quiet Diesel
EXTERIOR LENGTH
44 feet 11 inches
EXTERIOR WIDTH
101 inches
EXTERIOR HEIGHT
12 feet 7 inches
INTERIOR HEIGHT
7 feet
GROSS COMBINATION WEIGHT RATING (GCWR)
66,300 pounds
GROSS VEHICLE WEIGHT RATING (GVWR)
51,300 pounds
GROSS AXLE WEIGHT RATING (GAWR)
front — 16,000 pounds;
rear — 22,00 pounds;
tag — 13,300 pounds
AS-TESTED WEIGHT
(weighed with 150 gallons fuel, 45 gallons water, one passenger)
front axle — 14,340 pounds;
rear and tag axles — 25,020 pounds;
total — 39,360 pounds
OCCUPANT & CARGO CARRYING CAPACITY (OCCC)
11,675 pounds
FRAME CONSTRUCTION
tubular aluminum structure; steel subframe
FRESH WATER CAPACITY
90 gallons
HOLDING TANK CAPACITIES
gray water — 70 gallons;
black water — 50 gallons
FUEL CAPACITY
150 gallons; 15 gallons DEF
FUEL REQUIREMENTS
diesel
PROPANE CAPACITY
N/A
WATER HEATER
Aqua-Hot hydronic heating
WATER SYSTEM
demand
HEATING SYSTEM
Aqua-Hot 450D diesel-fueled hydronic heating
AIR-CONDITIONING
(3) 15,000-Btu low-profile roof units with heat pumps
REFRIGERATOR
22-cubic-foot residential
TOILET
(2) porcelain, electric flush, one with macerator
WARRANTY
coach — 12 months/12,000 miles comprehensive;
construction — 10 years;
delamination — 5 years
BASE SUGGESTED RETAIL PRICE
$406,000
PRICE AS TESTED
$434,882