One FMCA member's inspiring story of solo adventure from the pilot's seat.
By Carole Rubinstein-Mendel, F256956
July 2014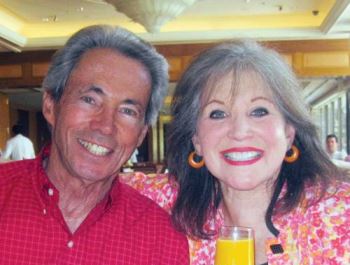 It was obvious that my husband, Alan, was waiting for me. If the suspicion is true that radio waves might pose a danger to one's health, I should have been glowing in the dark by then. Alan had retired early, and for several years already, I was aware that he had permanently programmed his radar to pick up even the slightest signal from me indicating that I was ready. Although he was proud and respectful of the more-than-full-time psychology practice I had carefully grown over the years, and to which I was deeply committed, I knew he was holding his breath, waiting for any sign that I was ready to slow down. We had talked about how nice it would be to snitch more than just long weekends and an occasional week or two during the year to take off in our motorhome.
Slow Down
Seven years ago, I finally took the plunge and switched to part-time work. The immediate benefit, like magic, restored both of us to normal health: Alan could breathe again, and no one could see me anymore without a flashlight after dark. For the next two years, we created much more wiggle room for our wanderings, and even allowed for the very real prospect that someday soon we actually could spend a whole month or two away, exploring distant destinations. We were excited, happy campers.
Full Stop Ahead
And then, as the sayings go, "Man proposes and God disposes," or "The best-laid plans ofttimes go awry." Five years ago, just two months after his 75th birthday and 27 years into our relationship, Alan was diagnosed with pancreatic cancer. He died after a valiant but unsuccessful 10-month battle. We were all flabbergasted! He had been our very own poster boy for what a robust, health-conscious, super-fit senior citizen should look like and be. I mourned. We all mourned. Everything changed. Nothing felt the same. Alan's absence was felt in more ways than I ever could have imagined.
Detour
Pragmatically, all the things he used to take care of were now mine. I was, to put it bluntly, not only sad but overwhelmed. That's when the kids started asking me what I intended to do about the motorhome. They unanimously recommended that I start thinking about selling it, or at least trading it in for something smaller and more manageable. Obviously, they were thinking there was no way I could possibly handle a 40-foot motorhome and towed vehicle by myself.
Instinctively, I knew this was a benevolent, well-meant suggestion from adult children looking after the best interests of their mom. Yet, just as instinctively, from somewhere deep inside sprang this powerful, fierce, resolute, definitive response: "I'm keeping the motorhome!"
Reverse
That's when I realized there was no way I would give up something that had provided us so much pleasure. Plus, I had no intention of relinquishing something as important and hard-won. The truth is that somewhere around the 10-year mark, motorhoming probably saved our marriage. For about a decade, I grumblingly shared Alan with his "other woman": a beautiful, demanding, 41-foot, single-masted sailboat named "Sweetooth." Finally, he understood my jealous complaints about time and place: the down-at-the-marina time her maintenance required of him, the lack of destination diversity (all Catalina, all the time), and the excessive time it took us to get there and back.
Although the transition wasn't easy, in time Alan wholeheartedly agreed that what the sailboat could never provide us, the motorhome did — in spades! We could take our pups with us. We could pull in at interesting rest areas along the way. There was always scenery to look at. And our destinations could change, or not, as our whims dictated. Eventually, I knew I could relinquish my Sweetooth-guilt after he began the following little ritual. Once we were settled in at a campsite, my man of few words, sitting in his favorite corner of the couch, a cold Newcastle in hand, would smile and say, "A happy wife is a happy life. Thank you for making us such a beautiful home on wheels." That statement would be one that he regularly repeated and I just as regularly loved to hear.
As with most motorhoming couples, our respective chores remained divided along gender lines. Alan was the pilot. I was the copilot. He took care of all things greasy and manly. I was in charge of the damsel's domesticity domain — although every once in awhile, I took on map duty when we found ourselves in unfamiliar territory.
Recalculating
So, it's no wonder the kids were incredulous when 4 1/2 years ago I announced my intention to go it alone. It would mean that a 70-year-old (then), 108-pound, 5-foot-tall (and shrinking) woman would assume both roles. Learning all kinds of unfamiliar techno-mechanical-automotive skills. Developing new physical strengths. Taking the wheel and being solely responsible for all 57 feet of machinery trailing behind me. It's with some pride, humility, and pleasure that I heard their initial comments — "You're going to do what, Mom?" — morph into "You go, Girl!"
Here's how this widow was able to hit the road again, with successes and glitches, "Yippees!" and "Yikes!" I hope my choice will inspire others.
Work Crew On Duty
Going it alone doesn't mean doing everything yourself. To achieve what I have takes a village.
I have assembled an amazing team of core helpers, both personal and professional. And then there are the peripheral folks: the gallant truck drivers and friendly truck stop employees I meet when I make my fuel stops, the neighboring RVers at rest areas, as well as those sharing park facilities. All have been happy to come to my aid: backing the coach into my campsite, unsticking a jammed Brake Buddy, correcting a sewer-hose connection, checking my tire pressure, unscrewing a stubborn anything.
To this day, friends continue to generously volunteer their time, their seasoned advice, and their company. On my first solo try, I freaked out. After finally getting everything secured, hooked up, and ready to roll, I turned on the ignition. A loud, relentless, beeping alarm sounded immediately. I frantically called Bill (spouse of my best friend, Carol), who calmly informed me that the beeping would stop once the stabilizers (I think that's what he called them) filled up, and that I could watch their progress on a dashboard meter. Who knew? Recently, he and their son Matt insisted on driving the hour and a half from their home to mine, just to help me hook up my van in the pouring rain after I had refused to cancel my trip because of a little weather (especially since it had been reported that Palm Springs, my destination, was basking in sunshine at that very minute).
And then there are the skilled, trustworthy experts who consistently and professionally tend my beloved Monaco Diplomat. Husband and wife, Candy and Craig, own C&S RV Service Center in Oxnard, California. They, as well as Darren, Mario, Bernice, and other members of their staff, are not only my go-to maintenance mavens; they've also become my good friends — and, on more than one occasion, my rescuers and heroes. I admit that a few unfortunate circumstances required the aid of my own personal rescue squad. Let me assure you, however, that I can relate many more regularly occurring, blissfully satisfying success stories than heart-dropping emergency experiences.
Caution
Each boo-boo has become a good lesson in what not to do. No one was hurt. No trip was aborted. My insurance policy was in place and paid in full. The only injury, aside from the damage to the motorhome, was to my ego. Even then, seasoned RVers who heard about my plights, or observed them firsthand, regaled me with their own horror stories, making mine fit right in. And, let's be honest: the telling, retelling, and embellishments we add to these tales (at least when told well after the fact) are usually the source of some good, old-fashioned belly laughs. Thank goodness we can find humor in our own stupidities. Here are a couple of mine.
When maneuvering a motorhome through a narrow park exit — the kind where you can drive only forward over those protruding road spikes lest you ruin your tires — and with low posts surrounding the kiosk buildings on either side, make sure you don't sheer off your side mirrors. It's a good idea to assign someone outside to guide you through. Otherwise, since you can't hear over the thrum of the diesel engine (i.e., unusual scraping sounds), you're liable to return home to find a really deep, long gash running the entire 40-foot length of one side of the motorhome, requiring not only repair but a new paint job for both the body and all of the cargo doors involved. Yikes!
When it's 10:30 on a warm, dark summer night by the lake, and you've exited the motorhome just long enough to plop something into the trash, leaving inside one 8-year-old granddaughter and three of her friends giggling in their sleeping bags, you hear a rustling in the bushes that scares the living daylights out of you. Thinking it may be a snake or a coyote, you hightail it back into the motorhome, slamming the big, heavy entry door onto the screen door. Next time, no matter how frightened you are or how fast you're hotfooting it back up those steps, make sure you attach the screen door to the big, heavy door before you slam both doors shut. Otherwise, you might discover that the doors have become jammed together. No amount of cajoling will get them to open — not even crawling backward out the emergency window, leaping to the ground, and trying to wrestle them open from the outside. Or by jury-rigging a ladder, climbing up, and crawling back in the coach through the emergency window, trying to separate them from the inside. Double yikes! This predicament did require the services of my personal rescue patrol. Early the next morning, Craig (dad of one of the giggling 8-year-olds) came to the lake and freed the doors.
Road Clear Ahead
Yet, even after some "yikes" moments, it's still true that "all's well that ends well." I'm not sure I have even begun to convey the deep-down satisfaction I've experienced by having tackled something this challenging. All the hard work, effort, and even the specter of the next random risk strangely become part of the excitement and enjoyment of my motorhome. I miss Alan and often feel bad about not having slowed my work down earlier. But then, I remember the long-enough times we did carve out to caravan with friends to Canada, Sedona, and Seattle. And, I think about all those special days, in a decade of summers, that our growing granddaughters spent with us at Lake Casitas, a tradition that we girls continue to this day.
When all is said and done, after I've settled into a campsite, more often than not I will sit in Alan's corner of the couch. I'll look around our beautiful motorhome and announce to myself (and the pups) my own proclamations of gratitude and appreciation — for never feeling lonely despite being alone, for lots of wonderful memories, and for all that awaits me just around the next bend in the road.