Retro meets modern in this gas-powered Type A motorhome from Winnebago Industries.
By Bob Zagami
June 2015
With 50-plus years of experience building quality RVs, what could Winnebago Industries do next? Randy Potts, the company's chairman, CEO, and president, had a few ideas.
He augmented his already knowledgeable team with a few outsiders who would bring a fresh perspective to RV design. He also moved the design process from engineering to brand product managers. These managers became responsible for bringing new RVs to market to meet the changing demographics of buyers and attract a new generation to the RV lifestyle. The result? Intriguing new creations offered to the RV consumer. This brave move to shake things up a bit is a tribute to Winnebago's continuing vision.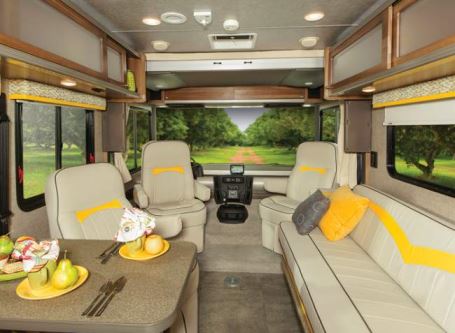 The Itasca Tribute and the Winnebago Brave are the nameplates affixed to two 1960s-inspired product lines that feature an entirely new design. These motorhome brands bring back fond memories for veteran RVers who may remember when the original Brave motorhome impacted the RV industry a generation ago and helped promote the concept of driving an RV rather than pulling a trailer behind a car or truck. Yet, they also incorporate modern features and functionality to interest younger families and others who might use their RVs differently from RVers of the past.
The Tribute 26A has that "wow" factor. Sporting a length of 27 feet 8 inches, it is the shortest of three floor plans in the 2015 Tribute/Brave line. For purposes of this article, we'll focus on the Tribute, though most comments apply to both models.
The Tribute stops people cold when they see what appears to be a restored classic. Once they view its interior amenities, they discover that it is a totally new motorhome with just enough curves and details to harken back to a vintage era, but whose bright colors and up-to-date options embrace today's RV lifestyle.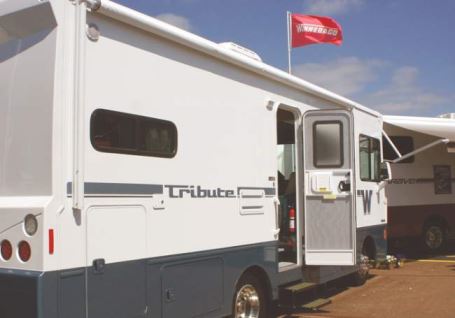 Several iconic features from the early-day Brave are recognizable on the Tribute's exterior. These include the company's signature "eyebrow" above the front windshield. The front cap, with its large, single-pane windshield, is simple yet distinctive enough to bring back memories when people see it rolling down the highway. And don't forget the "Flying W" graphic on the sidewall — the first time this branding has appeared on a motorhome in the Itasca model line. It's easy to see how some folks could mistake this vehicle for a refurbished original.
I love the color selections with retro names that have been chosen for this coach. Five exterior color schemes are offered: Aquarius, Bell Bottom Blue, Crimson 'n Clover, Mello Yellow, and Woodstock. My personal favorite is Mello Yellow, which I observed was popular among onlookers at the early RV shows where this unit was previewed. A band of color, depending on the scheme, wraps around the lower section of the coach, including the storage compartments.
The side-swinging compartment doors, which often grace more expensive coaches, seem to indicate that product managers listened to consumers' comments. Some RVers prefer them over the swing-up doors, which you can hit your head on, if you're not careful, and which can make it difficult to gain access to the contents inside.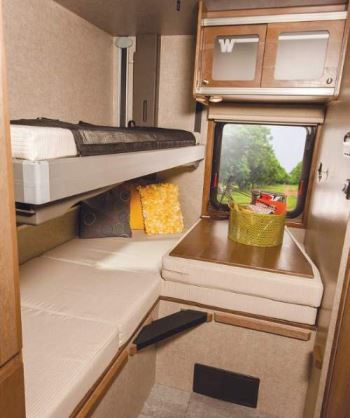 Behind these doors, at a comfortable height for most people, are the propane tank, the waste management system, and the 4,000-watt Cummins Onan MicroQuiet gasoline generator. Other exterior compartments offer ample storage (92 cubic feet) for weekend trips or extended vacations. At the rear of the coach is a big "trunk" compartment for stowing larger toys and containers.
The Tribute sits atop the popular Ford F-53 gasoline chassis, which is powered by the equally popular 362-horsepower 6.8-liter Triton V-10 SEFI engine, paired with a TorqShift five-speed automatic transmission. Add to that seven-pin trailer wiring, a robust 5,000-pound towing capacity, automatic hydraulic leveling jacks, and stainless-steel wheel liners.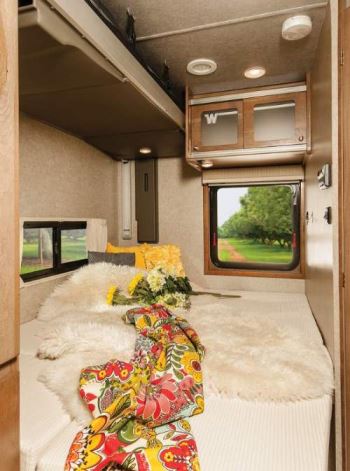 The motorhome reflects Winnebago's SuperStructure construction methods. These include a fiberglass roof; Thermo-Panel sidewalls; e-coating protection on critical steel components; embedded steel sidewall pieces to secure cabinets and appliances; laser-cut structural steel tubing; and interlocking joints that connect sidewalls, floor, and roof.
 Just shy of 28 feet long, with a width of 8 1/2 feet and an exterior height of 11 feet 9 inches, the 26A is easy to drive. Its 80-gallon gas tank provides a driving range of slightly less than 1,000 miles. With its 42-gallon black water and gray water tanks and a 40-gallon fresh water tank, you can venture off the asphalt highway for a few days of dry camping while mountain climbing, kayaking, bike riding, or enjoying other leisure-time activities. The 18-gallon LP-gas tank is permanently mounted and also comes with an outside gas accessory connection. Relax under the 19-foot power patio awning on the curb side of the coach, where standard exterior speakers are located.
Though the exterior grabs attention, it's the interior that sets this motorhome apart. Manufacturers are continually challenged to see how creative they can be inside an RV, given the inherent space constraints and livability requirements. The Tribute product management team incorporated some great features inside the 26A to resonate with changing RVer demographics and expectations.
After ascending the automatic entrance steps into the coach, let's sit in the cockpit. The brushed-aluminum panels suggest a retro design but are also reflective of a new generation. The Rand McNally RV GPS navigation system with a 6-inch touch-screen monitor, which incorporates the rearview camera, slides on an aluminum rail between the pilot and copilot to allow both to assist with navigational needs along the way.
Also in the dash is an AM/FM Bluetooth-ready radio with a time/alarm clock, four speakers, and a front auxiliary input. This seems in line with the technology expectations of a younger generation connected to the music world through smartphones and computers.
The power mirrors are equipped with defrost capability. A front wraparound curtain assures your privacy when calling it a day and relaxing with the family in the rest of the coach.
And more about color. Four interior decors are available, with descriptive names of their own: Calypso, Corduroy, Good Vibrations, and Moody Blue. Small patches of accent color sewn into the vintage-look upholstery add to the ambience without overemphasizing the throwback theme. Two wood choices are offered as well: Cherry Cola and a lighter Cream Soda.
Sleeping accommodations are obviously a big factor a family looks at when determining whether a particular motorhome will meet their requirements. In the Tribute 26A, a traditional 60-inch-by-75-inch queen-size bed is located in the rear, on the curb side. Additional sleeping space is provided in this area in the form of Winnebago's own StudioLoft bed, which drops down from the ceiling above the queen-size bed via a power lift system. A StudioLoft bed also is used to create a nice second bedroom in the front of the coach; this bed drops down from the ceiling just above the pilot and copilot seats. The Flex sofa bed, on the curb side of the living area, offers a 40-inch-by-74-inch sleeping area.
So, if my math is good today, two adults and potentially three children could sleep comfortably in this coach.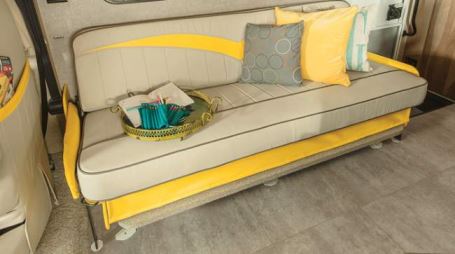 Flexibility and creativity come into play with the floor-level seating and sleeping accommodations. The Flex sofa bed flips up to create a great workspace that could be used as a dining buffet or could function as a desk for couples working on the road. Or fold it up to create an expansive open area — great for holding bicycles or dog crates while traveling. Six tie-down anchors are provided in the floor to secure the cargo. Another workstation pulls out in front of the copilot seat.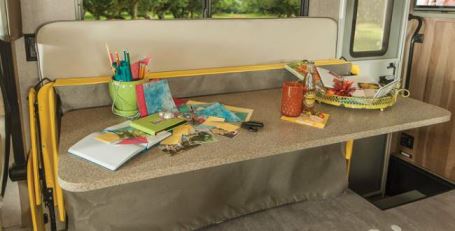 The queen bed in the rear also can be folded back to allow for a larger dressing area, just outside the bathroom.
 The 26A floor plan also affords plenty of dining options for two to seven people. The small dinette will accommodate two on the bench seat, and the third captain's chair can be swiveled around for another person to eat in this area. Young families will appreciate the standard child safety tether anchors that are behind the dinette cushion.
Two additional people can be served comfortably around the removable pedestal table that sits between the cockpit captain's chairs. That creative Flex sofa bed in the workspace configuration could accommodate another two or three folks for dining. It might get kind of tight in there, but that's a lot of dining options for "Rainy Days and Mondays" (remember the 1970s Carpenters song?).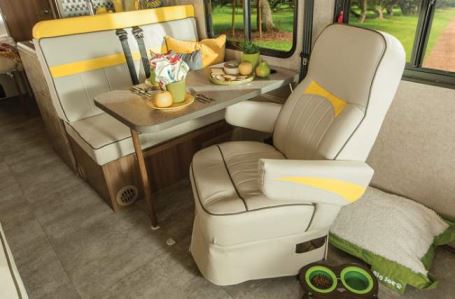 A 28-inch HDTV is located on the right midship wall as one enters the coach. The owners won't have to wonder whether they lowered the antenna before departing the campground, because the Tribute features a fixed-mast antenna that is never raised. An optional DVD player is mounted above the refrigerator.
Another neat feature is a throwback to earlier days: easy-sliding cabinet doors on tracks, many with frosted glass, instead of the flip-up variety common today. The brushed-aluminum look on the doors blends nicely with the same treatment in the dashboard.
While the galley is compact, it delivers enough workspace and amenities to enable RVers to cook up a great meal for the family. The laminated "waterfall" countertop and decorative backsplash surround the three-burner range top with oven and a deep, double stainless-steel sink with a tall pull-out faucet for easy cleanup. A flip-up counter extension is a welcome addition.
The galley also includes a microwave oven and a two-door refrigerator-freezer. I think the new generation of RVers will want the convection-microwave option here, as they will not be using the oven as much as their parents did. I wouldn't take out the oven, however, because veteran RVers, including those who downsize to this unit, may still desire this kitchen appliance.
The single-sheet vinyl flooring makes for easy maintenance throughout the coach and allows you to spend more time outside with your family. Other amenities throughout the coach include LED lighting and MCD blackout shades.
The Tribute 26A's bath area is located in the rear street-side corner. It also contains laminated countertops, plus a medicine cabinet, a flexible showerhead, and a shower curtain in lieu of a door. The overhead skylight is a plus, as is an additional water pump switch. The traditional RV foot-pedal-type toilet is at residential height.
As noted, two other floor plans are available in the Tribute line. The 27B, measuring 29 feet 4 inches, includes a front street-side slideout with a U-shaped dinette just behind the cockpit, and a queen-size bed on the rear wall. The 32-foot-11-inch 31C features a full-wall street-side slideout that can accommodate a queen-size or king-size bed and a full-size sofa bed. It also has a curbside slideout up front with a dinette and a 46-inch retractable HDTV.
If you can spell "f-u-n," you can have a lot of it with this unique retro motorhome. The Itasca Tribute is designed to appeal to many segments of the consumer population with its fun features and flexibility. It should work for a young family in search of their first motorhome, and for veteran RVers still young at heart.
Specifications
Winnebago Industries Inc., P.O. Box 152, Forest City, IA 50436; (641) 585-3535;
www.winnebagoind.com
MODEL
Itasca Tribute
FLOOR PLAN
26A
CHASSIS
Ford F-53
ENGINE
6.8-liter Triton V-10 SEFI; 362 horsepower at 4,750 rpm; 457 pound-feet torque at 3,250 rpm
TRANSMISSION
TorqShift five-speed automatic with tow-haul
WHEELBASE
158 inches
TIRES
Goodyear G670RV 245/70R19.5.G
BRAKES
Hydroboost power; 4-wheel ABS
ELECTRICAL SERVICE
30 amps; AC/DC load center with 45-amp converter-charger
BATTERIES
chassis — (1) heavy-duty, 750-cca
house — (2) deep-cycle, Group 24
EXTERIOR LENGTH
27 feet 8 inches
EXTERIOR WIDTH
101.5 inches
EXTERIOR HEIGHT
11 feet 9 inches
INTERIOR HEIGHT
6 feet 9 inches
GROSS COMBINATION WEIGHT RATING (GCWR)
23,000 pounds
GROSS VEHICLE WEIGHT RATING (GVWR)
16,000 pounds
GROSS AXLE WEIGHT RATING (GAWR)
front — 6,500 pounds;
rear — 11,000 pounds
OCCUPANT & CARGO CARRYING CAPACITY (OCCC)
2,480 pounds
FRESH WATER CAPACITY
40 gallons
HOLDING TANK CAPACITIES
black water — 42 gallons;
gray water — 42 gallons
FUEL CAPACITY
80 gallons
FUEL REQUIREMENTS
gasoline
PROPANE CAPACITY
18 gallons
HEATING SYSTEM
30,000-Btu low-profile ducted furnace
AIR-CONDITIONING
(1) 15,000-Btu ducted air conditioner
ALTERNATOR
175 amps
WARRANTY
coach — 12 months/15,000 miles, basic limited;
structure — 36 months/36,000 miles, limited
chassis — 36 months/36,000 miles, limited
powertrain — 5 years/60,000 miles, limited
MANUFACTURER'S BASE SUGGESTED RETAIL PRICE
$96,599-$121,379 (all 3 floor plans)