Thor Motor Coach calls this entry-level motorhome an RUV, or "recreational utility vehicle."
By Lazelle Jones
August 2015
A stylish Type A motorhome built on a chassis traditionally reserved for production of Type Cs has arrived: the Thor Axis. Thor Motor Coach (TMC) designers have chosen the Ford E-Series platform for this entry-level Type A, which is available in 25-foot and 26-foot lengths.
TMC literature refers to the Axis as an RUV, or "Recreational Utility Vehicle" — a cross between an RV and an SUV. The Axis is well-equipped for living, cooking, relaxing, and sleeping — the RV part of the equation. To those behind the wheel, its lighter weight, shorter length, and maneuverability suggest the features of an SUV.
Called an affordable Type A motorhome, with a base manufacturer's suggested retail price (MSRP) of $97,500, the Axis comes well-appointed. Only a half-dozen options are offered and, if all are included, raise the total MSRP by just $2,800. (My test coach included an optional 32-inch television in the bedroom, and a second optional exterior TV.)
Recently, I took a long look at the 2016 Axis 25.2. I crawled over, around, and through this unit. I also enjoyed some road time, taking the coach through urban and rural settings, and out on the interstate.
It was apparent that the Ford E-Series chassis on which the Axis sits is not a heavy truck chassis, the kind traditionally reserved for Type A motorhomes. The E-Series is 5 inches lower than the typical heavy truck chassis, which translates to a lower center of gravity. The 25.2's wheelbase is 194 inches . The E-series chassis comes with independent coil-spring front suspension in lieu of the leaf springs that also are typical on heavy truck rail chassis.
 Thor Axis Motorhome Design And Construction
The Axis is engineered, designed, and constructed at TMC's manufacturing facility in Elkhart, Indiana. It all starts with a stripped chassis from Ford, which comes without cab components such as doors, windows, windshield, dash, instrumentation, and seats. The chassis does arrive with the rails, suspension system, wheels, powertrain (a Triton V-10 fuel-injected gasoline engine), Ford five-speed electric transmission with tow/haul mode, steering column, and Ford factory-installed items pertinent to chassis functions.
The walls, floor, and roof are vacuum-laminated. Cut-to-fit block foam insulation is placed between aluminum studs that are attached to a perimeter of structural steel. Steel plates are laminated into the walls, roof, and floor in locations where grab handles, appliances, and other components that require extra strength for attachment are fastened.
Gel-coat fiberglass covers the exterior. The roof is dressed with thermoplastic polyolefin (TPO). The floor structure, from the road side up, includes a Darco underbelly, steel framing, polystyrene insulation, and oriented strand board (OSB) top decking. Steel fasteners mechanically attach the floor structure to the E-Series chassis.

The Axis' structural integrity, as noted above, is based in part on the steel and aluminum members that create the house and cockpit structure and are then attached to the chassis rails. The test unit's E-Series chassis has a 12,500-pound gross vehicle weight rating (GVWR); the approximate cargo carrying capacity of the Axis 25.2 is 1,400 pounds. Keep in mind that you will need to subtract several weights from this figure: water tank (39-gallon capacity), passengers, and cargo. In addition, the gray water and black water holding tank capacities are 40 and 30 gallons, respectively. As with any motorhome, pay attention to the amount of cargo (weight) available so the GVWR is not exceeded.
The coach comes equipped with a Class III hitch receiver that permits the Axis (when loaded to its GVWR) to tow a maximum of 6,000 pounds.
TMC's exclusive HD-MAX graphics package adds punch to the coach exterior. Two color choices are offered: Vanilla Ice and Wind Jammer.
Special mention needs to be made regarding the Axis' single-piece windshield. It curves and wraps, almost overhead, where it attaches to the roof. This turns the cockpit into a viewing platform with optimum visibility. I have never seen such visibility in a motorhome, Type A or otherwise. Watching the world from the cockpit as you motor through changing venues is nothing less than awesome.
The modern exterior lines and graphics of the Axis do not go unnoticed by onlookers. whether seasoned RVers or not. This motorhome would fit nicely into an upscale luxury RV resort.
Nuts And Bolts
Multiple exterior rotocast storage bays yield 47 cubic feet of storage. The forward-most compartments permit coach-wide placement of items such as skis and fishing poles. TMC's patented Mega Storage compartment, which opens from the rear of the coach, is huge. It is located directly below the queen-size bed in the stateroom and is most easily accessed before the rear slideout is extended.
The  Axis is heated by a 30,000-Btu forced-air furnace that uses fuel from the 10-gallon propane tank, as does the 6-gallon water heater. The water heater also runs on electricity when connected to shore power.  A 13,500-Btu roof air conditioner comes standard, and an optional 15,000-Btu unit is offered. A 4-kw gasoline-powered auxiliary generator uses the Ford chassis' factory-installed 55-gallon fuel tank. The tank gives this motorhome a driving range of approximately 500 miles. Couple this with prudent fresh-water management, and primitive RV camping can be enjoyed for extended periods (using the generator for residential electric power).
The Axis is wired for 30-amp shore power.
Gaining access to the Ford Triton V-10 engine for maintenance is uncomplicated. TMC designers have created a large, louvered front panel on a hinge, which can be unlatched and lowered out of the way, down against the front bumper area. It raises, closes, and latches just as easily.
Thor Axis Motorhome Floor Plan
Everything described above becomes moot if livability, functionality, appointments, comfort, and interior aesthetics fall short. These elements are well attended to in the Axis. Entering the coach immediately aft of the passenger seat in the cockpit, you encounter an upscale world, especially for an entry-level motorhome.
The 25.2 floor plan incorporates a rear queen bed. With sleeping space provided up front, the motorhome can sleep five or six. It has seat belts for five. Although all four Axis floor plans include slideouts, this particular layout intrigued me. Its electrically operated rear slideout extends 33 inches directly out the rear wall. When expanded, the bedroom yields a walk-around queen-size bed (60 inches by 74 inches) flanked by half wardrobes and  ledges that serve as mini nightstands. It is the only one of the four with this rear-slideout configuration.
An optional HD wall-mounted 32-inch television is viewable from either side of the bed. Roll-out drawers under the foot of the bed provide interior stateroom storage. A pocket door separates the bedroom from the front of the motorhome.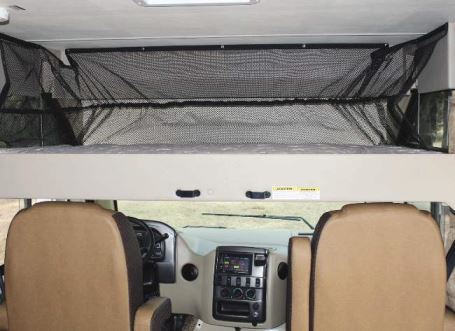 The residential-style street-side bathroom features a huge (30-inch-by-36-inch) shower that is topped by a skylight. The stainless-steel lavatory is surrounded by  a high-end pressed laminate material. This material covers surfaces throughout the Axis (galley counter, pedestal tables, nightstands, etc.).
Front to rear, frameless dark-tinted windows appear black from the outside and provide privacy to coach occupants without impeding visibility of the world outside. The windows are hinged in the middle, which enables them to be folded open to provide ventilation, even if it is raining. Pleated night shades are sequestered behind valances, ready to lower as needed. A retractable roller-mounted shade made of solid vinyl outfits the galley window.  In the cockpit, another solid-vinyl windshield shade offers sun management and privacy; it lowers and raises via a toggle switch located on the dash.
TMC designers have incorporated a convenient, space-saving feature that seems to be regaining popularity. In the cockpit, a power bunk bed, topped by a patented Cotton Cloud mattress, tucks up against the ceiling and raises and lowers at the touch of a switch. A lightweight aluminum ladder provides access to the bunk. Netting surrounds three sides of the bed to keep occupants in place. This provides sleeping space for one adult or a couple of kids.
The leatherette-covered cockpit chairs swivel aft for use as seating in the living area. A post-mounted table installs quickly in the floor between them. The chairs are next to the 68-inch-long street-side sofa, which also is dressed with leatherette material, and converts to sleeping quarters. A long tabletop supported by twin posts mounts in front of the sofa. Above the sofa, cabinets provide storage. A 32-inch wall-mounted HD television is located above the main entry for viewing by sofa occupants.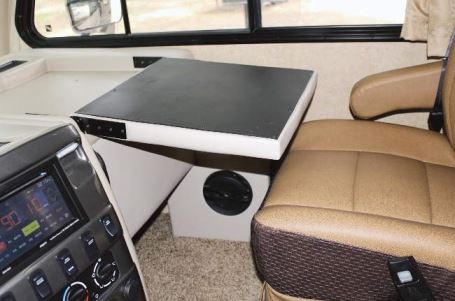 The Axis' galley is equipped for full-service kitchen operations, whether you're raiding the standard 6-cubic-foot, two-door refrigerator-freezer for a midnight snack or preparing a sit-down feast. The granite-looking galley counter comes with a hinged fold-up extension. Cabinets and drawers line the area above and below the counter. Standard cooking appliances consist of a three-burner gas cooktop and a convection-microwave oven above. A conventional oven can be added as an option.
The Axis 25.2 measures 26 feet 6 inches long and is the longest of the four floor plans offered (the shortest is 25 feet 6 inches). In addition to the conventional oven mentioned above, other available options are a higher-capacity roof air conditioner (a 15,000-Btu unit in place of the standard 13,500-Btu model); 32-inch exterior patio area and bedroom televisions; dual roof attic fans; and a second house auxiliary battery.
The Axis RUV should prove a worthy contender for motorhomers interested in a vehicle for basic transport, tailgating, weekend destinations, and longer treks – or all of these.
SPECS
MANUFACTURER
Thor Motor Coach, P.O. Box 1486, Elkhart, IN 46515; (800) 860-5658; www.thormotorcoach.com
MODEL
Axis
FLOOR PLAN
25.2
SLIDEOUTS
(1); rear wall
CHASSIS
Ford E-Series
ENGINE
Triton V-10; 305 horsepower @ 4,250 rpm; 420 pound-feet torque @ 3,250 rpm
TRANSMISSION
TorqShift 5-speed automatic with overdrive
AXLE RATIO
4.10 to 1
TIRES
225/75R 16
WHEELBASE
194 inches
BRAKES
all-wheel disc
SUSPENSION
coil, front; leaf, rear
SHOCK ABSORBERS
monotube
STEERING
power
ALTERNATOR
155 amps
BATTERIES
chassis — (1);  72 AH; 650 cca; maintenance-free
house — (1) standard; second, optional
ELECTRICAL SERVICE
30 amps
AUXILIARY GENERATOR
4-kw Cummins Onan RV QG 4000 gas
EXTERIOR LENGTH
26 feet 6 inches
EXTERIOR WIDTH
94 inches (without mirrors)
EXTERIOR HEIGHT
11 feet 3 inches
INTERIOR HEIGHT
6 feet 10 inches
GROSS COMBINATION WEIGHT RATING (GCWR)
18,500 pounds
GROSS VEHICLE WEIGHT RATING (GVWR)
12,500 pounds
GROSS AXLE WEIGHT RATING (GAWR)
front — 5,000 pounds;
rear — 9,600 pounds
OCCUPANT & CARGO CARRYING CAPACITY (OCCC)
1,400 pounds
INSULATION
solid foam
FRESH WATER CAPACITY
39 gallons
HOLDING TANK CAPACITIES
black water — 30 gallons;
gray water — 40 gallons
FUEL CAPACITY
55 gallons
FUEL REQUIREMENTS
gas
PROPANE CAPACITY
40.9 pounds
WATER HEATER
6 gallons
WATER SYSTEM
demand
HEATING SYSTEM
30,000 Btu
AIR CONDITIONING
(1) 13,500 Btu
REFRIGERATOR
6 cubic feet
TOILET
Thetford china
WARRANTY
coach — 12 months/15,000 miles;
chassis — 36 months/36,000 miles
BASE SUGGESTED RETAIL PRICE
$97,500
PRICE AS TESTED
$99,105