One of the newest floor plans in Airstream's Interstate Touring Coach line functions nicely as a passenger vehicle around town and as a long-distance cruiser for two.
By Lazelle Jones
June 2016
Cradled on a 3500 Series Mercedes-Benz Sprinter EXT unibody van chassis, the 2016 Interstate from Airstream Inc. is ready to roll — in style. Though long known for building distinctive travel trailers, Airstream also constructs Type B motorhomes for its Touring Coaches line. These vehicles embody the same design and engineering experience, attention to detail, and state-of-the-art quality control as their towable cousins. Case in point: the 2016 Interstate 3500 EXT Grand Tour. (The EXT stands for "extended.")
The 2016 Interstate is available in six floor plans, with two Grand Tour offerings the newest; four others compose the Lounge Series. The interior height is 6 feet 2.25 inches, which can accommodate most motorhome enthusiasts.
This past spring, I took delivery of a 24-foot-4.5-inch-long, 80-inch-wide Interstate EXT Grand Tour. I picked up the unit from Airstream Orange County, an RV dealer in Westminster, California.
Driving
During my week with the Grand Tour, I navigated it through heavy urban traffic, along winding country roads, and across Southern California's challenging freeways. This large Type B luxury motorhome performed nicely in all motoring scenarios. Equally impressive was the pleasurable residential experience the Grand Tour provided at the end of a day of driving.
The Grand Tour's engine, a Mercedes-Benz V-6 turbocharged diesel, develops 188 horsepower and 325 pound-feet of torque. It comes married to a five-speed automatic transmission. I was able to grab two different fuel economy averages. One figure was a combination of urban and highway driving, which was calculated at 16.3 mpg. The second involved steady highway operation; this figure came to 19.9 mpg. With a fuel tank capacity of 24.5 gallons, the pilot can depend upon a respectable driving range between fuel stops. The Sprinter chassis comes with a fill cap that can be accessed only when the driver's door is open — a nice security feature.
I found the Grand Tour's operating characteristics to be similar to those of a large sedan or SUV. The configuration and layout of the controls and instrumentation are quintessential Mercedes-Benz: well-thought-through and intuitive. Anyone who can drive a large passenger vehicle, including a full-size pickup truck, can slide in behind the wheel of this motorhome and be off to the races.
 The optional rear air-ride suspension increases handling stability and passenger comfort. Its active load leveling and ride height control features are useful when towing a vehicle or carrying heavy cargo. The air suspension also can be used to lower the coach temporarily for loading or unloading.
Design considerations obviously included human factors and ergonomics. The heated cockpit seats are adjustable, as is the steering wheel, making it possible to tailor the controls to the size of each person who drives it or who comes along for the ride in the copilot chair. The multifunction, tilt-and-telescopic steering wheel with trip computer enhances the driving experience. Small touches are appreciated, too, such as an overhead compartment for sunglasses.
Even though the Grand Tour is more than 24 feet long, it's immediately apparent to the driver how the unit interfaces with its surrounding environment. Visual and auditory information are continuously transmitted via the Collision Prevention Assist system. Via the Blind Spot Assist, the Lane Keeping Assist, and the Parktronic Audio/Visual Front and Rear Parking Assist, the driver knows exactly where the coach is relative to its position in the lane. These tools also alert the driver to traffic moving along either side of the coach; they visually display what's taking place at the rear or sides of the unit on the 7-inch high-definition LED screen, which is mounted where a rearview mirror normally would be. A GPS navigation/satellite radio/DVD system is also standard.
Above the cab, coach-wide smoked sliding-glass doors conceal the Blu-ray player and other audiovisual components that make up the entertainment system.
Exterior
The Interstate line comes in a choice of three exterior full-body paint colors: Brilliant Silver Metallic, Jet Black, and Arctic White. My test coach sported the silver scheme.
Airstream replaces the conventional factory body cladding with smooth-finish, painted-to-match cladding, bumpers, side skirts, and spoiler. This upscale look distinguishes the Interstate from a commercial van.
Entry into the motorhome through the main curbside cabin door, via the power entry step, reflects another well-thought-out design. The door glides rearward effortlessly. The test unit included an optional top-to-bottom sliding screen that manually glides on its own track to an open or closed position. In some other van-type motorhomes with entryways such as this, keeping flying insects out while providing ventilation throughout the interior is a perennial issue. Airstream has effectively solved it on this motorhome.
At the rear of the unit, the hinged, center-split doors open from the middle and swing out wide for easy, unimpeded access. Should an even larger opening be required, the hinges can be released, permitting the doors to swing out and around until they are flush against the exterior curb and street sides of the van body. Through this rear doorway, storage is accessible below the bench seat. Storage is also available behind the bench seat when the doors are closed for travel. An optional power screen articulates across this rear opening, which enables these doors to be left open for airflow.
The Grand Tour's total cargo and passenger-carrying capacity is 1,920 pounds, which is the difference between the dry weight and the unit's gross vehicle weight rating (GVWR) of 11,030 pounds. The actual gross weight of the unit reviewed (which included a full tank of fuel, a full propane tank, no cargo or passengers onboard, and empty holding tanks) was recorded at 9,260 pounds. The front and rear axle weights were 3,340 and 5,820 pounds, respectively. In addition, this unit has a gross combination weight rating (GCWR) of 15,250 pounds (and comes with a tongue weight of up to 500 pounds). All the electrical wiring and connections needed for towing come installed as standard equipment.
Interior
The Grand Tour floor plan features seating for six, not including the driver. This means it's capable of chauffeuring the "troops" around town, heading to the supermarket, and performing other tasks of conveyance. When used for travel, it accommodates two for sleeping. Its front and rear venues are comfortable spots to have lunch or take a brief break during a stop along the road, at a rest stop, or in a parking lot.
Despite the Type B designation, which may lead some to conclude that the Grand Tour's accoutrements are minimal in comparison to much larger motorhomes, it is full of functional and luxury appointments.
Immediately aft of the driver's seat is a wall-mounted Corian-topped workstation table that folds down into position when the driver's seat is turned to the rear and secures against the wall when not needed.
A tabletop also stows against the wall behind the driver's chair. It attaches to a slim stainless-steel post that fits in a storage bag and can be stashed in various locations inside the vehicle. This table can be installed in two places: up front for use by those seated in the pilot and copilot chairs when they are turned rearward, or in the back of the motorhome between the bench seat and accompanying chairs.
A center-aisle passageway leads from the front of the coach to the rear area that doubles as a living room and bedroom.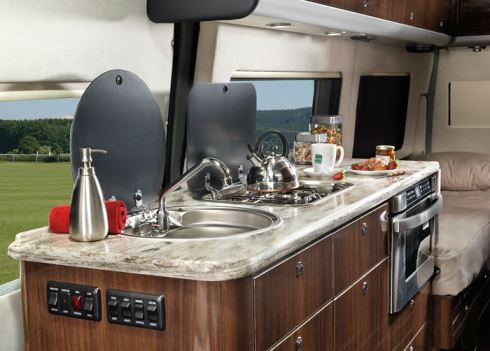 A full-service galley is positioned on the curbside wall between the cockpit and the rear living area. It includes a complex of drawers, cabinets, and a 1.2-cubic-foot microwave oven. These items are topped with a granite-look Corian countertop with backsplash. Two thoughtful touches are the wastebasket and paper-towel holder built in under the countertop. Overhead cabinets line the galley area and flow to the rear, across the back, and then forward to the bath area on the street side of the coach.
A two-burner cooktop and a stainless-steel sink are designed into the countertop surface. Both are disguised beneath fold-up covers made of smoked glass. A fold-up faucet remains tucked away in the sink until the cover is raised and it is swung upward for service. A flip-up Corian counter extension at the aft end of the galley yields additional work surface.
Across from the sink and cooktop is a floor-to-ceiling Nova-Kool Marine refrigerator-freezer, which sits conveniently opposite the galley counter complex. This appliance is split horizontally, with the refrigerator in the top half and the freezer in the bottom; each section is 3.1 cubic feet. The refrigerator-freezer operates on 12 volts DC and automatically seeks 120-volt-AC power when it recognizes that the auxiliary generator is running or the coach is connected to 30-amp shore power.
Just forward of the fridge is a floor-to-ceiling pantry with built-in shelves and pull-out drawers.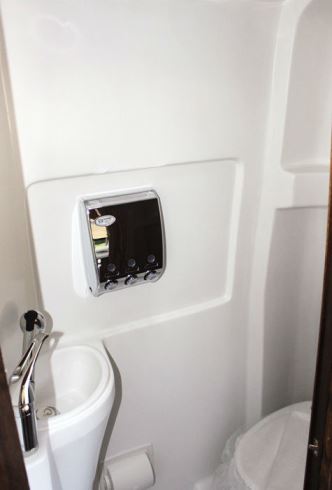 Aft of the refrigerator is a full-service wet bath. Equipped with a stand-up shower; a lavatory and basin with mirror; soap, shampoo, and conditioner dispensers; a marine-style toilet; and even a retractable clothesline, the bath seems to provide all of the necessary creature comforts. This totally private water closet occupies its own permanent space. It's always ready for use; no need to set up any shower catch basins or temporary shower walls. A shower curtain on the inside is drawn closed to protect the entry door when the shower is put into service.
The rear living area is a versatile, 24-7 space. During the day, the forward-facing bench-style seat is flanked by opposing seats on either side wall; the portable post and tabletop can be inserted between them if desired. When bedtime approaches, this area quickly converts from salon to spacious stateroom by reconfiguring all three seats. After manually extending a support arm from beneath the bench seat, the owner lowers (or raises) the seat by the touch of a button. In a couple of minutes, this area becomes a comfortable sleeping quarter with a bed as its centerpiece. The more than queen-sized bed (70 inches by 82 inches) sleeps two adults very comfortably.
Mounted on the wall in the rear of the Grand Tour is one of two LED wide-screen HDTVs; both articulate away from their stowed locations on an interior wall via robotic-style arms. Occupants can position the rear TV for viewing from anywhere in the back half of the motorhome. The second television is tucked away just behind the driver's seat. It, too, can be set at the right viewing angle for those in the front.
Airstream's interior designers have done an admirable job of appointing the Grand Tour in a bold, contemporary manner, including the use of curved, high-gloss, laminate cabinetry and aluminum finishes throughout. Three wood colors are offered: Onyx, Light Camel, and Columbian Walnut. The review unit came dressed in the latter.
The floor is dressed with a composite material decorators call ship deck flooring. As the name suggests, it resembles a series of gray planks. This attractive, low-maintenance covering cleans up quickly with a broom or a damp mop.
Flat, black glass windows provide total privacy during daytime, while reducing the effects of the sun on the interior. Padded, upholstered valances surround the windows, yielding a pleasant softened appearance. Behind the valances, powered roller shades and blinds are controlled by an easy-to-use master remote control. Privacy from the outside world is further achieved by a set of snap-in insulated and reflective window covers for the heated windshield and driver and passenger doors, which still allow use of the cockpit chairs in the evening. Ultraleather fabric covers the seats.
The Interstate's electrics include a 1,000-watt inverter that incorporates two dedicated AGM house batteries and supplies power to the AC receptacles, the microwave, and the televisions. The house batteries are charged by the 220-amp engine alternator, the 2.5-kw propane-fueled auxiliary generator, a connection to 30-amp shore power, or by the 100-watt solar panel.
Plumbing systems feature fresh, gray, and waste holding tanks with sizes of 32, 27, and 13 gallons, respectively. The gray-water and black-water tanks are evacuated via a macerator pump discharge system that comes with an electric hose reel to retract the dump hose.  An exterior shower stands ready with both hot and cold running water, which is delivered from the 6-gallon dual-mode electric/propane-fueled water heater.
The base manufacturer's suggested retail price of the Interstate Grand Tour EXT is $155,060. As tested, with options that included the side screen door and power rear screen door, add-on seats, rear air suspension, and Brilliant Silver Metallic exterior, the MSRP came to $167,120.
Be it an extended stay at an RV resort, several days off the grid in a primitive camp setting, or even tooling around town, the 2016 Airstream Interstate Grand Tour delivers.
SPECIFICATIONS
MANUFACTURER
Airstream Inc., 419 W. Pike St., P.O. Box 629, Jackson Center, OH 45334; (937) 596-6111;
www.airstream.com
MODEL
Airstream Interstate
FLOOR PLAN
Grand Tour
CHASSIS
Mercedes-Benz Sprinter 3500 Extended
ENGINE
Mercedes-Benz 3.0-liter V-6 turbo-diesel; 188 horsepower at 3,800 rpm; 325 pound-feet torque at 1,400 to 2,400 rpm
TRANSMISSION
5-speed automatic
AXLE RATIO
3.92 to 1
TIRES
215/85 R16
WHEELS
Alcoa aluminum
WHEELBASE
170 inches
BRAKES
four-wheel ABS disc
SUSPENSION
front — independent;
rear — VB air ride (optional)
SHOCK ABSORBERS
heavy-duty with stabilizer bars
STEERING
rack and pinion
ALTERNATOR
220 amps
BATTERIES
chassis — (1) AGM;
house — (2) AGM
INVERTER
1,000-watt Magnum
ELECTRICAL SERVICE
30 amps
AUXILIARY GENERATOR
Cummins Onan 2.5-kw, propane
EXTERIOR LENGTH
24 feet 4.5 inches
EXTERIOR WIDTH
79.7 inches (with mirrors)
EXTERIOR HEIGHT
9 feet 8 inches (with A/C)
INTERIOR HEIGHT
6 feet 2.25 inches
GROSS COMBINATION WEIGHT RATING (GCWR)
15,250 pounds
GROSS VEHICLE WEIGHT RATING (GVWR)
11,030 pounds
GROSS AXLE WEIGHT RATING (GAWR)
front — 4,410 pounds;
rear — 7,720 pounds
AS-TESTED WEIGHT
(weighed with full fuel and propane, empty holding tanks, no passengers)
front axle — 3,340 pounds;
rear drive axle — 5,820 pounds;
total — 9,260 pounds
OCCUPANT AND CARGO CARRYING CAPACITY (OCCC)
1,920 pounds
INSULATION
EcoBatt thermal and acoustical
FRESH WATER CAPACITY
32 gallons
HOLDING TANK CAPACITIES
gray water — 27 gallons;
black water — 13 gallons
FUEL CAPACITY
24.5 gallons
FUEL REQUIREMENTS
diesel
PROPANE CAPACITY
61.9 pounds
WATER HEATER
6-gallon Atwood XT
WATER SYSTEM
demand
HEATING SYSTEM
(1) 16,000-Btu
AIR-CONDITIONING
(1) 13,500-Btu
REFRIGERATOR
Nova-Kool Marine 3.1-cubic-foot refrigerator/3.1-cubic-foot freezer, 12-volt DC and 120-volt AC
TOILET
gravity foot flush
WARRANTY
coach — 3 years/36,000 miles;
chassis — 3 years/36,000 miles;
engine — 5 years /100,000 miles
BASE SUGGESTED RETAIL PRICE
$155,060
PRICE AS TESTED
$167,120
Cradled on a 3500 Series Mercedes-Benz Sprinter EXT unibody van chassis, the 2016 Interstate from Airstream Inc. is ready to roll — in style. Though long known for building distinctive travel trailers, Airstream also constructs Type B motorhomes for its Touring Coaches line.