Friendships and photography highlight one Arkansas couple's multiple trips north.
By John Johnston, Associate Editor
June 2016
Let's say you went to the moon, returned to Earth, and then embarked on a trip that took you nine-tenths of the way around the world. After all that, you would have journeyed about half a million miles.
That's how far Will and Charlene Triplet, F395462, have traveled in an RV since 1964, when they rented a travel trailer on their honeymoon. They bought their first motorhome, a Winnebago Brave, in 1973, and logged more than 80,000 miles with their two daughters. In recent years, Will, 71, and Charlene, 72, have made multiple trips from their home in Mountain Home, Arkansas, to Alaska and back.
Their first excursion to the largest U.S. state, in 2007, was business-related. Will was still working as an audioprosthologist, fitting people with hearing aids or other assistive listening devices. Charlene was the secretary for the seven clinics they owned. Will put together a lunch 'n' learn program, and representatives at a hearing-aid manufacturer thought it would be beneficial for one of the company's clients in Alaska. So, the Triplets were invited to Fairbanks and set out in their Fleetwood Excursion motorhome.
"We were so impressed by how friendly the people were as we were going across Canada and Alaska," Will said. "When we left Alaska in late August, (we figured) we've been here, done that, and now we can do something else. But the more we talked about it, the more excited we got, so we decided to go back the next year, and then the next year."
And then in 2011. And in 2012. And in 2013. Except for the first Alaska trip, they have traveled in their American Eagle, a Type A motorhome from American Coach that they bought new in 2007.
On each trip, they became more savvy about campgrounds, fuel stops, state and national parks, historical sites, and the like. Eventually, they compiled a detailed itinerary. Then, before the 2011 trip, "We just got a hair-brained idea," Will said. "Why don't we invite FMCA members to tag along behind us?"
The invitation appeared in "Readers' Forum" in the March 2011 issue of Family Motor Coaching, and led to 110 inquiries. Late that spring, the Triplets headed north, trailed by a caravan of 18 motorhomes from 17 states. "And none of us knew each other," Will said. But they took comfort in knowing that everyone was part of the FMCA family.
By the end of the trip, many lasting friendships had formed. Years later, some participants in that informal caravan still occasionally stop by the Triplets' Arkansas home. And some gather annually for a reunion in the Southwest.
For the Triplets, every Alaska trip has meant a chance to make new friends or connect with old ones.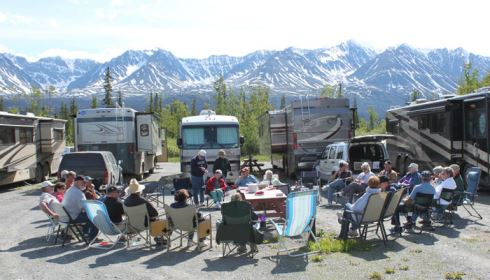 Just off the Alaska Highway in Fort Nelson, British Columbia, they befriended Marl Brown, curator of the Fort Nelson Heritage Museum. Marl, in his mid-80s, with a white beard that Santa would envy, humors his visitors by starting up the museum's antique vehicles or by riding a bicycle that has independently steerable front and rear wheels.
In Fairbanks, the Triplets have friends who take them four-wheeling in the White Mountains, where they pick wild blueberries. And in Tok, Alaska, 200 miles southeast of Fairbanks, the Triplets pile into their friends' all-terrain-vehicles and explore the Tok River basin, including the place where glaciers formed the river.
Once, at an Alaska fuel stop, the Triplets began chatting with an RVing couple from Queensland, Australia. "We struck up a friendship, and it's lasted for about five years," Charlene said. They keep in touch via phone calls and emails. The Aussies have visited the Triplets twice in Arkansas. "We have a standing invitation to go over there," Will said.
The Triplets have even become buddies with fuel-station operators, who give the couple a modest discount.
It's easy to see why the couple keeps returning to Alaska.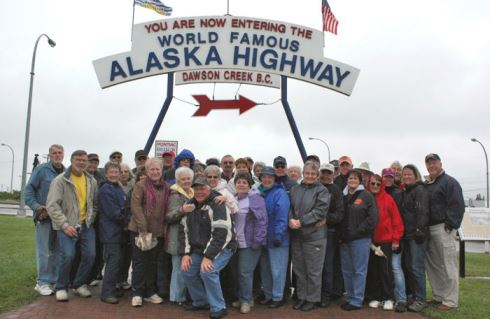 "We've made a lot of friends in the campgrounds, and that's the one time you get to see them," Charlene said. "Plus, we really like to photograph wildlife."
The Triplets have captured images of bald eagles, harbor seals, mountain goats, black bears and their cubs, and moose and their calves. One of Charlene's favorite photos, which she shot in Haines, Alaska, shows a grizzly bear emerging from the Chilkat River, water dripping off its fur, a large salmon in its mouth.
It may seem as though the Triplets have led a charmed life. But there have been challenges. Their first Alaska trip was delayed for a year while Charlene battled breast cancer. Then in 2009, Will was diagnosed with prostate cancer, which is why there was no Alaska trip in 2010.
As cancer survivors, they approach life with an upbeat perspective.
"Live each day as if it's your last," Charlene said.
"Don't put off doing things," Will added.
In addition to their Alaska trips, the Triplets have visited 42 U.S. national parks. Since retiring in 2010, they've also held a number of seasonal jobs. They are spending this summer in West Yellowstone, Montana, where, as work campers, they are assigned to the Cradleboard Gift Shop.
Chances are good that they'll make some new friends. And they'll certainly venture into the nearby national park with their cameras and their never-ending sense of awe. Maybe one of them will capture a picture as spectacular as that salmon-eating grizzly.
"Moments like that," Will said, "the only way to experience it . . . "
"Is to be there," Charlene added.
---
Suggestions Welcome
In the coming months, we will profile FMCA members with interesting backgrounds, hobbies, occupations, and volunteer experiences, and we'll highlight some of their on-the-road adventures. If you know members whose stories beg to be told — and yes, you can nominate yourself — let us know and we'll consider featuring them. Tell us a little about them and send contact information (email address and/or phone number) to Associate Editor John Johnston, jjohnston@fmca.com. Or write him at Family Motor Coach Association, 8291 Clough Pike, Cincinnati, OH 45244.