Tours and shuttles help you get the most out of a visit to Alaska's Denali National Park and Preserve.
By Peter Lewis
August 2016
Alaska is a popular place for motorhome enthusiasts and, once there, few are going to pass up the opportunity to view North America's highest peak. At 20,310 feet, Denali is North America's answer to famous mountains elsewhere.
If Denali's name does not resonate with you, it's probably because you missed the memo. It was known for decades as Mount McKinley, named after Ohio native and President William McKinley in 1897.  Locals always knew it by its Indian name, Denali — "the high one" — and beginning in 1975, Alaska politicians tried regularly to return the mountain's name to its roots. Ohio politicians routinely blocked their attempts. President Obama used his executive power to end the fight without requiring congressional approval. The mountain officially was renamed Denali in 2015.
The national park in which the great mountain sits has a less contentious history. Founded in 1917 as Mount McKinley National Park, it was combined with Denali National Monument in 1980 and renamed Denali National Park and Preserve. The park will celebrate its 100th birthday in 2017.
By whatever name, the mountain and park are worthy of a visit. But a little planning is a virtue, for two reasons. First, the mountain is often shrouded in clouds; only about 30 percent of park visitors get a clear view of it. Second, of the 92 miles of road that traverse the park, only 15 are generally accessible to private vehicles. Buses fill the breach, and some knowledge of their routes and itineraries is useful.
The park encompasses about 6 million acres adjacent to the Alaska Range and is located 237 miles north of Anchorage and 120 miles south of Fairbanks. It's accessible via the George Parks Highway (Alaska Route 3). Glaciers make up 1 million acres of the park. The best time to visit is from late May to mid-September; temperatures are generally cool in the evenings and warm during the day. Mosquitoes (jokingly called the Alaska state bird) can be an issue, especially in June and July.
Getting Around
The park entrance is well marked off the George Parks Highway, and the usual national park fee (or park pass) gets you in. One mile in is the Wilderness Access Center, the place to book bus and shuttle tours and deal with campsites and backcountry permits. A quarter-mile farther is the Denali Visitors Center, a better place to gather information, collect brochures, and book ranger-led programs.
Denali Park Road, the only road in the park, extends for 92 miles to Kantishna, a historic mining district now the site of privately owned lodges. It is not a logical destination for general visitors, nor is it accessible. You may drive your vehicle unimpeded for 15 miles to Savage River, at which point the road turns from paved surface to gravel, and you will be advised to turn around. Travel beyond that point is generally restricted to tour buses and shuttle buses. In fact, National Park Service literature suggests a bus tour as a great way to experience the park.
So, back you go to the Wilderness Access Center to make some decisions about tours and shuttles.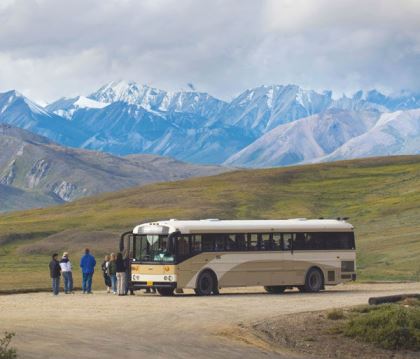 Four tours travel to specific areas and feature a naturalist or educated guide to provide in-depth narration about local history, flora, and fauna. First are the Tundra Wilderness Tours, offered in various lengths and prices. The Denali Natural History Tour is approximately 5 hours long and includes a visit to Savage Cabin. The Kantishna Experience tour lasts 11 to 12 hours and goes all the way to the end of the park road and back. The Windows Into Wilderness tour travels to Mile 30 and stops along the way for a 90-minute guided hike.
The shorter tours include snacks and water; the longest provides a boxed lunch and beverages. Morning or afternoon departures are available.
Don't assume that room will be available on your tour bus of choice; it's best to reserve a seat at least a day in advance. Tour fees range from $66.50 to $194 per adult; the price is less than half for children. Tours start in early June and are offered through mid to late September (last tour date is September 21).
Six shuttles make stops at various fixed spots along the road where you can visit a rest room or other park facilities, take photos, or just enjoy the view. They also stop occasionally in between these points if the bus encounters interesting wildlife or special views. Passengers are free to exit the bus and remain where they are, catching a later shuttle to continue the trip. Reboarding is on a space-available basis. Bus drivers are generally knowledgeable and many will provide some narration, but less comprehensively than the tour guides.
You can bring bicycles with you; up to two bikes can fit on various shuttles (Toklat, Eielson, Camper Buses, and Wonder Lake). If you do get off en route to ride and decide to reboard another shuttle later, pray the bus isn't already carrying someone else's bikes. To be safe, specify when you reserve a trip that you wish to bring bikes on the shuttle.
Shuttles offer various itineraries, ranging from 6.5 to 13 hours in length. The shortest travels 53 miles in, and the longest is 92 miles. Departure times vary. Take food and water, as neither are provided, although limited supplies are available at rest stops. Of course, the longer the trip, the closer you get to the mountain. Prices range from $26.50 to $51 per adult; there is no charge for children 15 and under.
For the general visitor interested in a shuttle, I'd recommend either the Eielson Visitor Center shuttle (66 miles one way, 8-hour round trip) or the Wonder Lake shuttle (85 miles one way, 11 hours round trip). The Eielson Visitor Center, renovated in 2008, offers nice, but distant, views of the mountain (weather permitting) and contains interpretive exhibits. Serious photographers may prefer Wonder Lake for its dramatic scenery.
Speaking of which, photo ops in the park are less than ideal unless you get lucky. While riding on a bus with a generally fixed agenda, you can't determine where or when to stop and are at the mercy of the driver. While under way, you are sitting in a crowded bus with clear window access often obstructed by your fellow travelers, all of whom want the same shot. And while wildlife is abundant, the creatures often remain in the distance rather than give you the close-up you crave.
As noted earlier, 70 percent of visitors fail to see the park's namesake. Improve your odds of viewing Denali by planning visits to the park over a period of days. My wife and I took turns, each of us riding the shuttle for one day and staying at the campground with our dog another day. My wife never saw the great mountain; for me, Denali was resplendent in all its glory.
See the sled dogs. The park has an extensive list of ranger-led activities ranging from guided hikes to evening programs at various locations. And be sure to visit the park kennels where Alaskan huskies are raised and housed. Visitors are free to mingle with the adults and watch the pups play in a caged area. Free 30-minute sled dog demonstrations are held three times daily in peak season (at 10:00 a.m., 2:00 p.m., and 4:00 p.m.), using sleds fitted with wheels.
A shuttle to see the dogs is free. Or, you can walk the 1.5 miles from the Denali Visitor Center to the kennels. Pets are not allowed at the kennels.
Finally, if you are planning a visit to this unique park, you already know about the virtues of Alaska travel and the issues that you may face. With its easy access from the two major metropolitan areas in the state, there's really no reason not to at least attempt to find Denali for yourself.
Further Info
Denali National Park and Preserve
P.O. Box 9
Denali Park, AK 99755-0009
(907) 683-9532
www.nps.gov/dena
Campground reservations and shuttles/tours are sold through a concessioner:
(800) 622-7275
www.reservedenali.com
Camping
Three of the park's six primitive campgrounds accept vehicles, so I'll focus on those. None of these campgrounds has hookups, although the first two do have flush toilets and potable water. The typical season is from mid-May to mid-September. Fees noted below are discounted for holders of senior or access passes.
Riley Creek is the primary park campground, located just inside the entrance. It has 147 sites during high season. It handles vehicles up to 40 feet. Daily fees are $22 to $28, depending on the length of your RV.
Savage River is 13 miles down the main park road and has 33 sites. Vehicles must be less than 40 feet long; fees are $22 to $28 per night.
Teklanika River is 29 miles down the park road. It has 53 sites, but note that the campground is located past that 15-mile limit imposed on private vehicles. Campers willing to reserve a site for the mandatory three-day stay can drive farther into the park than virtually everyone else. That can be a plus for several reasons. It provides a cushion should Denali be hiding in the clouds for a day or two, and it allows you to camp in a more remote area with a higher probability of seeing wildlife close-up in or near the campground. This campground does not have flush toilets, but it does have drinking water. The fee is $22 per night, and vehicles must be less than 40 feet long.
Sadly, some private campgrounds close to the park are little more than crowded parking lots, crammed between a convenience store and a gas pump. I recommend traveling 6 miles south of the park to Denali Grizzly Bear Resort (see below), where campsites have a more traditional feel.
To find additional campgrounds, please check your favorite directory or FMCA's RV Marketplace (online at FMCA.com and in the January issue of FMC magazine) for more listings.
Denali Grizzly Bear Resort is on the George Parks Highway at Mile 231.1. Best ambience close to the park. It has 43 gravel sites; two are pull-through. Sites for large motorhomes are limited. It has 30-amp service, showers, Wi-Fi, laundry, dump station, and store. See www.denaligrizzlybear.com or call (866) 583-2696.
Denali RV Park & Motel is at Mile 245.1. It has 80 sites, some pull-through, with 30-amp power, laundry, showers, dump station, Wi-Fi, cable TV, grocery. See www.denalirvparkandmotel.com; (907) 683-1500.
Denali Rainbow Village RV Park, Motel, and Boardwalk Mall is at Mile 238.6. It has a limited number of 50-amp sites, plus some pull-through and full-hookup sites, with showers, laundry, dump station, Wi-Fi, grocery, and restaurant. Visit www.denalirv.com; (907) 683-7777.