RV-C network communicates with motorhome components and automates their function.  
By Mark Quasius, F333630
September 2016
We are well into the 21st century, and digital technology and the instant exchange of information are pervasive, permanent, and also an integral part of RVs. Technology is being used to monitor and control many motorhome functions.
Today's vehicles are equipped with an engine control module (ECM) that monitors virtually every aspect of the engine. A network connects the ECM to various sensors, and the ECM instantaneously and accurately adjusts the fuel ratio, spark timing, and even valve timing. As a result, engines are more reliable and powerful and offer better fuel economy.
Such technology has been around awhile in OBD-II, the on-board diagnostics system used in most passenger vehicles, as well as the Society of Automotive Engineers (SAE) J1939 network protocol used in heavy-duty diesel engines and chassis.
RV-Can Network
In recent years, the RV industry created and standardized the RV-CAN network protocol, commonly referred to as RV-C, so that various components in the house portion of a motorhome can communicate with each other. CAN stands for controlled area network, technology also used in modern automobiles. A primary supplier of this technology to the RV industry is Firefly Integrations, which created the Firefly System using components from Spyder Controls Corporation.
RV-C configures various systems into a common bus, which is simply a wire (or collection of wires) that carries information. Information from every component can be shared across the bus; any other component that is programmed to read that information can access it.
The main bus typically runs the length of the coach and terminates with resistors at each end. Taps or drops, which are branch runs that tee into the main bus, connect to the various motorhome components. Drops can go to input devices such as switches or sensors, or to output devices such as shade controllers, air conditioners, light controllers, analog interface relays, etc. Multiple switch panels can be used to control a single device from different locations within the motorhome. Backlighting on the panels identifies which circuits are on or off. In addition, master switches can be used to switch off the entire lighting system with the press of a button.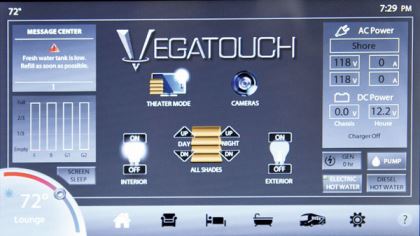 The system relies on distributed logic. In other words, each component has its own programming. No common central processing unit contains all the programming code for all of the devices on the bus. Each component is self-aware, so if a new component is added to an existing system, that component is automatically part of the system. It may be necessary to reprogram an existing component to interface with and operate the new component, but in many cases it's just a matter of changing a control panel menu setting or adding the device to an existing switch panel.
Simple devices, such as lights or motorized window shades, don't rely on logic. But lighting and shade controllers do, so those items contain the logic necessary to operate them. To add a new light circuit or shade controller, or make any changes to the arrangement, it's necessary to edit the network program that affects those controllers and then upload the new program to the network via a laptop computer.
The network can be as simple as a programmed switch panel that controls a few lights, or it can be as advanced as a touch-screen display that interfaces with numerous devices to control almost every function within the motorhome. In some cases, routing bridges are available to allow the display panel on an RV-C network to show engine data from the chassis' J1939 network. New devices are being introduced rapidly, so it's likely even more will be available by the time you read this article.
Network control of electrical circuits offers a number of advantages over analog circuits. A basic analog circuit consists of a large battery cable feeding a fuse panel. Each circuit has its own fuse, and the power line exiting the fuse panel goes to a switch, or a series of switches, to control a light, fan, water pump, etc. After the switch, the wire continues to the device and then returns to a good ground. This makes for a complex wiring harness with lots of connections and potential failure points.
A networked system, on the other hand, consists of a single data bus that connects all of the components, as well as one or more switch panels or controller screens. Power enters a controller with fused output circuits that run directly to each component. The controller is on the same bus. When a switch is pressed, a signal goes to the controller, which sends 12-volt-DC power to the device to activate it.
Typical multiplex wiring systems offer a 40 to 75 percent reduction in wiring harnesses, resulting in less complexity and less weight. Additional savings are achieved by eliminating the need for external dimmers, panels, and controllers.
Using sensor inputs for temperature, time, tank levels, and power conditions, the controller can automate most motorhome functions. For example, a gray-water holding tank sensor may communicate to the controller that the gray-water level is high. When placed in auto-dump mode for that tank, the controller will open the gray dump valve and close it after a predetermined time once the tank level drops.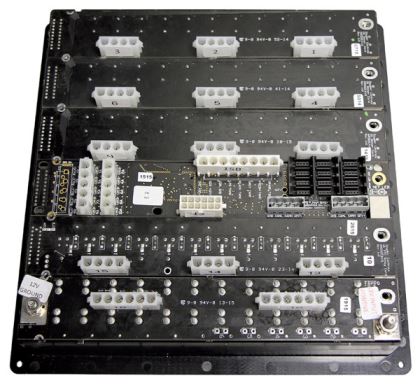 Components
An RV-C network can contain any number of components, but one thing all systems have is one or more switch panels. The panels communicate with the network and are assigned channel numbers, which are referenced by the various output devices on the network.
Even the most basic system will have a switched fuse panel. The panel looks much like an ordinary fuse panel, but each output circuit is assigned a channel number. The circuits can be dimmable, for use with certain lighting needs, or switched on-off circuits for fans, water pumps, nondimmable lights, and the like. Each channel can be controlled when the assigned switch button is pressed.
Motorized window shades require a shade controller. The controller is connected to a 12-volt-DC power supply and communicates with the network. Each analog output port connects to the shade and is assigned a channel that communicates with the switch panel assigned to those shades.

Some automatic transfer switches, such as the TRC 40350-RVC, also can communicate with the network. A screen displays much information pertaining to the coach's 120-volt-AC power supply, such as line voltage, current load in amps, and whether the generator or shore power is being used. The information also can be used to communicate with an automatic generator start controller to allow automatic operation of the generator. If an energy management system is present, this information also can be used for load shedding or inverter assist if the inverters are networked with the RV-C bus.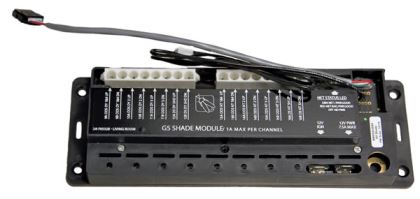 The RV-C network also facilitates HVAC function. Temperature sensors send information to the network and communicate with an HVAC controller that essentially does the same job as a thermostat. Air conditioner and heat controllers, as well as an Aqua-Hot interface, can automate the heating and cooling of the coach.
Digital tank sensors, such as the SeeLevel II 709-RVC, send tank level information to the network. The information is displayed on a screen and used to control electric dump or fill valves on the tank. The system can be programmed to automate the fill and dump procedures based on tank levels, incoming water pressure, and other parameters.
Entertainment systems typically have an infrared (IR) converter that accepts network signal inputs and converts them to infrared outputs, which are sent through IR emitters to entertainment system components such as TVs, satellite receivers, and DVD or Blu-ray players.
Vegatouch System
The latest innovation from Firefly Integrations is the VegaTouch system, which uses a touch-screen display to interface with the RV-C network. VegaTouch can be configured to any manufacturer's needs.
A typical home screen displays basic power information such as amperage and voltage, fresh water and holding tank levels, interior and exterior temperature, and date and time, as well as any other parameters the manufacturer wants to display. A series of icons lets the user drill down into submenus that control functions such as plumbing, automatic generator control, environmental control, shades, lighting, slideouts, and entertainment systems.
VegaTouch can be customized to automate functions such as the previously mentioned fill and dump procedures for the plumbing system. Various preprogrammed sequences can be loaded so that, for example, a single touch of the "entertainment mode" button lowers the shades, dims the lighting, and switches on the TV and Blu-ray player. Night modes and day modes are available, as well as an "away mode," which can be selected before you leave the coach; it locks the entry and basement compartment doors after a 30-second delay.
VegaTouch's HVAC control can be set so that each zone automatically chooses air conditioning or furnace heat and switches between them as needed. The heat can be left on for a cold morning; once the sun comes out and warms the motorhome, VegaTouch automatically switches over to air conditioning. That's not possible with a traditional wall- mounted thermostat.
VegaTouch is just one method of interfacing with the network. Remote switch panels can be located in various areas of the motorhome so that you don't have to walk to the VegaTouch panel just to operate a nearby light.
Wireless Access
With so many wireless devices in use by RV owners, it's becoming increasingly popular to operate almost anything with a smartphone or iPad app. RV-C is no different.
Installing a Wi-Fi router into the system allows any wireless device to access the network. An app user sees basically the same screens as on the VegaTouch display. The user can control most features while sitting in his or her favorite recliner, or can, for example, operate the slideouts from outside the coach. Practically every component can be controlled remotely. Software apps are available for both Apple and Android operating systems, so virtually any tablet or smartphone can be used.
RVs are benefiting as technology improves. Multiplex systems automate many functions and are rock-solid reliable; system failures are rare. The software is customizable, and new components can be added as needed. The user-friendly touch screen makes it easier for owners to understand how to operate an RV's complex systems.
More Info
Firefly Integrations
1013 Elroy Drive
Middlebury, IN 46540
(574) 825-4600
www.fireflyintegrations.com
RV-C network communicates with motorhome components and automates their function.