A diesel-powered "RUV" built on the Ford Transit chassis.
By Mark Quasius, F333630
November 2016
Last year, Thor Motor Coach introduced the Gemini to its Type C motorhome lineup. The 2017 models were recently unveiled, including a brand-new floor plan, the 23TB, which I inspected. Currently, four Gemini floor plans are available for the 2017 model year.
Thor terms the 23-foot Gemini a "Recreational Utility Vehicle," or RUV, which exhibits characteristics of both a sport-utility vehicle and a small recreation vehicle. The motorhome is designed for couples or small families who need a more diminutive RV that can be used for travel without necessarily needing a towed vehicle. For example, when taking kids or grandkids to daylong athletic events, the Gemini makes a nice retreat between games, races, swim meets, etc.
The Gemini is built on the new Ford Transit chassis. The Transit, Ford's latest van, is beginning to gain a foothold in Type C motorhome production, which has been dominated by Ford's venerable E-Series platform.
The Ford Transit chassis used for the Gemini incorporates a small diesel engine that gives excellent fuel economy and performance. New Gemini owners have reported 17 to 18 mpg; my own results are noted later.
The 23-foot, 6-inch Gemini 23TB features a single slideout in the rear of the motorhome that contains the head of a queen-size bed. And instead of a dedicated dinette, this floor plan incorporates a pedestal table that sets up by the couch, which can make into another bed. That brings the total sleeping capacity to three persons, although seatbelt capacity is four.
Chassis
The 350 series Transit has a 156-inch wheelbase. The 3.2-liter, five-cylinder in-line diesel engine creates 185 horsepower and 350 pound-feet of torque. Its six-speed TorqShift automatic transmission is equipped with tow-haul mode. Its 195/75R16 tires are mounted on steel wheels with stainless-steel trim.

The Gemini 23TB's gross vehicle weight rating (GVWR) is 10,360 pounds, and the weight sticker under the hood indicates that the curb weight is 9,140 pounds. Once the review coach was loaded with full fuel, water, and propane, it weighed 9,420 pounds on certified CAT scales, with a 170-pound driver aboard — fairly close to the factory-stated curb weight. The front and rear axles weighed 3,540 pounds and 5,880 pounds, respectively. Subtracting the 9,420 pounds from the 10,360-pound GVWR results in around 940 pounds of capacity for cargo and passengers.
Exterior
Outside, the Gemini is finished in champagne-colored fiberglass, with one of two available vinyl graphic packages. My test coach featured Wave Runner graphics.
The coach is constructed with a welded tubular-steel floor system and a welded tubular-aluminum roof and sidewall cage. Fiberglass sidewalls and front bodywork are capped by a one-piece TPO rubber roof, which can be accessed via a rear ladder.
A 14-foot-wide power awning extends to cover the patio area and provide shade for viewing the optional 32-inch LED television located in a compartment on the curb side of the coach. The TV is attached to a swivel mount that allows it to be positioned for the best viewing angle. On the street side, a topper awning keeps twigs, leaves, and other debris from accumulating atop the bedroom slideout when it's extended for camping. Deep-tinted, frameless windows on the sides of the motorhome help to keep the hot sun out while allowing cool air in.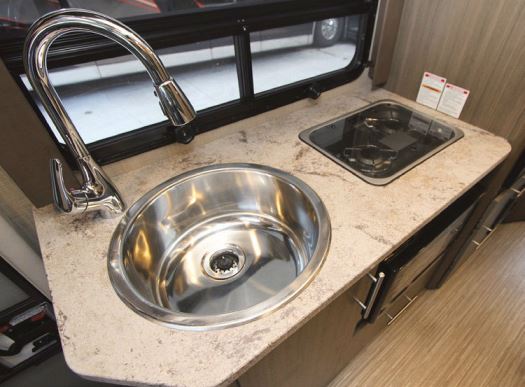 Other exterior features included rotocast storage compartments with flush-mount doors, a shower, a lighted step-well cover, and a keyless entry system.
Cockpit
The Gemini's cockpit contains a pair of reclining seats. The passenger seat can be rotated to face the rear when parked; this can be done at any time when the coach is stationary, since there are no front slideouts.
Heated power mirrors are standard, as is an informative in-dash message center, and an entertainment system with a radio, CD player, and external media player inputs.
An overhead mirror features a split screen. One half allows you to see a bit of the interior space behind the driver's seat, while the other half is actually a video monitor that displays the image from the backup camera. This image can be set to display constantly or only when the vehicle is in reverse. A handy set of red-amber-green markings appear on the screen when backing up to assist with depth perception.
A number of 12-volt-DC power receptacles are located in the cockpit, as well as a 1/8-inch mini jack for an MP3 player or iPod.
Interior
The Gemini was outfitted with an interior décor scheme called Cool Jazz, one of two available decors, and furnished with Glazed Pecan cabinets. A large skylight in the roof (23 inches by 46 inches), just aft of the cockpit area, brightens the coach with plenty of daylight. A power shade seals off the skylight and prevents any heat or light from entering the coach on hot or overly sunny days. Vinyl flooring is used throughout the Gemini.
The comfortable leatherette couch can be used for additional sleeping for children or a shorter adult, as it makes into a 42-inch-by-64-inch bed. A 32-inch LED TV is placed above the entry door, opposite the couch.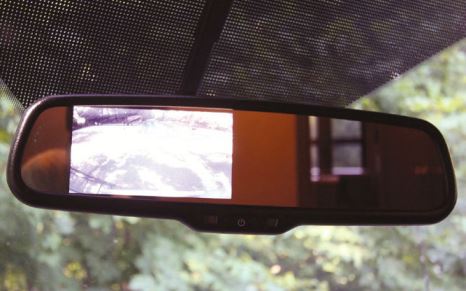 As noted, a table can be mounted in front of the street-side sofa; it rests on a pedestal that attaches to the floor with a twist-lock-style bayonet connector. The table and pedestal, which store beneath the couch, can be installed in about one minute. This quick setup is a plus when stopping at a rest area or other location where space may be limited. The Gemini's generous floor space works well for traveling in this manner.
The curbside galley is compact but functional. A deep, single-bowl stainless-steel sink can hold an ample number of dirty dishes; a corresponding sink cover provides additional work surface for food preparation. Pressed-laminate countertops and Euro-style cabinets are joined by a Dometic two-burner gas cooktop with a hinged glass cover. Beneath the cooktop is a microwave-convection oven.
A three-way 5.5-cubic-foot refrigerator resides just aft of the cooking appliances and can be powered by propane, 120-volts AC, or 12-volts DC. An optional power vent fan is located in the ceiling and is equipped with a MaxxAir vent cover, which enables it to be used when driving or during a light rain.
The rear curbside bath area contains a foot-pedal-flush toilet, a vanity with a stainless-steel sink, a medicine cabinet, and another optional power roof vent fan with cover. The 24-inch-by-32-inch shower is unexpectedly roomy. The shower skylight has a large translucent dome that brings plenty of light into the bath.
The bedroom takes up the 23TB's remaining width in the rear. As noted, the bedroom contains the motorhome's single slideout, on the street side, which must be extended before the bed can be used. The 60-inch-by-74-inch queen-size mattress folds up vertically against the street-side wall when not in use. A box spring in a metal frame also is hinged and folds up in the same manner. When the bed is in its stored position and the slideout is extended, a cushioned bench is revealed, creating another seating area. Roll-out drawers underneath provide additional storage.
A 24-inch LED bedroom TV is built into cabinetry that also serves as a wardrobe. The TV can be viewed from either the cushioned bench or the bed.
The rear wall holds a large window that doubles as an emergency exit from the bedroom.
Utilities
Domestic hot water is available from a tankless on-demand water heater. Interior heating is provided by a 19,000-Btu propane furnace, while cooling needs are handled by a 13,500-Btu ducted air conditioner. My test coach included an optional A/C unit equipped with heat pumps, providing another source of warmth in milder temperatures.
A 30-amp shore power connection supplies 120-volt electrical power, which also can be provided by the Onan 3,600-watt propane-fired generator via an automatic transfer switch.
Two deep-cycle batteries (one standard, one optional) reside beneath the entry steps and handle the 12-volt-DC power needs of the motorhome. A control panel in the entryway contains all of the switches and controls to operate the slideout, generator, and battery disconnect. It also displays all of the tank readings in one-quarter increments. Switches that control the optional holding tank heat pads are also found on this panel.
Overall Impressions
A 23-foot motorhome is, by design, compact in comparison to its larger cousins. But its convenience and maneuverability more than make up for size. The Gemini was easy to take on shopping trips, for example, and I had no problem finding parking spaces.
The 3.2-liter diesel engine had plenty of power, and the motorhome didn't lose speed when handling rolling hills. Plus, it was very economical to drive. Our road test included everything from city streets to 70-mph interstate highways. The Gemini averaged 15.1 mpg, which made for a decent refueling range, even with the 25-gallon fuel tank.
The Gemini comes with a 5,000-pound trailer hitch; however, it should be noted that the towing capacity is limited by the gross combination weight rating (GCWR), which is 13,500 pounds. If the coach is loaded to its full GVWR of 10,360 pounds, you'll have only another 3,140 pounds of available towing capacity. However, if the coach is not loaded to its full GVWR, you can share some of that capacity with a towed vehicle, which will increase the amount slightly.
But perhaps you'll never even need a towed vehicle. The Gemini moves in and out of city traffic with ease, and it is nicely maneuverable — even in national park campgrounds and other facilities that may have 25-foot length limits.
The base suggested retail price of the 2017 Gemini 23TB is $102,225. The manufacturer's suggested retail price of the unit I reviewed came to $104,140 and contained several options: 13,500-Btu air conditioner with heat pumps in place of standard air conditioner; holding tank heat pads; second auxiliary battery; 32-inch exterior television; two 12-volt attic fans with covers (kitchen, bedroom).
SPECS
MANUFACTURER
Thor Motor Coach, P.O. Box 1486, Elkhart, IN 46515; (800) 860-5658; www.thormotorcoach.com/gemini
MODEL
2017 Gemini
FLOOR PLAN
23TB
CHASSIS
Ford Transit
ENGINE
Ford 3.2-liter I-5 Power Stroke turbo diesel; 185 horsepower at 3,000 rpm; 350 pound-feet torque at 1,500-2,500 rpm
TRANSMISSION
6-speed SelectShift automatic with tow-haul mode
AXLE RATIO
3.73 to 1
TIRES
195/75R16
WHEELS
steel rims with stainless-steel trim
WHEELBASE
156 inches
BRAKES
4-wheel antilock disc with ABS
SUSPENSION
front — independent, MacPherson strut;
rear — leaf springs
STEERING
hydraulic power rack-and-pinion
ALTERNATOR
150 amps
BATTERIES
chassis — one 70-amp-hour, 760-cca AGM;
house — one 12-volt, deep-cycle, lead acid, standard; second battery, optional
INVERTER
N/A
ELECTRICAL SERVICE
30 amps
AUXILIARY GENERATOR
Onan 3,600-watt propane
EXTERIOR LENGTH
23 feet 6 inches
EXTERIOR WIDTH
90 inches
EXTERIOR HEIGHT
10 feet 5 inches with A/C
INTERIOR HEIGHT
6 feet 8 inches
GROSS COMBINATION WEIGHT RATING (GCWR)
13,500 pounds
GROSS VEHICLE WEIGHT RATING (GVWR)
10,360 pounds
GROSS AXLE WEIGHT RATING (GAWR)
front — 4,130 pounds
rear — 7,275 pounds
AS-TESTED WEIGHT
(weighed with full fuel, water, and propane; driver on board)
front axle — 3,540 pounds;
rear axle — 5,880 pounds;
total — 9,420 pounds
OCCUPANT AND CARGO CARRYING CAPACITY (OCCC)
1,250 pounds
INSULATION
block foam, R-7
FRESH WATER CAPACITY
31 gallons
HOLDING TANK CAPACITIES
gray water — 37 gallons;
black water — 19.5 gallons
FUEL CAPACITY
25 gallons
FUEL REQUIREMENTS
diesel
PROPANE CAPACITY
68 pounds
WATER HEATER
tankless
WATER SYSTEM
demand
HEATING SYSTEM
(1) 19,000-Btu, propane
AIR-CONDITIONING
(1) 13,500-Btu, ducted; unit with heat pumps, optional
REFRIGERATOR
5.5-cubic-foot 3-way (propane/AC/DC)
TOILET
foot flush
WARRANTY
coach — 1 year/15,000 miles;
chassis — 3 years/36,000 miles bumper to bumper
BASE SUGGESTED RETAIL PRICE
$102,225
PRICE AS TESTED
$104,140