A spacious interior, expansive front windows, and smooth suspension and handling make this motorhome a contender in the entry-level Type A category.
By Mark Quasius, F333630
December 2016
The Alante is Jayco Inc.'s newest offering in its Type A motorhome line. This entry-level model is available in five floor plans for 2017, which range from 27 feet to 33 feet in length. The Alante includes a number of features not found in most similarly priced motorhomes, such as frameless windows, hardwood cabinet doors, recessed ceiling lights, and a large double-basin stainless-steel galley sink.

Recently, I inspected a 2017 Alante featuring the 32N floor plan. This triple-slideout motorhome makes efficient use of space within its 33-foot-2-inch overall length. Its side-aisle bathroom allows for a nice, wide passageway when the slideouts are retracted, making the interior easy to navigate during travel.
As configured, this unit is capable of sleeping four, but, depending on the options chosen, the 32N floor plan can sleep up to seven — for example, if customers select the optional front overhead bunk and the standard sofa.
Alante Chassis
The Alante is built on the Ford F-53 chassis with a 190-inch wheelbase. A 320-horsepower, 6.8-liter V-10 engine sends power through a six-speed TorqShift automatic transmission and is supplied by an 80-gallon gasoline tank. The 245/70R19.5 load range G tires are mounted on steel wheel rims fitted with a stainless-steel trim package.
Alante designers have taken steps to improve the ride of the F-53 chassis with Jayco's patented JRide. This package incorporates larger Bilstein shock absorbers, Hellwig helper springs, jounce bumpers, a computer-balanced driveshaft, and custom front and rear antisway bars. Rubber isolation body mounts also help to insulate the motorhome from road noise and vibration.
The Alante's gross vehicle weight rating (GVWR) is 18,000 pounds. The weight placard in my test coach stated that its empty weight, with full fuel, propane, and water, was 15,918 pounds; this gives a 2,082-pound occupant and cargo carrying capacity (OCCC). When we loaded the coach up with full fuel, water, and propane, plus the driver, and ran it across certified scales, the Alante weighed 15,900 pounds. This placed the cargo-carrying capacity at 2,100 pounds, so the factory numbers stated on the weight placard appear accurate.
In addition, the front axle is rated at 7,000 pounds, and the actual scale weight came in at 5,120 pounds. The rear axle is rated at 12,000 pounds, with an actual weight of 10,780 pounds. These figures indicate that the weight was distributed well. Alante owners should be able to load up their "stuff" with no problems.
Alante Exterior
The Alante 32N test coach was equipped with high-gloss fiberglass sidewalls embellished with the Regal Red Graphics design; another option, Victory Blue, is available. The prefinished fiberglass sidewalls and one-piece fiberglass front cap are topped with a one-piece seamless crowned fiberglass roof that has an R-24 insulation value.
Jayco designers place considerable emphasis on storage. The Alante is equipped with 15 basement cargo hatches that afford access to its many compartments, including a large pass-through bay at the rear that is accessible from either side of the coach. A 17-foot power awning spans the patio area and is fitted with LED lighting. Outside entertainment is enhanced by a 39-inch HD LED TV, and a radio and sound system, which are located in a center compartment in the patio area.
The slideouts are equipped with topper awnings that self-retract into canisters when the slideouts are in. Power entry steps and automatic hydraulic leveling jacks are also standard.
Alante Interior
The Alante is available in two interior décor packages. Our coach featured the Grand Tan scheme; the other is named Glorious Gray.
All Alantes feature hardwood cabinet doors, ball-bearing drawer guides, and oil-rubbed bronze handles and hinges. Vinyl flooring in a wooden-plank-style pattern is used throughout. All interior ceiling lighting consists of flush-mounted LEDs to minimize power consumption and heat.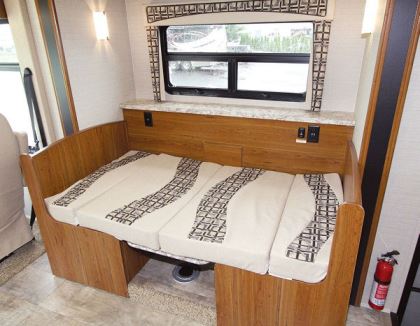 The Alante boasts one of the largest windshields in the industry. This panoramic glass measures 120 inches and comes with oversized wiper blades. In addition, the entry door has the largest travel view window available. When combined with the large cockpit side windows, there's no way that coach occupants will miss out on any scenery when traveling. An expansive 180-degree view not only contributes to safety but also ensures an enjoyable drive when sightseeing. Another safety feature: All seating positions throughout the coach are equipped with seatbelts.
A two-tone dash with gray burl accents contains the usual array of instrumentation and controls. This area also houses numerous cup holders and storage trays for cell phones, MP3 players, or other items.
The cockpit seats swivel 180 degrees to face the living area when the coach is parked. A center table equipped with beverage holders can be placed between the seats. This table rests on a removable pedestal column and is stored in a cabinet when not needed.
The in-dash entertainment system includes a radio, CD/DVD player, and MP3 player and has a touch screen interface. This system also serves as a monitor for the backup and automatic side-view cameras.
The 32N floor plan has three slideouts, which greatly expand the living area when in camp. The standard configuration for the front driver-side slideout includes a sofa that converts to a bed, but the test coach came with the optional theater seating made by Flexsteel. This couch features a pair of comfortable seats that recline individually. A partition between them contains cup holders and a cushioned compartment that's perfect for storing remote controls or other objects.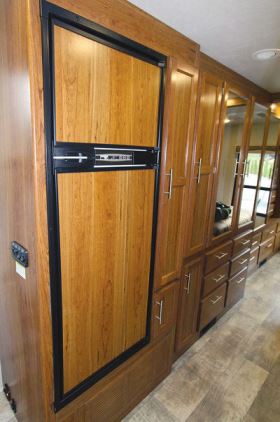 Directly opposite, on the curb side, is another slideout, which contains a booth-style dinette. The dinette also makes into a bed for additional sleeping spots. Storage space is provided beneath the seats for cookware, bedding, or other cargo. A 39-inch LED TV is mounted on a power lift behind the dinette and is perfectly positioned for viewing from the sofa but can also be seen easily from the galley or cockpit chairs.
An optional drop-down overhead bunk is available on the 32N, but my test unit was not so equipped. This option provides a large power-lift bed that can hold two additional adults.
The Alante's galley contains a dual-basin stainless-steel sink, a three-burner range with oven, and an overhead microwave. The countertops are made of solid-surface material, and cabinet storage is plentiful. Opposite the galley stands an 8-cubic-foot two-door refrigerator flanked by a pull-out pantry. An optional 12-cubic-foot four-door fridge is also available.
The 32N features a side-aisle bathroom that holds a wide, rectangular shower stall with sliding glass doors. The vanity has a solid-surface countertop and features a stainless-steel sink with an attractive tiled backsplash. The roomy medicine cabinet is sufficient to store RVers' necessities.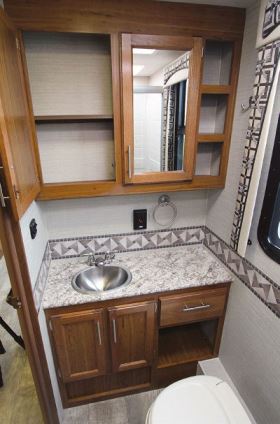 Directly opposite the bath, more curbside cabinetry extends from the pantry and contains a linen closet and a wardrobe. These areas are not contained in slideouts, so the aisle is always open and affords easy access to the bathroom, bedroom, and the cabinets.
The rear bedroom features a 60-inch-by-72-inch queen-size bed that is anchored in a driver-side slideout. The bed is flanked by nightstands and offers plenty of walkaround room on either side. A large window in the rear wall doubles as an emergency exit.
Opposite the bed are dual wardrobes and a host of drawers and cabinets. A 24-inch LED TV is also located there for viewing those late-night movies. Cabinets over the head of the bed further enhance storage capacity. A power vent in the bedroom ceiling assists with airflow.
Alant Utilities
The Alante is equipped with a 30-amp shore power connection and an Onan 4.0-kw MicroQuiet gas generator. The 120-volt-AC power system also has a Precision Circuits energy management system, which will monitor power consumption and shed loads as required to prevent tripping the main 30-amp breaker at the pedestal. A 1,000-watt inverter provides power to the entertainment system and a few key electrical receptacles, while a 60-amp converter provides 12-volt-DC power and charges the deep-cycle house battery. A 31,000-Btu propane furnace supplies interior heat, and a pair of 11,000-Btu rooftop air conditioners keep the coach nice and cool on hot days.
Domestic hot water needs are met by a 6-gallon DSI propane/electric water heater that is mounted in the curb side of the coach. The fresh-water tank holds 71.5 gallons, while the gray-water tank can accommodate up to 40 gallons and the black-water tank holds 50 gallons.
Overall Impressions of Jayco Alante Motorhome
The Jayco Alante offers considerable value for an entry-level coach. The JRide suspension upgrades — standard on all motorhomes in this product line — make a noticeable difference in ride quality and handling when compared to other motorhomes on the same chassis I've driven. The Alante felt stable on the interstate, even at 70 mph. Larger Bilstein shock absorbers offered enhanced ride and handling. The springs are augmented by a nice set of jounce bumpers that sequentially absorb road impact. Two-stage Helwig helper springs let the suspension operate with looser springs under light loads, then come in with extra weight-carrying capacity under heavy loads. Front and rear antisway bars minimized vehicle lean when cornering, allowing all four wheels to carry more of an equal weight.
As noted, the expansive windshield and cockpit side windows greatly enhance visibility. The 32N offers plenty of room to move around the interior when the triple slideouts are extended but is still fairly roomy when the slides are retracted for travel — in part because of the side-aisle floor plan. Particularly appealing were the solid-surface countertops, tons of wardrobe and storage space, the 39-inch TV on a power lift, and the optional theater seating. The ability to configure this floor plan to sleep between four and seven people makes it an attractive choice for families. And Jayco's two-year bumper-to-bumper warranty is another plus.
The base manufacturer's suggested retail price of the 2017 Jayco Alante 32N is $111,757. The as-tested price of the unit I inspected was $123,169. This included the optional sofa with theater seating, plus the Customer Value Package (JRide suspension; backup and side-view camera and monitor; electric awning with LED lights; exterior entertainment center with 32-inch TV and radio; LED TV in living room; roller shades; seamless crowned fiberglass roof; slideout cover awnings; touch-screen in-dash sound system).
Specs
MANUFACTURER
Jayco Inc., 903 S. Main St., P.O. Box 460, Middlebury, IN 46540; (574) 825-5861; www.jayco.com
MODEL
2017 Jayco Alante
FLOOR PLAN
32N
CHASSIS
Ford F-53
ENGINE
Ford 6.8-liter V-10; 320 horsepower; 460 pound-feet torque; electronic fuel injection
TRANSMISSION
TorqShift 6-speed automatic with overdrive and tow-haul mode
AXLE RATIO
4.30 to 1
TIRES
245/70R19.5 radial
WHEELS
steel rims with stainless-steel trim
WHEELBASE
190 inches
BRAKES
front — antilock disc;
rear — disc
SUSPENSION
JRide — Bilstein shock absorbers, computer-balanced driveshaft, jounce bumpers, standard front and rear stabilizer bars
ALTERNATOR
175 amps
BATTERIES
chassis — (1) 750 cca;
house — (1) deep-cycle
INVERTER
1,000 watts (for entertainment system, several electrical receptacles)
ELECTRICAL SERVICE
30 amps
AUXILIARY GENERATOR
Onan MicroQuiet 4,000-watt gas
EXTERIOR LENGTH
33 feet 2 inches
EXTERIOR WIDTH
101 inches
EXTERIOR HEIGHT
12 feet 5 inches
INTERIOR HEIGHT
7 feet
GROSS COMBINATION WEIGHT RATING (GCWR)
23,000 pounds
GROSS VEHICLE WEIGHT RATING (GVWR)
18,000 pounds
GROSS AXLE WEIGHT RATING (GAWR)
front — 7,000 pounds;
rear — 12,000 pounds
AS-TESTED WEIGHT
(weighed with full fuel, water, propane, and one passenger)
front axle — 5,120 pounds;
rear axle — 10,780 pounds;
total — 15,900 pounds
OCCUPANT & CARGO CARRYING CAPACITY (OCCC)
2,082 pounds
FRESH WATER CAPACITY
71.5 gallons
HOLDING TANK CAPACITIES
gray water — 40 gallons;
black water — 50 gallons
FUEL CAPACITY
80 gallons
FUEL REQUIREMENTS
gasoline
PROPANE CAPACITY
16.5 gallons (56 pounds)
WATER HEATER
6-gallon DSI propane/electric
HEATING SYSTEM
31,000-Btu ducted, with auto ignition
AIR-CONDITIONING
(2) 11,000-Btu with power management system
REFRIGERATOR
8-cubic-foot two-door, standard; 12-cubic-foot four-door, optional
TOILET
(1) with foot flush
WARRANTY
coach — 2 years/24,000 miles;
chassis — 3 years/36,000 miles;
engine and transmission — 5 years/60,000 miles; title transferable
BASE SUGGESTED RETAIL PRICE
$111,757
PRICE AS TESTED
$123,169