Flexible features, an uncluttered floor plan, and four-wheel-drive capability allow RVers to enjoy the open road as they see fit in this new Type B motorhome.
By Lazelle Jones
March 2020
Who doesn't like a good story, especially one about a memorable destination or experience? This common bond of storytelling is the motivation behind the launch of the MODE4x4 Adventure Van from Birmingham, Alabama-based Storyteller Overland LLC.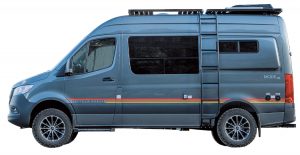 The all-new MODE4x4, a Type B four-season camper van, is built on the Mercedes-Benz 2500 4×4 chassis with a 144-inch wheelbase. It enables occupants to venture into uncharted lands and advance down highways and byways where most RVs could not go. At just 19 feet 5 inches in length, this four-wheel-drive unit is equally at home on the open road, in a luxury RV campground, and off-grid in the backcountry.
For normal driving and road conditions, two-wheel drive is selected. When circumstances warrant four-wheel-drive capability, the driver simply switches the unit into 4WD and selects low gear; power and torque automatically are delivered to each wheel as needed, a transparent process. So, the MODE4x4 may be the ideal RV for those looking to merge their need for a reliable daily-use vehicle with a "weekend warrior" vehicle that offers long-range, on-road/off-road capability and is equipped for primitive RV camping.
To accommodate boondocking, the MODE4x4 is designed and engineered to support all its own electrical needs — including the 13,500-Btu roof air conditioner — even while off the grid, without the need for an auxiliary generator. To accomplish this, the coach relies upon its quiet, efficient, M-Power energy management system, by Volta Power Systems. The system consists of a 12-kilowatt-hour automotive-grade lithium-ion battery pack that stores power supplied to it via an 8-kw secondary alternator while the engine is running. The battery system also can be charged via a 30-amp shore power connection and solar roof panels.
In the increasingly competitive Type B motorhome market, Storyteller Overland sets itself apart by focusing on a distinct subset of the RV community, which company officials believe has been underserved: active outdoors enthusiasts who seek adventure but also demand a quality residential RV at day's end. The company's designers, engineers, and craftspeople focus on form, function, fit, finish, and quality. According to company philosophy, these elements have equal importance.
Construction Details
The story begins with the Mercedes-Benz Sprinter 2500 144 chassis. Factory-installed four-wheel drive comes standard to satisfy the core audience of RVers who want to choose the road less traveled at a moment's notice. Next is coupling this chassis and power train with an adaptable, functional, and utilitarian floor plan.
Company literature states that in addition to meeting federal safety regulations, every MODE4x4 is manufactured in accordance with the best practices of the RV industry to meet the RVIA certification process, as well as related original-equipment body builder and Master Upfitter standards set by Mercedes-Benz.
A good way to become acquainted with the MODE4x4 is to take a virtual tour as the Mercedes-Benz Sprinter 2500 van moves through a series of upfitter/build stations during assembly. That is where teams of craftspeople and technicians complete their individual scopes of work. Moving through six stations on the production line, the cargo van evolves into an adventure-ready MODE4x4.
Motorhomes undergo an extensive quality assurance/quality inspection process at each build station before moving to the next. According to company officials, every detail matters throughout assembly. Special attention is paid to proper wiring termination and installation to ensure efficient electrical power management.
Each Sprinter 2500 chassis arrives at Storyteller Overland's Birmingham facility as a fully loaded Sprinter van shell, which includes all the Mercedes-Benz safety features and driver convenience packages. After a preassembly inspection, production begins in Station 1. Holes are cut in the sidewalls of the mid and rear cabin to house the T-vent windows and rear side panel flares, as well as in the roof to install the vent fan and air-conditioning system.
At Station 2, the roof rack structure and power awning systems are assembled, hoisted, and set in place. Technicians use a powered lift and scaffolding system to ensure their safety and to prevent damage to the van during installation. The roof rack is rated to accommodate up to 600 pounds of properly dispersed and secured cargo such as kayaks, stand-up paddleboards (SUPs), dry storage cargo boxes, etc. However, because of center-of-gravity considerations, company literature recommends carrying no more than 100 pounds of cargo on the roof racks while the vehicle is in transit. This higher-capacity rack does make for a substantial viewing platform when parked at sporting events.
The Station 2 build team also installs the subfloor and rugged, stylish interior flooring. Of note is the company's exclusive use of Havelock Wool insulation in the walls, ceiling, and all interior recesses.
Storyteller Overland specifically chose Havelock sheep's wool insulation because of its thermal and acoustic insulating qualities and its natural moisture-wicking properties. Environmentally conscious RVers will appreciate that Havelock insulation is an all-natural, sustainably sourced material that will not break down over time or release harmful particulates into the cabin.
Wiring installation commences at Station 3. This is where Storyteller Overland begins to veer from other Type B manufacturers. The company has partnered with Volta Power Systems to incorporate the automotive-grade M-Power lithium energy management system mentioned earlier.
At the heart of this onboard system is the 12-kilowatt-hour lithium-ion battery pack, which is coupled with a 3.6-kw true
sine wave inverter and an 8-kw engine-driven auxiliary alternator. Everything on the coach can be fully powered using only the battery pack. That includes the 13,500-Btu roof-mounted air conditioner, which can run six to eight hours — no generator required.
To further extend the range and capability of the on-board power systems, the 30-amp shore power connection can be used in RV campgrounds, and two roof-mounted solar panels produce a total of 90 watts (expandable up to 600 watts). The solar components provide a trickle charge to the battery in sunny conditions, but Storyteller Overland officials note that it takes just 90 to 120 minutes or so, driving at average highway speeds, to replenish the batteries from near zero to full charge.
The M-Power system resides in a steel-encased cabinet on the passenger-side interior wall. This keeps the battery system above deck in a climate-controlled area. For travel in cooler weather, a heating element in the battery compartment will maintain the appropriate temperature inside the battery pack and ensure proper function and normal charging capability. This battery system comes with a three-year/36,000-mile warranty and requires no special maintenance by the MODE4x4 owner.
Interior mechanical and plumbing installation occurs in Station 4. This includes a 22-gallon fresh-water tank and a 24-gallon gray-water tank. The aluminum framing and substructure for the overhead cabinets and other interior components also are installed. These single-piece aluminum frames are anchored to the Mercedes-Benz Sprinter frame in keeping with chassis manufacturer guidelines. Certain interior features, such as sidewall panels made of a resilient interwoven material, are added at this station also.
Station 5 employees handle the motorhome's final trim, fit, and finish; this includes adding padded interiors to the cabinets, and installing cabinet doors and drawers. Here, the curbside galley area receives a sink and an induction cooktop, both with flip-up covers (the faucet swings up for use); an overhead microwave oven; and a refrigerator that is accessible from inside or outside the motorhome. A diesel-fired Espar heating/hot water system is fitted beneath the rear two passenger seats.
At Station 6, the unit undergoes a final 226-point quality inspection, in addition to checks at each prior station.
The MODE4x4 boasts an array of exclusive features. One is the patent-pending GrooveLounge, a two-seater/two-sleeper convertible sofa bed. It comes with three-point safety harnesses for ride mode; when made into a bed, it sleeps two children or one adult. Another exclusive company feature is the DreamWeaver, a Murphy workbench/bed system in the rear, which folds down into a bed across the width of the coach.
Storyteller Overland's clever HALO hidden shower system stores shower plumbing, a shower curtain, and a frame inside an overhead interior cabinet. The RVer opens the cabinet and unfolds the curtain, sets up the frame around it, and it's ready to go in short order. There is also an outside shower.
The HALO shower system complements Storyteller's FlexSpace area, which includes a step, a seat, a built-in shower pan, and storage for the portable cassette toilet.
The MODE4x4 currently is offered in one floor plan. All features come as standard equipment, with no additional factory options offered. Available exterior colors are Selenite Grey Metallic, Arctic White, and Pebble Gray. The interior décor package is a neutral-gray color palette with white countertops and textured wood accents.
The 2020 MODE4x4 has a manufacturer's suggested retail price of $149,748. These units are available through Storyteller Overland's nationwide dealer network. For more information, including dealer locations, visit www.storytelleroverland.com.
SPECS | STORYTELLER OVERLAND MODE4X4
MANUFACTURER
Storyteller Overland LLC, 109 W. Park Drive, Birmingham, AL 35211; (888) 999-7442; www.storytelleroverland.com
MODEL
2019 MODE4x4
FLOOR PLAN
MODE4x4
CHASSIS
Mercedes-Benz Sprinter 2500 144 4×4
ENGINE
Mercedes-Benz 3.0-liter V-6 turbo-diesel; 188 horsepower at 3,800 rpm; 325 pound-feet torque at 1,400 rpm
TRANSMISSION
7GTronic (7-speed)
AXLE RATIO
3.92 to 1
TIRES
265/60R/18 BF Goodrich E
WHEELS
custom Mercedes-Benz Storyteller Overland, 18-inch, hub-mounted
WHEELBASE
144 inches
BRAKES
Mercedes-Benz factory 4×4
SUSPENSION
Mercedes-Benz factory 4×4
SHOCK ABSORBERS
Mercedes-Benz factory 4×4
STEERING
power with paddle shifters
BATTERIES
chassis — Mercedes-Benz, 850 cca;
house — M-Power Volta lithium-ion, 12 kwh
ELECTRICAL SERVICE
30 amps
AUXILIARY ALTERNATOR
8-kw
EXTERIOR LENGTH
19 feet 5 inches
EXTERIOR WIDTH
7 feet 5 inches
EXTERIOR HEIGHT
10 feet 6 inches
INTERIOR HEIGHT
6 feet 3 inches
GROSS VEHICLE WEIGHT RATING (GVWR)
9,050 pounds
GROSS COMBINATION WEIGHT RATING (GCWR)
13,930 pounds
GROSS AXLE WEIGHT RATINGS
front — 4,410 pounds;
rear — 5,360 pounds
UNLOADED VEHICLE WEIGHT (UVW)
7,800 pounds
CARGO CARRYING CAPACITY
1,250 pounds
INSULATION
Havelock organic sheep wool, R-7 rating
FRESH WATER CAPACITY
22 gallons
HOLDING TANK CAPACITIES
gray water — 24 gallons;
black water — 2.6 gallons, Dometic portable cassette toilet
FUEL CAPACITY
24.5 gallons
FUEL REQUIREMENTS
diesel
WATER HEATER
Rixen system with 5-kw Espar heater and engine heat exchanger
WATER SYSTEM
demand
HEATING SYSTEM
Rixen system with 5-kw Espar heater and engine heat exchanger
AIR CONDITIONING
13,500-Btu Penguin II by Dometic
REFRIGERATOR
2.76 cubic feet; 110-volt-AC/12-volt-DC
TOILET
(1) 2.6-gallon Dometic portable cassette with vapor barrier
WARRANTY
motorhome — 1 year/15,000 miles for interior upfit;
chassis — 3 years/36,000 miles
MANUFACTURER'S SUGGESTED RETAIL PRICE
$149,748