From Vale in the east to Newport in the west, many small towns throughout the state tell their stories through art.
By Rhonda Ostertag
November 2016
As witnessed elsewhere in the United States, in small-town Oregon, community renewal has often centered on city face-lifts achieved by painted murals. Colorful scenes decorate aging structures and naked concrete to tell a community's story. For visitors, the art gives insight into the places traveled through and lingered in, and, perhaps, a suggestion of things to do.
Fishing villages, logging and railroad towns, mining camps, and farming and ranching communities all are celebrated, as are community values, history, and progress. West to east, U.S. 20 strings the beads of three decorated communities: Newport, Sweet Home, and Vale. In Vale, nearly two dozen murals document the Oregon Trail.
But these are just starting points. Wall art appears in The Dalles (in the Columbia River Gorge National Scenic Area), in Silverton (near Salem and the popular Silver Falls State Park), and in Maupin (a rafting and fly-fishing center along the Deschutes River, a federally recognized Wild and Scenic River). Many other towns, such as Cottage Grove, Roseburg, and Grants Pass, also boast murals.
Mural-dressed towns welcome strolling. Specialty shops and blue-plate specials beckon travelers inside. Small museums and community parks contribute to the bygone appeal. It's a return to Main Street. Even better, the following towns have recreation and camping at their doorsteps.
Amid the historic bayfront of Newport are galleries, boutiques, and dusty antiques shops; chowder houses and seafood processors; curiosity museums; wharves where sea lions bask; and fishing-fleet docks. Fitting right in are colorful walls depicting small fishing boats, high seas, life-size whales, dry-dock repairs, and candid tête-à-têtes at upstairs windows. Crab pots, rope coils, and battered buoys stacked against nautical-themed walls carry the art into life and transform flat images into three-dimensional representations. Add cool salt air, a whiff of fish, the squawks of gulls, and the hurried movement of slickered dock workers or the splash of rubber boots, and it's performance art at its best.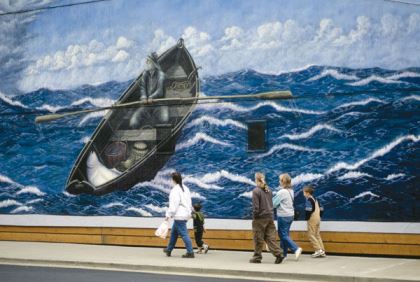 Look for works by Rick Chambers, a former member of the Coast Guard from Bend, Oregon, and by the world-celebrated conservationist and whale artist, Wyland. That's Robert Wyland, known for his "100 Whaling Walls" project.
Like most historic districts, the area has busy, narrow streets and constrained parking, making car travel best. For campers staying at Port of Newport RV Park, the City Loop Bus runs between that campground and the historic waterfront, and it also stops at other popular travel spots. (See the RV park list at the end of this story for the campground's contact information.)
Newport excels at tourism, with something for all interests, whether it be natural, historical, educational, recreational, kitschy, or serious. Yaquina Head and Yaquina Bay lighthouses, the Oregon Coast Aquarium, Mark O. Hatfield Marine Science Center, the photogenic Yaquina Bay Bridge (a Conde B. McCullough engineering masterpiece with art-deco aesthetics), and area beaches are just the start. Fine food, wine, beer, and music keep the good times rolling.
Inland via U.S. 20, on the east side of Interstate 5, is Sweet Home. Nestled at the crossroads of the Willamette Valley and the Cascade Mountains, Sweet Home emerged as a product of the old Santiam Wagon Road, a pioneer-military route and forerunner of today's U.S. 20. True to its name, it has become a livable community at the recreational gateway to the South Santiam River as well as two area reservoirs. Motorhomers can find both basic services and murals depicting area enterprise and history.
Timber and agriculture shaped Sweet Home's values and placed it on the Oregon map. Murals commemorate original American Indians and the work of European settlers: haying and old-time logging with saw and sweat. A half dozen murals were commissioned in 1994, in the midst of the mural boom of the 1980s and '90s. Parking is available alongside U.S. 20 and one block south on parallel-running Long Street.
One of the original mural artists, Larry Kangas, retouched several of the town's murals in 2010. But even when the panels crack and fade, they retain charm, like old family photographs. Kangas's career spanned 40 years and more than a thousand murals. In an Alfred Hitchcock moment, he inserted himself into the logging mural at the corner of Main (U.S. 20) and 12th streets. Look for the four men standing next to the old steam donkey (a logging machine); the artist is the third logger from the left.
At the west end of town, the East Linn Museum continues the story of early pioneer life and settlement. Covered bridges, scenic byways, a historic mineral springs park, a prized fishing river, boating reservoirs, and waterfalls are possible diversions from town. Look for Weddle Covered Bridge at Sankey Park in town. Country music fans may want to time Sweet Home visits for the three-day Oregon Jamboree in early August 2017; for more information, see www.oregonjamboree.com.
If you stay at a lakside or riverside campground, you may want to consider buying a fishing license and bait before leaving town.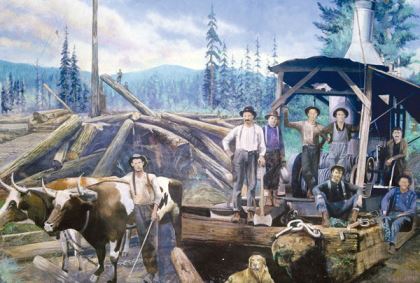 Should you travel along Oregon's eastern edge, don't miss Vale, located along the Malheur River. This little town represents a small oasis in the sunburnt desert that is eastern Oregon. For Oregon Trail pioneers, wearied in body and soul by the dust, heat, and unending miles, this site held out rest and promise. Modern travelers sense a similar welcome.
The theme for the town art project is "Born and raised on the Oregon Trail." For pioneers, Vale marked the end of the first full day's travel in Oregon. Prairie schooners (wagons), oxen, and area landmarks depict the epic human migration. Family bonds appear in many murals. Each artist brings a personal style and emotional take to the vision.
Some of the 25 mural panels represent American Indians; others depict the trappers and traders who helped open Oregon to European settlement.
Vale's population is fewer than 2,000, so RVers usually can find streetside parking near murals. Stores and businesses along U.S. 20 and on side streets are brightly decorated. Vale's Wadleigh Park offers covered picnic tables and rest rooms. Near the park stands the 1872 Rinehart Stone House (255 Main St. S.), which is on the National Register of Historic Places and was the area's first permanent building. It served as a stagecoach inn and a safe harbor during the 1878 Bannock Paiute uprising.
South of town, drivers can follow Lytle Boulevard, tracking the Bureau of Land Management stakes and trail obelisks that mark the route of the Oregon Trail. At Keeney Pass Interpretive Site, you may wish to pull over to check the yawning trenches from long-ago wagons and a low hill overlooking what once was a full-day's journey between the Snake River and Vale.
Within the picturesque Columbia River Gorge, The Dalles offers wall art that celebrates historical moments: the Native American fishing and trading camps, the arrival of Lewis and Clark and the Corps of Discovery, and what was, for some, the end of the Oregon Trail. Hundreds more pioneers continued down the untamed Columbia River to reach Willamette Valley farmland. Descriptions of more than a dozen murals in The Dalles are at www.thedallesmuralsociety.com/the-dalles-murals/.
Above the Deschutes River along U.S. 197, Maupin is a blink-of-the-eye town mainly consisting of fly-fishing shops and rafting outfitters. Two murals mark this community. A telling historical mural shows Maupin in 1921, before a big fire claimed most of its earlier structures. Another panel depicts the great 1910 railroad race to complete tracks through the Deschutes River Canyon, linking central Oregon producers to outside markets.
Silverton is a Norman Rockwell–style town at the eastern edge of the Willamette Valley. Its streets celebrate family values and old-fashioned commerce. This is a highly walkable community that features art literally copied from Norman Rockwell. At the Masonic Lodge is a reproduction of "The Four Freedoms," Rockwell's famous paintings. Rockwell's idea for the paintings came from President Franklin Roosevelt's moving 1941 speech regarding the freedom of speech, the freedom of worship, the freedom from want, and the freedom from fear.
Another mural panel depicts the "Old Oak Tree," whose substantial presence suggested building a town here. Also shown are local heroes who achieved national fame, such as Hearst newspaper cartoonist Homer Davenport; and a canine, Bobbie the Wonder Dog. The pet went astray in Indiana while on a raod trip with his master in 1923, yet he miraculously made his way home to Silverton six months and 2,500 miles later.
Who knows what stories you may find on the road in Oregon? For a list of more mural towns, check out Travel Oregon, the state travel bureau.
Further Info
Travel Oregon
(800) 547-7842
Oregon State Parks
(800) 551-6949
(800) 452-5687 (reservations)
This is a source of information regarding state parks and state-run sites that offer camping, including Beverly Beach, South Beach, Silver Falls, and Deschutes River State Recreation Area.
Area Camping
Following are some campgrounds near towns mentioned above. More listings are available in campground directories and in the RV Marketplace, found at FMCA.com and in the January issue of FMC.
Newport
Port of Newport RV Park & Marina
2120 S.E. Marine Science Drive
Newport, OR 97365
(541) 867-3321
Sweet Home
Linn County Parks (includes several parks with campgrounds)
(541) 967-3917
Vale
Malheur County Parks
(541) 473-2969
Vale Trails RV Park
511 N. 11th St.
Vale, OR 97918
(541) 473-3879
The Dalles
Columbia Hills Historical State Park
85 Highway 14
Dallesport, WA 98617
(888) 226-7688 (reservations)
(509) 767-1159
Maupin
Maupin City Park
(541) 395-2252