Affordable devices capture video of the view from your motorhome's windshield.
By Mark Quasius, F333630
December 2016
Dashboard cameras are growing in popularity. A camera mounted in the windshield area records video as a vehicle travels down the road. Technology has progressed to the point where many dash cams are quite affordable. So, should you get one?
One reason to own a dash cam is to document with video the events leading up to an accident. The footage can help police and insurance companies determine who was at fault. It's not unheard of that an expensive-looking motorhome can be a target for someone looking to collect on an insurance claim. Indeed, dash cams first became popular in Russia, where insurance fraud is a major problem. Now an increasing number of drivers in North America want to be able to record the actions of other motorists.
Dash cams also allow people to review portions of a day's drive. Video is saved to a memory chip, which can be removed from the dash cam, transferred to a personal computer, and viewed. I found that feature particularly enjoyable when we recently drove the Million Dollar Highway in Colorado from Durango to Ouray.
Dash Cam Features
Dash cams differ from regular video cameras, such as GoPro action cameras. A dash cam overwrites the oldest recorded video with the most recent footage. This ensures that the dash cam continues to record recent events, but it also means older footage is not retained.
After an accident occurs, the memory card in some dash cams must be removed or the footage must be marked as saved in order to prevent overwriting it. However, most dash cams have built-in G-sensors, which automatically save accident footage so that it cannot be overwritten accidentally.
Many dash cams can record in multiple modes; the mode is selected in the dash cam's setup menu. By choosing standard-definition video, many hours can be recorded without footage being overwritten. For recording high-definition footage, resolutions up to 1080p are available. High-resolution video requires more megabytes of storage space, so previously recorded footage is overwritten much sooner than lower-resolution video. Many dash cams come with a 2-gigabyte microSD memory card. Purchasing larger capacity memory cards, such as 32-gigabyte or 64-gigabyte, extends recording time considerably.
Another popular feature is a GPS link. It displays GPS coordinates on the recorded footage as well as a date and time stamp. This is useful in further documenting exactly where and when video was shot.
Dash cams, when plugged into a switched power outlet, can be set to turn on automatically when the ignition key is on and to stop recording and switch off once the engine is shut down. Most dash cams also can capture still photos. Some models have front and rear cameras, or can use Wi-Fi so that dash cam video can be viewed on a smartphone.
Choosing A Dash Cam
I began my research online by reading various RV forums to see what dash cams people were using. Once I narrowed the field, I searched for consumer reviews posted on the websites of large-volume vendors such as Amazon. A few brands and models received glowing reviews, while a number of cameras were poorly rated for reliability and/or performance, and it didn't seem to matter whether they were expensive or cheap. Even after weeding out the less desirable models, I had a sizable selection to choose from. I decided on the Garmin Dash Cam 20.
My first concern was reliability, and the Dash Cam 20 received good reviews for that, as well as for its features. I wanted a camera that could record high-quality video for the times we are driving scenic roads; this camera is capable of recording in WVGA (wide video graphics array) for low resolution, and 720p or 1080p for high-definition video. It can accept up to a 32-gigabyte microSD video card (Class 10 required), so I can capture many hours of video without overwriting previous footage. Garmin also offers a free download of its Dash Cam Player Software. The recorded footage is saved in the AVI format so it easily can be viewed in a standard Windows media player or Adobe Lightroom.
The dash cam stamps the footage with date, time, and GPS coordinates as well as current speed and travel direction. The speed feature might be useful as evidence in court if a traffic camera causes you to receive a speeding ticket or a red light ticket in error. The camera has an "incident detection" feature, which can be configured for sensitivity so that it automatically saves the last few minutes of recorded video in the event of a collision or even hard braking.
A 2.3-inch LCD display on the rear of the camera serves as the menu control screen. It also can display the video that the camera sees, although you can choose to blank out that video and darken the screen to eliminate distractions.
The camera's 90-degree field of view doesn't miss anything. An internal microphone offers the option of recording audio inside the vehicle.
The camera receives power via its micro-USB port. A vehicle power cable plugs into a standard 12-volt automotive power receptacle and connects to the micro-USB port on the dash cam. The dash cam can be set to manually record or automatically record whenever power is present.
The internal battery power of the Dash Cam 20 allows it to operate for about one hour without external power. This can be helpful in an accident or if the power cord is accidentally unplugged.
The camera can be removed from the vehicle and used to take still photos of accident damage to help document an insurance claim. Using Garmin's Dash Cam Player Software, snapshots can be retrieved from recorded video. A high-quality suction cup mount is provided to mount the dash cam to the windshield. After many miles and temperature swings, the unit hasn't fallen off of our windshield.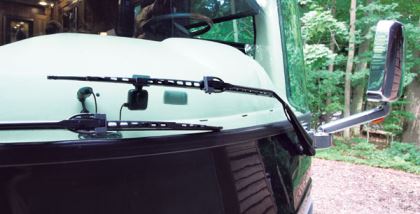 My Installation
The forward-control cab design of our Entegra Coach means the dash rolls off and down to an expansive windshield. A large area at the base of the windshield offers a clear view between the stored windshield wipers. Mounting the dash cam there means I do not see it from within the coach when I am driving unless I stand up and look down into that area. I was able to attach the suction cup mount to the windshield and position the camera perfectly for a nice, wide view of the road. I used the rear monitor to verify my setting. I can leave the rear monitor on when driving at night, because it's not distracting in its semi-hidden location.
The camera can be used simply by sticking the suction cup mount to the windshield and plugging the power cord into a 12-volt receptacle on the dash. Personally, I'm not a big fan of hanging accessories all over the place, and I did not want to run the power cable up over the top of the dash and plug it into one of the power receptacles on the instrument panel. I wanted a clean installation that didn't clutter up my cockpit.
I also wanted the receptacle to be controlled by the ignition switch so that the dash cam automatically operates when the engine is running and shuts off when the key is off. I'm sure that I often would forget to turn it on and off, and I didn't want to add any more items to my departure/arrival checklist.
My solution was to add a new power receptacle in a place where it wouldn't be seen: in the forward part of the dash, right next to the dash cam. Using a small right-angle drill with a 1-inch hole saw, I drilled from the inside of the dash outward. I then ran a pair of wires to connect to a 12-volt ignition-switched circuit in the fuse panel in the basement compartment beneath the driver's seat. I used one of the few available blank spots on the fuse block.
Once the electrical wiring was done, I plugged in the dash cam and opened the setup menu. Some people may choose to record audio, but I don't see it as overly helpful, and it takes up space on the memory card. So, I turned off that feature to maximize my video recording time.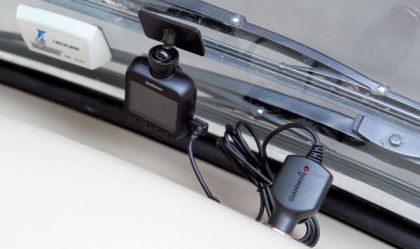 I configured the camera to automatically record as soon as the ignition was on. I set it to record at 1080p for high resolution. But I ended up with only about 48 minutes of recording time at that resolution using the 4-gigabyte microSD card that came with the dash cam. Once I replaced it with a 32-gigabyte memory card, the recording time increased to about 8 hours, or 6.4 hours if audio was enabled. By lowering the video quality, I could extend the total capacity to 17.6 hours at 720p or 38.4 hours at WVGA resolution with audio enabled, or even more with audio disabled. I determined that 720p would easily handle even the longest day's drive, so I changed my settings to that.
Recap
On days with interesting drives, I remove the microSD card, insert it into my laptop computer, and copy the files to my hard drive. I also can remove the dash cam from the windshield mount and connect it directly to the laptop via a USB cable. In that case, the dash cam appears as a second hard drive, and I can drag and drop the day's files to a folder on the laptop. Then I can view them with the standard Windows media player or any other software capable of viewing AVI files.
It was entertaining to view our Million Dollar Highway trip, which included waterfalls from recent rain cascading down cliffs. The camera's wide view through downtown Ouray showed all the historic buildings.
I am very pleased with the Dash Cam 20. It's priced at about $140, is easy to install, and provides both entertainment and security. A wide selection of dash cams are available, with prices ranging from about $50 to hundreds of dollars. Your best bet is to research the features you want and check what other owners have to say about the model you are interested in. Keep in mind that new models are always being introduced.
More Info
Garmin International
1200 E. 151 St.
Olathem, KS 66062
U.S.: (800) 800-1020
Canada: (866) 429-9296
www.garmin.com