After years of harvesting crops, this Florida couple has turned their attention to leisure travel.
By John Johnston, Associate Editor
October 2016
Green beans will always be high on the favorite-foods list of Bill and Camilla Szymanski, F443545.
"I love green beans!" Bill said in late May while the couple worked temporarily in Ashburn, Georgia. "I used to eat them raw every day when I was a kid. Now I doctor them up a little with potatoes and ham and spices."
It's not just green bean cuisine that Bill is fond of. In fact, he and Camilla owe a lot to this versatile little vegetable, which technically isn't a vegetable at all, but a fruit. (We'll not delve into that here, but you can look it up.)
If not for green beans, Bill, 69, and Camilla, who turns 67 this month, might not be as successful as they are today. If not for green beans, they might not have met. If not for green beans, they might not have become motorhomers, joined FMCA, and made so many friends. And if not for green beans, they might not have changed for the better the lives of so many young people all over the world.
It all started in southern New York state, where Bill's father grew 250 acres of green beans, as well as other crops. The beans were harvested by hand until 1958. Green bean harvesting machines had just become available, so Bill's father bought his first one.
With the help of Bill, who was 11, and an older brother, the family ran the machine day and night. Within a few years, the Szymanskis launched Quality Harvesting Inc., which they say is the longest continuously operated green bean harvesting company in the United States. It has picked beans for many national canning companies.
After high school, Bill earned a business degree. But he missed farming, so he returned to the family business. He was working in Pennsylvania in the summer of 1969 when a dry spell curtailed the harvest there, so Bill returned home to New York. While enjoying a night out at an establishment called the Cow Palace, he met Camilla. They married in February 1970.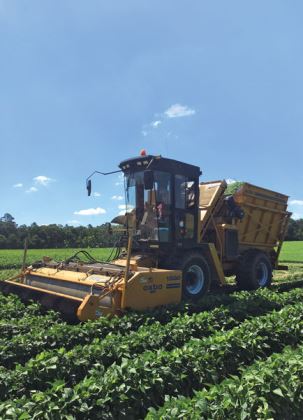 By then, the Szymanskis had three bean harvesters. "Bill said to me, 'If we get another picker, will you run it?'" said Camilla, who was trained as an X-ray technician. "I said, 'Sure.'" And that is how Camilla lays claim to being the first female full-time bean harvester in the United States.
In 1974, Bill and Camilla moved to Delray Beach, Florida, with their only child, a daughter named Elizabeth. By then, their company had more than a dozen mechanical harvesters, and their extended family and their employees were picking beans 12 months out of the year, seven days a week, 18 hours a day.
Every May, they headed north from Florida, eventually making their way to New York state. In a two-month span, they would harvest as much as 6 million pounds of green beans. By October they would be back in Florida, where they could pick beans nonstop until the following May. And then the cycle repeated itself.
"I caused quite an uproar when I showed up in Florida as a woman running a bean picker," Camilla said. "The northern Florida farmers were horrified, because their women didn't do stuff like that."
She figures she did just fine, "or I wouldn't still be running one."
For years, Bill, Camilla, and Elizabeth traveled to bean fields in a pickup truck that pulled a travel trailer, as did most of their extended family. While Elizabeth's parents were in the fields, Bill's mother cared for her. When she grew older, Elizabeth also ran a bean picker.
Camilla likes to say she has one daughter and lots of "sons." She's referring to the dozens of young men the Szymanskis hired. Some were Americans, and some were interns participating in an international agricultural exchange program offered by The Ohio State University. For about 20 years starting in 1988, the Szymanskis worked with interns, each of whom received a one-year visa, with an option to extend for another six months. They came from places such as England, Denmark, Romania, Poland, Czechoslovakia, Moldova, and South Africa.
All the young workers were bright. One of the Americans now works in NASA's space shuttle program. But some, like an intern from Poland, spoke no English when they arrived. "First, all the guys, of course, taught him how to swear," Camilla said. "Then he got really good with regular English. It was an amazing transformation."
In fact, transformations were the norm. The Szymanskis say many of the interns arrived in this country as wide-eyed college kids. They worked hard and thrived on responsibility. They returned home as adults, with a good understanding of not only agriculture but also life in America.
One example: An intern from England was raised on his family's farm, but he had never been allowed to touch a tractor or combine. Bill trained him to operate a bean harvester and to do other mechanical work. Upon his return to England, "his dad was so impressed," Bill said, "he gave the farm to him and told him to run it, at 21 years old."
The Szymanskis keep in touch with many of their former interns. In the summer of 2015 the couple traveled to Poland to visit some of them. They hope one day to make it to England, where several former interns reside.
Now that the Szymanskis are semiretired — "we only pick about six to seven months of the year," Camilla said — they have time to travel in North America, too. They owned a fifth wheel for a while, but in 2014 they bought their first motorhome, an Itasca.
"It's a lot more comfortable," Bill said. "It's a beautiful ride. We didn't buy a lot of toys during our lifetime, so this motorhome is our toy. We love it dearly."
After years of hard work, they've earned the right to go wherever they want. They've visited Canada and Maine. They look forward to trips to the Pacific Northwest and Alaska. If you're lucky enough to cross paths with them, you'll be impressed by their friendly demeanor. And something else.
"When we are at a campground, we always bring a bushel of beans to pass around," Camilla said. "And when we're parked next to somebody, we usually give them a bag of beans. We grease the wheels (of friendship) with green beans."
Suggestions Welcome
If you know FMCA members whose stories beg to be told — and yes, you can nominate yourself — let us know and we'll consider featuring them. Tell us a little about them and send contact information (email address and/or phone number) to Associate Editor John Johnston, jjohnston@fmca.com. Or write him at Family Motor Coach Association, 8291 Clough Pike, Cincinnati, OH 45244.