A man at the helm of the Cummins Engine Company helped to transform Columbus, Indiana, into an architectural showplace.
By Anna Lee Braunstein, F351629
May 2017
"Unexpected, unforgettable" is the current tourism slogan for Columbus, Indiana. The city also has been called "a living museum of architecture" and "different by design." None of it is bragging, though; it's all a way of stating the obvious.
Columbus is a little less than an hour's drive south of Indianapolis, Indiana, right off of Interstate 65. It makes an attractive side trip for anyone attending FMCA's 96th International Convention, July 12 through 15 in Indianapolis.
Right away, at the I-65 exit to Columbus, a bright red cable bridge catches your eye. It's as though the town is proclaiming, "Hey, come and see what we have." Yet another red span, called the Robert N. Stewart Bridge in honor of a former mayor of Columbus, greets those who enter town via State Route 46 eastbound. It's also been called the Second Street Bridge, and originally was the Quadripod Bridge. The structure, completed in 1999, features steel tension cables arranged in an arc. For special occasions and events, the bridge is illuminated at night.
Bridges are but a small part of the attractions in Columbus. Buildings make up the bulk of the exceptional architecture for which this town is known.
How It Started
How did Columbus earn the American Institute of Architects ranking of sixth in the United States for innovative architecture? Why are so many outstanding buildings located in a town of 47,000? The main answer is J. Irwin Miller, a pioneering CEO of the Cummins Engine Company.
First, in 1899, 11-year-old Clessie Lyle Cummins built his first steam engine. As a young man, he became a mechanic, and in 1911 he suggested ways to help improve the speed of the Marmon Wasp, the car that won the Indianapolis 500.
Next, in 1919 William G. Irwin provided Cummins with the financial backing to open Cummins Engine Company in Columbus. Cummins developed an engine using technology designed by Rudolf Diesel.
So, beginning in the 1930s, William Irwin's great-nephew, J. Irwin Miller, led the company as it grew to become an international leader in engine manufacturing. A real boom in prosperity for the business occurred during World War II and in its aftermath.
By the 1950s, Miller recognized he had a business problem and a community problem, as the story goes. Miller had to appeal to top talent to work at his company, but this was challenging in a small town. Columbus needed to be a magnet for good employees, a special place for them and their families to live. The town's appearance mattered.
Columbus already had some nice buildings. A hundred years earlier, noted architects designed homes, churches, civic buildings, and bridges. An example is the Bartholomew County Courthouse, a French Second-Empire-style building dating to 1874. Its fireplaces, marble and terrazzo flooring, and spiral staircase are grand. Delicate grillwork was added to its towers. And outside, the courthouse square was redeveloped to include the Veterans Memorial.
But those older, more elaborate buildings were to be joined by the starker lines of modernism. In 1942, Finnish architect Eliel Saarinen (the son of a Lutheran minister) designed the First Christian Church, Columbus' initial modern-style building. Eero Saarinen, Eliel's son, designed the glass Irwin Union Bank and Trust headquarters, owned by Irwin Miller. Eero completed the design for the six-sided North Christian Church before his untimely death in 1961.
In keeping with his desire to promote a top-notch town, Irwin Miller set up The Cummins Foundation. One of its first donations for $100,000 funded the design and construction of a Columbus school. The fund eventually paid the architects' fees for several buildings in the district and resulted in schools designed by Richard Meier, Cesar Pelli, Harry Weese, and more.
The approach led those esteemed architects as well as I.M. Pei, Susie Kim, and others to add their artistic talents to more than 60 public buildings in Columbus. The structures make this small town one of the top-rated American cities for architectural quality and innovation and, to many, a great place to live and work.
Cummins Engine Company officials did not want their own headquarters overshadowed by the architectural creativity throughout town. So, Kevin Roche was commissioned to design the corporate office building downtown. The modernist building surrounds the company's first factory site.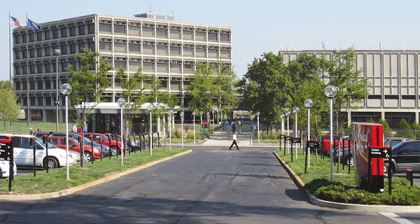 The lobby is also the corporate museum; on display are Cummins engines and diesel-powered Indy race cars. Visitors marvel at Rudolph de Harak's huge sculpture called "Exploded Engine," which hangs in the lobby.
Also, unlike the buildings he fostered, Miller's boyhood home was an Edwardian-style mansion that is now a lovely bed and breakfast (the Inn at Irwin Gardens). But the home he and wife Xenia Simons Miller commissioned in 1953 for their growing family exhibits the same modern style he supported around town. Miller chose Eero Saarinen to design it.
In keeping with the modernist style, the house has a flat roof and stone and glass walls. The soft lighting and brightly colored textiles that fill the rooms are from the designs of Alexander Girard. Landscape designer Dan Kiley fashioned the geometric gardens. These award-winning architects and artists are a veritable who's who in their respective fields.
Tours of the Miller House and Gardens are offered regularly; for details, check at the Columbus Area Visitors Center when you visit; learn more in advance by going to www.columbus.in.us.
Touring Columbus
The Columbus Area Visitors Center, 506 Fifth St., is where friendly volunteers give guidance on the many ways to enjoy the town and its architecture.
The list of must-see buildings includes the courthouse, the jail, fire stations, banks, numerous churches and schools, and even the AT&T Switching Station. Visitors can set out on self-guided walking or driving tours, or opt for a narrated bus tour. You can arrange your choice of tour at the visitors center. For information, visit www.columbus.in.us/art-architecture/tour-options/.
Next to the visitors center is the I.M. Pei-designed Cleo Rogers Memorial Library, the flagship library of the Bartholomew County Public Library system. Henry Moore's "Large Arch" stands in front of the building. Moore once described his playful creation: "As a young sculptor I saw Stonehenge and ever since I've wanted to do work that could be walked through and around." This is one of many sculptures, both whimsical and solemn, that adorn the town. From bike racks to veterans' memorials, world-renowned artists have added their decorative touches.
City parks also possess a lovely blend of nature and art. Mill Race Park sits in an area that was once one of the poorest neighborhoods in town. Since the park was first developed in the 1960s, repeated additions have made it a great place to enjoy the outdoors. Along with trails for walking, running, and biking, there are "follies" — special structures such as observation towers, a boathouse, fishing piers, picnic shelters, and more. Even the rest rooms show an artistic bent, with their roofs shaped like the letters M and W.
The New Brownsville Covered Bridge, relocated from Brownsville, spans a trail along the Flatrock River. During the summer, musicals, plays, and concerts are held in the amphitheater. On Saturdays during the summer, a farmers market, across from the park, is filled with local produce.
For more outdoor enjoyment, 20 miles of "People Trails" attract pedestrians and those on people-powered vehicles such as roller skates, wheelchairs, bicycles, and skateboards. Dogs are also welcome. The trails wend through neighborhoods and farmland and alongside rivers and creeks.
The Commons, a community building near First Christian Church, is a wonderful gathering place for families. Children are enchanted by the indoor playgrounds. The 35-foot-high Luckey Climber invites them and their accompanying adults to vie for the ceiling by stepping on what look like flying carpets. The Climber is the centerpiece for many delightful and vividly colored shapes. Also, special areas designed for toddlers, preschoolers, and elementary-aged children are well-received by the kiddies. Evening events on the terrace or in the band shell are listed on the calendar at www.thecommonscolumbus.com.
Delicious Indiana
One food spot that most visitors put on their lists is Zaharakos Ice Cream Parlor and Museum, across from The Commons. It was built by three Greek brothers in 1900 and has been the dessert destination in town ever since. In 2007 Tony Moravec purchased the shop and refurbished it to its original splendor. In addition to scrumptious goodies, the parlor is a museum of early-1900s dining décor, with its tin ceiling and glass showcases.
Your cold treat is presented on a marble countertop that was used at the 1904 World's Fair in St. Louis, Missouri. Music is supplied by the Welte orchestrion, a 185-pipe organ imported from Germany in 1908. On the way out, stop in the shop to peruse vintage-style souvenirs.
Adult beverages are the stars at the newly opened Upland Columbus Pump House, a brewery and restaurant. The 1903 building once housed the Columbus Power House, which pumped water and provided electricity for the town. Upland is one of several breweries and wineries in and near the city. A wide variety of dining options await downtown, in the neighborhoods, and along the river.
Ahlemeyer Farms Bakery is famous for its pies, and especially for an Indiana favorite called Hoosier Pie. Furthermore, This is a sugar cream pie made with butter, cream, and brown sugar; it's just the treat to re-energize yourself after visiting all of Columbus' wonderful buildings, bridges, parks, and sculptures.
Area Campgrounds
This may not be a complete list, so please check your campground directory or the RV Marketplace, found in the January issue of FMC and online at FMCA.com.
Columbus
CERAland Park, C8277*
3989 S. 525 E.
Columbus, IN 47203
(812) 377-5849
www.ceraland.org
Columbus Woods-n-Waters Campground, C4276*
8855 S. 300 W.
Columbus, IN 47201
(800) 799-3928
(812) 342-1619
www.columbuswoodsnwaters.com
Nashville
Brown County/Nashville KOA
2248 State Road 46 E.
Nashville, IN 47448
(800) 562-9132
(812) 988-4675
www.koa.com/campgrounds/brown-county
Brown County State Park
1405 State Road 46 W.
Nashville, IN 47448
(866) 622-6746 – campground reservations
(812) 988-6406
www.camp.in.gov – campground reservations
www.in.gov/dnr/parklake/2988.htm
Westward Ho Campground
4557 State Road 46 E.
Nashville, IN 47448
(812) 988-0008
www.gowestwardho.com
*FMCA Commercial Member
Stay At Ceraland, Take A Cummins Tour
Lastly, FMCA members who will be meeting RV friends in Indianapolis this July for FMCA's 96th International Convention may want to consider staying at CERAland (pronounced "sarah-land") in Columbus before or after the event. CERAland opened in 1963 as a park for the Cummins Employees Recreation Association. So, it was affiliated with Cummins Inc. until a few years ago; a nonprofit organization now manages it.
Regardless of CERAland's current affiliation, RVers who stay at this huge campground can schedule a tour of one of the Cummins area plants. The marketing and events coordinator at CERA Park & Campground, Darla Cox, can assist you in setting up free tours.
Among the tour locations are the Cummins Tech Center (CTC) and the Cummins Midrange Engine Plant (CMEP). For more details, contact Darla at dcox@ceraland.org, or call (812) 377-5849, extension 107.
The campground at CERAland has more than 300 sites; all have water and electric service, and 112 also have sewer hookups. The recreation park itself is on 345 acres, with fishing available at an 11-acre stocked lake, plus paddle boats, rowboats, and canoes. Seven shelter houses are available; six camping cabins can be used to accommodate any non-RV-owning friends. To make campground reservations this summer for your chapter or family, which are recommended, contact CERAland Campground at (812) 377-5849; www.ceraland.org.