FMCA's 95th International Convention was a rip-roarin' good time for a fun-loving group of RVers.
By Robbin Gould, Editor
Photos By Guy Kasselmann, Art Director
What do you get when you cross a charming, old-fashioned Western town with a couple thousand modern buggies — not stagecoaches and wagons, but recreation vehicles? From March 7 through 10, the answer was "Rally In The Valley," FMCA's 95th International Convention.
This association extravaganza with a cowboy flair was held at Rawhide Western Town and Event Center in Chandler, Arizona. The venue is an 80-acre facility in the Gila River Indian Community, southeast of Phoenix. So, its main draw is an authentic-looking 1880s Western town, where many convention activities took place. In fact, the "Rally In The Valley" was FMCA's first convention ever held at a themed venue.
The official coach count came to 2,627. That sum included 2,273 family-member coaches and 354 commercial coaches.
Increased attendance at the event included a higher-than-usual number of "first-timers." FMCA records indicate that Chandler was the first FMCA convention for 37 percent of those registered. The swell in attendance also was helped by the large number of FMCA members and other RVers who reside in Arizona full-time or seasonally. In addition, attendance figures were up for the general public who came to view just the exhibits.
"The number of first-timers was unbelievable," Charlie Adcock, FMCA national president, said. "We did promote this convention, but I think the location itself intrigued a lot of folks, who decided to come check it out."
Yee-Haw!
Next, the Rawhide complex as a whole supplied the necessary buildings, parking areas, and stages to hold various convention activities, many of them in Western Town. Ambling along its Main Street, past rustic buildings evocative of the Old West, one almost felt dropped into a movie set.
"Western Town was a beautiful theme park. We really enjoyed that," Charlie Adcock said.
Also, many of the buildings in Western Town are fronted by broad, wooden-plank porches. One stucco-covered structure suggests a Spanish mission motif. Brown barrel trash cans, old-fashioned store lettering, stagecoaches, covered wagons, horse sculptures, wagon wheels, and vintage streetlights add to the Old West ambience. Attendees were encouraged to "capture the moment" by snapping shots of themselves next to such memorabilia.
The majority of the 100-plus seminars on the convention schedule were held in Western Town. They were housed in buildings dubbed the Silver Spur, Branding Iron, and Moonshine Room, among others.
A two-day educational session took place in Western Town just prior to the start of the convention. The "RV Basics" course was an in-depth presentation about key RV systems, operation, and maintenance by three industry experts: "RV Doctor" Gary Bunzer; Mac "The Fire Guy" McCoy; and Walter Cannon, executive director of the Recreation Vehicle Safety & Education Foundation. Almost 130 individuals took this class. They included folks who had yet to purchase an RV; others who were new to RVing; and attendees who wanted a refresher on the care and operation of their homes on wheels.
Western Town is closed to the public on weekdays, which gave FMCA ample use of the facility. On Friday, March 10, the town transitioned back to a public attraction, with the full complement of eateries and entertainment offered. FMCAers were welcome to partake of these attractions.
More Western-Style Fun
Western Town hosted other entertaining activities throughout FMCA's stay. On Monday evening, March 6, for example, Main Street was marked off for the Rawhide Bucking Bronco Chapter Horse Race. Eighteen jockeys, some dressed in their Western finery, provided the power for their stick horse or other steed as a partner rolled a die to determine the number of "gallops" (steps) the horse could proceed forward. Emcee Glenda Milner kept the race on track, and spectators provided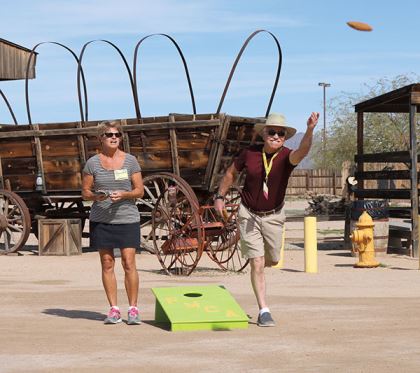 ample vocal encouragement. Top trophies were awarded to the fastest, including first-place winner Yvette Hollis from the Beaver Ambassador Club, with her horse "Trigger." Among the other horses in the competition were "Gaylord," "Trixie," and "Desert Horse With No Name."
Main Street also was the venue for the Bean Bag Toss competition, which was won by the dazzling duo of Donald Loeffler, of Golden, Colorado, and Terry Wilber, of Salisbury, North Carolina.
Western Town's Wagon Wheel Plaza drew large crowds for Coffee Hour on Wednesday, Thursday, and Friday mornings. Volunteers arrived in near darkness each day to set up the serving areas. As the sun rose from behind nearby mountain ranges, Rawhide awoke to sparkling blue skies. Early risers grabbed a doughnut and a cup of coffee or hot chocolate, socialized with one another, and watched the Frustrated Maestros perform. These musicians and vocalists — who hail from FMCA's various Frustrated Maestros chapters — brightened the Coffee Hour stage with their music and red-and-white attire, under the direction of Gary Robinson.
On Wednesday, the Maestros featured songs of the West. On Thursday, they "traveled back East" for a salute to Broadway. And on Friday, they delivered a stirring patriotic tribute that brought Coffee Hour attendees to their feet. Audience members sang along to "America The Beautiful," listened to a reading of the essay "I Am The Flag," and witnessed a presentation of the flags of the armed forces.
FMCA ENERGIZED, a group eager to share fun activities with young and young-at-heart members, organized a "Dogz On Tour" dog walk for pets and pet parents on those three mornings. The group also scheduled a "Kidz Meet And Greet" on Tuesday afternoon, where young attendees played games and made new friends for the week.
A Frustrated Maestros quartet played for the Ice Cream Social on Thursday afternoon, also held at Wagon Wheel Plaza. Shots rang out after they passed out the frozen treats. A couple of Rawhide cowpokes quickly hunted down FMCA national president Charlie Adcock and national senior vice president Jon Walker. These outlaws were arrested for being the leaders of the FMCA Gang. The charges: "They have been known to dart through a golf cart race or two, stealing the ladies' hearts, and herding horse (power) and telling them where to go (also known as parking coaches) in these here parts." Charlie and Jon were escorted to a stagecoach "jail" alongside the stage, where they remained behind bars until they could make bail. The necessary cash was raised quickly, and the jailbirds were sprung from the pokey. Their bail money was donated to St. Mary's Food Bank Alliance, which assists families throughout Arizona.
Several times during the week, convention attendees could witness impromptu "shoot-outs" waged by cowboy characters and also Rough Rider cowboy skits at various locations.
Other Entertainment
While at Rawhide, why not view a spaghetti Western under the stars? Convention-goers had the opportunity to do just that. A Fistful Of Dollars, starring a young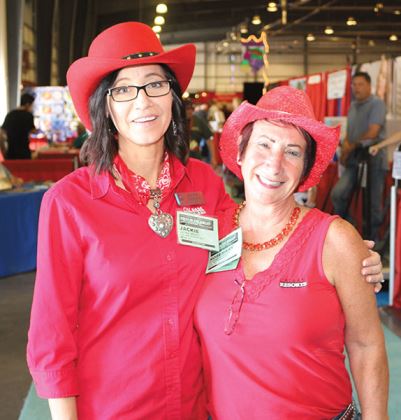 Clint Eastwood as "The Man With No Name," was shown at dusk on Tuesday evening. Bringing chairs, plus jackets or blankets to ward off the evening chill, members gathered on the large expanse of the Sonoran Lawn to watch this 1964 film.
Rodeo Arena was the entertainment venue on three consecutive evenings. Comedian Dick Hardwick had 'em laughing on Wednesday night with a nonstop performance. He strode back and forth across the stage, intermixing jokes and hilarious stories with songs and stints on drums, guitar, and, yes, washboard.
Thursday night's crowd assembled for country singer-songwriter Keith Anderson, who performed hits he wrote for others, plus some he penned and recorded himself. Despite several albums and considerable fame, he embodied his self-described, low-key presence on stage: "Just me and a guitar and telling stories."
Before Keith's performance, Fantasy RV Tours held a drawing for a major prize from the FMCA Tour Connection. The crowd watched expectantly as Nel Filliger, Fantasy RV Tours cofounder and CEO, drew a name from among the registered Chandler attendees. Dennis and Linda Stahl, of Grand Junction, Colorado won a complimentary seven-day Kentucky Derby Rally RV vacation for two.
Friday night involved a choice: Stroll through Western Town to dine, shop, and enjoy all its attractions; return to Rodeo Arena to see Sapphire Sky, a high-energy dance band; or do both! Many who opted for the band sang and danced the night away, whether on the provided dance floor, or near their seats.
Also, another Fantasy RV Tours drawing took place before Sapphire Sky's performance. Completed game cards that attendees had turned in for FMCA's Rawhide Rodeo Trivia Game selected the winner. Sandy Shumaker, of Bozeman, Montana, was the recipient of a prize package to the 2018 Calgary Stampede, plus complimentary admission to FMCA's 96th International Convention in Indianapolis, Indiana, this July.
Cowboy Showcase
Elsewhere on Rawhide grounds, exhibitors greeted a steady stream of shoppers during the daytime hours. The Event Center building bustled with business, as approximately 235 booths engaged visitors with displays of RV accessories, services, and components; resort and visitors bureau information; merchandise for RVs and RVers; and more. "Have you ever seen so many things in one building?" one grandparent was heard asking her young granddaughter as they perused the aisles, hand in hand.
Various vendors held drawings at their booths — including FMCA. Folks who renewed their FMCA membership were entered to win a 10-foot-8-inch Body Glove Dynamo inflatable stand-up paddleboard. Gary Marsh, of Keller, Texas, took this prize home (it collapses easily for storage).
Outdoors, attendees withstood the dry Arizona heat to tour displays filled with new motorhome models and floor plans produced by more than 10 manufacturers. Included was the all-new Renegade Valencia Super C motorhome from REV Recreation Group, which made its public debut in Chandler.
Provisioning For Others
FMCA members contributed to several charitable efforts during the "Rally In The Valley" convention.
The Professional RV Vendors Chapter collected nonperishable items for the Chandler Christian Community Center. PRVVC president Geoff Matthews, who coordinated the food drive, reported that the effort yielded 900 pounds of food and $100 cash. The donations will feed 750 people, he added.
The On-Road Quilters, a group of quilting enthusiasts who like to leave a positive mark on the communities FMCA travels to for conventions, held the "Quilts For Kids" drive for AZ Blankets 4 Kids, a local group that distributes items to sick and needy children in Arizona. Lois Marvin and her fellow quilters organized this effort in Chandler. They collected forty quilts.
FMCA encouraged attendees to donate their no-longer-used eyeglasses to the Lions' Foundation Eye Program. In total, attendees donated an astonishing 182 pairs of glasses in Chandler.
Thanks, Pardners
Volunteers are the backbone of FMCA international conventions, as they are at the association's area rallies and chapter events. Thanks go out to the hundreds of volunteers who pitched in at Chandler in various areas, including parking, security, seminars, trams, information, and others. Some of them worked long hours, ensuring that the general convention populace had an enjoyable time.
Charlie Adcock noted, "Our volunteers stepped up and did a magnificent job. And thanks to them, we had one of the best winter conventions we've had in years."
The Making Of A Town
Jon Walker recalled the "Rally In The Valley" experience: "I was amazed that FMCA was able to take a physical space in the desert and make it into a small town of motorhomes."
The next time FMCA builds an RV town for an international convention will be July 12 through 15 at the Indiana State Fairgrounds and Event Center in Indianapolis. Registration has begun for the "Crossroads To Fun" convention. See page 57 in this issue, or visit FMCA.com, to learn more.
Until then, happy trails . . .