East of Phoenix, a scenic drive takes tourists on a trip through time on the Apache Trail.
By Maggie Kielpinski
January 2017
The Apache Trail is one of the most renowned drives among tourists in the Phoenix, Arizona, region. When you visit Chandler for FMCA's 95th International Convention March 7 through 10, add it to your must-see list.
From Mesa, drive east on U.S. 60 until the sheer basalt walls of the Superstition Mountains rise into view, like rugged castle ramparts. Start your adventure at Apache Junction, a small rural enclave that, so far, has escaped the sprawl of modern-day Phoenix. In Apache Junction, it seems as though every modest dwelling has a corral, and the cowboy is king.
The Apache Trail is known as Arizona's oldest highway, and also as Arizona State Route 88. It leads into the Tonto National Forest and the Superstition Wilderness, home to some of the most striking desert to be found in Arizona. The legendary terrain, with hills as rough and unforgiving as shards of glass, is exactly the kind of daunting landscape where one would expect to find copper, silver, or gold. It kindles visions of the lawless mining days when jealousy and greed prompted the sort of luckless tragedy that fuels local history, including legends of Apache raids and a lost gold mine. It's the Wild West within an hour of Phoenix.
The road was constructed in 1904 and traces the route of an old Indian trail. The wagon road shuttled building supplies to Roosevelt Dam, which, when completed in 1911, promised to turn a barren "Valley of the Sun" into a bountiful land of ranches and farms. Problem is, a section of the 40-mile route from Apache Junction to the dam is not paved.
Warning: While this is one of the most beautiful drives in the state — through a sere landscape dotted with saguaros and acacia, and huge boulders splashed with lime-green lichen — part of it is also quite a challenge; narrow with tight, hairpin turns and steep drop-offs. Thankfully, the road is paved for about 17 miles, until you reach Tortilla Flat, so you can avoid the most dangerous part by turning around. Keep going only if you have a rugged vehicle and a strong disposition. It is not advisable to drive a motorhome on the Apache Trail east of Tortilla Flat. In fact, a towed car would be best even for the first part of the drive. For further info, check the tourism sources listed at the end of this article.
Superstition Mountain Museum
As you drive along the Apache Trail, the first stop lies in the shadow of the mountain. The Superstition Mountain Museum is run by the local historical society, which has amassed quite a collection of memorabilia on its 12-acre site. The remains of Apacheland Movie Ranch, which put Apache Junction on the map in 1956 as a location for Hollywood movies, have been reassembled here. Films such as Gunfight at the O.K. Corral and TV shows such as "Have Gun Will Travel" were made here. The Apacheland Barn was re-created with materials from the original Apacheland Movie Ranch, and inside it are old wagons and buggies. The walls are lined with autographed pictures of the movie stars who were filmed here.
While you're nosing about the ranch, stop by Charlie's General Store for a cold sarsaparilla. Or, take a photo near a stagecoach stop or at one of the other reproductions of 19th-century businesses.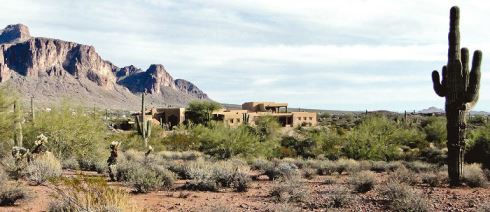 In another corner of the grounds stands the little white Elvis Chapel, so called because it was featured in the 1969 Elvis movie Charro! Today it stores a memorabilia collection and presents clips of films made at Apacheland.
Pathways crisscross the property, and you are welcome to wander at your leisure past the 20-stamp gold and silver mill or contemplate the mysteries of the Superstitions as you walk the labyrinth or take a nature walk into the desert.
Be sure to see the museum's spanking-new G-scale model train exhibit (45-mm gauge track), which just opened in November 2016. The garden railway has more than 1,500 feet of track and boasts replicas of towns, ranches, mines, an American Indian settlement, and more.
Inside the museum, you can learn about the legend of the lost Dutchman Mine; appreciate the artistry of the area's original people, the Salado culture; and admire the collection of original paintings by native son Ted DeGrazia. A special exhibit of 31 original oil paintings, watercolors, and sketches by DeGrazia currently is being displayed.
The museum is open daily from 9:00 a.m. to 4:00 p.m. Admission is $4 for seniors (55 and over), $5 for adults, and free for children. Visit www.superstitionmountainmuseum.org for more information, or call (480) 983-4888.
Goldfield Ghost Town
The discovery of gold at the Mammoth Mine in 1892 created a minor rush. The small town of Goldfield sprang up on a dusty hill nearby, growing large enough to support three saloons, a boardinghouse, a livery, and a school. But by 1898, the vein had played out and Goldfield became a ghost town. Following a short rebirth in the 1920s, the town once again lay dormant, slowly dissolving back into the desert.
The West was settled by dreamers, and it's kept alive by dreamers. In 1984 mining enthusiast Bob Schoose and his wife, Lou Ann, decided to re-create the old Goldfield. With the help of friends, they built an old mine, over time adding a replica saloon, general store, brothel, blacksmith, and livery. Today it's a fairly authentic representation of a prosperous mining town, which includes a church and the only working narrow-gauge railway in Arizona.
The Schoose family's dream and monetary investment has been well rewarded. Goldfield Ghost Town has been a boon for the town of Apache Junction, not only because it preserves old mining equipment and the area's mining history, but because it is a popular tourist attraction.
Goldfield Ghost Town is approximately one mile from the Superstition Mountain Museum. Admission to the town, restaurant, and stores is free; separate fees are charged for activities such as the train ride and mine tour. The town is open daily from 10:00 a.m. to 5:00 p.m.z
Lost Dutchman State Park 
A thousand stories about the Dutchman — each more fanciful than the last — add to the mystique of the Superstitions' storied past. The "Dutchman" in the park's name was Jacob Waltz, with the "Dutch" referring to his "Deutsch," or German, heritage. And the word "lost" refers not to him, but to his mysteriously missing gold.
Was Jacob Waltz's mine really part of the Peralta ore, all but lost when a band of Apaches slaughtered the group? Was it Waltz or a band of Apaches that conveniently killed his partner, Jacob Weiser, after they discovered the gold? Was there actually a rich vein of gold running through these mountains or was Waltz's stash, found under his bed when he died, merely that mined from his stint in the California goldfields? We will never know. But it has generated much speculation and fascination, attracting visitors to these fabled mountains from across the globe.
Today the state park is the treasure. It's long been a popular destination for Phoenix residents in search of a moderately taxing hike on easy trails. It also offers some killer hikes with more than 3,000 feet of elevation gain that push on into the wilderness. Add to this a four-mile bicycle loop, ranger-guided evening hikes, and the Junior Ranger program, and you have something for just about everyone.
A campground at Lost Dutchman provides 134 sites; 68 have electric and water hookups. Rest rooms, showers, and a dump station are available. For those who prefer to explore the park in traditional Arizona style — from the back of a horse — the nearby O.K. Corral offers guided tours through the park and into the wilderness.
From here, as you continue to drive on into the copper mountains, canyons of saguaros and pullouts offer overlooks through natural corridors to the pastel blues of wilderness beyond. The S-curves and hairpin turns create a slow, winding causeway. Meander and admire this unique country, as delicate as an impressionist painting. Be careful and drive slowly.
Canyon Lake And Saguaro Lake
In winter, Canyon Lake is calm and deserted, but the marinas, with covered boats stored shoulder to shoulder, hint at the activity that comes with spring and summer. We passed a few lone anglers on the banks, each with a line in, fishing for crappie and bluegill.
Both lakes were created in the 1920s by the Salt River Project to store water and generate power for the expanding Valley of the Sun. Today they are popular camping and fishing spots for locals, places where secluded coves offer great cover for bass and trout. Canyon Lake Marina and Campground has 28 RV sites with water and electric; it recently added pull-through sites with 50-amp service.
Also in Tonto National Forest is Tortilla Campground, which has sewer and water hookups, but no electricity. A 30-foot length limit is imposed. This campground is closer to Tortilla Flat, our final stop.
Tortilla Flat
The "town too tough to die," population six, has survived fire and flood. While never a stagecoach stop, according to the history page of the town's website, this was a freight stop, a welcome pause along the arduous trail to the construction site of the Roosevelt Dam. It seems that most everyone has been here, from Theodore Roosevelt to Clark Gable and Barbra Streisand, and every season sees this 100-yard-long main street crammed with tourists.
They come for the food. The Tortilla Flat Restaurant and Saloon sells the "hottest chili" and the "biggest burgers" in the area, and its patrons sit between walls papered with dollar bills. The Country Store serves a mean prickly pear gelato, and if the BBQ Patio is open, you'll be entertained by lively country bands.  The town also has a small gift shop and museum.
From here, you'll probably want to turn around, for the pavement ends a few miles farther on, and the dirt road, with its narrow space, steep drop-offs, and hairpin turns, is dangerous and can be fearsome to drivers. If you do decide to go on, you'll pass Apache Lake and then make a circle back to Apache Junction on U.S 60.
Speaking of food, other than the great burgers amid the high life of country entertainment at Tortilla Flat, you can also sample the rustic fare at The Dutchman's Hide Out, an establishment located along the trail close to Apache Junction. For a riotous good time and a taste of true Arizona hospitality, stop at the Hitching Post, situated on the corner of Apache Trail and Lost Dutchman Drive, to enjoy a beer and pizza and some live bull riding on Thursday and Saturday nights.
Wherever you decide to go from there, the trail will always be waiting.
Further Info
Apache Junction Chamber of Commerce 
And Visitor Center
567 W. Apache Trail
Apache Junction, AZ 85120
(480) 982-3141
www.ajchamber.com
Visit Mesa 
120 N. Center St.
Mesa, AZ 85201
(480) 827-4700
www.visitmesa.com/things-to-do/day-trips/apache-trail-superstition/
Campgrounds In This Story
Canyon Lake Marina and Campground
16802 N.E. Highway 88
Tortilla Flat, AZ 85219
(480) 288-9233
www.canyonlakemarina.com
Lost Dutchman State Park
6109 N. Apache Trail
Apache Junction, AZ 85119
(480) 982-4485
www.azstateparks.com/Parks/LODU/facilities.html
Tortilla Campground,
Tonto National Forest
Reservations: (877) 444-6777; www.recreation.gov
Info: (480) 610-3300
www.goo.gl/9JJZ9C