Newell Coach Corporation, a luxury motorhome manufacturer, has followed a carefully crafted path to success.
By Mark Quasius, F333630
Fifty years is a milestone in any business, but perhaps few companies celebrate a history as interesting or colorful as Newell Coach Corporation. Today Newell produces top-of-the-line luxury motorhomes in Miami, Oklahoma. But it wasn't always that way.
L.K. Newell originally manufactured concrete blocks and, later, residential air-conditioning units in Miami. Always an innovator, he continually sought ways to make things better.
In 1967 L.K. traveled to El Monte, California, to take possession of his new Streamline motorhome, a high-end, $15,000 coach built by the Streamline Trailer Company. Streamline was known for its travel trailers, which looked similar to the classic Airstream trailers, and introduced a motorized version in the mid-1960s. After two weeks of driving his new motorhome, L.K. returned to the factory for some repairs and corrections. He offered a number of product improvement suggestions to the owner, who responded, "If you're so smart, why don't you buy the motorhome operation from me?"
By the end of the day, L.K. had struck a deal with the owner and purchased the motorhome assets. He brought the operation home to Oklahoma, including two or three unfinished shells and a bunch of parts. (Interestingly, Streamline Trailer did not survive the turbulent RV market of the early 1970s, but Newell never stopped producing motorhomes.)
Once the motorhome business was ensconced in Oklahoma, L.K.'s first goal was to get rid of the Ford front-engine gasoline chassis. In 1971 he created his own rear-engine motorhome based on a FitzJohn bus chassis. He was impressed by the FitzJohn's rear-engine location, and by its self-supporting, "bridge construction" welded small-tube frame, instead of bulky, tall frame rails — a key to large, open-bay storage.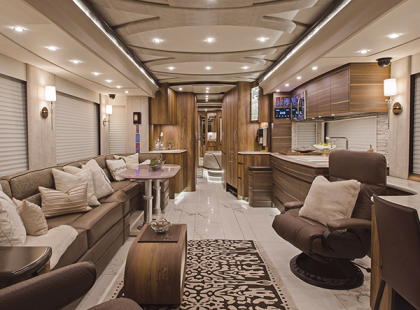 When a buyer asked for a diesel-powered coach, L.K. obliged. The result: the industry's first diesel-powered motorhome chassis, which was completed in 1972. L.K. combined the features of a bus — such as the rear diesel engine, air brakes, air suspension, and under-floor basement storage — with features that buses did not offer, such as a front-mounted generator, mid-entry door, motorhome systems integrated into the vehicle structure during construction of the body and chassis, and the ability to custom-build to suit a wide range of customer preferences.
In 1973, health reasons prompted L.K. to sell Newell Coach Corporation to Chuck Goldenberg. Chuck reorganized the Newell factory and improved upon the company's already considerable commitment to customer service.
In 1979 Karl Blade, a Chevrolet and Blue Bird Wanderlodge motorhome dealer from Mount Vernon, Washington, visited Newell Coach. He and his wife, Alice, had just picked up a new front-engine Blue Bird Wanderlodge from Blue Bird's factory in Fort Valley, Georgia. Karl recalled Newell motorhome ads in Family Motor Coaching magazine and decided to route their trip home so they could stop at the factory and inspect the new rear-engine Newells.
During their visit, the Blades sensed that Chuck might be interested in selling Newell. They also realized the rear-engine product would be a great opportunity in a market that offered no other rear-engine coaches. Negotiations followed, and in December, the Blades and two partners became the new owners. Karl and Alice moved to Oklahoma in 1981 to oversee the company. In 1985 they assumed sole ownership.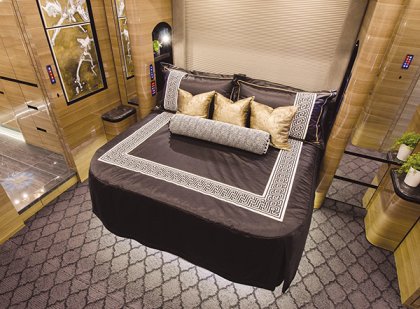 Under the new ownership and management, Newell grew to become a respected manufacturer of premium luxury motorhomes. Many of the company's innovations and design features have been adopted by the conventional motorhome industry and are standard today. These include the rear-engine location, of course, but also Newell's open-frame design, air suspension and air brakes, 102-inch width, and more powerful engines that today have exceeded 600 horsepower. Newell's long-standing relationship with Porsche Design has also been trendsetting.
At its highest level, before the Great Recession of 2007, Newell produced 42 units per year. The company has weathered every industry downturn and never ceased motorhome production in its 50 years. Although the overall market for ultra-high-end luxury motorhomes (bus conversions and Newells) has not returned to its previous high levels, Newell has more than doubled its market share. Currently, the company produces 26 coaches per year.
Today, the Blades' son-in-law, Pat Dwyer, is general sales manager; daughter Becky Dwyer is one of Newell's interior designers. Grant and Amber Kernan joined the company in 2012 — Grant as general manager, and Amber in interior design. Both couples have ownership interests as well.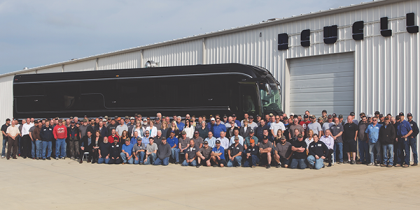 Newell established its reputation as a premier luxury motorhome builder by following a few fundamental principles. Newells are custom-built in response to a client's needs and tastes. Newell coaches always have been sold factory-direct to facilitate direct interaction between the customer and manufacturer, from sale to design, delivery, service support, and perhaps an eventual trade-in for a newer unit. The company continually works to improve its products; in fact, many standard features on Newell coaches today were custom requests from clients in earlier years.
The company also is known for extraordinary customer service. Newell pioneered a 24/7 hotline more than 25 years ago. Regardless of the coach's age, customers can call at any time to speak to a service tech, who seeks to return the call in less than 20 minutes. The tech can talk a customer through an issue over the phone or arrange for service at a Newell-certified facility. If necessary, a service tech can be dispatched to the customer's location to perform the repair.
In 2016 the company completed a new state-of-the-art, 65,000-square-foot manufacturing facility on its Miami, Oklahoma, property. A new coach body style by Porsche Design was unveiled as well.
No doubt Newell's continued commitment to quality, innovation, and superior customer service has helped it maintain a loyal following among high-end motorhome owners.
Newell Coach Corporation, 3900 N. Main St., Miami, OK 74354; (888) 363-9355, (918) 542-3344; www.newellcoach.com.